Windows Central Podcast 29: No more builds
This week on the Windows Central Podcast: Surface Studio is in the house, Dell XPS 13 is reviewed, standalone Cortana speaker and more.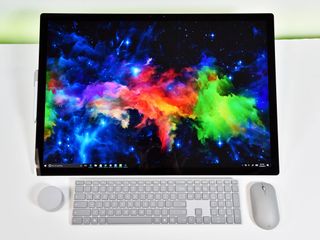 We finally have a Surface Studio in, and we've already done an unboxing and hands on tour of the device. We'll be reviewing it in detail soon, but for now we share our thoughts and opinions on the Studio so far. Also this week, we talk about the Dell XPS 13 2016, a standalone Cortana speaker, no more builds and our gift guides!
Help us make this show the best Microsoft podcast in the world. Tell your friends, share it on social media using the hashtag #wcpodcast, and give us a five-star rating wherever you download your podcasts! Thank you so much for listening!
We've got two options for you, either the video podcast or the audio podcast, both featuring the same content.
Show Notes
Subscribe to the podcast
Hosts
Make this show great by participating!
Send in your comments, questions, and feedback to:
Windows Central Newsletter
Get the best of Windows Central in in your inbox, every day!
Zac Bowden is a Senior Editor at Windows Central. Bringing you exclusive coverage into the world of Windows on PCs, tablets, phones, and more. Also an avid collector of rare Microsoft prototype devices! Keep in touch on Twitter: @zacbowden.
That comment about your voice being awful, well I think Daniel Rubino's voice is way better than Larry Page voice! :)

Thanks for the awesome year and look forward to seeing Windows Central in the New Year 2017. With Love from Canada!

Ill listen tri this at work tomorrow

the direct audio link is showing up as last weeks episode guys

Well done Daniel and well done Zac

Yes Band 2 worthy of being on your list

Hi folks, i'm kinda new here (to comments area). I'm on build 14977 on lumia 950 xl with Cortana broken - missing text on start, crashing sometimes, clicking on the microfone does nothing and so on... is anyone going through this is it normal in this build or is it just me? Thank you all for your help! Ruben - Portugal

Instead of being helped i just got a -1 in my comment. Thank a lot!

"Alexa - What's the weather today?" "Alexa - Play smooth jazz" I'm sorry, but, in the home at least, being able to control things by voice is a revelation. I've gone all-in on Amazon Music Unlimited Family Plan and the Echo Dot (my wife has the full-size Echo), and it is very nice. Want to play some music in the kitchen but your hands are a mess from cutting chicken? No problem! Just ask Alexa. I also have an Android phone (recently gave up on Windows Phone for the time being). My e-mail and calendar are on Outlook.com, which does not integrate well with Alexa or Android. I think I have to find a way to two-way sync with a Google account. And this is the problem for Microsoft - they need to not be a day late and a dollar short on voice devices they way they have been with phone and streaming devices (ChromeCast/Apple TV), or there will be a tendency not to use Microsoft services.

Your two examples are exactly the things I have no use for. I get some people like that stuff, but that seems extremely trivial to my needs/wants.

"Hey Cortana - What's the weather today?"
"Hey Cortana - Play Rock" ... works fine for me and I didn't have to spend the extra cash either.
... works on my BlackBerry 10 as well ... which I wouldn't have cared to mention, but you went on a super tangent about Android there. The Truth is voice assistance is overrated fringe luxury that we already have, Amazon is just doing the best job at packaging it up and selling something you already have.

HDD can be replaced with SSD.
https://www.youtube.com/watch?v=rNk0yTKj0oU

Wait, Zac bought chocolate for his girlfriend?! I remember that a few podcasts ago he was about to go out on a date! A successful date it seems! Well done dude! Congrats!

LOL I loved that I knew who wrote the comment Zac read aloud. I remember reading it.

Aaaaaaaaaaaaahahahahahahahahahahahahahahahaha!!!!!!!! The grumpy old troll got called out! Look, [unnamed "anonymous underwater sports" person], you're FAMOUS!!! XD Now, as far as the content of the episode, it was a good episode, as always! I for one don't hate your voices, guys...but in total disclosure, I do listen at 2X so I get through the content twice as fast. I do this with all my English-language, non-music-based podcasts, though. So I'm not singling you guys out. I actually agree with MS as it concerns suspending the builds til next year. I mean, sure, it's sort of a bummer that it'll make the next few weeks in MS a lot more boring, but it does sound like great things will be coming on the flip side. So we'll dig into our Christmas toys to tide us over and it'll be good! The Surface Studio is an AMAZING machine! I think it's totally awesome, and could be totally revolutionary. If nothing else, it shows us a huge change in the weather in terms of MS design and how MS is basically "out-Appling-Apple" right now! However, for as heartily praiseful as I am about the machine, I don't intend to buy one. When it comes to Windows desktops, I think I'll be sticking with DIY high power gaming PC rigs. I'm still interested in the 2-in-1 market and am eagerly awaiting hard news of so-called Surface phone (and am incredibly optimistic there), but I just personally have no need for a high-dollar all-in-one. I don't do graphic design, and I'm currently doing podcasting on my Mac (that's right, I'm not a Windows fanboy, not "the anti-scubadog", I use, love, and follow all three of the big ones). So I'll be passing on it myself. But those who spring for it should be immensely pleased with it, and it's a tremendous feather in the cap for the Windows repertoire, and should send a powerful message for the future of the brand. Anyway, great episode! We'll see you next year, and I wish all of you a Merry Christmas, and/or whatever holiday (s) you celebrate - yes, even you, scubadog! I hope you all have a wonderful day! Cheers!
Windows Central Newsletter
Thank you for signing up to Windows Central. You will receive a verification email shortly.
There was a problem. Please refresh the page and try again.