Windows Central Podcast 7: All About McLaren special
The Windows Central Podcast is your weekly dose of everything Microsoft, from Windows 10 to Surface, Xbox, HoloLens and everything in between!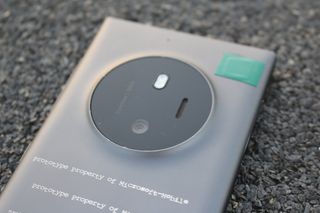 This week is a very special, rare, prototype version of the Windows Central Podcast: All About McLaren.
What's McLaren? Simply the most unique, interesting unreleased Windows Phone ever made — one that Daniel Rubino, Michael Fisher, and Zac Bowden got their hands on.
Join host Daniel Bader as he talks to Daniel, Michael and Zac all about the Lumia 1030 "McLaren" that never was.
Help us make this show the best Microsoft podcast in the world. Tell your friends, share it on social media using the hashtag #wcpodcast, and give us a five-star rating wherever you download your podcasts! Thank you so much for listening!
Show Notes
Subscribe to the podcast
Hosts
Make this show great by participating!
Send in your comments, questions, and feedback to:
Yay !!!!! Been looking out for issue 7, I have withdrawal symptoms

Thought you'd forgotten us!

So.. this is the surprise you were talking about in the last podcast... nice!!! Can't wait to listen to it!

Enjoy the casts, they are pretty good. Personally, whilst the McLaren info is nice, I am all over the show with my thoughts. I think you review nailed it, would have help to have something, but the 3d touch needed much longer to refine. Shame they didn't just release it sans 3d touch. I always loved the 1020 hump, so welcomed the look. MS seemed to disregard the need to offer something top end each year, to coincide with natural phone contract lengths. I felt this when my 920 came out of contract, nowhere to go but elsewhere, or keep the 920 and wait.

What's the point of this......talking about a 3 year old phone that was never released, and never will be released? It's like I'm watching one of those bigfoot in the wild shows, where they just talk about it like a bunch of idiots, but nothing really happens...

Because the technology in it was fascinating and people would like to see the features make it to future phones and other gadgets. Also, people have always wondered exactly why this phone never made it to market and it can't hurt to lay out the hurdles it faced.

Ahhh ok, kinda like that article I didn't read about the SNES playstation the other day.....

Funny you mention that because this reminded me of exactly that. LOL.

Ooh yay a podcast and videos(including one from MrMobile!!)! this is awesome.

Lumia 1030 is a super phone. It just need a better OS platform like Windows 10.

It will b even great if it gets released along wid project islandhood public

All this does is make me more angry they didn't release it, even without some of the possible groundbreaking features. It would still be my go to device. Posted via the Windows Central App for Android

That was a great show, guys.

I still feel that this phone was crucial to the momentum of Windows Phone at the time. It was Nokia/Microsoft merger flagship that was slated to launch roughly 2 years after the 920. So unfortunately there was no flagship through the Fall, holiday season, and most of Spring. Maybe the slow W10 launch was to blame, but awesome hardware could've held many people over a little longer.

Hey Microsoft how's that 3d touch thing working?
Microsoft: needs more time.
Why don't you release the phone without the 3d touch feature.
Microsoft: throw the whole thing away.
Smh. I haven't recovered from this decision. Even a wider, non exclusive release to Verizon and T-Mobile would have been a better option than to not release anything at all. My patience with Microsoft died right along with this phone and my Lumia 1020 not even being able to do seemingly simple things like living images when the Lumia 1520 and 930 could. I knew it was time to move on. One picture at a time -- LG V10

It's looks idiot talking about it. Which product will never come.

What's the point talking about it anymore?

I like talking about it, that's why.

I'm with Michael Fisher, Microsoft isn't a startup and should be doing a much better job with the Windows Mobile OS. He didn't seem to care much for the 'Mobile is hard' excuse that got offered either, and rightly so. It's not hard when you put actual effort into the OS.
Windows Central Newsletter
Thank you for signing up to Windows Central. You will receive a verification email shortly.
There was a problem. Please refresh the page and try again.