Microsoft's Windows 10 'CShell' adaptable UI in images and video (exclusive)
We have exclusive screenshots and video of Microsoft's upcoming "CShell" adaptive UI for Windows 10!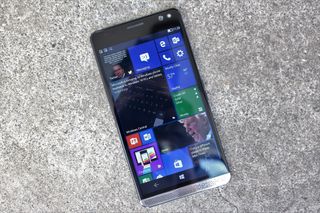 At the beginning of this year, I exclusively revealed that Microsoft is working on a brand new Windows Shell, called "Composable Shell," or "CShell," that's goal is to bring an adaptive, scalable UI across all types of device form factors, including PCs, tablets, phones, Xbox and HoloLens. Up until now, we haven't actually seen CShell in action. Thanks to Microsoft's recent accidental release of internal pre-release builds, that all changes today.
Here's a quick recap before we dive in. CShell is Microsoft's new Windows Shell that will eventually replace the existing Windows Shell in future releases of Windows 10. It's an adaptable shell that can scale in real time, adapting to different screen sizes and orientations on the fly. CShell is a shell modularized into sub-components, which can transition between those components when required, making for a far more flexible user experience on devices that have multiple form factors.
Shared UI and Continuum
CShell is a big deal. It allows Microsoft to build one shell that scales across form factors, and in this article you will see exactly what that means. Let's start with the Start screen, which with Windows 10 Mobile differs slightly from the Start experience found on desktop. For example, Windows 10 desktop has large tile sizes, context menus and a few additional options that Windows 10 Mobile doesn't.
With CShell, that all changes. CShell enables the same Start experience found on a PC on phones, which includes that additional large Live tile size, context menus, and all the same options found in those context menus, such as the ability to turn Live tiles on and off for specific apps. You get the same experience found on desktop on a phone powered by CShell. The similarities don't just end there, however.
The Action Center is also shared across PC and phone with CShell. When you swipe down on Action Center, you get the same, familiar Action Center design you already know from desktop PCs, directly on your phone. At the bottom, you can see your Quick Actions, all of which are customizable just like they are on PC. At the top, you see your latest notifications, which are also actionable and can be swiped away when needed.
Another new addition is a universal landscape mode that works on the Start screen and Apps. Turning your phone sideways shifts the entire UI, including Live tiles, into landscape orientation. We're not sure if this is just a bug, or if it's is the intended behavior. This is prerelease software after all. Regardless, landscape mode is there. Landscape mode feels universal. The UI jumps in and out of apps in landscape mode like you'd expect from an app that supports landscape. Adding landscape mode to Windows phones has been a popular request from Insiders, so it makes sense that Microsoft is finally working on it.
CShell also introduces a number of new improvements to the Continuum experience. Booting into Continuum, you can see the work Microsoft has been doing to make the experience more powerful. Windowed mode is here, enabling the ability to run several apps at one time directly on your phone when connected to an external screen. It supports Windows Snap and Task View, too. Fluent Design elements also work when in Continuum, another nice touch.
These screenshots are also an early look at what PCs will look like when CShell arrives, with the addition of Win32 support, of course. The idea with CShell here is to bring the exact same desktop environment to phones, and vice versa. So, it makes sense to see CShell Continuum mimicking the desktop because it is the desktop. It'll be the same desktop environment on PC as it is on phone devices.
Image 1 of 4
This is still pre-release software however, so not everything represents what the CShell desktop will be. For example, the Start menu seen in our images and video today is not an accurate representation of what the Start menu will look like on desktop. That'd be silly.
The next attempt at Windows on mobile devices?
Silverlight apps do not launch with CShell. Tapping on a Silverlight app such as WhatsApp simply does nothing, because Microsoft intends to drop Silverlight support with its next attempt at Windows phone. (You can read more about that here.)
Speaking of Microsoft's next attempt at Windows on mobile devices, CShell will play a huge part in it. We're not entirely sure if CShell will be coming to existing Windows 10 Mobile devices. There's no technical reason as to why it couldn't, but we think Microsoft might want to save CShell for its next major attempt at Windows phone, which we hear will debut sometime during 2018.
If Microsoft decides to bring CShell to existing Windows phones, I expect to see that happen before then. But I'm not holding my breath. A timeframe for CShell on desktop is also pretty hazy, and my sources were unable to commit a specific release time frame. What we do know is CShell will likely be coming to mobile devices first before making its way to desktops.
The images in this post show you what CShell looks like on a phone. From there, it's not hard to imagine what CShell will look like on PC. It'll look identical because that's the goal of CShell; it's the same shell across devices. Your desktop will continue to look just like a desktop when CShell arrives. The same goes for Xbox, HoloLens and everything else that has a UI.
CShell is the another stepping stone towards Microsoft's "One Windows" vision and is a big deal for Microsoft and Windows in general. We can't wait to see what else the company has planned for Windows 10.
This article features prerelease software. The UI is not final, and there are several bugs and UI issues present, and some features are not finished. As is the case with all prerelease software, everything is subject to change.
Get the Windows Central Newsletter
All the latest news, reviews, and guides for Windows and Xbox diehards.