Microsoft explains accidental release of internal Windows 10 builds for PC and Mobile
Microsoft accidentally pushed a number of internal Windows 10 builds to Insiders last night, causing a plethora of problems for users. Today the company explains what happened, and how to fix your device if you were affected.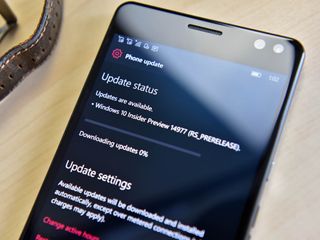 Microsoft's attempt at releasing new Insider Preview builds yesterday was thwarted at the last minute by an error which caused several internal, development builds of Windows 10 to be released in all the Insider Program rings. On PC, build 16212 from the rs_edge_case branch was released, and on Mobile, build 16212 from the rs_iot, rs_xbox and rs_devices branches were released.
These branches are not usually for the public, and in this case the Mobile build that was pushed actually caused a reboot loop when attempting to install it. If you're already stuck in this reboot loop, Microsoft says the only way to fix this issue is to restore your phone with the Windows Device Recovery Tool.
If however, your phone has only downloaded the build and is waiting for a reboot to install, there is a way to cancel the build. Set your date on your phone forward by a few years, then shut down your phone with the power button. Once the phone is shut down, turn the phone back on and go back to Windows Update, you should see that the pending update has errored out, and is no longer ready to install.
On PC, devices running an x86 build of Windows 10 were receiving build 16212 from an internal Edge development branch. In some cases, this build actually downloaded and installed, however, Microsoft says this build is not officially supported and that they suggest a rollback to the previous build via the Settings app. You have 10 days to do this.
So, how did this even happen? According to Microsoft, the error occurred due to an inadvertent deployment to the engineering system that controls what builds go out to what rings in the Insider Program. Microsoft says only a small group of people actually saw and started receiving these unintended builds.
Microsoft's originally planned build launch for this week has been postponed until next week now, likely for the better.
Windows Central Newsletter
Get the best of Windows Central in your inbox, every day!
Zac Bowden is a Senior Editor at Windows Central. Bringing you exclusive coverage into the world of Windows on PCs, tablets, phones, and more. Also an avid collector of rare Microsoft prototype devices! Keep in touch on Twitter: @zacbowden.
Recovery tool. Cost me a few hours.

Same here, and lost of data.

Interesting to know what type of data you lost. I've rebuilt my phone using WDRT (950XL) so many times that I've lost count but with the backup feature, I've not lost any data - generally only config data for banking apps (means I have re-register). A lot of other apps (e..g What's App) can be configured to backup to OneDrive. Luckily I didn't get this update...

I had turned off automatic Onedrive Whatsapp backups a while ago, while outside of the country, when I was experiencing major data usage issues (eating up gigabytes of data and not completing an update after I had reset it following the Bluetooth screwup in the fast ring).. But never turned it back on. So I'm back to a message backup dating back to mid-februari :-( I did manage to grab some screenshots from the latest chats that I had open on the desktop.

The most important part was received documents and the configuration of the Authenticator app (super complex to regain access in TeamViewer). Just to name a few.

Worst part is that my backup got overwritten because I made a mistake by restoring it after the WDRT.

damn men sorry for ur lost, but how in the world u use the phone on insider ring and use the phone for those "important" things ?

I've put my Lumia 830 on production ring since Microsoft decided to no longer officially support most of the Lumias. Thought it would be 'safer'. Guess not.

As I understand it, these incorrect updates only went to insiders. I would not use Insider builds on any machine that had data that may be lost or super tricky setups because ALL insider builds have potential to be unstable and lose data. Just happened this was an insider insider build that was kind of a killer. Still, my point stands. If you have stuff you dont want to lose, keep it on your production build. :) Yes, I learnt that the hardway once too.

I use the slow ring insider builds as daily drivers actually on my main computers and phones. The slow ring should be stable enough for such person especially after they've been tested by the fast ring already.

It also went out to my Production Build Lumia 950 but luckily showed an error when attempting to download.

Mine was on production build though, and it was still affected (Lumia 830).

so.... W10M is officially dead for many people, right? :-D

For many people, but not the die-hards. Besides, it's not like Windows Central is using a screenshot of phones installing a really old Insider build.

This issue is not only to Insiders, it happened to me on my production machine and I now have an update stuck with error 0x800b0109. Why is Microsoft quality assurance so bad these days?

This issue is not only to Insiders, it happened to me on my production machine and I now have an update stuck with error 0x800b0109. Why is Microsoft quality assurance so bad these days?

you can roll back pc: you can roll-back to the previous build via Settings > Update & security > Recovery

Production ring you say ? I think you must be one of the rare person receiving Insider builds on Production ring... By the way, it doesn't happen every week or month to have an error while installing an update so, no huge problem of quality insurance.
Insider people does have more often errors but they signed and accepted it...

It was not only pushed to insiders, but to "normal" users too.

Didn't had it on my 950 in Production, not on my Surface Pro 4, my tower and my girlfriend didn't received it on her Lenovo.
My father didn't received it on his tower and Lumia 950XL, my mother neither. None of the computers of the IT entreprise of my father and all of his customers received it apart from one particular computer running... Insider, yes. My Samsung Ativ S in Insider received it but I cancelled it.
So, I personnally see it was only on Insider ring.

You're both correct. As Dona Sarka stated on the windows blog, some production phones, i.e., my 950 xl, found it but it wouldn't download/install. It threw an error, something about "not signed properly". If you want to be technical, which it appears you do, you're more correct. Congrats. Here's the applicable part of the blog post:
If you are not a Windows Insider, your device may have seen one of these builds offered. However, these builds will not install on devices that are not joined to the Windows Insider Program (a.k.a. "retail").

So,you think your Country and city are the world or Something? That guy received it POINT. All your enumerated Devices are registered in the same country, same place, it is not like you really said something interesting. The date is split in so many zones their can be an error just for one zone and nothing for everybody, still one guy will tell you, help, my phone got screwed. And then, the smarty's like you, start to brag about their devices and how well they work. Well, if you do not understand how Networks, better keep the silly comments to your self;)

Excuse me but your comment is really useless... Commentaries are used to leave whatever people want, which is linked to the article. I know Belgium is a very small country, the country of Europe and with some big organisations (thanks Belgium for being the center of Europe... It's always great to be blocked when Trump arrives), but I gave my opinion on something else than just what happen in my country !
I answered to FirstWatt like that because he wasn't really answering to the commentary I answered which said he was in Production and had to WDRT (and this commentary seems strangely deleted now)... You don't know the IT company of my father (majority of customers are abroad, not in the same country or time-zone) and as just stated by spacypadthai, Production ring couldn't install the update as clearly stated by Dona Sarkar ! So if someone write he received it and was installed (wrote like that here for the first commentary which I first answered) but is in Production, it's just impossible...

They have a Q/A system; it's called "users".

Beat me to it....Quality Control is now the insiders program. Thanks to Nadella and firing of that team as well. The suckers that think they are getting to "try out" new features are actually the BETA TESTERS. MS then collects data from those devices. NICE hey!

And we all know that... That's never been intended "to try out" ever... And anybody who knows what the insider program is know they are beta testing and do it gladly... Nothing new I was in MS beta test groups since the 2000s..
And say they fired their test team is just BS... Do you really think MS is a tiny mom and pops company... OS is their main busyness and they have more than a hundred thousands employee.... Don't worry they are beta testing harder than ever before..
The insider program is a great program and every soft company should take note and do something similar... Because it just works...

search it on google...Dedicated testing teams are long gone because why not, use free insiders to test no matter the fact that the outcome quality is garbage. Insider program yes, it is a good thing to take input from actual users, but sorry for not falling for the only insiders policy and no testers. Say what you want, a developer is NOT a tester and should NOT act like one.

Why are you running a fast ring on a production machine? It's really intended for testing purposes only. That's defined with the whole concept of Insider releases.

For some like myself, I sometimes use fast ring on a production device because its the fastest way to find issues, and I like to mess around with new stuff, on a daily driver. However, I do have several other backup devices in case I run into a fatal issue and everything I have is cloud synced or on an external for quick fixing.

You must be the only one on Production build that received this. Are you sure you did not set yourself to maybe the Preview Release ring for insider? I have not heard of any actual production branch either consumer or business being affected. Still, I have been known to be wrong :)

Check your settings again.. May be you Registered for Preview builds...

because Nadella fired the dedicated testers.

2 Lumia 950XL e 1 959 out of use. Trying with Widows device recovery tool. I will let you know. What a disaster.

Alla the devices on release preview

Same here, I woke up at night with my 950xl stuck in a reboot loop... I used the WDRT (Device Recovery Tool) this morning and all back to normal... the joy of being an insider ;-)

How did you get t to work, WDRT can't even find my phone...

Just use the option when your phone is not recognized, and aldo keep pluging and unplugging. It will eventually recognize it.
Happened to a lot of people and they get it done this way.

I used the option for unrecognized device and then forced a power cycle on my Lumia 1520. Right as the Nokia logo popped up, the software began.

God bless all you... And waiting new build next week from Lady Dona

..and that's my 950 bricked. Woke this morning to find it looping but getting stuck at Microsoft logo. Windows Device Recovery Tool could not fix the device. I've had to send it off to get fixed.

You shouldn't need to do that - Follow the instructions for "My phone isn't recognised" and you should be golden - Got to get the timing right, but much easier than sending it off

What instructions do you mean? I had this happen months ago, and my phone is still a brick.

You click the "my device was not detected" option, then hold the power button and volume down button and it will restart the phone. Upon restart the software should detect the phone.

Luckily my 950XL didn't download any builds and I have since left the Insider Preview. Due to W10M being stuck in Maintenance Mode now ala Feature 2 and nothing but a handful of bug fixes so far, I don't see any logic in remaining as an insider anymore. Especially since MS is working on yet again, another mobile OS. An OS that won't support the remaining WP7/8 apps in the store (adding more to the app gap) and won't support any current mobile device. I'll stick with my 950XL until I have no choice but to replace it, but I'm done with the Insider and when I do replace my 950XL, I doubt it will be with another Windows device. I've been burned with WP7 to 8 via my L800, I got burned with my L925 to W10M and now I'll be burned with my 950XL regarding this new OS. Why would I keep doing this? Why would anybody except those with money to burn? Speaking of money to burn, this latest screw up bricking W10M devices wasn't just isolated to Insiders and for those who stayed out of Insider and had their phones bricked..... How much data did they lose? Did they lose any work photos or work files? How about personal files? It's not like these people had warning to back up their stuff knowing their devices were about to get screwed over by MS. And now in this article, MS acts all nonchalant about it with a simple "Sorry" and instructions on how to wipe your device, lose all your data and jump right back in on insider like it wasn't a big deal. Screw that. Most businesses would compensate their customers for making them lose their data and rendering their device useless for hours while they attempt to recover their device on their own. They claim it was a small amount of customers, but how did they calculate that? I saw many in the WC community and the MSPoweruser community, and Reddit community all mentioning how they were affected. I get there is a risk when you are on the Insider Preview and those risks are what you accept when you sign up, but many people were not on the Insider Program and still were affected. Sorry but it's damn hard to believe anything MS says these days.

Soon u'll see wc editors defend ms by saying that u signed up for this.

To be fair, you can install W10M RS2 on your L925 with a bit of tinkering. No different to Android. And you did get W10M TH2 via Insider!

That's not actually "Fair" as you shouldn't have to tinker in the first place. W10M was running fine in the last few builds prior to launch and then MS simply pulled it because they claimed too many people reported it not working well. So instead of actually making it work like they're supposed to and fix the remaining bugs, it was just easier to cut those devices and walk away. They did it again with the Creators Update and dropped devices like the 1520 & 930, yet kept the 640/XL, devices far more inferior than the 930/1520.

To be fair, you're guessing on a lot of that - Maybe it won't run WP7 or WP8 silverlight apps but there's every chance it could still run WinRT 8.1 apps just fine Just stick with your 950XL like you say - I'm doing the same with my 950. There's NOTHING exciting from any phone manufacturer right now IMO, probably won't be until 2018. Maybe Apple will do something special for the 10 year iPhone but it's unlikely - It's all stuff we've seen before like Wireless Charging and other things that are going to be good technical achievements (Maybe a finger print reader in the screen itself) but that don't offer any day to day benefits other than the device looking a bit nicer.

I'm seeing the same thing. Nothing forcing me to move from my 950XL. I can still use Waze, Uber, myTube, OBD Auto Doctor, Traffic Assistant, TVPlayer etc etc. It's all about the software really, and I don't see any 'smoking gun' software product on other platforms that I really need yet. Who knows what happens next year. What I do know, is that if I bought a phone now, next year, I'd be using last years model - they change so quickly!

@Praxius True, most businesses do not allow Insider Programs to general public and limit them to a set user group for UAT before making a release. By choosing to be an insider, you choose to take the risk of losing data. That is a risk of any insider build at any time. Insider builds are not production and not stable. In fact the Fast and Slow rings more often than not are not even the same branch as production. If you don't want to lose data, go back to the production ring and stop whinging about the screw up when you chose to be an insider. As for the app gap. That was well known before you bought a Windows Mobile Device. Who is to say what the new OS will and will not support, MS have not said. Rather than commenting on the actual issue this article brought up, you have used this discussion to vent your MS hatred, despite knowing full well what you were getting when you bought the 950 device. Enough said.

So you, just like everyone else I see, missed the fact that the insider build that was accidentally sent out to the PC and Mobile are BOTH on RS3. Mobile build 16212 would be on the RS3 branch so it's not stuck in feature 2 or "Maintenance" mode. You she see it come to RS3 soon

This is pretty inexcusable. The fact it affected Release Preview means that those not willing to take beta risk were able to have their phone bricked. They rightfully wanted users to get and install updates automatically during quiet hours without interaction. Can you imagine users waking to a dead phone, late for work because their phone is also their alarm?!

This would have happened to me if I had checked for updates. Luckily I saw this article first and turned off insider updates for now. What a mess.

That's exactly what happened to me today... Not a very pleasant surprise...

In all fairness, nobody should be waking up to a bricked phone and those affected, have a simple solution to restore to it's previous state. What I don't understand is how anyone ignored warnings or the intent of the Insider program. It's allows developers and normal user access to experimental and pre-release builds. They clearly warn you may void your warranty, it's not production-ready, it's unstable, you can expect crashes and data loss and that you should backup your data frequently or opt out at any time. I've taken the chance of running pre-release builds on my daily drivers but stability issues are not anyone else's fault but my own.

Not everybody reads these kinds of sites and it affected more than just fast and slow ring users. Unless you actively sought out this information, you would have had zero idea what was about to happen. And a lot of people will wake up or grab their phone to see it automatically updated to this build and bricked their device. No change log was provided, MS did not make a PSA about this issue and only commented after people were affected and only after sites like this reported about people being affected. The agreement for the Insider Program is geared towards builds MS releases to the public on purpose, they release information on what is in the build, what it fixes and what it breaks, so then users can opt out or avoid the build if they feel it is a risk. This situation was done with none of the above, nobody was warned, no changelogs were provided and many people have been affected without the ability to choose. Fluff it anyway you wish, but this is Microsoft's fault through and through and not the user's fault. I was not affected but I know many others were and because of this situation and because this isn't the first time this has happened, I am leaving the Insider Program as of today.... It's not like we have much to give feedback on anyways since all we're getting are bug fixes and maintenance now. Might as well drop out if Insider and wait for MS to get their sh*t together and release these fixes officially.

You don't have to read any sites to understand what the program is about and I'm certainly not fluffing anything. Nobody accidently wound up on the Insider program (unless someone secretly installed it on someone else phone), all warnings are in bold print and multiple steps are required before you get on the program. Will someone be pulled in to an office? that would happen in any case, but to get fired over pre-pre-release build sent to testers would be silly.

It's a simple solution? Wipe your phone and restore from cloud?

It is simple, it just takes a long time to restore phones & desktops to previous builds. If you're lucky enough to be running Insider desktop releases in a VM, it only takes a few seconds to rollback using snapshots.

Rolling back is the ability to cleanly downgrade after an upgrade. It is possible to do so on desktop, not mobile. Mobile users get a bricked phone and lose all data that is not in the cloud and must wipe the phone clean. Absolutely nothing simple about that. It's not like they tried a new feature relating to the bootloader and a bug accidentally nuked some phones. This was them allowing something to happen that should not have happened. Im a dev myself. I'm okay explaining away issues when using beta software, but this is inexcusable

I won't argue that it requires time, but the steps below are far from difficult. Should it have happened to Insider testers? I'm sure no one wanted a pre-pre-release build to go Insiders but it did. It should come of no surprise that even scheduled Insider builds could have irreversible consequences. Thankfully for those that ignored all warnings and cheated fate, this is a reversable situtation that they can learn from. Surely there will be meetings to find the W5's and if it turns out to be a bug and not direct human error, a solution to ensure it never happens again. Being a developer, you can understand that. Simple steps to recovery
1) Grab a coffee (extra step)
2) Install WDRT http://go.microsoft.com/fwlink/p/?LinkId=522381
3) Plug phone in to PC (when prompted)
4) Click Reinstall software
5) Start drinking coffee (extra step)
6) Wait until it completes, restore your backups, wait for apps to reinstall then configure apps. (Repeat steps 1 & 5 as needed)

6) Wait until it completes. DO NOT restore any backup.
7) Run Phone Update several times until you eventually arrive back at latest available Production Build (Creator's Update).
8) Reset your phone to factory settings. (under about in settings).
9) Now you're safe to restore your cloud backup.

Remember the last time this happened? A build was released over night in much the same way and although the build didn't brick your phone, you were prevented from getting any further updates so you were forced to wipe your device regardless. One would have figured MS would have learned the first time and made steps to prevent this from happening again, yet here we are and they launched multiple builds that should have come out that screwed a lot of people up. As mentioned before, someone at MS better damn well lose their job over this.

Imagine if this happened with a user base as big as Samsung or Apple. Would have been worst PR than the exploding Note7.

And Samsung and Apple would have the same issues if they had an insider program.

Apple has such program, dear fanboy. It's called public beta for both ios and OSX. But hey, how can a MS guinea pig fanboy know anything else, and no Apple never had such pathetic problems because the phone itself besides the update server would not allow an update to be installed if it is not intended for that specific device. But how can MS know such things, they don't give a damn about you and any other customer. this is another proof...among other dozens.

Almost did for me. I woke up last night to see the time and...nothing. Spent the rest of the night timing the reboots just right to make WDRT do its thing. #Teamnosleep

I get that everyone is pissed, but Release Preview is still insider which still has some risks involved. No?

I get that people like to point that betas can have bugs so people should know what they're getting into, but a bug like this shows how unstable the platform really is. No? Buggy upgrade that forces the upgrade to be rolled back? Fine by me. That's the risk involved. Buggy upgrade that completely bricks a phone and cannot be rolled back shows that the fundamental upgrade system the OS relies on? Unacceptable and scary

Woke up to find my 950 looping, hoping the recovery tool will fix it.

Hope you have more luck than me - let me know how you get on! Mine is now with DHL winging its way to Budapest!

Mine was almost sent until i saw the vol up trick. While plugged into your usb cable/pc restart the phone, then press volume up until you see a lightning bolt on the phone. AFter that, just let WDRT do its thing.

it will fix it. just make sure you keep hitting try again for the tool to "catch" the device during its loop.

Now that's a way (way) smarter way to convince people to give up on Windows 10 Mobile! This is Genius!!!

LOL read this as if you avatar was saying it.

I got couple of Xbox builds on my Lumia 950. Microsoft is super generous! Wish I could post a screenshot here.

onedrive link to the image

If letting the update slip through the cracks wasn't bad enough, what compounds it is the utter useless back up and restore function we have for Windows 10 Mobile. It doesn't keep settings, it doesn't restore layout, it doesn't remember what apps I had. It's just rubbish. Luckily I remembered to take some screenshots to assist me to get my 950XL back to where it was. Pathetic.

So it isn't just me who doesn't get tile layouts restored? Good to know.

Tiles and apps do get restored from a backup. And some settings too. Only some, and you need hours and hours of testing and fiddling to restore from a backup. Yeah, "business phone".

None of mine as well. AT the end of the restore it gave me some msg saying not all of the backup was restored. I guess that was what it meant.

A lot of it is because WDRT rolls you back to a Threshold/Anniversary Update build, and if you came from Creators Update before it bricked some of the cloud backup isn't compatible. So after you've run WDRT, DO NOT restore your backup first time round... Login with your Microsoft account, but start afresh temporarily (I can't remember the exact terminology they use)... Run Phone Update several times until you eventually arrive back at the latest production build (creators)... At this stage you need to 'Reset your phone' (under About, in settings)... This time when the phone boots you can restore your old backup, and it should retain the majority of your layout/settings/apps etc.

??? Mine has restored every single time on my 950XL, and I have done it 6 times over the past 1.5 years as I test on the fast ring. Every time my layout was the same, as were my settings and what not. The only thing it didn't restore ever was custom ringtones / sound settings for some reason, which are trivial in my opinion.

I had a restore issue with mine because the image on the device recovery tool was 10586 instead of 14393. I recall where the backup format was different between OS versions so my start screen layout didn't get restored properly

Yeah that is annoying. The only way to get around it is to get all the updates on your phone to get back to the most recent build, then do a hard reset, then you'll be able to restore from your backup.

Yes. You have to update the OS, then reset and restore the backup.

You must have a problem with your backups.
Restored OK here, layouts, apps, ringtones etc.
Only thing that didn't was the Quick Actions layout.

It's supposed to restore layout and the app list, redownload them etc. That is a bug by the sounds of it - Doesn't help you I know, but it is supposed to work that way (and has worked for me in the past)

I was able to restore apps and tiles going from a L950 to an Idol 4S just fine.

The people app already updated under these circumstances, now it crashes on launch. Anyone knows how to fix this?

Yep, I got bit by this. Lumia 950 (Netherlands country edition), Insider on Release Preview. Woke up this morning and found the phone in bootloop, so it probably installed the update overnight. Trying WDRT right now, but it doesn't seem to recognize my device... EDIT: Recognized after a forced reboot. Installing now.

I already felt **** was coming because the people app and some other ****** updates were coming through. Now people crashes on launch. So when i went to bed i disabled every data connection. Lucky me.

@Crise download the Windows Device Recovery Tool and that'll help you.

Saw the post about broken builds before going to bed thinking I won't be affect since I'm only on release preview Well silly me! Woke up to a bricked phone this morning. MS really screwed up royally this time.

So you read the post, where it said ALL RELEASE RINGS were vunerable and also said to pause your updates... and you ignored it and went to bed, and now you are shocked and pissed?

It was late, I only saw the headline. Fine, so I missed the fine print. But just think not everyone are lucky enough to see that post and they'll wake up to a nasty surprise this morning. Windows Phone fans are already fairly beaten up as of late. This really adds insult to injury. Edit: So I went back an reread the post (on WinCentral), it doesn't mention anywhere about release preview being affected.

Fair enough, but when I read it last night it said to pause it no matter what release you are on.

I did exactly that paused insider builds for 7 days... Still woke to a bricked phone... Still in the process of sorting it out 10 hours later because I screwed up the restore procedure... Ah well... Live and learn.

It doesn't matter because all the blame falls on Microsoft for this crap. Not everybody follows these sites. Not everybody checks these kinds if articles and just carry on with their day. Then they wake up or reach for their phone and it's screwed up regardless. Is it their fault for not checking these sites first? We shouldn't have to because this sort of sh*t should have happened in the first damn place. Someone at MS screwed up big time and pushed the wrong damn buttons, making a lot of people lose a lot of files and end up with broken phones. Whoever is responsible for this mess should be fired.

I doubt anyone is getting fired over this, because MS no longer cares about their mobile users. In fact, I would not be surprised if they gave the guy a metal for screwing with the 1%

Fortunately nothing happenned here but come on with this error if it had happenned i would switch. I am a fan but not in the mood for wdrt. I am in the public ring for a reason- did not signup on insider when i switch phone to have a clean working phone

This site is pretty ballsed up as well atm, reply and edit function doesn't work on the website.

That's probably to do with ad blockers.

Yeah, if you don't want 60 ads per inch on the screen selling you overpriced trash, the site messes up. KEEP TEH DOLLARS FLOWING, Big Tech needs to donate to Hillary so she can run again in 2020!!! SHE'LL WIN THIS TIME HONEST GUYS!! 3 times a charm!! lmao

I currently have an update pending for Outlook Mail & Calendar. Is it safe or will installing it screw it up, like the People app?

Well, thank you MSFT for this f***up.
I managed to recover my Lumia930 with the WDRT. All the way back to "WP8.1 update", and damn what is it fast.
Why is the W10M build *586 NOT the default image available? Shame on you MSFT. So, now I have installed the Insider app trying to get back on track. Not knowing that in the background the bloody WP8.1 is making a device backup to Onedrive overwritten my previous W10M latest build.
So, after installing the W10M *586 build and now trying to restore the backup I see a funky name "Windows Phone" which means my backup of last night was overwritten this morning. Pffff
Why not multiple backup where to choose from? Microsoft, you did it again this time. Please, get your strategy right.

If the W10 build was the default then 930 users (or any WP8.1 phones) couldn't go back to the original OS and you'd have people moaning they were forced to stay on W10M

Didn't look at it that way. At least they could have provided us with two options then. ;-)

Figuring most with Windows 10 Mobile have to reset the phone with the recovery tool once a month, this really isn't a big deal.

I dunno, literally dozens of people were probably affected on mobile. That's almost half the user base...

Now downloading build 10.0.14393.1066 I have to verify how this goes as currently I do not have a f***ing startscreen anymore. Grrrrr

Yep no start screen here either....

Even after 10.0.14393.1198 no start screen. Performed hard reset and things starting to look promising...

I also lost my start screen. Then I pinned something, and it appeared. But I lost all the start screen "stuff" (apps, folders)

I seem to have been lucky enough to dodge the bullet but this could have been far worse. They should b more careful.

I'm just glad it only hit my Lumia 920 and skipped my 950, my mum's 930 is still on but she's at work and no idea if its pending or not. No reply from my dad with his 650 hopefully he's in a meeting.

If nothing else - by using the WDRT - you are going to solve any slow performance issues you may have had. My advice - recover to base OS, but don't login with your Microsoft account. Update your OS to the latest version, do a hard reset (System -> About -> Reset your phone), then log in with your Microsoft Account. I find this gives you the cleanest re-install as you are not having to recover your Ourlook data to an older version of the OS.

Installing 10.0.14393.1198 as we speak... LOL

insiders preview fast build but didnt hit by this updates because.when i woke up at morning i saw a message...."some updates need to install".. but storage was full😂😂😂

Lucky you. ;-)
I am still installing my device from this morning 10am in the Netherlands.

Concerned about the direction things have been heading with newer builds. I'd been running Fast ring builds on 2 older laptops that have been reverted to Windows 7 due to issues beginning at 14986 for one and the other losing Bluetooth since 16179. Dutifully reported the problems and engaged with others experiencing the same issues on MS community forums, but feel that they have just been flat-out ignored.

Finally got my 950xl to throw an error (it hadn't downloaded the update yet) and show the retry button. Tapped retry and it said it didn't find any updates 😁. No bricked device for me. So relieved!

WDRT is not working for me. Its stuck on Reading Device information.

While I unbrick my phone, this mistake has just about sealed my feelings about microsoft windows phone. With the increasing lack of apps, lack of new phones and that they never marketed the 950, it's about time to jump ship for me. Now I'll wait for the note 8. While I love the UI on my windows phone, I'll get use to Android. I have the first note and it's ok.

android is so banal. lacking in simplicity. most of my friends xperia aqua phone memory is consumed with apps she doesn't use and can't uninstall . in fact all that's left is about 800mbs. there are only two apps on her SD card. the phone crashes and wont come on for hours and even one day. we've tried all sorts but to no avail. bloat ware, bloat ware bloat ware. i'll never go near one again: Facebook - cant get rid of the damned menace. if I had to go id go for an iPhone or new lumia 950/xl.

Woke up and my 830 was looping, thankfully WDRT could recover it but I had to go with "My Device is not recognized" then it booted...to 8.1, well 8.1 is better than no boot at all. Now the upgrade begins

Uninstall WDRT and remove its files from your PC. Then reinstall it and try again

Go with "My device is not recognize" it will reflash it anyway, I did the same with my 830 and I just finished reinstalling everything

Best news is a mobile build with same version as desktop! I.e. RS3 mobile build.

You've misinterpreted the article, they are not on the same branch.

Still stuck on 16193 on pc. Turns out I was lucky not being able to install 16199.

It's what us Brits call 'dropping a *******'

Yeah it kinda sucked but thank goodness for backups. I originally thought I had bricked my Elite x3 but the recovery tool worked like a champ last night at midnight.

I have my Lumia 650 in a mircrosoft logo bootloop. for a update this last nigth

Screw you, Microsoft. My daughter's phone received this crap and she lost all her pictures. She's been crying all day.

Phones get lost, break. You should have taught her about backups.

all day? now she should stop, crying all day. there are more important things to do.

Do her a favor and buy her a real smartphone not this mediocre crap windows mobile. She will forget everything and you'll be the hero.

So there is a mobile build on the same branch as PC?

No. They sent out builds on the same branch for the wrong devices. Mobile got Xbox or devices build.

Nadella and his goons keep playing Clash of Clans on their iOS device while at work. LOL

What if I was using Windows 10 s on my laptop? Windows Device Recovery Tool is not a UWP…Microsoft would have paid $50 for me so I can upgrade to Windows 10 Pro to fix my phone? Not funny Microsoft. You can't afford mistake, you need to act like pro. Be ready for every situation. You want developer to embrace UWP! Show us the way.

I have two Alcatel idol 4s software bricked with the update downloaded and cannot flash since the emergency flash is not set up in the windows recovery programs for non lumias, I don't know what to do???

Windows Device Recovery Tool for your pc, plug in your phone and select the appropriate option. If pc doesn't detect your phone then click on the appropriate button, device not detected tab, it will give a list of phones, pick the right one, it will tell you how to reset your phone and how to boot into self installation of oem build of WP 10. after that pick what backup you want to install so you can have all your files and apps back.

And that works as long as you have a TMobile Idol 4S. If you have the unbranded/unlocked one, you're out of luck and need to send in for Warranty repair. (Flashing the TMobile ROM apparently voids your warranty according to one of the forum posters.) Waiting on the FedEx label so I can send it in on their dime instead of mine and back to my 830 while I wait. :-/

Please share your Warranty repair and FedEx shipping info and who to contact, was it microsoft or alcatel?Thanks!

paschott:Tried that several times but it is not flashing, how long do you have to wait? I left mine connected for at least 30 min. I have one t-mobile and one unlocked! Gunite: where did you ship, alcatel or microsoft? Could you share the contact info?

There is no shipping involved, download Windows Device Recovery Tool then follow the directions for your device in the program. I just looked and your devices are on there. It has nothing to do with locked or unlocked. My Lumia 950 is locked to ATT, my HP Elite x3 is not the tool works on both. The only thing that being locked will do to is make you go further back in the oem tree of WinPhone system.

I was mentioning shipping because your previous comment said you were waiting for a Fed Ex shipping label to be emailed to you, so I was asking if it is microsoft or alcatel. Anyway I downloaded the software in windows recovery program and followed the instuctions several tomes but none of my phones will flash/ reload ops system and I let them sit for some time to no avail so I guess I'll have to contact Microsoft for warrant repair? Or Alcatel, I'm not sure which one is responsible here.

When the phone was rebooting you need to press the volume up which will stop the constant reboot and start the install process, it should state that in the WRDT app. That wasn't me that shipped anything. Even if my phone was bricked I wouldn't send it in. I have nothing to hide but I'm not going to freely hand my phone over for people to root through my business. If the want it they'll have to hack it or hack my server where my info is stored. Please know anyone reading that post, it wasn't a challenge. I personally would torch my phone and buy a new one, whether it be a $100 phone or an $800 one.

Sorry, that shipping comment was made by user "paschott" right above your comment. Thanks for the inputs about flashing but none of my two alcatel idol 4s will not flash! period.

Thats BS they knew what they did its a BS from the kindergarden TEAM just play monkeys and dont wont be seriouse for one minute

Definitely inexcusable. At least it's a banking holiday here, so i didn't miss work. But since I own a 930, I needed to go back to 8.1 and now I'm stuck on 10586. What the actual f...

Seems like you're another clueless user on the Insider Preview.
It's beta-quality (or sometimes even alpha) software; it's unstable, things are going to break. So don't go whining when your daily driver is borked just because you don't seem to understand what unstable software means.

Oh right, thanks for the explanation. But I've been an insider since day 1, faced numerous problems and have never complained (and btw, this was not a problem with the build itself, but the whole process of update delivery, which is even scarier). Now, in order to get the creators update on my less than 2 years old flagship phone, I need to be on Release preview. I know the risks and it's only my fault if I brick the phone, but that doesn't mean that I can't complain of the MS's amteurism and the lack of support for previous generation flagships.

wow, since when does Microsoft do something fast? (ie: this explanation response!) ;)

I received the same update as everyone else. Only I'm not in the insiders group, neither in the fast or slow insiders group. I have slow insiders group for Office 365 only!!!!! What gives with this??????

I received the same update as everyone else. Only I'm not in the insiders group, neither in the fast or slow insiders group. I have slow insiders group for Office 365 only!!!!! What gives with this?????? And it didn't install. I kept getting error code 1612.1001.rs_edge_case.170531-2234 (UUP-Ctv2) (0x800b0109)

My phone would not connect to the recovery tool. It would not make it far enough into the boot cycle before it would restart. Customer service said they would be back to me in 24-48 hours. I was on the production ring. Anyone else with this issue?

I had this problem too, left my phone online and was busy ( xbox !) heard my phone buzz and did not think as I pressed update........now its dead, WDRT did not work for me , several attempts, held vol down button for minutes.....eventually I got a message downloading recovery but then it xxx, red screen said it had failed... searches ms website, contact direct to B2X Lumia repair agents... use your imei number and you should be covered under warranty, I got 2 years on mine..phew. its going to Hungary for repair......inconvenient but then the insider program is not recommended for everyone. so back to my Lumia 650, gosh its so small and slow ! but its a good looking phone .......the call centre give you a DHL label to ship back....inconvenient yes but not seen any other fix online.

This update bricked my Idol 4s last night. I had to use the recovery tool. It installed the faulty update automatically. I'm done with the Insider program for now.

Could you explain how you did that in detail, tried to connect mine but it would not flash or recognize the phone! thanks!

It's easy dear. Just open the WDRT and connect your phone it will not recognize it click on "My phone it's not recognize" or someting like this and choose then go next and next again the app will download and ask to you to install the Firmware download.

I wish! None of my 2 alcatel Idol 4s will flash and I'm following the step by step and have done it on Lumias before but theese will not flash no matter how many time I try! Go figure!

This is a known issue. Go visit the Alcatel 4s forums in windows central, there is a thread called open market.

One is a t-mobile branded still won't flash!

I had my Lumia 950 (release preview ring) stuck too... Normally, I turn off the wifi during the night, but I forgot to do so... So I woke up with a vibrating phone. Cost me a few hours to put everything back as I like, and 3GB from my data plan to download everything and all photos during my working day... ☹ I was thinking the past few days to move away from the platform, I've made up my mind to switch by the end of the year (with A LOT of regret) to a S8 or a XZ Premium. Any other good flagship phones you know off?

Nokia 9 is best alternative I reckon. It should be announced soon

I think this might be a good alternative, yes. Thanks for the advice, I wasn't aware of them yet.
Back to Nokia, where my phone usage began (5210/3310).
I hope the Nokia 8 and 9 will release in Europe this summer...

Oddly enough, I think my old 1520 was victim of this update. I'm glade it's not my daily driver anymore. I managed to pause the insider update on my 950XL.

Was not affected at all. I like to stay on production build until close to release of new build.

So I just found out my device is bricked. :( Since Lumias (and Windows Mobile in general) have lost most of their 'smartphone' functionality, I've relegated the number I use for SMS messages in my Lumia 830, while my other phone is now an Android. I've been on the creator's update using the production ring (since the 830 is no longer officially updateable) and now I regret updating.

Lost most of their smartphone functionality? Lol what functionality do you mean?

Happened to my Lumia 1520. Was on Release Preview and woke up to a brick. WDRT took care of it. Haven't put Win 10 Mobile back on it yet. I find myself missing the smoothness of WP 8.1.

I read on this site that resetting the phone was the only way out if the phone had not rebooted yet. Wish they would have recommended the rate fix first. I never felt this type of apathy towards the Insider Program.

This "accidental" update totally BRICKED my Icon. It won't boot up at all, can't use windows tool, won't take a charge=paperweight. I so wish I had listened to the voice in my head last month and gotten out ot the Insiders program. Thankfully I have my other Icon running 8.1 to hopefully hold me over till MS can put out a flagship. I miss w10 and all of it's goodness, but love the rock solid 8.1. Damn you MS

Can we update yet? Is already fixed?