Windows Insider app for phones gets an update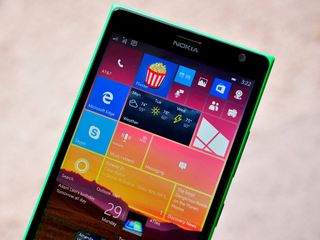 The Windows Insider app for Windows Phone has received an update today, bumping it up to version 2015.701.2303.3947. No details about the update were provided and we haven't noticed anything new. Let us know if you find something interesting!
The Windows Insider app lets you download pre-release OS updates on your phone directly from Microsoft. This is the app you need if you want to preview Windows 10 mobile. The most recent build, version 10166, was released last week. It includes a lot more polish to the UI and core apps like the Store. Check out our hands-on video of Windows 10 mobile build 10166 for more details.
Windows Insiders can can also give feedback, collect data, and add comments right from the app. If you're not a member yet, hit the link below to grab the updated Windows Insider app.
Download Windows Insider for Windows Phone
Thanks for the tip, Anupam K.!
Hasn't hit my Icon yet...hope to see better battery performance

This is an update to the Insider app itself, not a new build. In theory, the app really shouldn't have any impact on battery life.

My fault for skimming the headline (which I RARELY) do...thought we had an update to the build...mulligan please? ;)

Yeah order me a mulligan too. They taste good and give a good buzz ; )

Perhaps this update adds support for more devices, in preperation for an upcomming build. That would certainly be a welcomed update.

Exactly. I get access to the W10 builds on my HTC 8X now.

What do you mean? You can download the WP 10 ?

No he means access to preview builds.

Let's hope we get some love.

@Flaap well I got access to it 3 months ago on my HTC 8X.

Hey, even I tipped..!! You folks not getting my mails or what..??

Can we finally unenroll? Can't wait for a new build, hopefully I won't have to reset the phone after updating then

Yes we can, that's the main thing in the changelog. We can now 'Leave Program' by clicking on the eclipse at the bottom. Not sure about rolling back the OS.

Did you actually unenroll from the Insider Program using this new update? If yes, how did you do it?

Open the app, search for yourself.

It's called an ellipsis...

I don't see ellipsis.....Apparently you guys with L820 and L1520 got a different version of Insider update!!! My WP8.1 L920 Insider got updated to version 1.3.230.7. My WP10 L635 had the latest version 1.2.227.1 (no available update in Store)! The difference between the two is that in the 1.3 version there is a Leave Program option under the 3-dot menu (lower right). tapping on this point you to the insider website for joining information, nothing about opting out!?

Stomached the fast build for a week. Much improved to what it was, but glad to be back on 8.1. It was surprisingly useable though.

Wish it would offer builds, I would love gdr2

If the W10 mobile store wasn't such trash then maybe I could see the update. And no, I'm not set to automatically receive updates.

1st: It isn't trash
2nd: Set to automatically receive updates
3rd: I haven't had a single problem with updates or receiving them in win 10 mobile store on the latest build

1st: That's YOUR opinion 2nd: Doesn't resolve the issue. 3rd: Good for you? Many people state they have issues with the store app. Move along please.

It does resolve this issue. Resolved it for me and everyone else. If you have further problems report it to Microsoft. No I won't be moving along.

And you saying it's trash is, gues what, yiur opinion.

Honestly i got the same problem. I set it in automatic update then i got the update for touch, audio and display plus some apps like nokia account etc. and ended up an error. After searching for the meaning behind those error, it says that the apps which i am trying to update is not in the store. And since the i cant finish the update, its affecting the actual apps. for example, i cant access the music/groove music because of the error in audio update. Or i cant use the double tap to wake-up because of te error in touch update. Well, my phone is back to normal after disabling the automatic update, restart the phone then cancelling all the error

1. Lol
2. Lol
3. Lol
4. You both smell really bad! Take a shower

This is much behind the version that will ship. For knowing how the final version will be, look at the PC counterpart of it, please.

Didnt get any update this in the preview build 10166

I've just tested it.. It enhances the performance of our battery

What are you taking about

1naman used Sarcasm!
It's not very effective...

Hmm, I can't see it on Windows 10. Some sort of delay for Windows 10 users?

This is for Windows 10 mobile.

Why would this app update anyway?

Few reasons: 1) new features, such as the ability to opt-out of the Insider Program. 2) adding support for more devices. 3) resolving issues that prevent users from opting-in to the program, downloading builds, or switching rings.

10166 wasn't released last week It was 2 weeks ago

I just checked manually. I have 22 updates but Windows insider is not one of them!

You either have the most recent version or your phone doesn't want to update lol. Just delete it and reinstall.

Updated the insiders app on my HTC 8x and doesn't even launch now lol. I'll try to reinstall again

Crashing instantly on my ativ s too since this update...

I uninstalled and restarted the phone and I installed again the insider app and its working again :)

Expecting new build maybe :D

this doubled my battery life!!!

It isn't an OS change so it shouldn't affect performance. It isn't a new build, it is an update to the app you use to enroll in windows 10 preview

nedarata uses sarcasm.... It's super effective

No joke, right...people up in arms...

Still no build for HTC 8x :))))

when windows phone recovery gets it

Hey in my lumia 620 review and change I saw is that now in Spanish grettings from Venezuela

No update here. Iam on build 10166 since the first day and suddenly today I get advertisements in the windows central app. All apps worked great suddenly a lot of them crashes :'(

Ha! I didn't even have it installed because I did a hard reset recently.

you dont need the app in the build

My Insider won't even launch anymore. Reinstalled. As an aside, how do you see the version of apps in the new Store?

Sometimes you see it in the store at the end of the page. Scroll down to the bottom. Insider app you see it in about.

I can't see an About... Except in the app. Every 8.1 app used to have the version when you swiped to the left.

I had phone update with a restart earlier. My start screen still won't load without forcing it. And I can't send mails. But this build is better. Hate that it changes language keyboards by touching button. Keeps changing to German while I type.

Not sure what you mean by "this build", as a new build has not been released. If you are on WIndows 10 Mobile, the language may be switching if you are swyping on the space bar, as it is designed to provide quick access to different languages (for those that frequently type in different languages).

Had same prob..nuked my phone and it works like butter...so smooth, so happy...you need apps from win 10 store...8.1 apps fuck it over..sd cards don't help either...put most apps on internal...

Dam was hoping for a update to the Windows 10 build....

Maybe this is just in preparation for future builds. Nothing to see for the moment. Posted via the Windows Central App for Android

When are they fixing the camera for the 1020? Missing options of the Lumia camera and they now broke the Lumia camera in 10. It just means I wont upgrade to it...

Are the OS builds stable?

I'd like to know that, too. Thinking of trying Windows 10 now. I've tried on the first builds, but it was completely unusable, although Daniel (Rubino) said that ever since the previous build it is safe to try it on your daily driver. You can always go back to 8.1, though make sure you back up beforehand.

As others said i wish we could use this to get 8.1 update 2 if we chose. Or use the preview for developers app for update 2.

You can get update 2...im using on my device now via Insider program. Just make sure you have auto updates disabled so you can pick which to install.

Has anybody else had to switch to the slow ring because they found the fast ring update was absolutely positively shit?

I did notice a chamge it notified me of an available update for my icon....never did this before the update i chose the the slow insted of insider fast....i have the option to download technical preview 10.0.12648.133 for my icon is this a very old build?

Man up and do it...otherwise don't fuck with insider...

Still unable to install update for windows insider on build 10166

I am now backing my phone up so I can update safely to Windows 10 preview. Do you guys think it's worth it? Does the battery drain way more than on 8.1? I'm using a 930, btw.

do u need this app even after installing windows 10

I cant update it. Store shows an error not only for this app other 7 apps shows the same error.. Posted via the Windows Central App for Android

Does anyone have a link to Mark's background image?

Looks like it offers WIn10 preview for BLU WinHD now
Windows Central Newsletter
Get the best of Windows Central in in your inbox, every day!
Thank you for signing up to Windows Central. You will receive a verification email shortly.
There was a problem. Please refresh the page and try again.