Windows Phone Accessory Review: IDAPT i4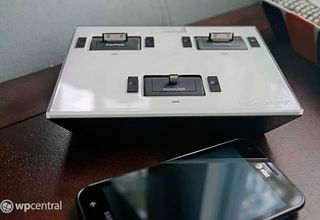 If your household is anything like mine, you face the challenge of keeping multiple Windows Phones charged without creating a tangled mess of charger cords. Add a few iPhones (yes, I'm out numbered in my house) and other electronic devices into the mix and the number of cords grows tremendously.
One possible solution is the IDAPT i4 charging solution. The i4 can charge three devices, cord free, from tip chargers and another device via the USB port.
The charging base measures approximately 5.25 x 6.5 x 1.5 inches and takes up very little counter space.
The i4 base package is offered in white or black and comes with six tips (micro USB, mini USB, iPhone, Samsung, Nokia, and Sony). Just choose which you need, snap them into the base and your in business. The tip of the micro and mini USB charging tip is a little on the long side, which helps it connect to odd shaped devices (headsets, speakers, etc.).
Another nice feature of the i4 is a dedicated power switch. When not in use, just turn the charger off to avoid it from becoming an energy vampire.
Using the i4 for the past few days, it is nice not to have a wall socket full of chargers and a counter covered in cords. The i4 allows me to charge two iPhones, a Bluetooth Car Speakerphone and my HTC Titan with only needing one cord (the USB to the Titan). The IDAPT i4 is a nice charging solution for the multiple device household.
All in all, I liked the i4 and would recommend it. The only downside (and I use the term loosely) is that, depending on the device charging port orientation, you may find yourself with devices positioned in various manners.
You can purchase the i4 directly through IDAPT (opens in new tab) or from various online retailers such as Amazon.com (opens in new tab). The i4 is running just shy of $60 and extra charging tips will run you about $10.
Oh, if you only need two charging tips IDAPT offers the i2 for $40 that has two charging stations plus the USB port.
George is the Reviews Editor at Windows Central, concentrating on Windows 10 PC and Mobile apps. He's been a supporter of the platform since the days of Windows CE and uses his current Windows 10 Mobile phone daily to keep up with life and enjoy a game during down time.
Something I could use. :D

I was looking at the Belkin F7C008q at our local staples https://www.windowscentral.com/e?link=https2F2Fc%... Which to be honest with you suits me better than the one in the review.

This does lok way better, I might ust get something like this for all the usb devces...a cheaper electric bill wouldnt hurt either..

I don't see why it wouldn't...

I'll buy it. I'll use it with my Lumia 900 when it comes out.

It looks like my Focus would be upside down, is that right?

It doesn't look like the connectors provide any support for the device other than the connector itself. I'mnot a fan of this arangement as it stresses the heck out of the connector and the board it is attached too. Imagine the weight of my Titan, or even my old Tilt 2, perched atop such a connector. Add to that a coupleof ham-fisted kids reaching past it to get to their device in the back row - and how long before you're going to be having trouble with the charging connector? Not long I suspect.
And before anyone sas it, I couldn't put my Titan in the back row, cause it has a connector on the side an it would hog the whole row.

Nice idea, but needs soem more refinement I think.

Smart man. Its a pretty dreadful design almost guaranteed to break.

Not really. I've been using one of these with:
iPod 3
Blackberry 8520
LG Optimus 7
Lumia 710
And I have no problem with any of them. The micro and mini USB connectors are much stronger than you would think. I have this on my desk at work, and it took away all the clutter from my desk. I also charge an iPad via a USB socket in the side.
I'm considering one for home too. I really like it.

WPcentral with all its awesomeness needs more accessories reviews/articles!

Btw, it wont work for Lumia 800...

Because of the flaps or what?

Don't know about the 800, buy my Lumia 710 works fine in mine.
If we get an 800 in the office, I'll try it out.


What is the i2? You reviewed i4, then u just say i2.

What is the exact link for the i4 (first picture). When it comes to my house, I hope it looks exactly like the picture (of course without the phones).

Anyone remember the Nokia charging plate? It wasn't released in the US but it sure was great.

I actually happen to own this charger. They got a lot of positive reviews after CES this year so I decided to buy it due to my insane collection of gadgets. The base is pretty sturdy and the charging docks have a shock-resistant feature so the stress on the device's connector is minimal. I'm able to charge four devices simultaneously which saves me lots of time since I use them for work everyday. For my bulky devices, like my tablet, I just use the USB port. I would recommend it.

+1
A few negative comments on here from people who don't actual own one and talking nonsense. I don't like clutter, and these decluttered my desk a lot. I ordered a tips pack, so I charge 2 micro USB phones, 1 mini USB phone and an iPad all at once.
Really like it.

nice artical great contant to be read in the entire artical got expand knowledge in this regarding feald to be apply in my antird thinking. Parts of a Cell Phone Charger
Windows Central Newsletter
Get the best of Windows Central in in your inbox, every day!
Thank you for signing up to Windows Central. You will receive a verification email shortly.
There was a problem. Please refresh the page and try again.