Windows Phone Apps to help weather the storms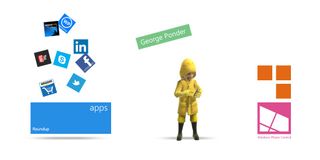 Windows Phone Central App Roundup: Emergency Apps
We had a request for a roundup of emergency oriented apps and with Hurricane Season getting underway, it was good timing.
From weather forecast apps to emergency first aid titles, these Windows Phone apps can be a solid resource to help you weather the storms.And it doesn't have to be a weather related emergency. If could be a car accident, camping mishap, or your run of the mill household catastrophe.
We've posted emergency app collections in the past and they can really come in handy when the bottom falls out. Today we're only scratching the surface of all the emergency oriented apps available in the Windows Phone Store. We tapped two apps to help you track the storms, one to help keep emergency information close at hand, and one that will help you help others.
Hurricane Software (trial/$2.99): Just a little while ago the 2013 Hurricane Season named it's first storm, Andrea. For those living in the Gulf and Eastern U.S. coasts, a watchful eye will be on the tropics over the next few months hoping all goes peaceful and emergencies stay at bay. Hurricane Software is one of a handful of Windows Phone apps designed to keep you informed on the tropical storms so you can better prepare for things to come.
Hurricane Software provides the latest coordinates on active storms, maps the latest storm track predictions, notes the distance from your location to the storms, includes satellite and radar views, and offers historical data on previous storms.
You also have NWS tropical warnings just a button touch away. Hurricane Software does have a trial version available with the full version running $2.99. You can find Hurricane Software here in the Windows Phone Store (opens in new tab). It is available for both Windows Phone 7.x and 8 devices.
Emergency Kit (free): Emergency Kit is a Windows Phone app that can help you in a wide range of situations. The app will not only help you deal with emergency situations but also help responders should you be the one in need of help.
Emergency Kit will store your blood type, allergies, medications, emergency contacts, doctor's information and more. You can then use this information on a Live Tile or as a lockscreen wallpaper if you password protect your Windows Phone.
On top of making your emergency information handy, Emergency Kit also has a decent first aid directory to help you administer emergency care. Emergency Kit has detailed instructions for dealing with broken bones, administering CPR, handling snake bites and more.
And if that wasn't enough, the Emergency Kit also has a SOS signal for your Windows Phone screen, a siren alarm, an audible SOS signal and the ability to share your current location via text or email.
Emergency Kit is a free app for your Windows Phone 8 and 7.x devices that you can find here in the Windows Phone Store (opens in new tab).
HelpBridge (free): HelpBridge, developed by Microsoft, isn't your run of the mill emergency app. It doesn't help forecast bad weather, track storms or provide emergency first aid directions. HelpBridge has two main functions, let your friends/family know you're alright or need help and find a way to help those effected by disasters.
The main page of HelpBridge has two large links to alert your emergency contacts (set up in the settings) if you need help or that you're ok. If you need help you can enter a brief message and a map of your location will be sent with it.
The other side of the coin with HelpBridge is a ton of resources for you to help others who have been impacted by disasters. HelpBridge offers links for locations where you can donate goods, volunteer time, and vast number of ways to donate funds through text message donations, paypal donations, and direct donations to relief organizations.
HelpBridge is a must have emergency app to not only inform friends/family of your status but also by providing ways for you to help in the recovery efforts.
HelpBridge is a free app for both Windows Phone 8 and 7.x devices that you can find here in the Windows Phone Store.
Weather (free): Everyone has their favorite weather app and there are a bazillion to choose from. We choose The Weather Channel's Weather app for one reason. It has a Severe Weather Section that has a tropical weather section. This gives you detailed information on hurricanes that includes storm updates and maps on active storms.
Along with the Severe Weather Section you also get the every day weather information that includes forecasts, radar imagery, weather alerts, and weather videos. While it's not the only weather app in town, the Weather app is a well, rounded weather app.
There are two versions of the Weather Channel app available. You have the standard version and an exclusive Nokia version for Lumia Windows Phone users.
The Nokia version has a few more bells and whistles to it that includes:
Augmented Reality View: Launches your camera and overlays weather forecast icons and Weather Moment pictures on the screen on the viewfinder by location.
My Friends Weather: You can add up to five friends to display a thumbnail view of their current weather conditions. Also displayed on the My Friends Weather page is any current weather alerts for your friend's location.
My Amazing Weather: The My Amazing Weather feature lets you set personalized alerts to help you plan your week. Alerts can be set for certain temperatures, pollen counts, activities such as sailing, running, etc. and more. It's a handy feature to help you plan your activities.
Both versions of Weather are free and available for bot Windows Phone 7.x and 8 devices. You can find the Weather app here in the (opens in new tab) Windows Phone Store. You can find the Nokia exclusive Weather app here in the Store (opens in new tab) or in the Nokia Collection on your Lumia Windows Phone Store app.
These apps are but a snapshot of what all is available in the Windows Phone Store to help be aware of, get through and clean up after emergencies, weather related or not. You have several pages of weather apps, a handful of Hurricane tracking apps, a first aid kit of first aid apps, and there's even a few insurance company apps to make starting an insurance claim a little easier.
It's nice that we have apps for our Windows Phone to alert us on storms, help us weather the storm and help us pick up the pieces afterwards. If we missed an emergency app you've found useful, please share in the comments. And may everyone have a safe and uneventful Hurricane Season.
George is the Reviews Editor at Windows Central, concentrating on Windows 10 PC and Mobile apps. He's been a supporter of the platform since the days of Windows CE and uses his current Windows 10 Mobile phone daily to keep up with life and enjoy a game during down time.
I like Rad Now! for radar. Straight and to the point. Use it weekly.

I wish Microsoft would put more into their own Weather app. The Windows 8 one is so awesome, it's too bad they can't update it to look like that.

The east coast of Canada also has a strong interest in hurricane season. Especially since Hurricane Juan ripped into Halifax in 2003.

Is it not true that in the coming up update for Win Phone 8, the Fm radios will be available again? That is great for bad weather, since internet and cell towers can go down. If ALL radio towers go down, then it is REALLY bad and technology is not gonna save you!

You read my mind. I was just about to look up more info on weather apps after the nasty storm that rolled through here yesterday. I was using Weather Satellite for hurricane and tropical storms but will give these a try.

the nokia weather channel app would be great....except for the fact that the Radar is at least 2 days old and defaults to the "satellite view" instead of radar. For example, I just loaded it...and the satellite view is from 6/4 at 5pm. I changed it to radar and for once it's kind of accurate... it's from today, but at 6:10am without the ability to animate it.
Until they fix the radar, I can't use it. I'm using accuweather right now, and while i like the 10 day and hourly forcasts on the weather channel better, at least accuweather has an accurate radar.

Ealerts should be added to this. It gives toast notifications for weather watches and warnings

Still looking for the perfect weather bulletin app to notify you of alerts for you selected area(s)..

It does not work for me. I use weather channel and accura weather both

You forgot about Space Weather

I've replaced Hurricane Software with Hurricane Tracker. More information, more maps, more likely to be up to date information, and a better interface. Not knocking Hurricane Software, its just fallen behind on features.

Hurricane Tracker is the best app in the Store for hurricanes imho. Surprised it wasn't even mentioned. And I live in Florida so I know a thing or two about Hurricane season.

I use this app http://www.windowsphone.com/en-us/store/app/weather-watcher/98373ba4-9d89-e011-986b-78e7d1fa76f8

Windows Central Newsletter
Get the best of Windows Central in in your inbox, every day!
Thank you for signing up to Windows Central. You will receive a verification email shortly.
There was a problem. Please refresh the page and try again.