Windows Phone Central App Roundup: Photo Effects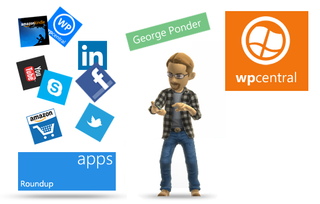 Windows Phone Central App Roundup: Photo Effects Apps
There's very little argument that the camera is one of the center pieces of our Windows Phone. We use it to capture the moments in time that are special and sharing them. We've touched on several photo editing apps for our Windows Phones in the past (Thumba, Fhotoroom, Fantasia Painter, etc.) and this week's round up focuses on those editing apps that simply apply effects to our pictures.
These are the apps that apply artistic filters, frames, and the sort to give our photos a little flair and pizzazz. They turn a color photo into a black and white image, give the image a sepia filter for that antique feel, or presents your photos in a Polaroid styled frame. No cropping, exposure editing, etc. Just effects with a little framing thrown in for good measure.
As always, if we've left out a title that you would recommend, it shouldn't reflect poorly on things. If we've missed one, feel free to chime in down below in the comments.
[+]LomoCam (free trial/ $.99): LomoCam is a simple photo app that uses a camera back as the interface and allows you to choose between eight filters. They include B&W, Lomo, Enhance, Fire, War, Cross Blue, Hell and Tilt Shift.
You can apply the photos to existing images from your Pictures Hub or capture new images using [+]LomoCam's camera controls. The app uses a nice classic camera interface that includes flash controls and controls to change the color pattern of the camera. Once you've settled on a what effect to apply, you can save and share your creations through Facebook, Weibo and Renren (latter two are Chinese social networks).
There is a free trial version to let you try things out before you buy and the full version of [+]LomoCam is currently running $.99. You can pick up [+]LomoCam here at (opens in new tab) the Windows Phone Marketplace.
Cartoon Camera (free trial/$.99): Cartoon Camera is a simple, straight forward photo effects app that lets you choose between eight filters that can be applied to existing photos from your Pictures Hub as well as newly captured images.
Cartoon Camera does have flash controls and the filter of choice is reflected in the camera preview image (your viewfinder) to give you a feel for how things are going to turn out. The eight filters or effects are: Cartoon, B&W, Gray Cartoon, Pencil, One Line, DDD Pencil, Ink Cartoon, and Painted.
You can't review or share images through Cartoon Camera and will need to accomplish those tasks from the Pictures Hub. There is a trial version available for Cartoon Camera that is limited to the Cartoon, Gray Cartoon, and Pencil filters. The full version of Cartoon Camera is currently running $.99 and you can find it all here at (opens in new tab) the Windows Phone Marketplace.
Photo Essence (free Lite version/$.99): Photo Essence is a nifty little photographic filter app that lets you selectively apply effects to existing images in your Pictures Hub. There are forty filters in all and each can be applied at varying strengths. It you want to exclude an area of the photo from the effect, just tap the area to erase the effect. You can re-size the touch area for more precise adjustments.
Once you get your image just right, tap the save button and you can go to your Pictures Hub to share your creations. There are two versions of Photo Essence available in the Windows Phone Marketplace. You have a free Photo Essence Lite version, found here (opens in new tab), that has fewer filters and Photo Essence, found here (opens in new tab), that is currently running $.99.
Sketch Camera (trial version/$.99): Sketch Camera is, as you would guess, a sketch effects app that applies a series of filters to new and saved images. The application is similar to Cartoon Camera in that it gives you a live view of the effect in your camera view finder/preview window that gives you a better idea how things will look.
The interface is easy to navigate around and there's a new feature that randomly applies filters to existing images to inspire your photographic creativity. You also have a live tile now for the app that will display your last saved photo. The sketch filters include: sketch, pencil draw, bathroom reflections, life on mars, parchment, alien skin, chalk, wall sprayer, oil paint, over the foil, canvas and industrializer.
There is a free trail version of Sketch Camera that is limited to just a few filters and the full version of Sketch Camera is currently running $.99. You can find it all here at (opens in new tab) the Windows Phone Marketplace.
Camera Effects (free trial/ $1.49): Camera Effects has a wide variety of frames and effects you can apply to new images as well as images you've got stored away in your Pictures Hub. The interface simulates a camera back with a preview LCD, shutter button, buttons to select your effects filter and frame, and to control your Windows Phone flash.
Your choice of effects will be live in the preview/viewfinder and if you just want to surf through the filters and frames just use the directional arrows (up/down for frames, left/right for effects). If my count is correct, there are fifty-one effects ranging from B&W to Sepia to an old phone filter (pixilated screen, reminiscent of the old gray scale cell phone screens). There are thirty frame styles to choose from including burned edge and broken glass.
Your finished products can be saved to your Pictures Hub and shared through Twitter, Facebook or uploaded to your Skydrive account. There is a free trial available for Camera Effects and the full version is currently running $1.49. You can find Camera Effects here at (opens in new tab) the Windows Phone Marketplace.
Sketch (free): If you're looking for a simple, straight forward black and white conversion app, Sketch may be what you are looking for. Sketch has two effects; B&W and Old Photo. And to be honest, they both seem to do the same thing.
The filters can be applied to either newly shot pictures or ones saved in your Pictures Hub. The old photo filter is applied by pulling up the three-dot menu while the "sketch" filter is applied via a control button at the bottom of the screen. With the sketch filter, you do have an application bar that seems to regulate the amount of contrast applied to the picture.
Sketch may be the more basic of apps in this week's round up but it can be useful in creating some neat images. Once you are happy with the effects, hit the save button and your creation is saved in the Pictures Hub where it can be shared.
Sketch is a free app for your Windows Phone and you can find it here at the Windows Phone Marketplace.
There are several other photo effects apps in the Windows Phone Marketplace. Even those apps that deal with photo editing (size, crop, exposure, etc.) may include effects filters. These stood out for their simplicity, design, and selection of filters they offer. Which is right for you boils down to your tastes in effects and how far you want to take your creativity.
We could have included the proprietary apps such as Nokia's Creative Studio, HTC's Photo Enhancer or Samsung's Photo Studio but wanted to look at apps that weren't device specific.
Again, if we've overlooked a photo effects app it should reflect poorly on that app. If we've missed one or you have an opinion on any of the titles we have included, sound off in the comments.
George is the Reviews Editor at Windows Central, concentrating on Windows 10 PC and Mobile apps. He's been a supporter of the platform since the days of Windows CE and uses his current Windows 10 Mobile phone daily to keep up with life and enjoy a game during down time.
Why not include Lomogram? Pretty neat app.

Personally I like FHOTOROOM as it provides many many options to customize your photography.

I use fhotoroom. The only thing it doesn't do that these apps do are the drawing/sketch/cartoon effects

I actually just used Aviary for photo editing in Rowi last night. It's nice having it right in the app.

Not sure how Photo Essence can be recommended, I guess its from personal experience, but the app has a rating of 2 stars...
Not sure why Fhotoroom didn't make the cut either, though mentioned, does exactly what was targeted for this article, simple applying effects. It's pretty simple to do, not overly complicated, and you still have the nice basics of rotating, cropping, etc.
Some others I think that should have been mentioned were Sophiecam and as another commenter mentioned was Lomogram. Both these apps are similar to Photo Essence, but aren't rated with 2 stars, and are just as simple as Photo essence, and probably have the filters that people want, not all those random color overlays. The problem I have with Sophiecam is it was said it will be free for a limited time. It's been like that for quite a long time already though. And with Lomogram, it just has low res previews, which make it annoying and look low quality, but what's nice is it allows you to save the original photo when photos are taken so you always have a prefiltered copy to toy with later on.
Other apps worth mentioning, are Volet and Instacam. Volet, when I first tried it was more like a limited Photo Essence Lite. I just redownloaded it, and it is now using Aviary editing, and has nicer filters (limited to 10 though), but it has built in collage as well. So you can do a quick collage and apply filter effects to each photo in the college. This one also has check in capability as well (Facebook and Foursquare). Then there's Instacam, rated 2.5 stars, but this is do to demands of users saying it should allow uploading to Instagram. Overall, it still works well for a photo filter app, similar to what Instagram does, with quite a few filters, and also Facebook uploading at least. The unique thing I find about Instagram is you can create your own filters, rather designs from combining available filters and frames together. You can apparently pin this so you can have quick access. What I like about these two last apps is the native camera function.
I think one thing to mention about all these photo filter type apps is the ability to use the default camera app. Lomogram, Volet and Instacam all use the default camera app to take photos. This has advantages and disadvantages. I think the advantages outweight the disadvantages though. Advantage is it allows more finer control since you can still access the ISO, focus, and other settings to make photos look better. The disadvantage is all these apps generally need a square photo so framing will be an issue, and also you generally cannot edit the full photo (except Lomogram).
Then there's Fantasia Painter, not really what the article intended, but I think still worth mentioning since it is like a mobile Photoshop.
The last app I want to mention is Phototastic Free. Probably the best free collaging photo app there. Has an assortment of frames and arrangements to choose from. Again, not really what the article intended, but for users reading this might be something someone is looking for. You can make photobooth strips with this app, and also just standard creative collages. Filters aren't included, but you can use another app to save your photo, then this one to put them together. There's others out there, but this was the best one I've found for this purpose.
Hope this helps anyone looking for fun and simple photo apps.

I personally use and enjoy SoMee, Thumba and Appict. All very good apps imo.

Sophie cam: excellent quality pics but smaller res, Thumba Cam & SoMee should all get a look in
Windows Central Newsletter
Thank you for signing up to Windows Central. You will receive a verification email shortly.
There was a problem. Please refresh the page and try again.