From the WPCentral Forums: CES 2012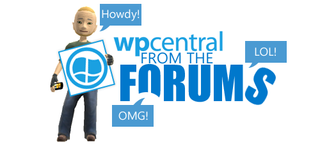 This week in the forums we were talking about, well everything. The beginning of the week was all CES 2012. We were so excited we even made a forum for the event. Now that CES 2012 is over, all the threads from CES have been moved to our Events sub forum in the WP7 OS General forum area. All the great event discussions from CES 2012 and future events will be there, like my personal favorite thread from CES 2012: "Smoked by a Windows Phone". Come join us for all the CES stuff and discussions about upcoming events like Mobile World Congress in February.
"Nokia shows why it is a failing company" Forums member garment69 started this thread in which he says: "Their first entry into the US market is with a subpar opening price point phone that doesnt even match up against the Samsung Focus" I know you have an opinion on that. We need your help to get this all sorted out so come join the discussion.
Windows Phone Central has added a Pictures & Albums upload area for all our members you can get more information in this thread: New Pictures & Albums Forum Feature
"The Lumia or Wait Debate": What's it going to be a Lumia 900, Titan II or something else? Take the poll, post your comments and if you look real hard through that thread you might even find out what I'm going to do. (Shhh... Don't tell my Wife!)
If that wasn't enough for one week, check out the Application explosion in our Spotlight Forums. With more than 20 apps and games added just this week your sure to find something you can use. Here are a few that were added recently:
Applications Spotlight:
Games Spotlight:
The forums are more fun when you register, so sign up today.
Windows Central Newsletter
Thank you for signing up to Windows Central. You will receive a verification email shortly.
There was a problem. Please refresh the page and try again.