From the WPCentral Forums...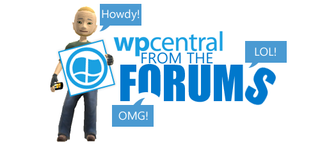 Well they went and did it. That's right AT&T doubled their upgrade fee and we're none to happy about it. "AT&T To Double Upgrade Fee (From February 12th 2012)" was our hottest thread in the forums this week. If it's all too confusing to you, jump in the forums and join the discussion even if you just need to vent a little. It has also been speculated that AT&T had this same pricing before. Forum member ninjaap says "I've been with AT&T for a long time and I'm positive the upgrade fee used to be $35 then at some point it dropped to $18. Now it's back up to $38. Oh well. If you ask, sometimes the CS rep will credit you the fee." Is this increase really that big of a deal? Join us in the forums for the discussion.
Forum member baseballbert wants to know if he should get the Nokia 900 or wait for an Apollo Nokia phone? Bert is one of our more colorful members and he is also one of our favorite thread starters. He seams to have a way with starting threads that draw a crowd and this thread is right in line with that. If your considering getting a Nokia Lumia 900 when it is released on AT&T, this is the thread for you.
My WP7 "Aha! Moment". We have all had them haven't we? Forum member GlassAdam wants you to share yours. There is even talk of turning one of these "Aha Moments" in to a commercial. Well were talking about it in that thread, who knows what could happen.
"What I want to see in Apollo" is a topic we get a lot of threads about. Forum member justwar88 has a great idea and he even provided a picture of what he would like to see.
Do you have a wish list for the Apollo update?
Forum member Oronolek has a word of advice for you Lumia 800 owners in this thread: "Word of advice, don't drop this thing" He included a picture in the thread. Ouch! That hurts just looking at it!
When you're done with those threads be sure and check out our Applications and Games Spotlight forums where our developers post up all there new App and Game goodness. Here is a small sample of what has been posted this week:
Applications Spotlight:
Games Spotlight:
Remember, the forums are more fun when you register, so sign up today.
Windows Central Newsletter
Get the best of Windows Central in your inbox, every day!
Omg.. I thought it has gorilla glass??