Windows Phone Central Game Roundup: Slider Styled Games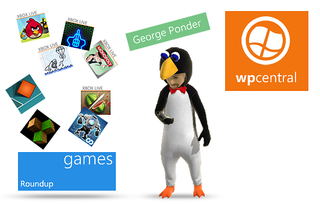 Windows Phone Central's Roundup of Rainbow Rapture styled slider games
While there are a wide range of games available for your Windows Phone, we've chosen one genre for this weeks roundup that are popular, challenging time wasters. For the lack of a better term, we're tagging this type of game as sliders.
These games have you navigating a character by sliding and jumping across hill and dale. Rainbow Rapture may be the most popular of these games but there are a few others that are great ways to pass the time.
As always, if a gaming title didn't make the roundup it doesn't mean the game should be avoided at all costs. If we missed a game that is your favorite slider game, feel free to speak up in the comments.
Penguin(free): Penguins may not be able to fly but they sure can slide and soar with the best of them. Penguin is a slider game where you race a penguin across the frozen tundra to see how far you can go before the timer runs out.
You tap/hold the screen to have the penguin dive and slide across the frozen surface then release the screen to have him soar into the air. You use the hills and valleys to gain momentum and launch your penguin into the clear blue sky. Fish are available along the way that you can gobble up for a speed boost as well.
While Penguin does have a help section, the game has an adaptive help system that will appear at the start of the game or if you start to struggle. Slopes and rises on the hills will be shaded red and green to help guide you. Red to tap/hold the screen and green to release the hold. I like this system better than the text directions that pop-up on other games of this type.
You can add time and slow down the timer by having more air time. There are over fourteen stages to Penguin, each a little more challenging to capture air time (not as many slopes). The game includes a global leaderboard for bragging rights and the graphics aren't too shabby.
Penguin is a free, ad supported game for your Windows Phone (wouldn't mind seeing a $.99 ad free version) that you can find here at the Windows Phone Marketplace.
Pigs Can't Fly (free): Pigs Can't Fly, as the title implies, has you controlling a pig who is attempting to fly. As with every other slider type game you tap/hold the screen to have the pig dive and release the screen to get the pig airborne. Additionally, once airborne you can shake your Windows Phone to have the pig fly further.
The goal is to travel as far as you can before the full moon sets. Stars are available on the ground and in air for extra points and the more air time you master, the longer it takes for the moon to set.
Animations are nice, the game does have a bit of a challenge to it but it was difficult to get into a rhythm with Pigs Can't Fly. If the pig lands too hard, he loses all momentum and it's tough to get it back. Then there's the "shaking to fly further control" that isn't the easiest thing to master. While Pigs Can't Fly lacks a help/how-to section, there are on-screen tutorials that guide you through the first few seconds of play. This helps get you through the early stages when your trying to get the pig to fly higher.
Pigs Can't Fly is a free game for your Windows Phone and you can find it here at the Windows Phone Marketplace. Note: The game will appear in your app list. My guess is the genre is wrong in the game's code preventing it from appearing in the Game Hub.
Tiny Bee (free/$.99): We took a gander at Tiny Bee earlier this week and found it to be a fun, time waster of a game for our Windows Phone. The object, not unlike other slider games, is to travel as far as you can before time runs out. Game time with Tiny Bee is a race to stay ahead of a rain storm which is illustrated at the bottom center of the game screen.
Tiny Bee has two game modes, Endless and Story, with multiple levels to conquer. The more air time your bee spends, the further ahead of the storms you remain. The Story mode has three levels of difficulty to keep things interesting and there's also Scoreloop integration.
You have two versions of Tiny Bee over on the Windows Phone Marketplace. You have Tiny Bee Free (ad supported) and Tiny Bee ($.99 and ad-free).
Sleigh (free): Sleigh was released over the Christmas Holidays last year and is from the same development group that delivered Penguin. The game premise follows the same model as Penguin except your playing the role of Santa.
Instead of fish, you collect presents to give you a boost. Sleigh has multiple levels that progressively get more challenging and a global leaderboard. It's a nice alternative to Penguin and just as entertaining.
Sleigh is a free, ad supported game and you can find it here at the Windows Phone Marketplace.
Rainbow Rapture (free/$1.49): Rainbow Rapture may be the ultimate slider game for our Windows Phone. The storyline has you playing the role of Rainbow, an unhappy cloud that is intent on cleaning up the place by wiping humanity off the face of the Earth.
The goal is to travel as far as possible, consuming as many people along the way. You have oil trucks and automobiles that will give your cloud a boost. To keep the game alive, you have to manage consumption of humans and hang time. A rainbow meter will slowly run out and to replenish it you will need to gobble up the humans and soar above the cloud level.
Asides from an entertaining game with forty-five gaming achievements to conquer, Rainbow Rapture also has three ringtones and three wallpapers to give your Windows Phone a Rainbow Rapture feel. Oh, add Scoreloop integration into the mix as well.
Sound effects are great, animations nice, and Rainbow Rapture is a fantastic game for your Windows Phone. There are two versions of Rainbow Rapture available on the Windows Phone Marketplace.
Rainbow Rapture Free is an ad-supported game that lacks the extras (ringtones/wallpapers). The full version has the rainbow's story line up top instead of ads and the extras. The paid version of Rainbow Rapture is currently running $1.49.
There's no telling if sliders is the best term to describe these game styles or genre. Whatever the correct terminology may be, these games are easy to play and great time wasters. While easy to play, the games don't lack challenge and the animations and sound effects will make you smile. You may even catch yourself saying "weeeeeeee" as you catch big time air.
If you've got a favorite game from this gaming style, feel free to share in the comments. Or if you have a better term than sliders, we're open to suggestions there as well.
Get the Windows Central Newsletter
All the latest news, reviews, and guides for Windows and Xbox diehards.
George is the Reviews Editor at Windows Central, concentrating on Windows 10 PC and Mobile apps. He's been a supporter of the platform since the days of Windows CE and uses his current Windows 10 Mobile phone daily to keep up with life and enjoy a game during down time.