Windows Phone client for Mac users still experiencing issues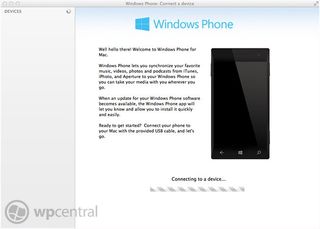 The poor Windows Phone Connector for Mac (now known as just 'Windows Phone') has always had issues since the app was made available on the Mac Store. Enabling the synchronisation between a Mac and Windows Phone, Microsoft was praised in allowing those who happen to own Apple computers to control what content is located on their mobile device. But it hasn't always been a rosy experience.
The app has continuously been updated to address problems reported by users and to keep up with what's being added to Windows Phone. With the release of Windows Phone 8, Microsoft has bumped the app further to make way for the new hardware that HTC, Nokia and Samsung will be releasing in multiple markets.
While this has been welcomed, providing further support for Mac users with the latest hardware running Windows Phone 8, we're greeted by more problems when attempting to use the software. Previously, we received reports on users hitting a wall with the infamous "can't access device" error, which required a number of device reconnects and software restarts until both decided to converse.
Unfortunately, this error is still present - but is nowhere near as common as was the case in previous versions of the connector - but that's not what's problematic to Windows Phone owners who wish to synchronise their device with their Mac. It seems as though the app is experiencing stability issues when attempting to load media onto the connected Windows Phone.
When selecting "Music" on the sidebar to prepare iTunes to synchronise either individual artists, tracks or entire playlists, the Windows Phone app hangs and subsequently crashes. A number of reviews on the app's listing on the Mac Store are complaints of this issue, and we've been able to reproduce the issue, which has also been reported by a number of our readers.
So while the updated app is nice (it really is an intuitive solution) we'd like to see Microsoft address the issues highlighted by users to prevent those who are coming onto the train by purchasing a new Windows Phone 8 handset to be hit by errors and crashes when attempting to set up their device, should they not have a PC running Windows 8.
It is possible for music to be added to the Windows Phone (and we've confirmed that the tracks are loaded on our device), but one is still battling against errors and potential crashes, which is never a good experience. If you're experiencing the same problems, do note that the app does actually work, one just has to push through the battleground to be successful.
If you'd rather go with a drag-and-drop approach, the latest version of the Windows Phone app enables Finder support, which allows users to literally drag files to their Windows Phone - just like on a PC. It's a conveniant workaround (though we haven't been able to actually be able to do this - sound off in the comments if you've been able to get Finder support to work).
Note: if you're using external devices / folders (other than "Music") to synchronise music to your Windows Phone, you have to enable access. This can be achieved by going to "File > Allow Access to Folder".
Yes, we can complain about the app but in reality it's a good solution for those who own a Mac and a Windows Phone. Of course it's always best to either set up or buy a Windows 8 PC, but for those who are slowly reaching out from the Apple ecosystem, it's a good experience when it works. We've previously looked at how to load ringtones, back up and restore a Windows Phone, as well as other tips so be sure to check them out for helpful hints.
You can download the Windows Phone app (opens in new tab) from the Mac Store for free. Are you having issues with the latest version of the Mac client?
Thanks, ainstushar, for the tip!
Windows Central Newsletter
Get the best of Windows Central in in your inbox, every day!
Rich Edmonds was formerly a Senior Editor of PC hardware at Windows Central, covering everything related to PC components and NAS. He's been involved in technology for more than a decade and knows a thing or two about the magic inside a PC chassis. You can follow him on Twitter at @RichEdmonds.
I think you mean oil and vinegar

I think you mean oil and babes

I get an error message and the PC client crashes before I finish transferring my playlists on my Lumia 920. I have about 75% of my tunes synced, but it never completes the transfer. So, a MAC user isn't the only one having issues.

You are lucky your phone wasn't bricked like my L900, I was restoring and the stupid software just froze...

I wish there was a proper WP8 client for XP and Vista users. Not planning on making the jump to Windows 8 until Surface Pro comes out. Until then I'm stuck with Windows Explorer :(

This sounds odd, but why do people need to "sync" their phone to their pc/mac? I plug mine in for charge, that's it.

Sync is useful when you download songs from your phone and also want it on your computer. Same with photos and videos, etc.

I feel like you're either being facitious or maybe you really wanna know, so here goes. People sync so that they can take the media that they've collected over the years with them on their mobile pocket computer commuincation device (see: phone) that's running windows. It's kinda the reason why mobile devices of this class have become as popular as they are of late. Playing media that's on the device is way more energy effient and cheaper for the user and the world when you consider data limits and caps. What do you use your mobile device for? They really are way more than just phones anymore...hell, Windows Phone OS started on Zune if you don't recall...

What on earth do you do with the thousands (no kidding) of photos and videos taken on the phone? There's no way I'd sync that to SkyDrive and back to my PC. Also, 50% of my phone is taken up with music - once again, no way I'd stream that from SkyDrive or online.

will a windows 8 phone connect and sync to the older windows phone connector application for mac? I have an older Mac that can't run the new windows phone application, but i can get the older one.. has anyone tried this?

Nope it won't. My computer with all my music is an older mac and alas my 920 will not sync with the old WP connector app.

Hmm, users of Apple products in our mist *gives the evil eye* j/k :-D

*midst. But yes, sadly they do exist :P

yep ... especially us who have made the switch from ios to wp8 and work on mac computers :)

All I want to do is drag and drop pictures from my Mac desktop to my phone. As far as I can tell, the only way to get pics onto the phone is to have them in iPhoto, and I refuse to use iPhoto ever again. Anyone have a fix for this? I've been using Skydrive but that 7GBs is gonna go quick.

Microsoft just added support for auto downloading all files in a specific folder of your SkyDrive, you could try that.

I'm close to returning my one day old Lumia 920. The Mac software is so bad it makes the overall phone experience a dud.

Return the mac instead ;) or install windows 8 on it

Two non-solutions to what should not even be a problem in the first place.

You're right... MS shouldn't have saved Apple from bankruptcy in the late 90's ;) ;) ;)

what do you mean non solutions. sure hes jokin with the return the mac but installing windows in a good alternative. throw a copy of 7 on there. itll run great and no more problems.

i mean yeah they should make a better app but i should have a ten million dollars too ya know?

Isn't the number one selling app for Macs an app that allows you to install Windows? Boot camp or parallels?

When you say "throw" a copy of Windows 7 you mean buy a copy of it for what, like, $150? Having to go down the piracy route should not be a solution so I hope you are not advocating that.

If you have issues with "can't copy the file" problems, whether it's music or photos, you may have to use the "allow access to folder" command from the file menu. Because OS X app store apps are supposed to be somewhat sandboxed, they may not have access by default. Just choose your music and/or photo folders.

Luckily I'm still using the old windows connector and happy with it. I can't install the new one because it is not support on 10.6.8 OS which I still uses. Unlike Windows, Mac OS has changed little since 10.6.x

Get a PC and get rid of that iCrap. Problem solved.

The Windows Sync app just as broken and useless

Same here, crashes before it completes sync on windows 7

Not having any of these issues at all between my Mac Mini and Lumia 920. Works reliably 100% of the time.

man this is crazy. i'm about to buy an 8x, but my mac runs 10.6.8 and i can't upgrade any higher, my mac is about 6 years old but still running strong, what a beast. so what are my options in getting my music and photos onto my phone?? honestly all i care about is my music....

i use it sometimes but the main problem with it is that it just doesnt sync all of my stuff. i can go in and access everything manually with an awkward floating pop up preview but when i click sync my phone i expect it to pull everything from my phone not just 12 photos it thinks i want. i really dont understand that. maybe its something i can adjust in the settings but thats how it should be by default. 100% sync.

I can't even get this far. OSX doesn't even recognize my Lumia. I have to boot into w8

My lumia 920 syncs great on my MacBook pro with the connector, no problems at all

I really appreciate the breadth of information on this site and the dedication of the staff. Considering the large number of readers you have, I do think you would better serve them as a critic and advocate when things go wrong, rather than giving passes like you do in this post:

while the updated app is nice

I don't think it's fair to say the app is nice when it barely works the way it's supposed to.

in reality it's a good solution for those who own a Mac and a Windows Phone

Again, when the app doesn't work, I'd argue that it's actually a terrible solution, not a "good" one (especially when the Finder drag-and-drop workaround doesn't even work, either).

Windows Phone needs to increase its user base to succeed; more apps will be developed and the platform will command more attention from the market overall. Microsoft should be held accountable for misses like this. WP8 is a huge launch, they should have made certain that it would be seamlessly compatible for owners of the world's #1 selling laptop computer (the MacBook). I'm a Mac user and an iPhone owner who is anxious to get my hands on a Lumia 920 and make the switch, but things like this and the Gmail problem reported yesterday are giving me pause, as I'm sure is the case for others.

Its completely unusable since the last update. Almost loads then crashes. Running latest version of mountain lion. Rated it 1 star in the app store review

this is exactly the case for me as well ... here's my stats ... 2010 27"iMac, OS10.8.2, latest Windows Phone app from the store ... I start the app, plug in my phone, the app crashes within 5 seconds of connecting to the phone - this is the same result when starting the app first and then connecting the phone.
perhaps the people who are on this thread could also post there Mac stats to see if there's some common denominator???

Early 2011 MBP running Mountain Lion had a few issues with juddery video but changed the Video transcode option to optimise for quality which I think has helped. Have an issue with app failing to read media files but reopening the app resolves this. I have two 920's a black one and a red one. One has to go but which one?

I'm using the drag and drop. The update was an improvement somewhat, its still pretty frustrating. I no longer have a windows machine so I'll have to deal with this on my mac or use my surface.

How did you drop and drag on your mac? My 920 will not show up in finder.

I had A LOT OF crashes when I synced my Lumia 920

My experience so far is that the OS X client immediately crashes whenever I plug in the 8X. I've yet to sync anything with it.

Rummaging through the crash logs it looks like a Zombie object issue, which is a newbie mistake with Objective-C. Maybe they've got their interns writing software again.

Things aren't working much better on W8 Desktop. Every 3 days or so I have to manually remove the podcasts via File Explorer otherwise the W8 Desktop client starts crashing all the time as well.

Sufficiently unimpressed to start writing my own app to take care of the problem.

I love my new Lumia 920 so it's a shame that I can't do something simple like take photos or videos and put them on my Macbook Pro. I deleted and reinstalled and it still crashed. Did anyone find a temporary fix? I can't even get into the program without it crashing at this point.

Hi, I have the Lumia 920. I'm on a 10.8.2 Macbook Air. I'm running the new Windows Phone 3.0 sync tool from the app store. The phone did sync the first time I tried it. However, I wanted to sync again to add movies and playlists. The phone is recognized, it shows my how much free storage I have, but when I press Sync nothing happens. It also won't list what files are currently on the device. Also, if I try and drag files onto the device it says that it is copying, but it doesn't actually copy

I found this on the Microsoft Forums and tried it. IT WORKED!!!
This is related to sandboxing on MacOS when your music is stored in a different place than the Music folder. The solution is to choose File -> Allow Access to Folder... and then select the folder at the top of where your music is stored. The default folder when the dialog comes up is the root folder for your Mac, if you choose it, this will also solve the problem. By selecting a folder, you are giving the Windows Phone app permission to access files in that folder and this is necessary for it to sync the files to your phone. Note that this could also happen with your photos from iPhoto or Aperture if they are stored outside of the Pictures folder. You should only need to select the folder once. The Windows Phone app will remember this location and future syncs will continue to work.

If you want to make inroads to the large number of Mac & iProduct users with your operating system, your phone is your best hope and you're screwing the pooch because you've been fumbling with this simple little connector app for two years now. Just fix it - no more excuses. Figure out what you need to do to make it solid and bring it up to the level of a true Microsoft app.

I have issues when syncing my music,(MAC PRO & Nokia 820 ) i end up with some songs duplicated or even triplicated on the app list, but not always on the phone as such, & if i do have duplicates or triplicates you cant always play those dup/trips.. I did turn off the xbox music enhancement - titles, lyrics etc & the like & still not able to get rid of the duplication/triplication issue I use moliplayer to transfer my music wirelessly to sd card in my phone, the player plays all formats no bother but, there is no syncing with itunes with moliplayer, and this player does have it issues with windows phone, bu tits far better than xbox music - its not intrusive

Why won't Windows client let me select aperture instead of iPhoto?

I cannot even get my Windows Phone app to open on my MacBook, since I updated to the April 10, 2014 version. I have a mid-2010 MacBook running Mavericks 10.9.2. Any solutions out there?
Windows Central Newsletter
Thank you for signing up to Windows Central. You will receive a verification email shortly.
There was a problem. Please refresh the page and try again.