Microsoft releases 3.0 of Windows Phone sync app for OSX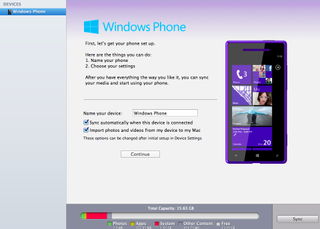 Microsoft has never been shy about supporting Apple users with their software and that is especially true with Windows Phone 8. For instance, Microsoft announced that importing iTunes DRM-free music will be much easier on PC now, not requiring a conversion/import process.
Tonight, Microsoft has released 'Windows Phone' for OSX. The software, previously known as 'Windows Phone 7 Connector for Mac', has undergone a substantial rebranding and has received numerous new features. The naming may seem odd—Windows Phone—but it matches the Windows 8 sync app's name and it actually makes sense. When you look at your PC or Mac and see the icon, it says Windows Phone because it is your Windows Phone. Microsoft has simplified syncing by making it very minimalist and barebones: just drag and drop whatever media you want...
Version 3.0 of Windows Phone for OSX has made the app even more relevant for the few who use Apple PCs but prefer Windows Phone. Here is the changelog:
Support for Windows Phone 8
Drag and drop files between Windows Phone and your Mac desktop
Drag and drop files from Finder to your Windows Phone 8 devices
Support for iPhoto 9.3.2 and Aperture 3.3.2
Support for battery charge state (Windows Phone 8 devices)
Enhanced capability support for ringtone files (Windows Phone 8 devices)
Support for Retina display Macs
Like we said, that's a substantial update for software that presumably not too many may even be using. But hey, if Microsoft wants to "convert" anyone they sure need to make their phones accessible and we think Windows Phone for OSX goes a long way in doing just that.
If you have an OSX PC, head over to the App Store and search for 'Windows Phone' to get v3.0 of the app.
Windows Central Newsletter
Get the best of Windows Central in in your inbox, every day!
Daniel Rubino is the Editor-in-chief of Windows Central, head reviewer, podcast co-host, and analyst. He has been covering Microsoft since 2007 when this site was called WMExperts (and later Windows Phone Central). His interests include Windows, laptops, next-gen computing, and for some reason, watches. Before all this tech stuff, he worked on a Ph.D. in linguistics, watched people sleep (for medical purposes!), and ran the projectors at movie theaters because it was fun.
I think you wanted to write iPhoto 9.3.2 but wrote iPhone 9.3.2.

Downloading now in anticipaiton of my Nokia Lumia 920 =D. So happy to see Microsoft helping out us Mac users as I am a convert from Iphone!

So happy to see Mac users choosing Lumia 920 over iphone

It's more fun to use a Windows Phone, and even my crappy HTC Titan camera beats an iPhone in low-light :D I guess it's the placement of the flash and the orientation of the phone when capturing, /shrug.

Between hanging out around my college campus and working at a library I've seen a handful of Mac users with WPs. You'd think it would be automatic that they'd fall in line with the Apple system but it goes to show there are some critical thinking people out there who are far from fanboys, and regardless of what they buy I applaud them for doing their own thing in this world of corporate loyalty and internet trolling.

This might just be what I was waiting for to make the upgrade to Mountain Lion (I'm still using Snow Leopard). Thanks for the tip.

You should upgrade, it's a much greater experience. If you have a big screen it's not much of a deal, but Lion and Mountain Lion gives you a lot more space because everything has been downsized. It's great for smaller screens.

Wow.... really hope 7.8 gets supported by the desktop app. I would really love to get away from Zune and just use media player of xbox music on Windows 8 for these things. Really hard to swallow to see their rivals get the goods....

Aps and tools like this make it easier for people using Apple computers to use a phone that is indeed different. SkyDrive is a big deal, believe it. Being able to easily sync not just music, contacts, etc but to able to drop files between the phone and the Apple desktop opens Apple users to the Windows Phone. The bigger the world and the more tools you have to work in it, the better. Had to be trite, but the windows phone makes this possible. Others will follow Mac users like me as long as Microsoft keeps moving in their new direction.

This is very true. I used to be an iPhone user before WP7 was released (and I was back then, and am still a Mac user). I was interested in it from the beginning, but one thing that was holding me back was the need for Zune. Then the Mac Connector came out and I was sold. I've been with WP since launch.

When Windows 8 was released I decided to delete Mac OSX on my MacBook and install Windows 8. Why would I not want something that's faster and shares so many things with 90% of all computers? I think it's easier for Microsoft to make the Mac application.

IMO, the new Windows Phone desktop app MUST support all versions of WP7 and WP8. Besides carrier interference, brand new WP7.x phones are hitting the streets around the world.

So what is the related WP8 sync software for Windows Vista/7 users?

I would like to know this as well.

windows 8 got metro app + desktop app
windows 7 got desktop app currently beta version check it out here http://www.windowsphone.com/en-US/how-to/wp8/windows-phone-app-for-desktop

Hi Microsoft, could you please release an app on my Surface to let me sync my data with Lumia 800?

The treatment of WP7 on Windows RT is really dissapointing. The current Windows Phone app doesnt't seem to support WP7 at all and if one is to judge from info found on related Microsoft pages it never will. There's some hope left that WP7.8 will be supported by the app, so one can hope, but I couldn't find an official confirmation for that.

It probably will. Software developers usually don't update apps or create apps with backwards compatability, if it's going to be useless in a short while. It's also great for forcing updates.

Unrelated comment. But where is the link to send any tips?
I can't find any after this new design.
Btw, if anyone has not noticed yet. Groupon has Lumia 710 for $160 unlocked.

I'm running it now on my Lumia 920. Seems to be working great. Synced 2000 songs and about 20 videos - no problem.

How did you get Lumia 920??

What if I'm using iTunes on a PC (win 7). That's where I setup my music back in the days and I don't want to do it all over again. Most files work except Apple Lossless. Will this be the case for Win 8 also? If it can sync to iTunes will Apple Lossless be supported too?


And I second the notion that 7.8 devices should definitely use this syncing system instead of Zune. That would take some of the sting away from all of the updates we aren't able to recieve in WP8

Anyone else notice that the screenshot shows a HTC 8X running Windows Phone 7.x rather than 8?

Good catch. It's like they took a screenshot from the 7.x software and slapped it on the front of the 8X. LOL!

10.7 or above only... Boo

I know, I am seriously hating this, as with my new 920 and my old as hell but much loved G4
powerbook that can't go beyond Leopard 10.5.8
stuck!

Man that just looks like its gonna be cool!
www.anon-e.tk

Downloaded (actualy upgraded) and now waiting foe Janueary to buy a Lumia 920, or win the giveaway here in WPCentral.

Jaja 8X featured instead of 920

This drag n drop feature works only with wp8? Because it doesn't seem to work out with my samsung focus =/

Yea it says from finder to wp8, which most likely means only 8

That explains why it wasn't working for me on the Lumia 505. That sucks.

This is great because although my PC is windows 7 I have a MacBook that I travel with. Its nice to see a full functioning app now. I was a bit unsatisfied with the wpconnector...

This might be a dumb question, but my Lumia 920 came in today and I see if you have an Android phone or BlackBerry you can use the Welcome Home app to transfer all your stuff to your new Nokia. Do I use that utility to transfer everything from my Samsung Focus or just use this? I'm aware my contacts and most of all that is already in the cloud, but will I have to re-download and reinstall all my apps too or will those carry over?

I can't wait for the Lumia 920 to come out! And I'm glad I won't have to wait for an update either. Microsoft has been pretty good to Mac users!

"Microsoft has never been shy about supporting Apple users with their software" hahahaha.
Yeah that's why I'm able to use Internet Explorer and Zune on my mac...
Windows Central Newsletter
Thank you for signing up to Windows Central. You will receive a verification email shortly.
There was a problem. Please refresh the page and try again.