Windows Phone photography shines in the WPCentral Forums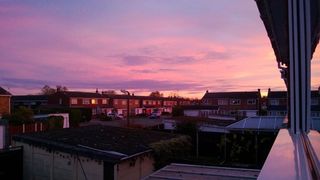 The Nokia Lumia 920 and HTC 8X (opens in new tab) Windows Phones are fitted with some really nice cameras. While it may be a topic for discussion on which camera is the better of the two, we've got two WPCentral Forums discussions going on that nicely shows off the capabilities of these two Windows Phone cameras.
We have some fantastic shots being shared over in the forums like the one above was taken by Sahkolihaa with the Lumia 920 of a sunrise in England. You can find the Nokia Lumia 920 photo sharing discussion here (opens in new tab) and the HTC 8X photo sharing discussion here (opens in new tab). If you have a favorite photo taken with your new Lumia 920 or 8X, head on over to the forums and show them off. We've got a few more pics after the break.
Photo by Texantony with the Lumia 920 of the Chinese Light Festival in Dallas,Texas
Photo by smg-UK, taken with the HTC 8X
Photo by Brandon Riesenbeck, taken with the Lumia 920
Photo by ajorourke, taken with the HTC 8X of Saint Paul's Cathedral in London
Photo by KoukiFC3S, taken with the Lumia 920
George is the Reviews Editor at Windows Central, concentrating on Windows 10 PC and Mobile apps. He's been a supporter of the platform since the days of Windows CE and uses his current Windows 10 Mobile phone daily to keep up with life and enjoy a game during down time.
I'm so proud of my 920 by far best phone ever made.

Ain't it just the best!!! I had doubts about it but it really leaves me breathless. Pictures never looked better from a mobile device!!!

That last one at Disneyland... just wow. That camera destroys at night.

Love it! And so jealous it wasn't me that took it! Wish I was there :-)

It's about 40 minutes away from me. I think I'll be there next week actually :p

Hi Sam, Do you have a a Lumia 920? If yes, are able to replicate those stunning night shots without having the flash on auto mode? Since i got my Lumia i have not been able to take a picture in a dark room with the Camera on the defaults and with the flash off.
All pictures i take are simply pitch black.

Try Setting the Scene to Night mode, it helps alot. Auto Only does so much on the lumia, thats what I liek about iPhone, its auto setting works amazingly, best out of any smartphone. To bad the iphone though, the Lumia 920 takes better pictures when its set right :p

Ok Thanks. Night mode is kick ass i just tried. However in this vid of the lumia 920, the demo guy from nokia says all the settings are on defaults and the flash is off. Yet the flower pictures comes great. That is where i am a bit confused.

The leaf is just amazing. I'm not going to pay more than a Surface for a Lumia 820 when I already have an HTC Titan ( great device ).

The night shots are amazing!!

That last one is stunning. Absolutely stunning. Of course, I am a little partial to the Christmas tree shot. :)

I'm looking at these pics from 920, so I can't see the detail but I thought the cathedral shot is amazing

Beautiful shots. Our phones are almost amateur DSLR type cameras.

JUST IN CASE ANYONE WAS WONDERING. The last picture is at Disney's California Adventure, right at Paradise Pier Bridge.

these are some amazing shots. i really like the leaf with the drops of water

lol I was there at State Fair in Dallas and took some pictures for the Chinese Light Festival, but on the Lumia 900.

The camera on the 920 is easily the best I've used on a phone.

www.flickr.com/photos/jonoawesomeguy has quite a few photos I took with my LG Quantum! Windows Phone devices truly have some impressive cameras.

The 920 really does have the better camera. And I'm not just saying that because I have one. Love my phone!!

On Tmo....HTC 8X is great! Pics could be slightly better but day light pics are better than 920

on 920 you can edit pics with Creative Studio to add sharpness... Its just a software that makes 920's photos look soft at daylight. Though 8X pics are still stunning

I wonder which camera is faster (focus + shot), because in the videos I saw the 920 is not really fast

Artists images are not showing up in wp 8 Xbox music when a song is played as it used to show up in wp7 zune music :(...
Any Solution??? By the way using Cyan L920 :)

All nice shots, but please don't compare to dslr shots. They don't even come close. On a 4.7 screen you can tell. Blow the picture up on a 23 inch screen....nah...not even close.

It's just awesome !!!
Nokia Lumia is really a mobile miracle.

And look.... No purple haze!!!!

(cough) i-phone (cough) five...

Taken with my 920 https://skydrive.live.com/redir?resid=86E20E500C02DF16!737&authkey=!AJFi...

I'll settle for missing out on great night shots if the day shots look that amazing! I would rather have the Lumia 920 but since I'm sticking with T-Mobile, I can work with that and I really love the wide angle ffc.

Another video with 920 low light :)
http://m.youtube.com/#/watch?v=rtCgFW39BL8
(mobile YouTube)

Lol great video is that you doing?

Nope, not me :)
But this guy is hilarious ;)
Look up another video of him unboxing his yellow 920...
Simply EPIC lol :D

the person who did the disney california pic should of took pics of the world of color also, that would of been AMAZING!

I was a bit worried that the camera on the 920 would not live up to the hype. Boy was I wrong! This has to be the best camera I have ever owned on a smart phone..
Windows Central Newsletter
Thank you for signing up to Windows Central. You will receive a verification email shortly.
There was a problem. Please refresh the page and try again.