Windows RT Update 3 released with Start Menu in tow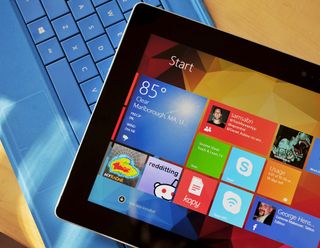 If you're still rocking a Windows RT device, it looks like you can start pulling down the long-promised Update 3. It's not a major update by any means, but it does bring a new start menu along for the ride.
The start menu isn't a full Windows 10 replica, but it's good to see its arrival nonetheless. You can see shots of it in action below, provided by Twitter user @teroalhonen:
As previously noted by Microsoft, Windows RT users won't be able to take advantage of Universal Windows 10 apps with this update, so keep that in mind. Also, it's likely that this will be the last update for Windows RT, which never really got off the ground due to its inability to run x86 programs.
So if you're still clinging to a Surface RT, Surface 2, or any other ARM-based Windows RT device, you should be able to start pulling Update 3 down via Windows Update.
Source: Tero Alhonen (Twitter); Via: WinSuperSite
Dan Thorp-Lancaster is the Editor in Chief for Windows Central. He began working with Windows Central as a news writer in 2014 and is obsessed with tech of all sorts. You can follow Dan on Twitter @DthorpL and Instagram @heyitsdtl. Got a hot tip? Send it to daniel.thorp-lancaster@futurenet.com.
Looks like the Windows 10 start menu in the first few preview builds lol :) .

It is exactly that even under the hood, actually.

I'm clinging but I'm not sure I'm going to apply this update.

I was thinking that. Kind of happy on a pure touch device for the older menu. Do you have to have the new menu??

You don't, you can stay with the god old start screen. But you still get the overpromised "Lock screen improvements" which turned out to be only user images changed from squared to round.

Does the start menu get rid of the start screen completely?

You can choose one of them, can't have both at the same time. The menu is a piece of poop - you can't even stretch it horizontally to fit more tiles.

Actually it does expand horizontally

I am guessing stretching horizontally requires a mouse, same as Win 10. Touch doesn't work.​

No, you can have either the Start Screen or the Start Menu.

I have Windows update disabled in anticipation of this downgrade. Does anyone know which "update" butchers the avatars?

Didn't change my start menu. I'm still clinging to a 2 year old device.

Right-click on the Taskbar and you will find the Start Menu option.

I would sell my surface 2 right now if I could get $100 for it.

Saw the writing on the wall a while ago and sold mine for $115 (AUD).

That's exactly mu thinking also.

It's one last goodbye kiss. It's sad but still a nice gesture on Microsoft's part.

Nice gesture, what would be a nice gesture would be 50% off new surface. I would rather have a device that can run the latest apps. I feel let down, that they have screwed us over. Surface 2 will be just good for web browsing and office. Not that we will ever get the touch office that I thought was promised..

I hate browsing the web on my surface 2. Refresh and page loads are terribly slow.

Well to be fair, they did offer a chance to trade RT devices for a Surface 3 when it launched. I think it might have only been $150 off or so but I took that offer and traded my Surface 2 for a Surface 3. Seeing where we are now, I'm very pleased with my decision

Lol. Its exactly that. Maybe not even that. I don't think anyone using touch devices wants the old school Start Menu

Hopefully they didn't push out an update that only included a half baked menu change.

Last time I heard about Windows RT from my friend who works at Microsoft, he said FLAC support was also planned, but that was in February... I think they scrapped all plans for RT getting the Universal App Platform and other Windows 10 features and went the WP 7.8 way some time after that.

With rumours of a phone with an Intel processor coming, together with 2 abandoned platforms, kind of makes me hesitate buying an MS phone (just a small devil of a doubt whispering in my left ear). Although tbh, I currently would likely not buy a phone over 4.7" anyways. As for the RT update, I won't even bother to update.

I got rid of my Surface RT and Surface 2 for the Surface 3, but it's good to see this. I hope that a hands on video comes out as I'm very interested in seeing this in action.

Do you still get a full screen menu when not in the desktop? If not then this breaks RT more than improves it.

That's why I'm too scared to install it. I love the start screen on my Surface and don't need a useless start menu. If the bloody thing automatically switched between desktop and tablet mode that would be fun, but it most probably doesn't.

But what would it be fun for? The desktop is useless in RT!

I use the desktop daily on my Surface 2 so...

And where do you go to move files around or browse network shares? Or to open regedit or gpedit and hack someting? Or to open device manager and force install a USB NIC? Or if you need to use desktop IE when Metro IE fails? What if you need to run the classic remote desktop client? And if you'd like to release and renew your dhcp list? Or maybe ping a server or trace a route or otherwise do some network diagnostics? And if you just wan't to make a screenshot - where do you run the snipping tool if not the desktop? And last but not least: if you need to change more advanced settings than choosing a theme for your start screen - the Control Panel still aint modernized, even in Windows 10. There's a ton of uses for the desktop if you are not a total n00b. Sadly, as the "Modern" part of Windows 8.1 is still useless.

Not to mention Office RT runs entirely in the desktop.

A majority of users wouldn't do pretty much any of that and that includes those that run full Windows.

Do we still get to keep our 'Start screen' full of tiles? I like my W8 tiles. Does it work like W8 tiles or is it the adjustable tiles in Desktop like 10?

Yes, you do still get the full screen menu. Upon updating, the start screen is exactly the way you had it. When you go to the desktop, a right click in the properties allows you to use either 'start menu OR start screen' there's a quick sign out prompt and then it boots to the 10 style desktop and start menu option. It naturally removes the ability to switch between the two via the windows key which is somewhat annoying if you dip in and out of the desk top from the metro layout as a regular user... definitly a 'meh' update, but personally im glad the tablet still works the way i want it to.

At least they didn't just say oh well buy the Surface 3. They are still somewhat supporting it. That's what matters most.

That's retarded. They gyped loyal customers. ​

Welcome to WP7. Actually my Lumia 2520 does more today than when I bought it and has lost no capability since the release of Win 10. I think we are getting to feel a little too entitled. It is unfortunate that we couldn't even buy an upgrade if we wanted it, but what is the difference between continuing to use RT as is and all those folks who continue to use XP (other than choice, and you can choose to upgrade). My only real peeve is not getting Mobile Office on it. That would have been way more welcome than this regression to a semi-10 Start Menu.

Does Metro Skype still work ?

This comment might attract a lot of hatred but Apple pushed out iOS 9 to even the iPad 2 and the iPhone 4S. Sure they lag a little but are able to run newer apps. So are all old Android devices as Google Play Services keeps getting updated independently of the OS. Apple certainly does not have the start-over situation that Microsoft does, so you may say that it's comparing apples and oranges windows.​ ​The port is certainly not impossible, if time-consuming, as they already have one version of Windows compiled for ARM (Windows IoT, not to mention Mobile which can probably not replace RT's desktop features). They should've at least brought the Universal Windows Platform to Surface devices as this is definitely a WP7.8-like scenario. Which is bad for the end user, and the reputation of the company.​

They didn't cheat anyone. When you buy a device there's no guarantee that it will ever be abything more than what it is when you bought it. Mine still does everything that I purchased it to do. I don't feel cheated in any way.

I think this is the best way to look at it to be honest, I agree. Its purely academic now to discuss what ifs, but in that spirit, I think the S2 would make a compelling W10 tablet but hey ho. Mine is still rocking and I use it every day-actually as my main device, very few things day to day ever interrupt the experience.

I actually prefer this menu design to the current one in Windows 10, I wish they had of kept it instead of the one they have now. I sold my Surface RT last year so I'm not able to ry this but as long as the full Start screen is still there is shoul still be ok for RT users if they want that.

Totally agree, I'm not sure but it looks that in this one you can actually pin things to the left side of the menu... I want it that way in w10 so I can pin x86 programs in there just as a list and then pin the modern/universal apps in the right side with their live tile.

Ya..even I found this better looking

Looks like RT gets the superior version.

This is baffling. Why would I need a Start Menu on my Surface Rt since it doesn't run x86 programs?

Because for the glory of updates of course! Well it doesn't really make sense really since RT is meant to be an -iPad-like competitor that happens to have desktop because they didn't manage to make a Metro version of Office. Maybe at least they have an update that few people will use at least? If they just at least make the W10M update optional, it would be way better, great transition to Windows 10 and give RT a slow honorable death.

Now they do have a metro version of Office and they keep it off RT.RT ought to be an exception to the 8in. rule for Windows mobile out of respect for the early adopting fans. I think executives don't realize how expensive these devices are for most people. At some point it's embarrassing to keep getting used by MS. I agree that a decent trade in program is due. They throw away billions on stupid acquisitions and screw over loyal supporters

I have two RT tablets in heavy use. I might not upgrade to this depending on review videos.

You can continue to use the old Start Screen. The Bing powered Lockscreen should be nice, if that's included. Exactly like WP7.8, haha.

I thought windows rt only have the metro screen . Didn't know about the desktop. Cooool Posted via the Windows Central App for Android

Soo the windoes rt's store is dead humm Posted via the Windows Central App for Android

Getting new software features, yes. Otherwise, not really. It's more capable today than it was in 2012. Should be faster too. IE11, more apps. Improved apps in time, etc.

I installed it on my 2520. Its fine...no big changes other than you now have the "option" by right clicking on the taskbar...properties...Start Menu.....to have it always show just a start menu or you can uncheck it and keep the original full screen start screen from 8.1 with no changes in functionality. I'm sticking with the full screen because I think it works better for a device this size but I guess its good to have the option. Few other minor changes but that's the major one from what I can see. Move along..nothing to see.

Yea, thanks. Have a 2520, and saw no point in this. If you can choose which to use though, I will give it a go.

Well, BLEECH! Installed on my 2520. As has been said, you can go back and forth, but it requires a log-out/log-in. Not a big deal. The Start tile section does grow as you add tiles, sideways. It will extend beyond the right edge and you can scroll it side to side once you have more than fit. You can't however group tiles and name the groups as you can in (real) Win 10 or 8.1. It is just a sea of tiles, with very little gutter. I think if you spend a lot of time in the Office apps, using a mouse and keyboard, you could arrange a nice assortment of Live Tiles that you could pop up for status, Mail, Weather, and such. If you use a lot of the Metro (Modern/pre-Universal) apps, you are going to prefer the current Start Screen. That's me. I am fine with the Metro apps Mail, Browser, OneNote, etc, for what I use the 2520 for. The 8.1 interface works just fine for sitting in the lounger, and 'consuming' while watching TV (OTA) or listening to the radio. (yes, radio, as in broadcast FM. I still enjoy that too.) Not sorry I installed it as I'm sure there are other fixes in the updates, and maybe some good stuff. The Start Menu however, ain't it.

Why did they bother wasting their time?

If they didn't, people would say Microsoft betrayed all RT users. Nobody is ever happy.

Then give us 10's universal apps then, not this crap.

Yes, without that I will be disappointed.

People are still saying that anyway.

I think they betrayed RT users when they renamed it Mobile and kept it off of devices larger than 8 inches. If every MS product is an experiment consumers will do as developers have and give up. Universal apps seems to the next boondoggle.

They already has the design and codebase from late W8.1 and early W10 development. That Start Menu was suppposed to come to desktop W8.1 in the form of Update 2.

Consistently bad tablet experience is top priority.

I want that start menu in the screenshot.

'So if your still clinging' try some of us cant afford to invest in Microsoft products every year for them to scrap and try something new (rant over)

And even those of us who can, aren't Microsoft's lab mice. Posted via the Windows Central App for Android

*you're. Maybe just copy-paste the quote next time :P

Thanks for heads up. My original Surface RT shows the updates!

So, wait, this update basically makes my precious Windows RT work with an empty desktop and a retro start menu? I usually don't overly criticize MS because I like most of the stuff they make, but this is clearly designed to have people throw away their "old" Surfaces and buy new ones. Very disappointed. Windows RT, as an OS, was perfect in terms of design and useabilty.

You can choose between the Start Menu or the Win8.1 Start Screen. How this is a "buy new ones" thing?

How do I block this half assed crap on my Surface 2??? #MSFAIL #Windows8.1ForLife

I turned off all the windows update service

The funny thing about RT is that it has as much (or more) basic functionality as an iPad or Android tablet. What it lacks is apps. MS should have released it at a separate time and given it another name. Having the same name as the Surface Pro gave people the idea that it could also run x86 programs (Americans tend to not read and comprehend well, so they're easily confused). Because they didn't, it never became the challenger to iOS and Android devices that it might have. I have one and I'm still satisfied that it does the things I needed it for. It's a quality device. I'll use it until it dies of old age.

But when the maker of the tablet themselves couldn't be bothered to create compelling apps for it why would anyone else? No one to blame but the so called "biggest software company".

What manufacturer does create all of the compelling apps? None of them. Not Apple and not Google. Maybe all of yuou cry babies should start researching devices before you buy them so you don't spend years whining about them. I knew what I was getting and am completely satisfied with it. But, if I wasn't, there are lots opf cheap tablets that run full Windows now, so quit being such cheapskates.

RT is the only one that doesn't need a Start Menu LOL

They should just give RT devices windows 10 mobile!

If that would give it Office Mobile (ala iPad/Android) then hell yea!

Ironic this is the one feature they port

If they are no longer going to support RT then they should open the device to be hacked and allow the community to port W10 mobile to it.

The only thing i wanted was universal apps.

seriously that was the whole point.

Halo spartan strike just got updated

Congrats all you anti-RT cry baby bitches.

I have win10 on my notebook and pc. Their tablet mode sucks. The People Hub sucks. Mail sucks. News sucks. Groove sucks. MS, please don't ruin my great Surface RT. Just let them be.

Nope. We are going to turn all the tablets into PC's even though that is what the Pro models were for, just because the dumb asses that wanted a laptop couldn't figure out that that wasn't what RT was. Dumb asses win again.

Well time to trade mines in..

I'm soo glad I traded my surface 2 in for the surface 3!

BIG FAN of my Surface 2 . Solid, fun, functional device. Wish there were a few more apps, but the browser is well supportive. Wish it could run EDGE though.

I'll try out on my surface 2 in the hope there is something nice hidden beneath that unnecessary start menu

That horrible, horrible menu...

With Windows Phone 7.8, it was understandable why it was unable to upgrade to Windows Phone 8. For Windows RT devices, what are the hardware limitations that it cannot run Windows 10 Mobile with a NVIDIA Tegra 3? The Surface would be an even better tablet with Universal Apps, Cortana, Microsoft Edge and new core apps.

The RT tablets run on an ARM processor similar to that of a Palm PC or other portables. The Tegra 3 is one such processor, and it would require much of the code base of a program to be rewritten to port from the one written for x86 processors. It'd be more costly for Microsoft to keep that up by adding new features for RT, which thanks to the media didn't sell well, than to maintain what they already have for it and let it go. Remember that for ALL current Surface models, it's all ONE Windows build.

Or they can simply make an exception and run mobile on RT

Yeah that's what I meant. Run Windows 10 Mobile on the Surface and other RT devices. Windows 10 Mobile isn't finished yet so I'm hoping when it is that the Surface RT will get the update.

it would be nice to have that menu available for win 8.1. I've run into quite a few older AMD64 cpu's that won't ever upgrade from 8.1 to 10 because they lack the NX instruction set. this would be great on those machines.

You can with things like start8 but yeah would be nice for MS to offer it as an update for people stuck with 8.1

Is groove music and movies and tv coming to RT? My Xbox music no longer works since I'm using groove music.

Out of topic: When is Windows Central going to update its app? The current app sucks. If you guys need an UI designer I will gladly help.

I agree, it doesn't really run in the background etc...

Is it optional or do they make me to love it?

"Surface RT/2 never really got off the ground due to its inability to run x86 programs" It did not succed as much as it could due in part to the lack of third party Store apps, but not because x86. Otherwise, iPad should have been a total fail, and iPad Pro... I use my Surface 2 (RT) every day, at home (video, webs -even with Flash-) and at work (office). Quite happy with it. And BTW, I did no buy any keyboard (yes, that thing that all reviewers said it was an expensive but absolutely necessary accesory) and I did not miss it more than I miss it in my phone or in an iPad mini I had for some time.

It didn't pick up because of the notion anything windows "will run anything that works on windows". They should have called it something else than "Windows RT". Apple doesn't say the iPad runs OSX albeit they bragged at launch the phone did. Regardless when people look at an iPad they think ios not osx. That is where Microsoft failed. People looked at Windows RT and thought it ran win32. Heck even if they couldn't have thought of a name they should have just called it RT. The other reasons it failed was no touch first office, control panel, file explorer etc. On positive note, these things would be going pretty cheap on ebay now :P.

Ugh no. They put the ugly round profile picture in here. Of all the dumb things to backport to 8.1... Why?!

who designed and implemented this concept should be fired what crap no need for this on rt

You won't even see it unless you enable it. i would've like Cortana and Edge(with privacy options like IE11).

Windows on ARM was a failed attempt :( although I liked Win8 start a lot.

Going on that comment W10M is going to fail hard then!!!!!

no universal apps break my heart....

They couldn't even add the Action Center or Edge? Geez. Posted via the Windows Central App for Android

Saw the update was about to install and it's gone now? Did it get pulled?

Is this update for the Nokia 2520 because it doesn't appear in Windows update

So Update 3 is just as bad as expected. Microsoft's way to say f**k you to all those who paid 500€ or more for a platform not even MS really ever cared about. Posted via the Windows Central App for Android

The universal.app thing is a joke so far. The Windows App Store is still a pile of crap even after we have been on Windows 10 for almost 2 months. DOA.

Lol, abit premature to announce it DOA. Don't forget developers didn't have long to get their apps into the store and had to wait until the store opening was round to corner to even get the sdk.

Yea, so basically another MS fail. They could have allowed developers to test universal apps months ago while insiders tested W10 builds.

yup. universal apps = modern apps , same craps that most devs ignore LOL

Why would anyone want this?
The only thing that runs on the desktop are the office apps, as long it doesn't mess with the overall touch UX and is easily resizable I'd understand why people would want to update. But if not, hide it quick before it installs automatically lol. Edit: Oops I meant office apps not mobile apps lol.

The update doesn't seem to be available for the Nokia Lumia 2520.

Glad I traded my original surface RT in to the Microsoft store. Got 100 bucks for it to buy a new surface 3.

I just have to say it again, this is realy a bad move by Microsoft. They are letting down a lot of Windows 8s early adopters for no good reason. Shure, Windows RT is dead and there won't be any new devices but the two main parts of it are still in the Windows eco system, ARM powered devices and tablet formfactors. Add continuum for Phones and you got everything in hand you need for Windows 10 RT. There would still be some work required but I would say that's worse it for not letting some frustrated customers behind who would by an iPad or an Android device next time. But that's Microsoft, promissing all kinds of stuff an delivering half of it at most. Not to forget the features you just leasrned to love when they take them away from you (onedrive dummy files, health and fitness app, food and drinks app, etc.).

"new" start screen? Who need that?.. Now that split screen is on ios too, I'm gonna switch to an iPad...

Better switch to windows 10 desktop, way better than RT or IOS. IOS at least gets top priority from Microsoft but you get ask win 32 guys behind desktop. Strangely Microsoft itself supports other platforms more than windows these days( okay un-strangely). So if you need to get your work done along with some other apps go for a windows 10 tablet/PC, or if you want some consumption device with top level support from MS and other devs, go for an iPad. At least apple doesn't abandon its products.

no more lumia or surface or any ms hardware craps for me !

What a massive disaster Windows has been for MS! Should have never released a desktop with RT. Microsoft, jack of all trades, master of none, disaster of many!

aaah, the good old windows phone 7.8 days are back. :'( sobs

I dont see my self using the start menu. its a tablet..... but yet again, i sometimes very rarely use it as a laptop.

A beautiful middle finger from Microsoft.

All my surface 2 needed was someone working out Project Astoria, then I could have a wealth of apps alongside what is a very capable device. Shame

Okay correct me if I'm wrong. But wasn't the point of Win10Mobile to combine both Windows Phone AND Windows RT together? And if so what the FUCK h​appened here and why the hell would RT tablets NOT get Windows10Mobile instead of this half-assed update? Can somebody PLEASE explain this to me. Because I find it absolutely absurd that Windows RT tablets are being left out to be WP7.8.2 and locked out from future app experiences. I just want to know what went wrong. Windows RT was a million times more stable than x86 and I LOVED my Surface 1 because of that. I have a Venue 8 now but it barely came close to the stability, smoothness, and just overall responsiveness to Windows RT 8.1.

MS just abandoned it bro, simple as that... My worry is that win 10 mobile would go the same way too