Windows Server 2016 Technical Preview 3 leaks out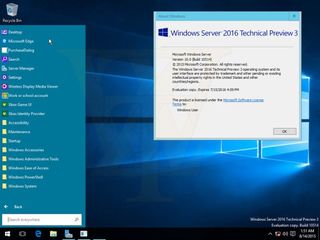 Windows 10 has officially been released to the public, but the server version of the OS, Windows Server 2016, is still in testing at Microsoft. The ISO files for Windows Server 2016 Technical Preview 3 have found there way onto pirate sites.
According to Neowin, the build number for the leaked version is 10514. Before the files were discovered, the Windows software leaked known as "WZor" posted up some screenshots of the build on his site. Microsoft is expected to release Windows Server 2016 Technical Preview 3 to Windows Insider testers sometime next week. The final version is scheduled to become available sometime in early 2016.
Source: Neowin
Windows Central Newsletter
Get the best of Windows Central in in your inbox, every day!
The new product Windows beta....

W7-like Start Menu confirmed?
And... Um... Xbox apps

Well you need to remove any pinned apps to make it look like that.

Newp, thats the default look if you install with a GUI (desktop experience)

Probably just the search "page"

The user that took the screenshot likely added the 'Desktop Experience' feature. Adding that feature will add things such as the Store and other apps that are typically found on a consumer version of Windows.

Listen, server work can be tedious at times, nothing wrong with xbox apps while fussing around with the system LOL

I thought that playing games is all that a sys admin does. (coming from a database guy) :)

I thought all you database guys did was make backups, play games, and lose backups. (coming from a programmer) :)

and what I think about you programmer guys is about getting concept, play games, got a logic (from designing guys). #jk Posted via the Windows Central App for Android

search bar is inside the start menu?

Their way, not there. Just saying ;)

Looks a lot like Enterprise LTSB version.

W10 no-privacy feature included? Corporations do like snoopy operating systems.

It looks like the server OS gets to have colored title bars - bring that to my desktop version! My eyes are getting very weary of too much gray and white.

This build is in the 105xx TH2 tree, so that feature is probably coming in next preview for Windows 10 whenever they start that up again.

I'll keep my fingers crossed!

I wondered what they were going to call it. Will it be called Windows 2016 forever, like Windows 10?

No id expect they'll do a r2 like they pretty much always have done alongside whatever then next major os update for windows client os

Wonder if well see them bring whs out of mothballs & do an updated sku before ws2008r2 extended support ends(hopefully with roles like wsus)

There is an another article which focuses on the best new features of this preview build. Highlighted New Features in Windows Server 2016 Technical Preview 3

Recently, Microsoft announced the general availability of Windows Server 2016 Technical Preview 3. Top 2 New Features in Windows Server 2016 Technical Preview 3
Windows Central Newsletter
Thank you for signing up to Windows Central. You will receive a verification email shortly.
There was a problem. Please refresh the page and try again.