Windows Spotlight head to Windows 10 Mobile with Anniversary Update?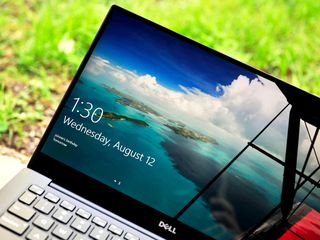 Microsoft's Windows Spotlight is one of the 'nice touches' that the company has added to Windows 10 for PCs and tablets and it may be coming to Mobile too.
The Spotlight feature cycles through various images each day for the lockscreen giving a fresh look to your computer. In and of itself that feature is not very intriguing but Microsoft has added the ability to vote via 'like' or 'dislike' buttons to help curate what types of images are displayed making the experience much more personal.
The one issue many people have is that Spotlight is not on Windows 10 Mobile. That omission is a bit strange as the lock screen on Mobile is something you are likely to look at more often versus a PC.
Now, a user reddit has spotted a toggle switch for Windows Spotlight under the Background Apps function in the latest Fast Ring Insider release for build 14322, which came out yesterday. Scrolling through the list and it is easy to spot Spotlight and the toggle to keep it from running. We can confirm seeing it on our own test devices as well.
Does this mean that the feature is coming to Windows 10 Mobile? Possibly. Windows 10 and Mobile are the same OS, so bits sometimes pop up that are not on one but are on the other. This could be just a bug with the 14322 release. Then again, it is not like Windows Spotlight wouldn't make sense on Mobile and it would seem quite obvious that the company would enable the feature for phone users as well.
Time will tell as to what happens. If Microsoft is bringing it to phone users, it will be part of the Redstone release, which now goes by the name of Windows 10 Anniversary Update. That version is due later this summer, but Insiders are getting an early look through the Fast and Slow rings right now.
Daniel Rubino is the Executive Editor of Windows Central, head reviewer, podcast co-host, and analyst. He has been covering Microsoft here since 2007, back when this site was called WMExperts (and later Windows Phone Central). His interests include Windows, Microsoft Surface, laptops, next-gen computing, and arguing with people on the internet.
Would be a nice addition.. But I would love to see living images like wallpapers run on lockscreen

Just make gif to work on lock screen and live wallpapers will be a charm

I am getting Spotlight images for my lock screen through dynamic theme app. It is a good app and can be used for time being.
Btw, did anyone notice that you can now restart phone by holding down lock button for five seconds. Is this new?

Restart by holding power button is not new. Posted from Windows Central app on Windows 10 Mobile

Oh. I noticed it in the last build.

Thanks for this. Just noticed this on my 640. It's a little longer than five seconds

Yes. A little over 5 seconds.

The feature of restarting by holding the power vutton is called soft-resetting. But tbh it usually takes about 10 seconds. Not sure why yours took 5 tho. And I'm on the new build as well, everything still takes the same amount of time

That is, volume down + lock button. This is different. That still takes 10 seconds.

Yeah, I use the dynamic theme app too. Does all I need.

Yes. But the best feature is ability to save those images automatically. I love that feature.

Yes and syncing between devices is nice too.

Is it present on 8.1 store too.

That rebooting option is from win 8.0. I wonder u saw that now o.O (L625). As 625 has non removable battery, i used to hold power button to reboot, when sometimes phone screen goes blank and doesn't respond.

Yup, I just tried it now on my NOKIA Lumia 1520 with WP8.1

This would be nice. Windows Central for Windows 10-Microsoft Lumia 640

Strange to this feature not yet on mobile. What wrong with MS they don't have any clue.

I still want Picture Passwords for Windows 10 Mobile just like we've has on desktop Windows 8 and 10.

That would be nice Lumia 730 DS, Windows 10 Mobile.

This suggestion is been requested since forever, this is actually I'm more surprised why there seems any sign of it. We seriously need something more than just a PIN security, even some people suggesting for pattern lock similar to Android. I would like also for Live Lockscreen to come back again. It wasn't successful on WP8.1 because how poorly its been implemented and very limited developers able to take advantage of it (feels like its been just selected few). Live Lockscreen has to be a lockscreen framework where 3rd-party developers/designers can make custom Lockscreen for Windows 10, but unlike WP8.1, it would be baked-in and not an app.

It's not magic you know. Nobody waves a wand and features appear. There're these things called work and TIME.

I'm liking this more and more. I mean, with every update of Windows 10, it really seems that the borders are being erased in order to a trully one OS on every screen.

I couldnt agree more! Did you see that SMS syncing/sending rom the PC. That is so awesome! I cam so close to leaving the platform but I am glad I decided to stick around because things are really starting to come along nicely. Just need to fix that app gap. (not for me. Im good as is)

Yeah! Trully is it, they are starting to put all the pieces together and things are looking really nice. Yeah, still, some things needs fixes and to be more polished, but they are not only fixing those things, one step at a time, but hearing users. That's amazing.

Fingers crossed Dell venue 8 Pro

Bing already on W10M so Spotlight would probably coming... Lumia 640 XL Dual SIM
Build 10.0.586.218

Just dload Dynamic theme then you have Spotlight :) Lumia 640 XL Dual SIM
Build 10.0.586.218

This is becoming like WP 8-8.1 story. WP 8 was very good, but it lacked some features which came with 8.1 update. So this anniversary update will be something like 10.1 update. Great!

But we already have bing images. What I want is Spotlight on the startup screen not just on the lockscreen.

Bing images are not Spotlight. Spotlight lets you vote whether you like the image or not so that similar photos will be displayed the next time. Bing images are no choice, just here is the daily photo on your phone.

Read my comment below. Dynamic Theme allows you to do just that

There's already an excellent app for that, it's call Dynamic Theme. It integrates with the rest of the OS so you feel like it's baked into it. And the sets up both Spotlight and Bing images on your Start/lock screens

Dynamic theme is nice, but only close. You cannot still vote for images that you like/dislike, which is the strength and main feature of Spotlight.

But anything that adds to the visual effect of window ten is welcomed!

Why don't they merge it with glance?

Spotbright is a good fill in for now if you want the images.

How's it compare to Dynamic Theme? Everyone here is plugging it.

Is it something different from choosing Bing for lock screen images? Posted via the beast - Lumia 640

See the part about voting for the image via like or dislike and getting images curated to your tastes? That could be a hint ;)

In Build 14322 Edge doesn't open, feedback app doesn't open, cant download anything from Market. But it's flows awesome, fast better than 14295 Build. Posted on Lumia 930 with
Windows 10 Mobile

yeah, I am experiencing similar problems, can't launch some apps, Cortana not answering my questions (she is thinking...), also can't install apps from the store and Windows Hello with Iris scanner not working well on my Lumia 950 XL. But still good build, I love new emojis and Action Center improvements.

Sad. Spotlight on OSX is a system-wide search feature that gets you apps, files and settings. Where is this on Windows 10?

Um... it's called Cortana. You should look into it. It can do everything you just said and a whole lot more. Think of Spotlight and Siri together and you get some of what Cortana can do.

It would be great if the option of automatic selection of theme color was added to mobile. Lumia 730 DS, Windows 10 Mobile.

Nokia lumia glance screen not supported add this feature next update windows

We already the ability to set the lockscreen image to Bing (although it has broken for the past FOUR VERSIONS of W10M preview) and works now. I don't sully my phone background or tiles with an image, so adding this to anything other than the lockscreen is non-value-added for me. And, honestly, I prefer the Bing image over the Spotlight.

Would be cool to have it on mobile.
Windows Central Newsletter
Get the best of Windows Central in in your inbox, every day!
Thank you for signing up to Windows Central. You will receive a verification email shortly.
There was a problem. Please refresh the page and try again.