Windows Store is currently down for at least some Windows 8.1 users [Update: It's back]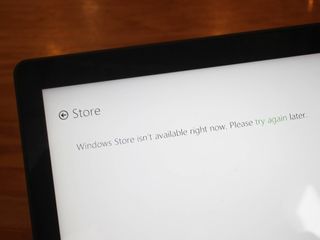 It looks like at least some Windows 8 and 8.1 users are having issues connecting to the Windows Store today. We have received reports that the store is experiencing an outage, and we have also not been able to connect to the storefront on our own PCs and tablets.
We received the first tip about the problems just after 4 pm Eastern time. So far, there's no word as to why this might be happening. We will update this post when we know more or if the outage ends.
Earlier this week, Microsoft experienced a nearly 11 hour outage on its Azure cloud servers that affected many of its services. The company has now stated the problems were caused by an issue in a performance upgrade for Azure Storage.
Thanks to the folks that tipped us!
Update The Windows Store is back up and running.
It seems Microsoft has become such a downer haha

Its all the updates I bet. New store on its way. A single store experience across all devices. Well by the time windows 10 arrives so they say. They got to start change backend someday.

Oh the excitement of a better tomorrow I remember the one experience across all screens mantra man I would not put my trust in Microsoft to deliver again. I'll just wait to be proven wrong.

Well, for those of us in Iran the Store is always down. No matter what region you choose, it's always "Store is not available in your region". Funny thing is, Windows Phone Store is always accessible. So what do we do? On my Surface 2 I have to set my laptop's IP address as a Proxy, and on my laptop I use CCProxy to make my laptop a proxy server. Then I have to direct CCProxy to channel all traffic on my laptop through another Internet Proxy (Like the Chinese Freegate or Psiphon) and THEN Surface can connect to the Store with very slow speed. Apple is now trying to officially sell iPhones here (the stores are filled with iPhones even without official Apple presence already) and Microsoft doesn't even forego IP checking to not filter us out. How am I supposed to encourage people to buy Windows tablets with these ridiculous restrictions then?

yea..microsoft most open store for iranian..it's just a store! why we can't use it?? app store google play wp store we can use them all..but microsoft banned iranian ip... -_- heh

Lol. It's back up now! I can't find the new Call of Duty: Heroes game though...

I didn't check. Not all that woried. Lots of azure issues I hear. Related??

"Someone..." take your own advice and read the article again.
It mentions Azure and the cause of the outage for Azure, but not relate the Azure outage to the Windows Store outage.

Microsoft and others stood together to voice opposition to NSA surveillance. Perhaps this is part of a little NSA warning against non-compliance. A warning that submission is required to avoid massive disruptions and loss of business. This is the New America after all.

I can't download movie creator..!! Don't know this is related to my issue...

You don't think this is 100% related to your issue?

Can't say man!! But I think it is...

*cough* *cough* ITS DOWN IT DOESNT WORK *cough* *cough*

I was just about to tip you!

I've had this problems for weeks on my laptop, no problems on my Dell venue 8

Still down for me. Store still says unavailable and closes itself.

I've noticed the Store has been up and down over the past day or two. Hope its fixed soon m

Whew! I thought my SP3 was going crazy.

Ah my gf was telling me about this earlier on her phone. I haven't experienced it though. Lucky me I guess.

No, it's being upgraded to windows 10 store

Viber and messenger have been updated if ye want to check that out !

Your welcome for the first tip about it :)

... and I thought my HP Stream 7 and 8 were faulty. Great little devices, by the way.

I thought that my Surface was the problem and tried restore Option. I don't know if this solve the problem or the Store had coming again because it opens OK. Now I'm going to try the update to 8.1 again.

It's been on and off for me for 48 hours now.

This happend to me yesterday.

Just tried to fire up Treasure Hunt. With the Store down, it complains that it "can't complete the purchase" and then tells me I need to log in as the purchasing user. The Store front page will load for me, but if I try to go to "my apps", I get an error. Trying to view my billing information on http://commerce.microsoft.com, I got a very bizzare error on page load: "The state/province and ZIP/postal code combination that was entered is not valid. Please check and try again."

OMG! Thank you for posting this! it was driving me MAD!!! The Windows Store in all the PCs in my house are down with the same message as in the picture. I had tried everything! :'( Since 2 days ago the store has been acting funky and today is totally broken. What's going on Microsoft!

Mine 1520 on ATT is fine no problems loding the store.

Thx for posting I thought my computer was messed up :/ lol.

Yes, still down for me on my Tablet

The store isn't working on my 1020. The main page opens with all the apps on it but when I search for apps it doesn't find anything. Even if I select an app that auto populates when I start typing. I was able to download the updates to viber and messenger though

The store is threadbare anyway. It could go down for a month and I wouldn't notice.

I have this problem all week on my tablet. :(

The store is down, and now Bing isn't pulling results. MS is going to kill thier push for Azure business with these outages.

Im having app update issues myself.. Angry Birds Go won't install.. It downloads and fails at installation then says "try again". Been that way for 2 days. Then the app Duolingo has an update available but won't actually begin the download no matter what. Not sure if these are coincidences or not or just my device.

Yep, I one that can't get to the Store.

I'm not sure if it's related but now I can't open any app in my Surface Pro... I click on apps and nothing happens... :(

Today's pain is tomorrow's gain

Whew. Glad to know. I have been setting up a new tablet and was concerned about not being able to download apps, since I've had since app issues on my laptop, but it sounds like it's not my tablet.

Seeing this in the Event Log: Activation of app winstore_cw5n1h2txyewy!Windows.Store failed with error: This app does not support the contract specified or is not installed. See the Microsoft-Windows-TWinUI/Operational log for additional information. I'm not seeing 'TWinUI' anywhere in EL...

Looks like mine is working now.

Never mind, found it, basically rehashing the first error: The app winstore_cw5n1h2txyewy!Windows.Store is not registered for the Windows.Launch contract or is not installed.

I keep having problems only downloading angry birds go...

I kept trying to open Age of Empires and it would halt and say I needed to log in with the same acount in the Windows Store that I used to download the app. Kind of crazy that you cant even launch some apps if the store is down.

I am facing this kind of problem on my windowsphone please help me why this is happening

Its showing " we are having trouble to get this info right now
Windows Central Newsletter
Get the best of Windows Central in in your inbox, every day!
Thank you for signing up to Windows Central. You will receive a verification email shortly.
There was a problem. Please refresh the page and try again.