The Windows Store to start carrier billing for Windows 10 PCs and tablets later in 2015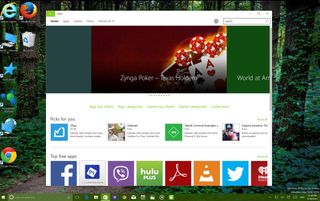 The new version of the Windows Store in Windows 10 will soon have a new way to buy apps, as well as acquire in-app purchases, via carrier billing for PC and tablet owners.
In a blog post, Microsoft stated:
Microsoft points out that 88% of the world's population does not currently use credit cards, so the option to enable carrier billing on PCs and tablets should allow for a big revenue boost for Windows 10 app publishers.
Source: Microsoft
The photos in the articles used to look better... what are these large shortcut icons on the desktop? sorry Windows Central, but this does not look nice.

The picture is from build 10158 (read old). Its simply a picture of the store

Why have to bother that? Not even an issue.

Yeah, agreed. The big bold desktop icons look incredibly lame

My windows store would download apps atm? Acquiring licenses then fail

Same problem here. Getting error code 0x803f7003.

This is great for developing and on countries where Credits cards aren't a norm.

My windows store would download apps atm? Acquiring licenses then fail

Wonderful, I hope this feature won't be limited just to the US but will be available world wide to all markets :-)

Need for my phone also....

This! It should have been done years ago!

That's what I am talking about .. There you go .. Now I can be a proud buyer too .. Ya instead of pirating...

Shoot! There goes one of my biggest reason to upgrade..
Windows Central Newsletter
Get the best of Windows Central in in your inbox, every day!
Thank you for signing up to Windows Central. You will receive a verification email shortly.
There was a problem. Please refresh the page and try again.