Looking ahead: What to expect from Surface and Windows in 2022
Time to think about what's next.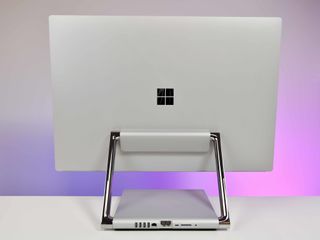 (Image credit: Windows Central)
Yesterday, we published our predictions and expectations for what could be in store for Xbox in the year ahead, and now we're doing the same for Windows and Surface! 2021 was a surprisingly big year for Microsoft, with the introduction of a new version of Windows, the unveiling of a new flagship Surface laptop and major redesign of the Surface Pro, and the 20th anniversary of Xbox. Can we expect 2022 to be on a similar level in regard to huge announcements, changes, and milestones?
10 years of Surface
2022 will mark the 10th anniversary of Surface, which first launched with the Surface RT in October 2012. Unsurprisingly, Microsoft will continue to churn out new Surface hardware next year, though I suspect the chip shortage has pushed back a number of planned product releases until the second half of the year. I hear the first half of 2022 will only see one new Surface product launch, that being the Surface Laptop Go 2 with an 11th-generation Intel chip inside.
The first half of the year should see existing products like the Surface Laptop Studio and Surface Pro X Wi-Fi models made available in more markets, and we're also expecting to see the launch of Surface Go 3 with LTE and Surface Pro 8 with LTE as well.
In the second half of 2022, I'm hearing that Microsoft intends to ship a handful of new Surface products, including refreshes of the Surface Pro and Surface Pro X with 12th-gen Intel and Microsoft "SQ3" chips respectively. I also expect to see an updated Surface Laptop with Intel 12th-gen and AMD Rembrandt series chips.
Surprisingly, I'm also expecting Microsoft to finally ship a successor to the Surface Studio 2 in the second half of 2022. Microsoft had originally intended to ship a Surface Studio 3 in 2020, but the pandemic and chip shortage postponed that plan until a later date. Sources tell me it's finally on the docket for 2022, so let's hope there are no further delays.
What I'm not expecting to see from Surface in 2022 include a new Surface Laptop Studio and Surface Go, as those were only just released or refreshed, and those products are on an 18-month or 24-month refresh cycle. I'm also not expecting to see the Surface Neo.
That brings us to Surface Duo, which may also miss out on a hardware release in 2022. My sources tell me this plan could still change, but as it currently stands Microsoft does not intend to ship Surface Duo 3 next year and is targeting a 2023 release instead. Perhaps this will give Microsoft a chance to use 2022 to focus on fixing up the software and OS issues that have plagued the Duo line so far.
Finishing up Windows 11
Regarding Windows, Microsoft has already said that the next version of Windows 11 will begin shipping in the second half of 2022, which lines up with Microsoft's new release cadence for Windows in general. I'm told the current engineering schedule has mainline development on version 22H2 scheduled for completion in May 2022, with a final build expected sometime in the summer and general availability in the fall.
Version 22H2 is said to serve a similar purpose to that of Windows 10's version 1511, which focused on "finishing off" the OS with features and changes that simply didn't make it in time for the initial release. This will include features such as a true system wide dark mode that touches legacy UI in addition to modern interfaces, and the return of missing functionality, especially around the Taskbar.
Microsoft is also expected to expand the Widgets panel with new features and support for third-party widgets. I'm told some developers have already been briefed on how third-party widgets will work. Users will be able to download new Widgets from the Microsoft Store, though unpackaged apps from outside the Store will be able to provide their own widgets as well. Android app support is also set to ship with version 22H2.
Version 22H2 is codenamed "Sun Valley 2" internally, which lends further credence to the 1511 comparison, as that was codenamed Threshold 2 after the initial release. A number of in-box apps are also expected to get updates, including Notepad and Groove Music, both of which are already in preview.
I'm also expecting the Mail & Calendar apps to be replaced with Microsoft's "Project Monarch" Outlook client in 2022. Microsoft had originally planned to ship previews of the Monarch client this year, but wasn't able to do so for unknown reasons. I'm told the client is still on track to ship in 2022, so perhaps we'll hear more about this new client in the coming months.
I've heard Windows on ARM will be a focal point for Microsoft in 2022. In the spring, I'm told that Microsoft is planning to ship its own ARM devkit with a flagship processor based on Qualcomm's Snapdragon 8cx Gen3. Not much else is known about the hardware, but sources say Microsoft is serious about Windows on ARM and is excited about the platform going into 2023.
That brings us to HoloLens, which I'm torn about whether or not we'll see a third generation in 2022. Given that HoloLens 1 was released in 2016, and HoloLens 2 in 2019, a HoloLens 3 in 2022 would make sense. Microsoft's head of Mixed Reality experiences, Alex Kipman, has already said that a HoloLens 3 is in development and will focus on three key areas, those being improved immersion, comfort, and acceptability. So we'll have to see about seeing it launch in 2023.
Windows Central Newsletter
Get the best of Windows Central in in your inbox, every day!
Zac Bowden is a Senior Editor at Windows Central. Bringing you exclusive coverage into the world of Windows on PCs, tablets, phones, and more. Also an avid collector of rare Microsoft prototype devices! Keep in touch on Twitter: @zacbowden.
This all seems pretty safe and expected, though no mention of accessory refreshes seems like something they should address on a few fronts as well. I would like them to skip the Duo in the fall and move it to a spring launch with the majority of Android flagships (while using the 2023 Qualcomm SoC, not a 2022 one a year late). The Duo mostly needs to be addressed on a software level and having 2022's Duo resources focused on that might make future releases smoother and more appealing to people. I do wish Microsoft would stop playing coy with AMD hardware. Limiting Ryzen to Surface Laptop is super lame. I'd buy a Surface Pro with Ryzen, and would have done the same for a Surface Book, but I really don't care for the Surface Laptop line. It throws out the 2-in-1 appeal of the Surface family, so it's a product I never find myself recommending to anyone. I want to see Microsoft embrace competition in the CPU space and offer AMD and Intel flavors of more devices, as other OEMs have in the past.

agree on Surface Laptop unless they let the screen flip (I wish they would)

"It throws out the 2-in-1 appeal of the Surface family, so it's a product I never find myself recommending to anyone.", amen and lack of 360 degree hinges on the (lightweight) Surface Laptop Go too, is like salt in the wound.

The only flagship I can think of that launches in the Spring is the One Plus, and they have been every six months. Samsung launches in winter and most everything else is the fall. This announcement is the end. No way the go back to making phones.

Here's hoping the Surface Pro X has a 120Hz display. Crazy the Surface Laptop Go will still be Intel. Microsoft needs to be releasing a midrange traditional laptop to sell ARM. Not only a niche hybrid device. WoA excels at web browsing, Microsoft Office, general purpose apps. The apps and services most users will be using on the midrange Surface Laptop Go 2. Would allow the laptop to be thinner, lighter, have no fan and have better battery too.

120hz screen with that garbage chip? Terrible idea. Not even sure they should bother with the Pro X if the SQ3 is the best they have. It is underpowered today, imagine a year from now.

So something that matches Intel's 11th gen "U" series i5 and i7 while including LTE/5G and consuming less energy is garbage? Then I don't know what to tell you.

SQ3 isn't going to match them beyond benchmarks, let alone whatever Intel releases next year, and Intel isn't even the benchmark anymore. Microsoft is going to release a $1500 device that is out performed by an old $800 Macbook Air? Imagine if Apple decides it wants the lower end laptop segment and releases a $699 base MacBook with the M1! SQ3 is embarrassing.

Benchmarks is how test performance until more apps become native. You said that it was garbage, you didn't said that it will be worse then Intel's 12th gen, you are moving the goalpost. The SQ3 is a much lower power consumption SoC that integrates a 5G modem, so comparing it to the M1 is kinda comparing apples to oranges, what's next? Comparing desktop CPUs to mobile CPUs?

M1 is also low power, they are both mobile processors. Not sure what your point is?

The SQ3 still consumes way less power then the M1 despite both beinh mobile CPUs, there are mobile CPUs that consume 4W and there are others that can consume 60W, so even though they are both for laptops, they can't be compared. This is really basic stuff.

As if suddenly people switched to MacBook without considering other factors like OS, apps, hardware compatibility and especially if they want more than just a pure laptop. Considering that Qualcomm is finally will try to compete with M1 but may take at least 2023 to realize that, it is just how the engineering works.

The M1 will be three years old by then and replaced by something even faster. Qualcomm and Microsoft don't have much chance of catching up now. Not sure if they really need to, but it is a bad look. I know I am not buying a pricey Surface device when the Apple option is cheaper, faster, and more efficient. They need to compete on price at least. The new Pro X can't start at more than $500 with the performance we have seen from the SQ3. By the time it is released, a new $999 MacBook Air will likely be available and Microsoft won't even be competitive with the older one.

That is remained to be seen and that is entirely up to Qualcomm at this point. M1 does have a huge head start doesn't mean it will remained for next few years. Remember how Intel were dominated and AMD was just lagging behind despite their efforts, then Ryzen came in which is a huge departure from their previous architecture, and due to Intel's complacency, AMD quickly catched up. Though Apple so far is keep improving Apple Silicon, so it will be race, unless somehow they slowed down and Qualcomm catches up. But there is no sign for that at the moment, so the trend is going up. The acquisition of Nubia could be a game changer if things goes well, though I don't expect the first year to be a hit, but it must be a right direction of changes in architecture. Microsoft simply benefits from it. Not to mention, how AMD and Intel is improving in next few years. Intel is already in the resurgence, and AMD might able to trickle down their desktop performance down to mobile ones, which is currently Intel is still better in some regards. Apple M1 is indeed impressive, and this causes a shift in the industry. Thing is, its huge performance does have come at a cost with its current limitations, which is solvable like the display limitation. There is a problem with everything is so integrated that it is a huge question how their chips translate for Mac Pro, which either will go back to being more like an iMac Pro or still maintain the modularity aspects of current Mac Pro, with compatibility with existing 3rd-party hardware. If Apple manage the latter, that will be another challenge for Qualcomm to tackle, which will then may compete directly to Intel and AMD than with Apple. Thing about M1 is it is exclusive to Apple hardware, so PC's don't benefit out of it unless users or an organization will fully shift to Apple ecosystem. Individual users will be far easier, not so much with an enterprise for example.

What a broad assumption there wotn be any improvements overtime, considering SQ SoCs are based off from Qualcomm Snapdragon 8cx SoCs. This is entirely up to Qualcomm, Microsoft simply made some changes and improvements for Surface. SQ chips tend to have clocked higher for GPUs and 120Hz won't be that hard to drive these days. That is only for gaming where high refresh rates can be challenging.

"garbage chip" ? you are seriously misinformed. I own Samsung Galaxy Book Go with Qualcomm Snapdragon 7c Gen 3and this laptop blows me away for the price. 18 hours battery life, the thinnest laptop i have ever seen, dead silent because laptop has no fans, Windows 11 and LTE. I can install on this laptop ARM, x86 32-bit and 64-bit applications. Microsoft office, Edge, 64-bit Firefox are all flying on this device. Take it against any of those cheap thick Intel laptops with half the battery life and loud fans. ARM on windows is awesome. I would love to see Microsoft Surface Go with Snapdragon 7c Gen 3 with LTE. I would take it over intel any time any day.

I agree - I use ARM daily (using it now). the SPX performs incredibly well for most users (meaning 90%+) Battery is great, device is fast to start, runs exceptionally well. I have a surface book that I have not touched since I got the SPX.

I'm curious about the "Surface Laptop Go 2 with an 11th-generation Intel chip." Why would they beef up the Surface Laptop 2 when the 3 has been out for some time. Typo? I've got a OG Go, and am fine with it. Yes, it is slow, but I'm patient. My only real gripe with it is battery life. Never was great, but OK for my use case. Even had a Fi SIM in it for a while. If ARM didn't make the performance worse, and significantly helped the battery life, I'd be all for it.

Any idea about Surface Earbuds 2? I am undecided if I should by the current model or wait for a refresh.

They are definitely in the works internally, though no idea what's new with them or when they'll arrive. Could be next year.

@Zac - I was just wondering if you guys heard of any plans for a Surface Dial 2

I would wait a little until there is at least more information on what we can expect from the Surface earbuds 2 before making a decision. I personally really like my earbuds and would recommend them to anyone with the exception of the price. I would say they are slightly overpriced but are the most comfortable earbuds I've had.

So Microsoft is already planning on cancelling Duo? What happened to the low cost version? No way they go back to it in 2023. Folding screens will be even more solid then.

At no point does my article state that Microsoft is planning to cancel Surface Duo. You can bet I'd be making a much bigger deal about it if that were true :) For all we know, the "delay" is simply because they want to shift to a spring release window instead of the fall. Or it could be the chip shortage. Or it could be because they want to focus on fixing software issues. Could be all of those things. I wouldn't worry.

"Delay". We all know what that means. You really think two years from now they will still be interested in a device with such small sales numbers? Two years is an eternity in the mobile world. This is effectively cancelation. You really think they would have delayed it if it was successful?

I used to disagree with you but in this case you're right. Two years is a eternity to mobile world. They must probably will never come back even more with this very low sales of the Duo 1 (50k per year). But Zac can tell us more about the sales of the Duo 2. Give us some hope.

No, Zac CAN NOT tell you about sales. Something like that would be under a NDA with Microsoft. Which, for "Their Sales Numbers" Zac nor Daniel has.

Daniel said it was between 30 and 50k. Embarrassing numbers.

You just claim that Microsoft is going to cancel everything all the time so if you're ever right about anything it is purely by accident. No one should ever listen to anyone who is deliberately negative about everything.

I don't say they are going to cancel Windows 11, or Surface Pro, or Office. Those are all good. Laptop Studio, that they won't cancel, but it will get ignored for years like the original Studio. I don't see them cancelling WoA at this point, but they also won't have a good strategy for it and it will struggle. I have good reasons to be negative about the Duo, and I was originally optimistic. I think they messed it up by going with the wide aspect ratio and not something more normal so it can be used like a normal phone easier. That combined with a more reasonable price and it could do ok.

I don't know why I'm wasting precious key strokes in response to you, but alas here I am. I guess you've forgotten about the Surface RT to Surface Pro 3 process? I think they may have been a little premature with the Duo 2, so waiting a little longer for the Duo 3 to get a better grip on the software issues just makes sense. Again, this is new territory for Microsoft. What other piece of hardware do they manufacture that runs a completely different OS than the one they own? So far the "surface brand" has a pretty good track record for staying true to what they say. Why would we trust your words over theirs?

Surface RT was a different line than the Pro, and it was cancelled. The Pro stuck around as it didn't suck. Did you trust them when they said the Neo was delayed?

Surface pro was still an evolution of surface RT. They're only "separate" by name. And you can't over generalize the outcome of one product being delayed to all other products being delayed.

Surface Pro launched at the same time as RT?! It is a pattern with Microsoft. If they were dedicated they would continue iterating or trying something new to make it work. Delay only turns into cancellation with Microsoft.

How is it a pattern when the Surface line is doing rather well? I think you need to look up the definition of pattern. Its like saying the Pixel line is a failure because of the discontinued Pixelbook and then calling it a pattern. 🤔 "Delay only turns into cancellation with any company.", FTFY

"Surface RT was a different line than the Pro, and it was cancelled. The Pro stuck around as it didn't suck."

You're so ignorant. Surface RT eventually evolved into what we now know as Windows on ARM. Surface Pro X is literally: Surface 3 + RT for 2020 and beyond. How do you miss these things? Just like Laptop Studio is Book 4 evolved. MS releases things, learns from it, and builds off of what worked and what didn't. Why? Because ALL of Surface is one big experiment/research project. I'm not sure if you're daft or just purposefully ignorant.

I was talking about the actual Surface Pro line of course. Don't pretend you didn't know that. That other thing shouldn't be called Pro.

The Surface-Non-Pro is now succeeded by the Go in my opinion.

Everything has been delayed due to the pandemic. Where have you been?

That is weird. I can't really think of any smartphones from major manufacturers being delayed.

That delay in the Duo could also be an opportunity to get Windows on the device, with android app functionality. I love my Duo 2, but it's never going to be a full surface until it runs Windows

There are no plans to bring Windows to Surface Duo 3.

It begs the question, why are Microsoft so invested in getting Android apps on Windows if there's no long term strategy to have Windows on pocketable devices? Surely Microsoft aren't making that investment just for bragging rights that tik tok runs on a Dell laptop. Makes no sense. Fundamentally I accept that Windows may never come to a mobile device again, and honestly android is a great platform, but in my mind I cannot imagine that Microsoft are OK with investing £££Millions into making an outright competitors platform work better just to sell a small number of niche foldable phones. If Android 12L nails it, and becomes the defacto operating system for pocketable, foldable devices, the Duo is going to have a fight on its hands to survive, as other phone manufacturers jump on the wagon.

I think the problem really why we may not see Windows on pocketable handheld device (that includes smartphones) is due to canned Windows 10X, which has roots to Windows Core OS project that we know of, and that 10X as far as I remember isn't exactly the Core OS where that adaptable modular shell was about, or at least Microsoft didn't really detailed what 10X really is. This only leaves current Windows architecture that still primarily designed only for desktops PC's. We can't put that to something like a smartphone due to how OS is designed and the shell is simply isn't designed anything 10 inches and smaller. Heck it can be argued that Windows 11 on 10 inches is still feels too cramped and UI already stretched to its limit to fit on it, especially lacking the Tablet Mode UX which provides certain window management features that is tailored for small display. And then even they nailed the OS, the app is still a problem here. The only clear way to solved this is may be with PWA. But that is still like years away before more developers fully adopted it and PWA to mature to be "app-like".

PWA is the answer for Chromebooks, not Windows. Why else did Google create PWA? PWA will be the death of Windows, not the savior.

It was but it is gaining more adoption now among developers, especially as an alternative to Electron apps which are both have roots being web-based, while PWA is proven to be at least less resource hungry. PWA will not save Windows, it doesn't need to. It is just another app platform for the OS to adopt. It will be just among the many. It is just that PWA may be the only way that we know of for Windows on handheld device or any other new OS to come up in the future, to at least work around the chicken-and-egg issue. PWA could be the answer for "write once, run all" app platform and far more OS agnostic. Not for any kinds of applications, but may be viable for most kinds. The fact that PWA is open-source, it means not just Google or Microsoft can invest and improve it.

When everything is a PWA, why would you use Windows?

PWA's suck. They don't have any real performance over anything native. Even with Web Workers. Web Assembly was supposed to fix this but there is literally no adoption unless you are malware or bit coin miner hoping to recruit unsuspected internet patrons.

I like PWA's for more simple applications like streaming services; you can use browser plugins with them to block potential malware exploits, trackers, ads and eg for forced dark mode and other useful features.

That is a big what if "everything". There will be still that won't get PWA, just like why not all are electrons, UWP, Java, Python, etc. So on those case you may need Windows, or any respective OS that you need to run those apps for. If PWA everything, same goes with the question why need macOS? Linux distros? Android? Etc. The only reason why sticking to your preferred OS at that point is far more specific.

"PWA is the answer for Chromebooks, not Windows. "

Android 12L is, not PWAs. How do you not know this? 12L makes Android apps like PC apps, which also means they'll be formatted properly for PCs.

PWA makes apps independent of the OS.
Still an OS with good usability will matter, so Chromebooks? NO.
iPads? More like it, but still missing a bunch of Window-Management tweaks Windows has perfected.

"It begs the question, why are Microsoft so invested in getting Android apps on Windows if there's no long term strategy to have Windows on pocketable devices?" It is fairly obvious. Android apps on Windows is a desperate, last ditch attempt to keep Windows relevant to younger people. People who would otherwise have no reason at all to use Windows. Why in the world would anyone want to run Windows - with all the overhead and baggage that brings - on a mobile device to run Android apps? Which would be Windows on ARM also. Why not just use an Android phone? Running WOA on a phone just to run Android apps is pointless. Face it. Windows on phones is dead. It is never coming back. Nor does it need to.

I'd have to disagree somewhat with the idea that Microsoft need to keep Windows relevant to youngsters. My daughters are in their late teen/early twenties, and both asked for laptops this year, for college and university. Initially, it was for homework, but now they're using them for Netflix, online shopping and light gaming (I got them surface go"s, so anything heavier than Farmville is out of the question). They're both very active on tiktok and Instagram, but use their iPhone's for that. I don't think either of them know those apps are available on their laptops, and I don't think they'd even consider downloading them. The point is that just a couple of years ago, neither of my girls, nor any of their friends, would have actively wanted a Windows pc. I tried getting them onto Windows, but they resisted throughout high school. All they wanted was Apple. But Windows found them. The moment they needed to get stuff done, Windows became super relevant, and they found a way to make it fun as well as useful, with games and movies. I believe Microsoft know that very, very few people will be downloading tik tok to a laptop, and it's incomprehensible that they'd spend £££Millions getting Android apps on a Windows platform just to prove to the young generation that they can, because that young generation would not care one bit. I believe (and of course accept it's only my opinion) that the only time android apps become relevant on Windows, is when Windows is running on appropriate hardware i.e a mobile device

"But Windows found them. The moment they needed to get stuff done, Windows became super relevant, and they found a way to make it fun as well as useful, with games and movies.", this in a nutshell. Lack off touchscreens on Macbooks also helps. The only thing where I found Windows on a laptop really lacked software wise was with banking apps, that is where Android support can help but YourPhone also already helps filling that gap. "I believe Microsoft know that very, very few people will be downloading tik tok to a laptop, and it's incomprehensible that they'd spend £££Millions getting Android apps on a Windows platform just to prove to the young generation that they can, because that young generation would not care one bit.", but it does make sense for their Surface line and for Windows chromebooks competitors (like the that new budget Surface laptop). It also makes Windows more flexible so they can always release a pocketable device in the future when the time is ripe.

I agree totally on that as that is the reason why there are many social media, games on the start menu when you have windows 11 setup as those are the apps that will appeal to younger people :)

Android apps on Windows will help solve some of the no-apps issues of Windows tablets. Perhaps, we will see the return of 8-inch Windows tablets.

Hey Zac, there are possibilities as many feedback has been sent to them about Windows Phone, I have heard that they will bring it to mobile when Windows 11 is perfect on computers first.

Jcmg62, as much as I would love to see that come to fruition, I just don't see the calculus in MSFT doing that. Windows phone was their opportunity to bring Windows to the mobile space and they botched that up.

I'd be 1st in line to get a Duo running Windows!

Really hope Android 12L gets released soon and that Microsoft can perfect the Duo software using it...

Will they really care if they don't have a new device coming out? Maybe Duo 2 will see Android 12L a year from now, but given how slow they have been, I wouldn't bet on it. Duo 2 will basically just get security updates for the next three years and that will be it. The Surface Duo line is dead with this announcement. Microsoft always starts with delays before cancellation.

I think you hit it on the mark. Freaking A... Where's my Duo 1 upgrade? It is the end of the year FFS.

I'm surprised we haven't heard/seen more of Project Monarch. The builds seem to be chugging along via the leaked download link. Like you Zac, I'd love to hear the background info on this.

Will the new Surfaced Laptop get a redesign like Surface Laptop Studio? Smaller bezels and rounded corners.

Surface Studio 3 better have a minimum of an i7 Alder Lake CPU. So tired of this great machine being gimped from the get-go!

I'm excited for surface studio 3 and I'm glad they're refreshing it. With all that power though they really need to rethink heat management. I know of 6 studios across two firms I've worked with. 5 of them have been warrantied for heat related issues. One of them twice. All that processing power is useless if the computer destroys itself using all that horsepower. Simply a slightly taller case with more fans should do the trick. Or a more trapezoidal shape sloping up to the back to allow a large liquid cooled radiator? I'm sure they can solve it easily without ruining the aesthetic. Of course what good is aesthetics if it limits the power of what should be a high power device. I personally hope they just build a stand alone screen so I can use my custom-built rig to power it.

If there was any demand, that screen would already be available. No one is looking for it, the sales of the Studio alone show that.

I would buy that screen as a stand alone too.

I do think we'll see hololens 3 and 2022 for a final big booster push for development. So developers can have part of 2022 and all of 2023 to prepare their software before Microsoft has it's deal completed with Samsung. Which I assume will be Samsung making a mass-market version of augmented reality glasses running Microsoft software in 2024
and Microsoft putting out their surface brand Boutique version out at the same time
But anyway yeah this is why I don't think Microsoft will care that much more about the surface Duo because AR glasses are the future and Microsoft is way ahead of everyone and it'll be their hardware for the most part but most definitely their software. Aka move aside Google lol.

No one has figured out AR yet, it still needs it's iPhone moment. Eventually a proper input method will be developed, but until then it won't really catch on.

Private usage? Yes, AR is a view years away from usage.
But in many companies HoloLens is actively used for maintenance / Support of field workers by specialized technicians.

Surface Pro series -- please make LTE/5G standard, and don't limit the SSD size with LTE, etc. And please use faster SSDs in the Surface Pro. If re-including micro SD cards, please use the latest standard, which promises up to 4 Gbs speeds in 2-3 years.

I know the Army has delayed the purchase of IVAS a year to make sure the system does provide greater lethality to infantry formations. Given that IVAS is just the militarized version of HoloLens, I would think MSFT is pouring research dollars into IVAS that will result in a higher capability to HoloLens. Eisenhower warned us about the military industrial complex. He essentially worried that the large annual investments with defense contractors would distort the allocation of resources and impact the socioeconomic structure of the US. Then around 2010 some recognized the importance of the entertainment industrial complex driven by smartphones, game consuls, social media etc. Here the market would allocate capital to sell $ billions in consumer devices and services. No longer was the military industrial complex driving innovation and investments in hi-tech. Now things like the Romba would be modified to power mine sweepers etc. I wonder just how much IVAS will shape hololens versus HoloLens shaping IVAS.

I have two questions.
1. What does it mean by "Microsoft is planning to ship its own ARM dev kit"? Does it mean that Microsoft's own custom Silicon is coming in 2023?
2. When will Microsoft give AMD proper chance instead of going with intel only?

"When will Microsoft give AMD proper chance instead of going with intel only?"

When AMD can support basic features in a $2K laptop like Thunderbolt.

The gap between usb-c and thunderbolt is getting smaller. I am with Sanjoy Mondal here that for some devices like the Surface Laptop Studio the current Intel cpu do not make all that much sense (especially with the small difference compared to the Pro 8). Even the older Ryzen 7 4980U would be better I think overal speaking. I still really like devices like the SLS and Go line etc, but there is definitely some missed opportunities.

The next gen ryzen will have usb 4.0 which is plenty. Daniel continues to be a huge Intel fan for some reason.

God damnit. Duo 3 is delayed...original Duo still doesn't have an update. It is dead. Thanks for nothing Microsoft.

"It is dead. Thanks for nothing Microsoft.", people also said that after the Duo 1 but we still got the Duo 2 🤷‍♂️

I mean, that is good news. Because it increases (at least a bit) chances to get a mobile Windows device, not one with Crapdroid.

"That brings us to Surface Duo, which may also miss out on a hardware release in 2022. My sources tell me this plan could still change, but as it currently stands Microsoft does not intend to ship Surface Duo 3 next year and is targeting a 2023 release instead. Perhaps this will give Microsoft a chance to use 2022 to focus on fixing up the software and OS issues that have plagued the Duo line so far." Or it could be the beginning of the end. I remember when the Neo was "delayed". Andromeda was "delayed". Windows 10 X was "delayed".

Or it could be the beginning of the end. I remember when the Neo was "delayed". Andromeda was "delayed". Windows 10 X was "delayed".

Plans change. For Neo, it lost 10X due to the pandemic (MS shifted it all to make Windows 11), and Intel stopped making the CPU that ran it. The idea of a "foldable" PC is not dead, however. Far from it.

From rumors, the Neo was based on CoreOS and ARM based and the OS was abandoned and Win on ARM has mostly been a failure with very few devices sold. There are Neos out there on the MS campus.

No talk of a surface wearable - A watch, Band?

That would be very useful. The lack of an external display on the Duo would make a wearable very useful indeed.

Listen up to me, I am sick and tired of some random MF like you talking, you don't even know much about Xbox. This site is not good, too much comments and I hate that a lot. You need to stop talking because what you say is irrelevant and you can't prove anything. I am ashamed of your behaviour and you better stop. Just because you don't play xbox, doesn't mean you have to talk about it. Again, shut your mouth before I shut it myself. Unless you belong in an asylum, stop making random comments thinking you're the most important person. Some games can be made or not, and it doesn't Xbox always make great games to begin with. You just want attention and some people here disappoint me. I will disappoint you. Like I said, stop and I am warning you. I don't care what you said, I had it up to the moon with some people, taking a game seriously. You are a waste of brain cells and it disappoints how you expect to talk. I know how Xbox expect to even make a fortune somehow, and it barely depends on or heavily depends on what way they function as a company. If anything, I can live without xbox although I will ignore you. Shut up. It is odd enough how Xbox decide to announce something and yet they expect that to be the biggest thing ever each time. They should hardly be successful. Anyway, I don't like what you said yet this site is not the best site ever. The worst thing you or some people can do is keep talking, just stop.

Lol somebody missed their meds that morning!

Project Monarch is long overdue. Many of us are desperately looking to dump the current mail app for a better program. I'm hopeful that this will come in the first quarter or at least allow some of us to apply to troubleshoot it. Thanks for all the good work you do in keeping us informed.

Don't forget they may bring Bing maps to iOS/Andorid :) It's already partially working on Bing & Start app
Windows Central Newsletter
Thank you for signing up to Windows Central. You will receive a verification email shortly.
There was a problem. Please refresh the page and try again.