Looking ahead: What to expect from Surface and Windows in 2022
Time to think about what's next.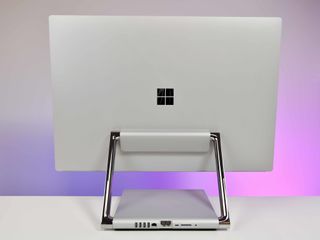 (Image credit: Windows Central)
Yesterday, we published our predictions and expectations for what could be in store for Xbox in the year ahead, and now we're doing the same for Windows and Surface! 2021 was a surprisingly big year for Microsoft, with the introduction of a new version of Windows, the unveiling of a new flagship Surface laptop and major redesign of the Surface Pro, and the 20th anniversary of Xbox. Can we expect 2022 to be on a similar level in regard to huge announcements, changes, and milestones?
10 years of Surface
2022 will mark the 10th anniversary of Surface, which first launched with the Surface RT in October 2012. Unsurprisingly, Microsoft will continue to churn out new Surface hardware next year, though I suspect the chip shortage has pushed back a number of planned product releases until the second half of the year. I hear the first half of 2022 will only see one new Surface product launch, that being the Surface Laptop Go 2 with an 11th-generation Intel chip inside.
The first half of the year should see existing products like the Surface Laptop Studio and Surface Pro X Wi-Fi models made available in more markets, and we're also expecting to see the launch of Surface Go 3 with LTE and Surface Pro 8 with LTE as well.
In the second half of 2022, I'm hearing that Microsoft intends to ship a handful of new Surface products, including refreshes of the Surface Pro and Surface Pro X with 12th-gen Intel and Microsoft "SQ3" chips respectively. I also expect to see an updated Surface Laptop with Intel 12th-gen and AMD Rembrandt series chips.
Surprisingly, I'm also expecting Microsoft to finally ship a successor to the Surface Studio 2 in the second half of 2022. Microsoft had originally intended to ship a Surface Studio 3 in 2020, but the pandemic and chip shortage postponed that plan until a later date. Sources tell me it's finally on the docket for 2022, so let's hope there are no further delays.
What I'm not expecting to see from Surface in 2022 include a new Surface Laptop Studio and Surface Go, as those were only just released or refreshed, and those products are on an 18-month or 24-month refresh cycle. I'm also not expecting to see the Surface Neo.
That brings us to Surface Duo, which may also miss out on a hardware release in 2022. My sources tell me this plan could still change, but as it currently stands Microsoft does not intend to ship Surface Duo 3 next year and is targeting a 2023 release instead. Perhaps this will give Microsoft a chance to use 2022 to focus on fixing up the software and OS issues that have plagued the Duo line so far.
Finishing up Windows 11
Regarding Windows, Microsoft has already said that the next version of Windows 11 will begin shipping in the second half of 2022, which lines up with Microsoft's new release cadence for Windows in general. I'm told the current engineering schedule has mainline development on version 22H2 scheduled for completion in May 2022, with a final build expected sometime in the summer and general availability in the fall.
Version 22H2 is said to serve a similar purpose to that of Windows 10's version 1511, which focused on "finishing off" the OS with features and changes that simply didn't make it in time for the initial release. This will include features such as a true system wide dark mode that touches legacy UI in addition to modern interfaces, and the return of missing functionality, especially around the Taskbar.
Microsoft is also expected to expand the Widgets panel with new features and support for third-party widgets. I'm told some developers have already been briefed on how third-party widgets will work. Users will be able to download new Widgets from the Microsoft Store, though unpackaged apps from outside the Store will be able to provide their own widgets as well. Android app support is also set to ship with version 22H2.
Version 22H2 is codenamed "Sun Valley 2" internally, which lends further credence to the 1511 comparison, as that was codenamed Threshold 2 after the initial release. A number of in-box apps are also expected to get updates, including Notepad and Groove Music, both of which are already in preview.
I'm also expecting the Mail & Calendar apps to be replaced with Microsoft's "Project Monarch" Outlook client in 2022. Microsoft had originally planned to ship previews of the Monarch client this year, but wasn't able to do so for unknown reasons. I'm told the client is still on track to ship in 2022, so perhaps we'll hear more about this new client in the coming months.
I've heard Windows on ARM will be a focal point for Microsoft in 2022. In the spring, I'm told that Microsoft is planning to ship its own ARM devkit with a flagship processor based on Qualcomm's Snapdragon 8cx Gen3. Not much else is known about the hardware, but sources say Microsoft is serious about Windows on ARM and is excited about the platform going into 2023.
That brings us to HoloLens, which I'm torn about whether or not we'll see a third generation in 2022. Given that HoloLens 1 was released in 2016, and HoloLens 2 in 2019, a HoloLens 3 in 2022 would make sense. Microsoft's head of Mixed Reality experiences, Alex Kipman, has already said that a HoloLens 3 is in development and will focus on three key areas, those being improved immersion, comfort, and acceptability. So we'll have to see about seeing it launch in 2023.
Get the Windows Central Newsletter
All the latest news, reviews, and guides for Windows and Xbox diehards.