Windows users want to see tabs in more apps, not just File Explorer
Almost half of our polled readers want to see tabs in more Microsoft applications.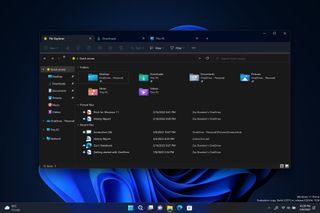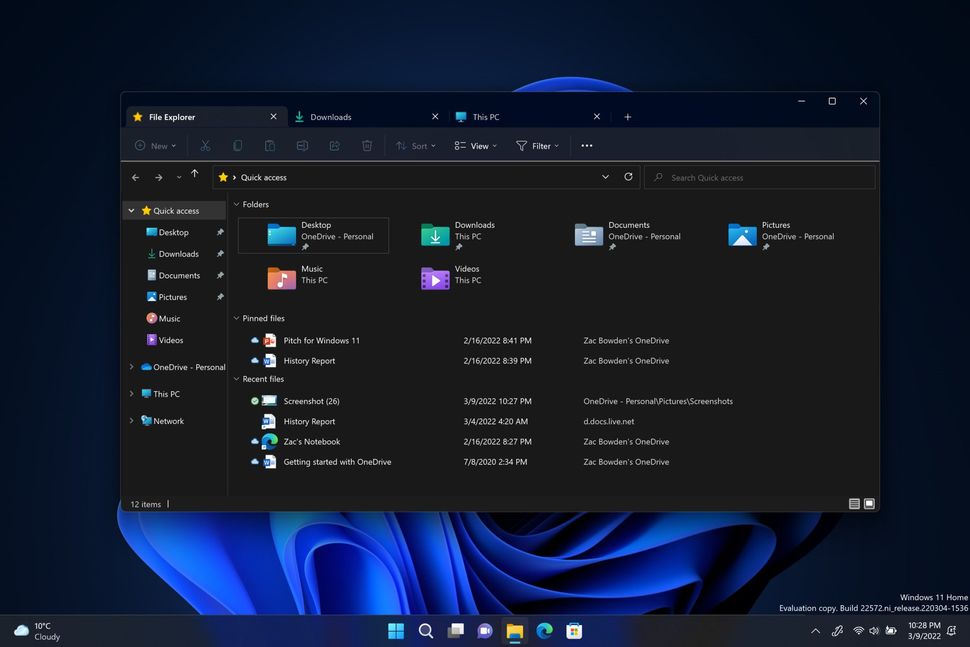 (Image credit: Windows Central)
What you need to know
Microsoft recently started testing tabs in the File Explorer on Windows 11, though the functionality has not yet been officially announced.
Windows users were split about if Microsoft took things far enough when adding tabs to the File Explorer, according to a recent poll.
Almost 50% of polled participants want to see tabs in more Microsoft apps, while over 43% of voters are happy with the addition of tabs to the File Explorer.
The latest Insider build of Windows 11 includes a hidden option to enable tabs within the File Explorer. Some Insiders were able to enable the feature, giving us a glimpse of what Microsoft seems to have in store for its default file management app. Tab support has been a requested feature by many for quite some time, and it appears that we won't have to wait long to see it officially roll out.
While many welcome the addition of tabs to the File Explorer, some think Microsoft should take things a step further and add tabs to more apps. Back in 2017 and 2018, Microsoft worked on a feature called Sets, which allowed people to organize any application with tabs.
Over the weekend, we ran a poll to see if our readers are content with tabs just being added to the File Explorer or if they'd like to see tabs added to more applications. Voting was relatively split on the issue. Just under 50% of polled readers want to see tabs in more apps. Over 43% are happy to see tabs only added to the File Explorer. Around 7% of polled participants said they don't use tabs at all.
In our comments section, GraniteStateColin explained why they value tabs. "I still love tabs as the simplest, fastest way to group related tasks together. Sets would have been fantastic for me, but just providing the option for tabs in more apps is a solid win."
Others called for tabs to come to other apps from Microsoft. "Tabs in File Explorer is a good first start. Now let's implement tabs in Office 365 and Notepad,£ said peiaird.
Tarkus13 expressed different thoughts in the comments section. "The only thing I used Sets for was Explorer, so yes, this is enough for me. Far better to have it natively in the app too, rather than the clunky Sets method." They don't appear to be alone, as over 43% of voters said they were happy with tabs only being added to the File Explorer on Windows 11.
While it's not a native solution, it is already possible to get tabs in Windows using Stardock's Groupy application. Groupy allows you to organize any app on Windows with tabs. It also supports saved groups, which make it easier to launch a collection of apps you frequently use together.
If people prefer to wait for built-in tab support in the File Explorer, it seems like they won't have to wait long. While File Explorer tabs haven't been announced by Microsoft, the user interface for the feature appears to be well into development. Of course, Microsoft could always change its plans.
News Writer and apps editor
Sean Endicott brings nearly a decade of experience covering Microsoft and Windows news to Windows Central. He joined our team in 2017 as an app reviewer and now heads up our day-to-day news coverage. If you have a news tip or an app to review, hit him up at sean.endicott@futurenet.com (opens in new tab).
Well at least everybody agrees that tabs are needed. Question is where more

Not everyone. You apparently didn't look at all the results

Office apps (like Adobe apps), Youtube, Twitter, Settings (
You can't do two things at the same time, like the Control Panel), Adobe XD, (maybe) Media Player or Store, and ...

I disagree actually. I run Windows with the Taskbar "programs" (now called "apps") to never combine and I use ALT+TAB frequently to switch between 2 instances of File Explorer. Which is faster than browsing multiple tabs within File Explorer

Tabbed anything is simply not a feature I ever cared about. I run everything full-screen, and tabs just add more clutter to a screen, as far as I'm concerned. I'm sure many find such a feature useful, but I've always been in the minority of users.

Tabs are definitely useful for applications that I run many instances of. At times, it's File Explorer, at times it's Excel or Word. I feel these programs can have native solutions to deal with may open files/windows instead of making it a system wide feature.

Agreed. I don't like the premise of Sets, but native tabs in individual apps (such as Explorer) can be a very good idea.

As I mention above, we moved from this model 25 years ago. If we are going to have 'Tabs' everywhere, it is better for them to be implemented in the OS/Windows - rather than every developer coding their own version with massive inconsistencies. I'm against outdated UI/UX concepts like Tabs - but if people insist, it would be better for Windows to implement them once at the OS level than every App repeating the work. Bloat/speed/inconsistencies are just a few reasons why.

These programs DID have multiple document interfaces in the 80s and early 90s. MDIs are an outdated model and people moved from them for really good reasons in the 90s. Windows 95 established a new OS managed document model, and we still have that today. Bringing back Windows 3.1 MDI concepts is not good and a massive regression in technology and workflows. People shouldn't even think about 'Applications' like Word or Excel. Instead they should think about their 'letter or contract' and their 'charts or data' - and the Application they open in should be more abstracted to the user. If you use File - Open in an Application - you are using a 1980s UI concept that wastes time.

I use Groupy at work, it works well for me in that environment. At home, I have no use for that functionality (personally).

Sets is a terrible idea. Want to group related apps together so you can work with them concurrently? Let's put them together as tabs in a single window, where you can absolutely not multitask because, by definition, you can only ever see one tab at a time. Sets are *terrible* for multi-tasking.
What's worse is there's already a fantastic way to group related apps together, while still retaining the ability to actually multi-task... a virtual desktop with the taskbar as the app switcher, instead of a single window with a tab-bar as an app switcher.
If only MS would put more effort into improving Virtual Desktops... there's only two things really that they still need to do to make the idea behind Sets useful:
1. Ability to maintain separate taskbar/start menu pins per Virtual Desktop. MS gave us the ability to change the desktop across Virtual Desktops and then decided they were done.
2. Ability to configure a set of apps/docs that need to be opened automatically when switching to a specific desktop. MS gave us the ability to name desktops and then decided that was enough.

Good idea--taskbar contents dedicated to its virtual desktop is a clean solution to this. Works with multi monitors too.

Considering I never felt like there was a need for it, I never considered whether or not it would be useful. I guess I should actually try it to see. However, having the option there for those that do, is a good thing.

How is this a thing? The TASKBAR is the TAB interface. Push Microsoft to make it better if you don't like it. Adding tabs to every application is nuts, repeating what the OS is doing. Also - the world tried to move from MDI in the 90s, and did so successfully. However, the Mac and Linux crowds are dragging us back. Lack of consitent UI design or an outdated forced model like Apple uses should not influence Windows. Microsoft needs to be pushed and Microsoft needs to spend more time on future UI concepts. Windows used to be the standardized UI/UX leader. Which is a good thing. Ripping it apart to add in UI concepts from XYZ Crazy Linux distro or Apple is just insane. Apple's menu bar (list of words) is from the 1970s and for non-GUI interfaces, Windows doesn't need it either. Stop it with the Tabs BS. Microsoft should never of given in and put tabs in IE/Edge - instead they should have improved the Tab flyouts of the Taskbar for grouped Windows. Tabs break workflows. Disagree? Ok, drag a document form one tab to the other. Another open Window would be better, especially if there are multiple 'drop hit' areas in that Window - like folder icons. This is just one tiny UI/UX problem with Tabs in the Application.
Windows Central Newsletter
Thank you for signing up to Windows Central. You will receive a verification email shortly.
There was a problem. Please refresh the page and try again.