WinGo Maps review: Not the Windows 10 Google Maps app you're looking for (updated)
WinGo Maps promises a Google Maps experience on Windows 10 but doesn't deliver.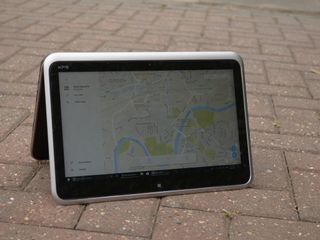 Editor's note: Large portions of this post have been updated to correct errors and inaccurate statements originally provided by the author and to add information from the app developer.
Third-party Google apps aren't rare in the Microsoft Store. Google won't release apps in the store and developers are happy to fill the gap. WinGo Maps is described as an unofficial Google Maps client for Windows 10. Unfortunately, there are issues with the app that prevent it from being a solid Google Maps client.
I originally made an error and stated that the app didn't use Google Maps data at all. I have spoken with the developer since and gained some clarification regarding WinGo Maps. The developer states that the app does use a Google Maps SDK for sourcing map data and has shared his source code to illustrate this.
However, there is an issue with the application that results in Windows Maps being shown rather than Google Maps in some circumstances. As a result, I was seeing Windows Map data rather than Google Maps data in my initial review. Inside WinGo Maps, if you open settings or switch to offline maps mode and then hit the back button the app will show Windows Maps content rather than Google Maps.
This review has been updated based on my conversation with the app's developer
See at Microsoft Store (opens in new tab)
Google Maps … some of the time
The apps's description states that WinGo Maps is an unofficial Google Maps client, but a bug within the app shows Windows Maps rather than Google Maps if you go into settings or offline map view and then hit the back button.
However, there is no indication that this issue occurs or that the app is showing a different source for map data. This also isn't an intermittent bug caused by a rare set of circumstances. Every single instance of the application that you open settings or open offline maps and then go back to maps, this issue will occur.
If you open the app and just jump straight into using it for navigation, it works fine. The Google Maps data is present, and in many areas, is more detailed than Windows Maps data.
The app's developer states that this issue will be fixed in future releases, but until that happens, it's an issue.
What does work
Aside from the bug which causes Windows Map data to appear, WinGo Maps works as a navigation app. Gesture controls work well and allow you to move around the map, change your perspective from overhead view to 3-D views, and zoom in and out. You can get directions for walking, driving, or public transport as well.
Inking support works and allows you draw on a map with various colors and inking options. The app has some performance bugginess that I'll chalk up to it being in beta, such as stuttering, but it's generally an okay maps app.
Overall thoughts on WinGo Maps
WinGo Maps attempts to fill a gap that many people want closed: Google Maps not being available on Windows 10. While the app does perform well when it comes to navigation and inking, a bug that results in Windows Maps data being shown rather than Google Maps data holds WinGo Maps back.
The developer says that this issue is being worked on and if it is removed, the app will be significantly better.
The app is available for $1.99 on Windows 10, Windows 10 Mobile, Xbox One, and HoloLens.
Pros
Inking support
Location tracking
3-D map view option
Cons
A bug shows Windows Maps rather than Google Maps
See at Microsoft Store (opens in new tab)
News Writer and apps editor
Sean Endicott brings nearly a decade of experience covering Microsoft and Windows news to Windows Central. He joined our team in 2017 as an app reviewer and now heads up our day-to-day news coverage. If you have a news tip or an app to review, hit him up at sean.endicott@futurenet.com (opens in new tab).
I guess after receiveng some spotlight, it will be removed.

It actually got two updates today, so I don't think it will be removed. I hope it goes to full release soon

Non-Beta release date maybe Aug 18.
We are testing a private new update witch re-coded from scratch and it contains many fixes and improvements.
We fully support our apps

I wonder why it is so hard for windows user to get a great third party unofficial uwp google maps client

Try Google Maps PWA. It's awesome.

How do I use Google Maps PWA on my Surface Pro?
And will it be possible to have Google Maps PWA tap into my GPS and perhaps even support turn by turn navigation?
Currently I installed BlueStacks to run Google Maps on the machine, but it is not tracking my GPS. You can pinpoint your location every once in a while, but tracking the position is not possible

Because if I were google, I would not want scabs robbing my intellectual property. Therefore there are no unoffical apps, because that's stealing.

You're wrong this app uses google maps
I've been testing the app since day 1 and even helped with the translation and some equations the dev need it to make it work
What you're talking about "the Microsoft copyright" is due to a bug and the map control view used in the app

Hi there and really really sad to see such unfair and fast judgments in one of biggest Windows ecosystem websites.
Before publishing such destruction posts isn't it better to send a mail to the developer to make sure all the things you write are ok?
I am a known developer at XDA developers team and also our team (MahStudio) is a well-known team in Windows development and designing, You can see our old apps like DENNA or our concepts and etc. So I and my teammates will not sell ourselves and don't make people untrusted.
Here is our official reply to the word by word of your unfair post.
WC: The apps's description claims that WinGo Maps is an unofficial Google Maps client, but inspection of the app shows that isn't the case.
Re: Only comparing a photo is not Logical a way to say what is the source we are using. We have completely open source project and all things are clear to anybody have doubts about our sources. So I will refer anything to our source code Here: https://github.com/MahStudio/WinGo-Maps/ and our GMaps SDK for UWP Here: https://github.com/NGame1/UWPGmaps.SDK
for our Tiles source, you can check this file in our sdk: https://github.com/NGame1/UWPGmaps.SDK/blob/master/GoogleMapsSDKUWP/MapC...
In Method UseGoogleMaps you can see all Hybrid, Standard, Sattelite, Roadmap map tiles are from http://mt1.google.com. If you want some easier way you can use Fiddler to see what links are using for fetching tiles of the map. WC: Comparing WinGo Maps and GMaps PWA Client
Re: Both of them are Google Maps but the thing a web-based client use is Google Maps V3 API but the thing we are using to show map tiles is V2. V3 is not public and it's available only from official SDKs released by Google but we are working to reverse engineering SDK and find a way to port V3 API for tiles to our app. So the thing you see on a web-based client maybe have different colors or maybe a more updated content. WC: If you zoom in on the image, you can also see that there is a Microsoft Corporation copyright in the lower right-hand corner of WinGo Maps.
Re: Only a little search will show you Windows UWP MapControl show that copyright text, not Here or Bing Maps! The only meaning of that text is that We used native MapControl not a web browser like many other apps published to the Windows store. WC: Above is a side by side shot of the default Microsoft Maps app (left) and WinGo Maps (right). As you can see, they're identical.
Re: Again I say it's not logical to compare 2 photos and see oh how near are they so oh **** they are the same. Please compare a country which has a far way to complete on Windows Maps with WinGo Maps like Iran. If you compare Mashhad, Iran (The second capital city of Iran) in both apps you can see Windows Maps is only 4 lines :| and WinGo Maps is completely different. And I again say, Only a little taking look on our source codes can show you that we are not using WINDOWS MAPS OR HERE MAPS. BUT, I can accept there's a known bug in WinGo Maps wich navigating to the Settings page and selecting back button will cause Windows Maps to load and this is a bug which will be fixed in next updates. WC: It also isn't free which is upsetting because both the map service it claims to be and the maps client it actually is are both available for free.
Re: If a client is free to use it doesn't mean that the SDK (Software Development Kit) is also free. And also maybe you are having some job for your self I don't know, but my primary JOB and my only job is software development and only windows software developement. So it's not a fun for me to release everything after lots of work and spending lots of time to develop an app for free and then see an author write everything with even one minute of thinking! PLEASE RATE YOUR SELF AND YOUR UNFAIR JUDGMENTS INSTEAD OF MY APP. DO YOU THINK PEOPLE ARE STUPID THAT RATE THIS APP 4 STARS? PLEASE THINK AT LEAST ONE MINUTE BEFORE SHARING.

Please do not mind the author, he or she lacks comprehensive intelligence. I think Windows Central should not allow authors with this level of rascality and "nonsensicality" to be writing content that people will consume. This article is the height of disinformation.

Hey ngame. I'm Windows Central's managing editor. I just spoke with the author about your concerns, and we updated this post accordingly. You (and other commenters) are absolutely right; Sean should have done better research here. I hold our writers to a high standard of quality, and this post clearly did not meet that standard. Sean knows this is unacceptable, and it will not happen again.

If WC doesn't want to announce our team's app please don't disturb people thoughts just do not post our apps. Why only unfair judgments after 6 months of publishing and Tipping you now I should see such post.
Please do not support windows developers.
Thank you

A developer that rant when people give bad review eh?
I suggest you work with WC oh how to correct the app description, since you're not English native, and everything will be fine.
I will not say more bad thing.

I think it is not about prowess in English language. The author ought to have done a better research before writing. Uncalled disinformation about an app is not fair. If you are a developer, you should take a good look at the GitHub repository where the source code is hosted, and you will confirm that the author did not do a proper research.

Harsh review. Plus, author should have contacted dev to confirm any strange behaviours, before deeming it as 'Lies'. There was a time when WC would embrace every WM/WP developers to get more quality apps in the Store. How time has changed.

I would actually like it if they just added a toggle for Windows Maps and Google Maps, in addition to fixing the bug. Most times Google Map data is better, but there are occasions that the Windows Maps will show something that Google does not.

I'd like to see Google Maps officially come to the MS Store. However, I've found that Microsoft Maps work well enough for my personal needs.

All even if there is a bug that shows windows maps instead of Google maps.... Windows maps is pretty good. Certainly deserving better than a two star.

Agreed, seems harsh, especially considering at the very end he finally mentions the app is in beta, so the dev was already acknowledging that it's not finished.

I really think the developer is making excuses here. That's a massive bug the author pointed out (and how does it even happen?). Also, on a more fundamental point, can you log into your Google Maps account? No, right? Then what's the point of using this over Google Maps in a browser? Basically, it's useless. Even if the problem is at Google's end, the developer shouldn't misrepresent what their app does and should be up front about such fundamental issues, even in beta.

Logging in with Google Maps is the thing I looked for it many times to at least import your favorite places but seems there's no public API for it.
If anyone knows API to access it I really appreciate it.

I want use Google Maps PWA pinned to start. I screenshot the maps if I want to go offline. Bing Maps don't have sufficient data in India. Let's see how I keep using my Windows Phone.

I don't see the point of using any maps apps on Windows 10 portable devices, because they don't have GPS receivers. The best part of any real tablet is the GPS functions that exist on almost all Android tablets. I don't know how any Windows 10 surface (2 in 1) device can be called a tablet without GPS.

I write on mine and use the touch screen a lot. I think that makes it a tablet.

I do that on my touch screen laptop too. Do any Windows devices have GPS?

GPS is NOT a defining characteristic of a tablet. I've owned a lot of Android tablets over the years, and only one of them had GPS. The Kindle Fire I bought just two months ago doesn't have GPS. I agree that mapping applications aren't particularly useful on a device without GPS. I don't agree that GPS has anything to do with whether a device should be called a tablet.

Maybe so, but tablets with GPS have way more uses as a portable device and even more uses if you can log into a Google maps account. I have a 12" Acer Switch 3 (2 in 1) that could be called a tablet the same way my 8" Huawei Mediapad M3 is called a tablet, but there are certain uses for each one that I wouldn't use the other one for and vice versa. Mapping apps and GPS are a big part of that. I don't mind that I have to use a browser on a Win10 device to do Maps due to it's low usage value. I do wish they had a native YouTube Win10 app however.

Dude, you're just making stuff up. Relax.

"However, there is an issue with the application that results in Windows Maps being shown rather than Google Maps in some circumstances. As a result, I was seeing Windows Map data rather than Google Maps data in my initial review." Sounds like a feature, not a bug. I wonder how long Windows users will keep slavishly supporting Google, when the company apparently hates them?

It's not users' fault that Google has had the best mapping application for years, and so everyone contributes to it. Google should be applauded for its work.

I don't think it is a bug, but by design as Google does not offer full offline map data. Only Selective locations and so once you are out of bounds of the area + have no internet connection at all, you are screwed. Here is an extract from support.google.com/maps, "If you're going where the Internet is slow, mobile data is expensive, or you can't get online, you can save an area from Google Maps to your phone or tablet and use it when you're offline." "On your Android phone or tablet, open the Google Maps app . Make sure you're connected to the internet and signed in to Google Maps. Search for a place, like San Francisco. At the bottom, tap the name or address of the place Download . If you searched for a place like a restaurant, tap More Download offline map."

I'm not sure why people seem to think Google Maps are so great. And why people struggle to get Google Maps on Windows. Google Maps has been designed from the ground up to work online. Where as Windows Maps has been designed from the ground up to work offline. Windows Maps can display maps, calculate optimized routes with rerouting, conduct turn-by-turn navigation, do location based points of interest searches, and retrieved cached user stored Favorites all offline. The only thing Windows Maps cannot do offline is aerial view, street view, and traffic based route optimization. When you are using Windows Maps online, it will do most of these activities online, but if you lose your signal, it will transition to offline capabilities seamlessly. I have become completely dependent on digital mapping and GPS to the point now where I don't really have paper maps anymore. I consider offline capability to be a fundamental must have for digital mapping. Google Maps does have some offline capabilities, but it will take some planning to work with it. You will have to capture a limited mapping area while online. I am not sure, but I think you also have to compute the route while online too and has some offline rerouting based on cached data. For me, this puts Google Maps as a last place contender as a digital mapping service to use. Some people argue well how often do you not have a signal? There are thousands of miles of road with no service and that is not going to change. The cellular networks have largely been laid out, and huge swaths of rural America have no signal. If you live in the North West and parts of Arizona and Nevada, you know what I'm talking about.

I actually dealt with this over the weekend. My friends have a camp along the Allegheny River, near I-80. I've been there multiple times, but only about once a year, so I always use Google maps to make sure I don't take a wrong turn. For some reason, despite us all filing error reports with Google, the map does not have the road right. And there is NO reception for AT&T, and Verizon is spotty. I installed HERE WeGo maps, and they have it right, and downloadable maps and offline navigation. I didn't really agree with their routing (it doesn't know what road is dirt, what road is paved), but it came in handy!
Windows Central Newsletter
Get the best of Windows Central in in your inbox, every day!
Thank you for signing up to Windows Central. You will receive a verification email shortly.
There was a problem. Please refresh the page and try again.