WMExperts is now wpcentral!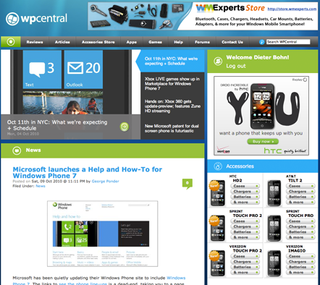 With Windows Phone 7 launching tomorrow, we figured it was time to update our site to match the new branding and new vision coming out of Redmond. Enter wpcentral, the new home for your Windows Phone fix!
We have a new domain and a new look that's better fitting with the times but doesn't pretend that the great interface that Microsoft created for phones is what you want visiting a website on your browser (a mobile version is coming soon!). We've updated our commenting system too and you can expect plenty of improvements there in the coming weeks. Up top we've added the Billboard, which features the top stories from wpcentral so you can quickly find the most important content.
Expect plenty of Windows Phone 7 content coming your way as well - in-depth how-to articles, game reviews, and of course the news you've long come to expect from WMExperts - actually, make that wpcentral.
Let us know what you think in the comments below and please be forgiving if you see a bug here or there - we're working feverishly to quash them all.
Love the new site and name guys!!! I'm am very excited about your upcoming coverage of Windows Phone 7!!!

Man, I was wondering when you guys were going to redesign and modernize this site. It looks great!

Congratulations on the launch! The site looks very clean and fresh!

Love the new site! It made me finally join up. Can't wait to pick up a WM7 phone. Keep up the good work.

Good idea for the name change; no room for experts anymore now that the OS is locked down.

My Windows Mobile 6.5 phone is still as open as it ever was...

Love the rebrand! I was just thinking about this, actually.
However, I agree with @dkdsgn. I think the sleek, black, clean-typography look of WP7 could totally be leveraged here.
But awesome work so far!

Nice subtle touch with the little icons in circles like the WP7 quick menu options (or whatever they're called).

There is a consensus...the site is pretty damn smoking....
Great job...I was pleasantly surprised when I was redirected.Just in time for the new face of WP7.. In the same token I have to suggest that the fonts be changed to Segoe UI on the top access bar. Also you should adapt the "disqus" comment with a link to facebook this facilitates people giving you feedback and comments on article....

My contratulations on the new site!
Absolutely beautifull design :)

Hmm...Nice barely recognised the place.

Wow, looks great. Looking forward to the coverage of Windows Phone 7 later today.

This site looks great now. It's always been one of my favorite WM sites and it shall contain being so. Please don't just kick WM6 to the curb though if there is important news/releases for it.

Site looks nice on my HTC Touch Pro 2. The main page could use a little bit of glamor though. Also, when will you have the ability to respond to articles directly on mobile devices? Not an unreasonable request given that this site is all about Windows Phone 7/Windows Mobile.

Just noticed that there is no time stamp on the user comments. That would be a nice touch.
Windows Central Newsletter
Thank you for signing up to Windows Central. You will receive a verification email shortly.
There was a problem. Please refresh the page and try again.