World's first ever Microsoft Priority Reseller store launches in India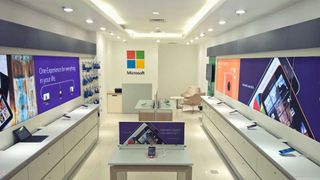 Microsoft has formally begun the transition of Nokia-branded retail outlets, with the first ever Microsoft Priority Reseller Store in the world opening in India in Gurgaon, a New Delhi suburb.
The Ambience Mall rebranded store was unveiled by Chris Weber, Corporate Vice President, Mobile Device Sales at Microsoft.
India is the first country to roll out the new look. Beginning with the first launch, the transition will be made across a total of 8,872 stores and 119 Care centers by the end of June 2015. Out of the total number in India, 441 outlets will get a completely new design while the remaining stores will be refreshed by end of June 2015.
Globally, a total of 15,684 retail outlets and 324 Care centers will get a makeover. Again, 3,287 of these will get a complete makeover with new furniture and signage to showcase products and services while the rest will be refreshed to the Microsoft branding with new signage.
With the new look, Microsoft has also introduced a new nomenclature for retail outlets. The branded retail stores will be called 'Microsoft Priority Reseller stores', while the value and experience stores will be known as 'Microsoft Mobile Reseller stores'. Microsoft will continue to honor existing Nokia device warranties, and all existing Nokia and Lumia devices will continue to be serviced through Care centers.
Microsoft intends to improve customers' shopping experience and highlight the connected devices experience with clear signage and improved navigation within the redesigned stores. The retail transition marks the beginning of the new era for the current Nokia stores and a big leap for the Microsoft brand in terms of scaling it up its retail footprint.
India is the initial point of Microsoft :P

Seems soon it will be final point of Microsoft with such trade politics

What th hell r you talking about Google also plays trade politics(even more than ms) their starting point is also india they have their so called (Android One devices) Both copanies have indian CEO one is trying very hard to change the so called bad image int he mind of people like you to be good and another however bad decision e makes people gone still trust Google .

What's kewler is that I see a Surface.

That doesn't look like surface to me.

Shit.. I was going to ask when in India :p

Well I was going to ask when in the UK!

You can still ask "Wen in <your city>?" :p

Ye toh mere ghar ke pass hai. Kal mein Surface lene jaunga.

Mein bhi aa raha hoon ruk abhi metro pakadta hoon :D

Forums par message kiya hai, reply kar no. ke sath.

Surface launch hi nhi Hua. Lega kaise?? :P

RIP Nokia Priority Centers ;)

Only Tamil ppl understand "daawwww" and its whereabouts.. lol :) From Sivakasi

Seriously, guys? :O
Btw, Adayar da. :P :D

Wen in mumbai? #cuzcapitalsucx :D

No, currently Nepal rocks.

Okay that was quite funny but a little insensitive one.

The whole freakin India ROCKS.....

Atleast the surface 3. The pros aren't the thing everyone can afford.

Did anyone think about Microsoft band? I think they should bring it here in IND.

Wen in India, ohh, it is lol

Awesome news. And for once we won't get a "where in India comment"

You're right. Instead you get a "wen in Portugal" :)

Wrong answer. No cookie for you :P

/s Have been there and it was stunning with great weather and even better desert cakes.....thinking about it, may have to go back :)

Gud. Don't forget about pasteis de belem. It's mandatory to visit the pasteis de belem house. If I could my meals would be always full of them :D

Somewhere in Europe. Smaller than many states here. DMI

It's in the Iberian peninsula bordering Spain.

Yes. That's correct! I'm surprised no one said Portugal is Spain. Very surprised indeed. Usually Americans say Portugal is Spain. Of course it's wrong.

Americans don't comprise 20% of the total population. So chill.

Jesus, you should Bing more or "Here" more :) There you go. http://here.com/l/39.34142,-8.04819/2205%20Abrantes,%20Portugal

Yep. Unfortunately his knee is in bad condition right now. Let's pray for the recover. :|

I follow La Liga but sometimes matches become one sided only two-three teams rule whole league (RMD,barca ,atletico) ,not good for a league .

Bem verdade. Mas pelo menos em portugal ja se pode comprar produtos da microsoft na Fnac, Worten, etc

True. Didn't know you're Portuguese. Follow more Here https://www.facebook.com/groups/MicrosoftGroupPortugal ;)

Hey!! 3 "tugas" here!!! GREAT!! :-)

Yes!! That's the question now!! :-)

When in philippines??? Microsoft is pissing me off uurrggh..

Please and please sell other MS products here. I would love to buy a Surface from an official MS Store or Windows 10 or the HoloLens.

Is that the photo of the same gurgaon store? Is that the surface pro 3 on the left??

Yes, it should be looking at all the photos together

It might be. But I don't think its for sale. Probably someone was using it there.
MS would announce the launch first and then launch Surface if it was to launch in India.

I think its notion ink cain 2 in 1 If you look closely , you can see a cloth like material below the keyboard (I guess its that) which is present in notion ink cain to , I guess , strap(?) the device inside the cover..

Yes. Looking closely at how the keyboard is attached, that device isn't surface :|

It's a Notion Ink Cain 2-in1.

Was that a Surface in the corner there?? The Surface 2 maybe...Didn't know they were ever launched in India...But glad they started the redesign before the launch of Windows 10 so that they all can corroborated together and will be a grand showcase. These retail outlets and care centres are a big reason Microsoft will be saving a lot of money and time in reestablishment of their brand value. Just change the signage and some design tweaks. Done. Also they have phased out all the Nokia phones from the market. Lots of Microsoft phones to show

Awesome expect it to be soon launched on Chennai ..in skywalk and express avenue...and in Pondicherry too...

Then Madurai, Tirunelveli etc..!

If it's in skywalk, it is just a walk away from my home :-D

now am starting to love that logo

WRONG!
Haryana, not Harayan :D ताऊ ते बोलूँगा यो दुनिया में महारे हरियाणे का नाम डूबान लाग रया हैं, तू तो गया अब :D:P:D भाजले जित भाज सकह :P

Wow great design..if I am correct is it a Xbox on the right side end ?

Now we can expect surface in India too

Nice, I'm hoping this means the care centres in other cities and countries will also rebranded :).

Is that surface on left side? Why don't they advertise suface in India

It's a Notion Ink Cain 2-in1. No Surface.

Darn.. Microsoft please give us a Surface ASAP..

Awesome, India been waiting as per posts on here, now its arrived.

Are they providing other Microsoft products like surface pro and Xbox? Hoping to get these in India now.

Decision not to shut down care centers is a big one. One of the most important factors that people purchased Nokia and will now purchase Microsoft handsets were these care centres providing unmatched post purchase service

Well, write-off? Maybe not.

Writing off is the division. Patents will be kept by them. Licensed by them and the money to sell can let them buy here maps too if they really wish to buy.

Mobile Device Sales <> Phone Hardware division. And the write-off just may happen, as I understood it. Isn't there yet. Even if it does, well, maybe Microsoft needs more time to pay-off Nokia's (NDS) acquisition. The purchase is too recent. What is the cost of revenue cited in that article composed of exactly? I don't know. Ok, "elevated risk of impairment" was bad, but even here, we don't know the intentions hidden behind that statement. One thing I'm sure is they have huge first class business plans. They are giants. My opinion is, looking good so far. These Stores are paving the way for more to come. There haven't been many rumours lately. Good sign. They're making the move they promised in the beginning when they started with Windows 8. This is just one more step further. And they wont stop as have never.

Can you translate your first para to English? :-P just kidding... I understood after a few bing searches ;-)

One could also say their structure was very horizontal in the past, now becoming more vertical? First, build your team. Now that they have grown up, are mature, let's close the platform a little bit. They are better than Google and Apple in this subject! My opinion. It is also what I read everywhere about Microsoft. Not my analysis so to say.

Just one more shot, sorry, Tiago : ) : and write-off, practically, should only mean accountability balancing?

You know..... "Soon" :P :D

WHEN IN AMERICA? (...joke)

One is near by my house in Lucknow.

Can it happen that these stores will include a Suface as well soon?

When the heck in the UK!! Just because we speak REAL English doesn't mean you can't do business face to face here. Come on Microsoft!

Nokia used to have the best after sales service support and MS just did the right move.A very big boost to its sales and service and a refreshed look as well.Love that logo.

If they are smart enough they should convert all Nokia stores to full MSFT stores with available Surfaces, Bands and other MSFT products. So many stores worldwide are great potential. Put products to the people under the nose and they'll start buying.

Well unfortunately they shut down a priority store and service centre here in Mira Rd, Mumbai instead of rebranding them:\

i new this moths ago when i saw a friend with a new blue shirt with the logo instead of Nokia..... he told me they were rebranding.... sadly he also told me that it will just be phones for now.... not other Microsoft services or devices..:-(

Worst naming convention ever.

Just wait for another product,or service from Microsoft... You will find that this one will be better than that :-/

This move is huge and a great initiative towards all Microsoft and OEM's products under one roof and same floor display!!! People will walk out with at least one Product ;)

What is with the name "Priority Reseller"? That is a name you might use if Microsoft didn't own the stores. Don't they? Maybe it is an Indian thing?

Microsoft doesn't own these stores. Nokia didn't.

Even Apple stores are all resellers, 100% FDI( foreign direct investment) in single brand retail network is not allowed in India (need Minimum 30% of total production from India) . So, brands launch with tie-ups/reseller/authorised shops.

I think they are concentrating too much of their energy on this.

When in NETAJI SUBHASH PALACE or ROHINI ?

"Nokia priority" to "Microsoft priority reseller"?

No... "Nokia priority dealer" to "Microsoft priority reseller"

Does that mean they'd be selling the SURFACE & BAND in India as well ??

May be... There is a bigger chance for Surface 5 and Band 3 to be sold in India :-P

The name sucks. They should have dropped the "reseller" part of the name. Just "Microsoft Priority" as it was earlier "Nokia Priority". besides adding reseller kills the appeal and feels like an authorised shop instead of Microsoft's own retail chain.

Because that is the truth, even Apple stores are all resellers, 100% FDI in single brand retail is not allowed in India ( need Minimum 30% of total production from India). So, brands launch with tie-ups/reseller/authorised shops.

This is the real way to increase market share.

I want one of that in Lisbon, Portugal. :-)

I want Cristiano Ronaldo for my country's team :-)

AHAHAH!! well... keep "your" store... we'll keep CR7 :-)))

I would love to see Microsoft band & hololens here. Wonder if I can order it online whenever it becomes available?

It is the wen in what :-P

Oh my God it just got to me Microsoft didn't buy Nokia just for phones design alone, Nokia has stores everywhere across the globe now Microsoft will rebrand them all with out hassle.

This will take Windows Devices to a new height.

So we can get surface tablet now

Incorrect info as Bangalore already has Microsoft priority store in phoenix market city mall since 4-5 months now.

We already have it Lucknow, India . This is not the first one...

Priority store is every where in indian cities but its retail store. Its different from other, its first time in India.

hell yeahhhhh! waiting for it since ages, i got one near my house :)

I wait microsoft open store at Indonesia , with all his accesories. So hard to find the accesories here

Lol!
Smartphone Companies start considering India as Huge market to play with...

A new Delhi suburb??? Delhi sucks in front of Gurgaon

I need a surface launch! GUYS! "HELL BAD"

Lord! Those names! < Facepalm> Is there nobody in Microsoft's Marketing division? I swear they just use the titles from memos in their Engineering Division instead. Groan

When Microsoft opening store in Bangladesh...?

WTF?? I just cant back from that very mall and I saw no MSFT priority reseller store there.. :/ strange whole day I was there..

good for India hope it will happen in Iran

So that's the thing. Back in January I saw a Microsoft Mobile Reseller Store in my place called Thodupuzha in Kerala state. (India). It was surprising to see it.

@Abhishek Baxi Actually - we've already had a MS Priority store in Bangalore - Phoenix market city for a few months now.. so dont quite get it why this one requires special mention.. we've already commented bout this in the brazil article. http://www.windowscentral.com/brazil-may-be-revamping-nokia-retail-store... i'd taken a pic a long time bak in the passing..but cudnt find a way to upload it here.. without exposing it on a filesharing url..

here's the image: https://unsee.cc/togurami/ | http://img42.com/6Rsdh

Now launch surface in india

Holy crap I live in Gurgaon! :D

That is called a Big giant move... Glad that finally Microsoft is getting ready to fight and compete with other brands. Good Luck! :)
Windows Central Newsletter
Get the best of Windows Central in in your inbox, every day!
Thank you for signing up to Windows Central. You will receive a verification email shortly.
There was a problem. Please refresh the page and try again.