World's greatest bread simulator 'I Am Bread' will launch on Xbox One on January 20th
Are you bready? Because notorious toast simulator 'I Am Bread' is heading to Xbox One.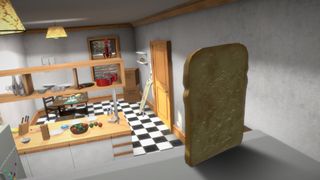 Is your Xbox library getting stale? If so, get a loaf of this news. I found an I Am Bread trailer rising in my YouTube subscriptions earlier today, teasing the upcoming arrival of the toasty physics sandbox on Xbox One.
I Am Bread tasks players to guide an innocuous slice of bread around various contemporary settings. The aim is to fully toast yourself, using various household objects including irons, hair dryers, and so on. However, if you touch certain objects, such as the floor or water, your edibility meter will decrease. If it hits zero, you're toast (in a bad way).
Believe it or not, I Am Bread even has a story mode. Mr. Murton is in therapy, owing to losing both his business and his wife. His attempts to get his life back on track are thwarted, however, by the presence of sentient toast who leave his home in disarray.
Is the bread real or a figment of Murton's imagination? I donut know, but at yeast you can find out in the near future when the game launches for Xbox One.
The game has the following "unbaguettable" features on PS4, and we crust that we'll them all slice onto Xbox One.
Story Mode: Embark on an epic journey to become toast! Take on all hazards to deliciousness as you embark on your adventure throughout the home of an unsuspecting owner: from the kitchen, through the house, to the lounge, and then venture outside into the garden and beyond.
Cheese Hunt: Realize the destiny of crisp-bread as you hunt down pieces of cheese to smother yourself in. Can you find all the pieces before you crack up?
Bagel Race: Satisfy your taste for speed and bagels as you race across the checkpoints in each level and complete the tracks in the fastest possible time.
Rampage: Cause as much destruction as possible throughout the house as you smash everything in sight as (possibly) angry baguette. Mon dieu!
Zero-G: Literally bread in space! Make studious use of your bread boosters as you maneuver across environments with no gravity, avoiding all the floating hazards this entails in Zero-G mode.
Free-play: Explore the world and play as any of the bread types you have unlocked, having crumby fun in your own sweet time.
I Am Bread will emerge from the oven on January 20th, 2017 (opens in new tab) for Xbox One, so you won't have to wheat long to play.
I'm on a bit of a roll with these bread b̶u̶n̶s puns, so I'm going to quit this crummy article while I'm abread...
Windows Central Newsletter
Get the best of Windows Central in your inbox, every day!
Jez Corden a Managing Editor at Windows Central, focusing primarily on all things Xbox and gaming. Jez is known for breaking exclusive news and analysis as relates to the Microsoft ecosystem while being powered by caffeine. Follow on Twitter @JezCorden and listen to his Xbox Two podcast, all about, you guessed it, Xbox!
With all the competition in bread simulation, must be hard to get worlds greatest title hehe

mmm... after how many years after PS4 and PC release???

Loaf out loud, luvf the article Jez!

I see what you did there.

What part of it is clickbait? it is 100% the world's greatest bread simulator

I've seen a few videos of this game... Looks very challenging

I hope they don't slice off more than they can chew.

Loved all the puns lol made me want to get this game now

Looks pretty good :D hoping to get a review up

This toast butter be good

Oh Jez, you try to hard, but this is one of your best works and now my morning is complete.

Haha this one rye-ld me up for sure.. Great article, clever af..

No guns and not military bases like COD. IGN: 10/10.

This should be bundled with the console.

Lumia Xbox app is the same as the Xbox one app. Any Lumia "LIVE" games will earn unlocked point like Xbox games to your Xbox account. Avatar can be edit also.

How much dough will I need to buy this loaf? ;)

I see what you did there..We can all toast to this one!!

Yes but when will "Shower With Your Dad Simulator 2015: Do You Still Shower With Your Dad" make it to Xbone? Halo Wars 2 cant possibly compete with all these A+ PC exclusives

I had a job in a bakery once as a pilot, I took the bread from one corner and pilot in the other.
I quit my job in that bakery, I got sick of the dough and thought I'd go on to loaf.
Curly Q Link

As a very infrequent viewer of WC articles, I'm going to check with my pharmacist tomorrow if he made a mistake, and then see if this article is still really here.

At least it's not another stupid shooter.

Hey man, let's go get TOASTED!