WP7applist receives a major update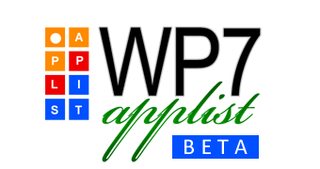 We've all browsed the Windows Phone 7 Marketplace on our phones. You may have even purchased an app or two directly through the Zune Marketplace on your PC. Both are fine ways of buying something when you basically know what you're looking for, but what if you don't?
WP7applist is a website that makes browsing the WP7 Marketplace incredibly easy. Created by Italian videogame enthusiast and programmer Luigi Violin, the WP7applist makes it easy to keep track of new apps as well as updates and price drops to existing apps. We at WPCentral owe many an app's discovery to this fine site.
As good as WP7applist has been from the outset, things can always improve; today the website received a major update. Follow the jump for release notes and our impressions.
WP7applist March update release notes
Speed increases: The site has been moved to a faster server. Part of the frontend has been completely rewritten along with many "low level" functions that run the website, sometimes with a speed improvement of 600 percent!
'Inactive apps' count unveiled: Sometimes apps get removed from the Marketplace, for a number of reasons. The "total number of apps" count previously included those apps. But now you can see the actual number of apps available.
Popularity: Every single app now gets two different ranks (global and category specific) based on the number of downloads. You can see it hovering the mouse on an app's box in any list.
App details page has been reorganized in a tabbed interface; reviews now reside in their own tab.
You can now see app reviews for every locale / language and quickly switch between them.
Inactive app warning: when looking at any app's details page, you will get a warning if the app isn't available from the Marketplace at the moment.
'Paid with Trial' has been added to "Paid vs Free" chart on the App Stats page.
Stars added in users reviews
'Remember me' checkbox now available when logging in
We received exclusive early access to the improved version of WP7applist, and the results are impressive. The speed improvements make browsing the site much more convenient. App detail pages are laid out better now, with official descriptions and screenshots on their own tab and user reviews on another. It's nice that user reviews include star ratings in addition to text reviews (as they do on the phone Marketplace). Inactive apps like Twin Blades are clearly marked now so there is no confusion about whether they are purchasable or not.
My favorite improvement is the Remember me feature. You see, WP7applist has always had a My WP7A page that allows users to view updates and price drops of software they already own at a glance. It's handy because the Marketplace phone tile doesn't always alert you to updates the moment they go live. Before, users had to manually log in each and every time they visited the website. Now it just remembers you, and so much the better.
The future of WP7applist
We've also learned about a few planned improvements that didn't make the current update:
Related Apps: new tab in app details page
Localization: we will replicate the website's functionalities for other regions, so that users will be able to see and download apps released only in specific Marketplaces, see their own rankings/leaderboards etc. The plan is also to localize the whole website in different languages; we will seek volunteer translators when the time comes.
Portable 'App Info Widget' for developers and fans of any WP7 app
Mobile version of WP7applist: Will be optimized for viewing on WP7 phones
As for the word Beta in WP7applist's logo, it stays until the Localization feature comes to pass. It's a large undertaking, but with the dedication Luigi has shown so far, it's only a matter of time.
You can visit WP7applist at WP7applist.com. Learn more about it and Luigi Violin's other projects at his blog at Zaamit.com.
Windows Central Newsletter
Get the best of Windows Central in in your inbox, every day!
Paul Acevedo is the Games Editor at Windows Central. A lifelong gamer, he has written about videogames for over 15 years and reviewed over 350 games for our site. Follow him on Twitter @PaulRAcevedo. Don't hate. Appreciate!
The big problem with sites and apps like these which look to "improve" the Marketplace (or in this case make it more available) is they all seem to only use the US marketplace.That's understandable as I imagine you'd have to use a fair amount of proxy-work to get the UK, Europe and other listings from the US but it also means that international developers who haven't listed their apps on the US marketplace are left out (yes I am a UK only developer which is why I noticed :) )
Windows Central Newsletter
Thank you for signing up to Windows Central. You will receive a verification email shortly.
There was a problem. Please refresh the page and try again.