Windows Phone Central heads to the Game Developers Conference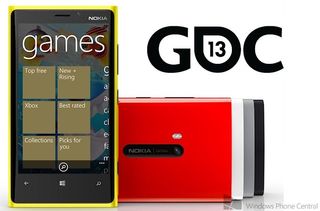 The Windows Phone Central staff covers all the big mobile events, such as Mobile World Congress and CES. But our gaming readers are probably most excited by gaming event coverage, such as last year's Electronic Extertainment Expo and Casual Connect visits. Of course we'll return to those shows again this year, but we've got a new one on the table too.
The Game Developers Conference - aka GDC 2013 - runs next week from March 25-29 in San Francisco, California. Your friendly neighborhood Gaming Editor and a handful of Mobile Nations staff will be there scouring for all the best Windows Phone and mobile gaming news.
Meet the Game Developers Conference
We all know E3 is a big deal - indeed, many primitive cultures still perform blood sacrifices in its name. But GDC is even more monumental, for game developers at least. It's the largest yearly gathering of game developers in the world. Devs travel from all over – even the far-off and wintry lands known to locals as "Europe" to learn, look for new talent, and network. Much of what goes on is panels focused on various areas of the gaming business, but of course there is a show floor with multitudes of booths as well. And the number of after-hours parties puts both E3 and Casual Connect to shame.
Windows Phone and Windows 8 in Session
Galactic Reign
While Windows Phone had a somewhat anemic presence at last year's gaming events, Microsoft and its partners seem to be stepping up their game for GDC this time out. Check out the scheduled sessions dedicated to Windows Phone and Windows 8:
Secrets of Success for Publishing Games in the Windows Store
Basic Game Building for Windows Phone
Building DirectX Games for Windows and Windows Phone
Case Study: Bringing Vendetta Online to Windows RT
Optimizing for Power Efficient GPUs in DirectX/C++ Windows Store Games
Building Connected Game Experiences on Windows Phone
Using In-Application Purchase for Windows Phone Games
Expand Your Opportunities to Windows 8 and Windows Phone 8 with Cross Platform Engines and Libraries
Core Technologies for Windows 8 Games
Crossing Microsoft Screens: Building Cross Platform Gameplay in Skulls of the Shogun
Conquering the Galaxy with Phones and Tablets: Galactic Reign Postmortem
We have so many interviews and meetings scheduled that we couldn't possibly attend all of those sessions in person, but we'll try to catch whichever ones we can during our downtime.
Meeting your (game) makers
Skulls of the Shogun
For us, the best part of industry events is meeting with developers and publishers in person. We've got interviews scheduled with heavy hitters Microsoft, Gameloft, and Chillingo; game engine makers Unity, Autodesk Scaleform, and Havok; as well as the developers of Galactic Reign, Skulls of the Shogun, Carcassonne, Fairway Solitaire, and more. We're guaranteed to gain new insights into past, present, and future projects from the lot of them. And of course, we'll do our best to sober up and wrangle some early access to upcoming Windows Phone and Windows 8 games as well.
Simon Sage, Rene Ritchie, and I will all be on-hand at the event next week. If you're in the industry and want to meet up during the event, send me a tweet via @segacon. Everyone else, stay tuned for choice gaming news!
Windows Central Newsletter
Get the best of Windows Central in in your inbox, every day!
Paul Acevedo is the Games Editor at Windows Central. A lifelong gamer, he has written about videogames for over 15 years and reviewed over 350 games for our site. Follow him on Twitter @PaulRAcevedo. Don't hate. Appreciate!
PLEASE ask Gameloft why they didn't optimize the games to run well on the Adreno 225. This puzzles me, as it would've been easier to do than Android since there is only one GPU to target for games, as opposed to the mess that Android is that gives game devs a headache...

Also, if they plan on releasing updates that will optimize performance?

We will mention it but they'll just say what we already know: that open-world games are tough on mobile hardware and the frame rates couldn't be much better. I do plan to lean on them about Spider-Man and Dark Knight's broken Achievements though.

Also ask them why the FPS in TDKR stinks. Thanks!

Cool. One of these years I'll make it to GDC. But not this year. You guys have fun :)

> Building DirectX Games for Windows and Windows Phone
Are there any actual DX11 games for WP8?

No, because Adreno 225 doesn't support DX11.

DX11 is just an api which you can easily code for it on WP8. What you're thinking of is the feature level, which for the adreno 225 is 9_3. You can code for the DX11 api's (which are a lot easier) but only take advantage of things that were available in DX9.3 so no hull shading or tessellation.

Adreno 330 has support for Direct-X 11.1

Got to be honest, Battlefield 4 news is what I want from GDC. Fingers crossed they finally make squads easier to have and maintain. Got sick of not being able to keep my squad together previously. Oh, and if you see Major Nelson, can you ask why there is not an official app for his blog.

Sweet! Maybe I'll see you guys there!

Please, I beg you to get some information as to when unity engine will become available for windows phone. I just bought a developer account license and want to try my hand at some game building.

Getting that info has been like pulling teeth. Sharp teeth! But I'm definitely going to ask their CEO when I interview him.

@Paul Thank you. And, good luck!

Will this require gold membership?

You can visit our site for free. We don't have memberships. (I totally don't understand what you're asking.)

The introduction is just bad. I love GDC but it's nothing compared to E3.

You've been to both? Surely you know that GDC is focused specifically on devs while E3 is more for publishers and the press. My description is completely accurate (other than the jokes).

Yes, I've been to both ;) This was not a personal attack, I'm a big fan of WPcentral and your great work guys.

The best part is we got Paul on the home team to report.

Modern Combat: Zero hours is coming to WP8 in April, excited

Looking forward to any upcoming news.
Windows Central Newsletter
Thank you for signing up to Windows Central. You will receive a verification email shortly.
There was a problem. Please refresh the page and try again.