Latest Wunderlist update for Windows Phone fixes crash bug, tweaks logo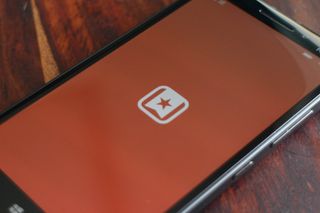 (Image credit: Windows Central)
After gaining support for folders in its last update, Wunderlist is now adding faster Live Tile syncing, crash bug fixes and a slight tweak to its logo.
Here's what's new in version 3.3.0.7:
We have a new logo! But before you start looking in panic for the new Wunderlist logo, clutching on to your colleague's arm and shouting 'Where has my Wunderlist gone??', don't worry, you'll still recognize it - we've just made a few tweaks.
Talking of tweaks, our pictograms are now looking more lightweight and ever so stylish.
We've made a few changes to our live tiles so that they'll now update at lightning fast speed as soon as you add something to your list.
We're always sad to see you leave our app but that's no excuse for throwing a tantrum. We've given ourselves a stern talking to and we'd like to apologise for crashing when you leave the app or when you return. We've fixed this little issue and would like to think it won't happen again.
As usual, we've squashed a few other minor bugs.
Wunderlist continues to be one of the most feature-filled to-do managers available, and the fact that it is a universal app should make it that much easier to sync your tasks across on Windows 8.1 Download the update from the links below, and let us know what is your go-to productivity manager in the comments.
Thanks Mark!
I love how Wunderlist is available for almost every platform. I can sync my lists with any device that I or someone else has, whether it's Windows, Mac, iOS, etc. Definitely a must have app!

My absolute favorite feature as well.

One of the best apps on Windows.

I love this app, just love it. It's awesome to help me keep track of may daily tasks be them important or more trivial. I'm moving right now and it's helping a lot with keeping track of what me and my wife need to do or buy.

Yay. Finally. Gotta love wunderlist. Hated that crashes, when I returned back to app from task manager. One of the best, if not the best task list app for wp and windows, since there are no apps that have features on par in their WP version.

Not just an informative change log, but a funny one as well? MS could learn a thing or two!

Are you sure they fixed the crash issue? With 3.3.0.7 I find there's no way to leave the app and return without it crashing. Go to home screen = crash. Back out to task switching = crash. Phone sleep = Crash on return. I really, really want this to work on my 925.. sadly it just doesn't. :(

I had the same Problem. Delte the App and reinstall it from the Store :) I can't understand that kind of Problem. A lot of Apps get bugfixing updates. But the you have to reinstall the App to realy kill the bugs :D .... A Windows Problem?

It most likely is a Windows problem. The way the system handles apps on the backend isn't the most straightforward way. Heck, I've heard there's even an equivalent of the registry still in use. In extremely rare cases a reinstall might be needed to fully propagate low level changes to all the places that they need to be. But most people should (hopefully) never really have to do this.

After a 2nd reinstall it appears to be stable. I'm inclined to call it a platform problem also. If only Xbox Music could be uninstalled then reinstalled, so much angst could be avoided. Thanks for your comment, if not for it I might not have tried that third time and it would have remained uninstalled.

I really love how they support our platform

That change log is hilarious.

Looks really nice! Couple of questions if someone can answer :) - I currently use (and LOVE) OneNote. Is Wunderlist considered a replacement for OneNote or does it compliment it in anyway? I'm assuming OneNote would be used for notes and basic lists and Wunderlist for more advanced list management? - Is there any integration with OneNote? Does it sync with OneDrive/Microsoft account or do we need a separate Wunderlist account? Thanks :)

Inbox Live Tile don't refresh!

They deserve a Medal for the Changelog alone. Someone at Microsoft hire that person. I just wish the Shared List feature worked better, because that, with the dynamic Live Tiles and Notifications of checked items is exactly what i've been looking for in an App. Testing it with two Lumias it initially worked, and then just seemed to randomly stop notifying of checked items, or updating the Live Tile on the other Handset. There's so much potential here, but that and the slow startup time spoils it a little. Will stick with it though, because they're clearly keen to improve it.

Sadly, it still crashes on my 1520. I checked the tasks as complete and when I sync it, the tasks appear again. I logged out and can't log in anymore. WTH?!?! Switched to Taskcruncher. Testing it out and so far it looks good.
Windows Central Newsletter
Thank you for signing up to Windows Central. You will receive a verification email shortly.
There was a problem. Please refresh the page and try again.