WWE 2K16 makes its entrance to the PC ring via Steam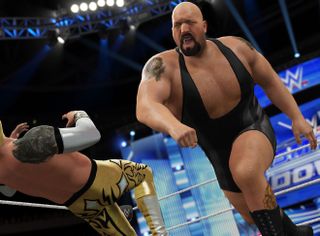 PC gamers can now enter the four corner ring with the release of 2K Sports' WWE 2K16 on Steam for $49.99. The pro wrestling game was first released last fall for the Xbox One, Xbox 360, PlayStation 3 and PlayStation 4 consoles.
The PC release contains all of the content in the console counterparts. It also has the following content for no extra charge that was originally offered as DLC packs for the console versions:
Access to two playable versions of Arnold Schwarzenegger as T-800 from The Terminator and T-800 from Terminator 2: Judgment Day;
MyPlayer Kickstart: Players will gain instant access to boost created Superstar ratings and attributes in the game's MyCareer mode.
Accelerator: Players will gain instant access to all unlockable content available in the game.
New Moves Pack: More than 30 new moves, including the Corner Enzuigiri (made popular by WWE Diva Nikki Bella), Avalanche Ram (made popular by WWE Diva Paige), Sidewinder Suplex (made popular by WWE and NXT Superstar Kevin Owens), Standing Crossface Chickenwing (made popular by WWE Superstar Stardust) and Dragon Sleeper (made popular by NXT Superstar Finn Bálor).
Legends Pack: Playable WWE Legends: Big Boss Man, Dusty Rhodes, Lita, Mr. Perfect, "Rowdy" Roddy Piper and Trish Stratus.
Future Stars Pack: Playable NXT Superstars: Samoa Joe, Diego, Fernando, Blake and Murphy.
2015 Hall of Fame Showcase: Playable matches include - "Macho Man" Randy Savage vs. Jake "The Snake" Roberts; Rikishi vs. The Rock; Alundra Blayze vs. Paige; Larry Zbyszko and Arn Anderson vs. Ricky "The Dragon" Steamboat and Dustin Rhodes; Tatsumi Fujinami vs. Ric Flair; The Bushwhackers (Butch Miller and Luke Williams) vs. The Natural Disasters (Typhoon and Earthquake); The Outsiders (Kevin Nash and Scott Hall) vs. Harlem Heat (Booker T and Stevie Ray).
Check out our review of the Xbox One version of WWE 2K16
Great! Hope they wwe makes apps for the windows platform again!

I would have bought it if it was in the Windows Store. I have Steam and love it but there are so many benefits with purchasing, installing and managing software via the Windows Store.

If you smeeeeeeeeeeeeeeeeeeeeeLLLLL!!!!!

It has a few issues. Slow load times from the opening screen. Alot of other's complained of this on Steam. I also, noticed some of the past superstars that are in the dlc, which comes free with the pc version, are missing. Other wise it's better than WWE 2K15 is.

It looks awful, is the PC version downgraded compared to console or it's just that bad?
Windows Central Newsletter
Get the best of Windows Central in in your inbox, every day!
Thank you for signing up to Windows Central. You will receive a verification email shortly.
There was a problem. Please refresh the page and try again.