Xbox in 2018: Thoughts, predictions, hopes, and dreams
2017 was a fun year for Xbox One fans, but many questions still remain, both for current owners, and potential future owners.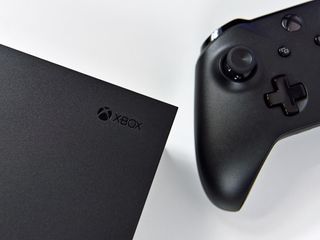 Microsoft continues to lose arguments revolving around its games library, that not only lacks quality "AAA" exclusives when compared to the competition, but it's generally missing developer support vs. PC and PlayStation. Despite not having exclusivity deals in place, certain games like Nier Automata and Final Fantasy XIV haven't arrived on Xbox due to the console's abysmal performance in Japan, and issues arising from its platform policies. Xbox gamers have needlesslly missed out on heavy-hitting, headline-dominating titles, save for some bright spots like Cuphead and the runaway success story PlayerUnknown's Battlegrounds.
When it comes to visuals, the Xbox One X is dominating the console scene, defying expectations across the board. The Xbox One X delivers the best visuals available outside of expensive high-end PCs, and it's the smallest Xbox yet. The Xbox platform also received a pretty hefty dashboard revamp, bringing in some Microsoft Fluent Design elements and adding in many hotly requested features.
As we move into 2018, Xbox is becoming more and more critical to Microsoft's operations, with Xbox head Phil Spencer ascending to Microsoft's senior leadership team, answering directly to CEO Satya Nadella. 2018 could be an exciting year for Xbox, but as Microsoft's consumer ecosystem falls apart in other areas, Spencer and his team could have their work cut out.
Games
After the painful culling of Scalebound, Fable Legends, and other prematurely announced titles, Microsoft has shifted to not announcing upcoming Xbox games until they're closer to completion. While that policy will lead to less disappointment in the long run, it has created an air of anxiety among core Xbox fans.
We're in a bit of a lull period when it comes to future Xbox exclusives. Microsoft leveraged third-parties to do the heavy lifting in 2017, enlisting titles like Assassin's Creed Origins to showcase the Xbox One X's beastly 4K power, and making deals with Bluehole Inc for temporary console exclusivity on PlayerUnknown's Battlegrounds. Many of the other games we know about were originally slated for pre-2018 launch, but simply got delayed into next year, including Sea of Thieves, Crackdown 3, and State of Decay 2.
Three upcoming co-op shooters in three different flavors. (Sea of Thieves, Crackdown 3, State of Decay 2.)
Open world crime shooter Crackdown 3 has been the subject of multiple delays, with a multiplayer beta failing to materialize, and a shift out of the 2017 holiday season to layer on additional polish and features.
Crackdown 3 was met with some mixed reactions following its demonstrations at E3 2017 and other events during last summer, possibly contributing to the decision to delay the game. Hopefully, when it does finally emerge, it delivers an experience fans of the franchise deserve.
State of Decay 2 broke cover at E3 2017, showing off what largely seems to be a remaster of the original game, now with the addition of co-operative play. A large question mark hangs over State of Decay 2, at least for me, considering that it appears to do very little to evolve its format beyond the addition of co-op. Hopefully we'll get more information on this sooner, rather than later.
Sea of Thieves has long been the most promising upcoming Xbox exclusive, although it was shrouded in a fog of "how do you play it?" mystery until the recent unveiling of its robust progression system. Crews of up to four players vote on quests of various types, complexity, and difficulty. All rewards will be entirely cosmetic, from pirate customization, ship designs, and much more. We've also been teased about various other intriguing features planned for a reveal early in 2018, and trust me, this is one game you will want to watch.
I suppose the oddest thing about the three above planned titles is that they're all open world, co-operative shooters, to varying degrees. There's at least a modicum of possibility that, if launched in a similar time frame, these titles could end up accidentally competing with each other. Hopefully, Microsoft opts to space them out a little otherwise Sea of Thieves could end up cannibalizing sales of the other two titles.
As for unannounced games, it feels like an eternity since we received word about a new Halo title, save for the RTS spin-off Halo Wars 2. 2018 could be the year Halo 6 breaks cover, likely to be announced at E3 2018. While Halo 5 has been a successful title, Halo as a franchise doesn't seem to command the same power as it used to.
Halo 5's story was almost universally panned, saved only by its addictive multiplayer modes. It'll be interesting to see how 343i plans to evolve the franchise, which, at least in my opinion, is starting to show its age.
It seems entirely likely that we'll get a new Forza title next year, despite the fact the team behind Horizon 3 is working on a new RPG title on the side. It also seems a little too early for a new Gears of War announcement. I also have it on good authority that Age of Empires IV will remain shrouded in mystery for the foreseeable, and isn't planned for an Xbox release anyway. Any other new exclusive titles will likely come from third-party deals, including the enigmatic Ashen, and what ever Studio Gobo is working on. Don't expect to see sequels to Alan Wake, Ryse, Quantum Break, or Sunset Overdrive this year... or maybe ever.
Microsoft really needs to have a few victories under its belt in terms of gaming, considering exclusives like Halo Wars 2, ReCore, and others fell firmly in the "average" range at best in terms of positive reception. With Spencer now able to leverage cash and resources directly from Microsoft's head honchos, hopefully, there will be better times ahead.
Hardware
As far as hardware is concerned, we just had the Xbox One X, so there's no real reason to expect any new consoles next year. There's always the possibility of a price cut for the previous Xbox One S, though, and perhaps more special edition designs, like the sexy Minecraft console.
What is a little more likely, however, is new accessories. With Kinect dead, there's currently no decent microphone array for new Xbox owners who might want to suffer through Cortana's voice commands. Perhaps Xbox isn't interested in pursuing Cortana or voice commands any more, and it's a relic of forced collaboration under Spencer's previous line manager, Windows chief Terry Myerson, but the lack of support represents a huge missed opportunity that allowed Amazon's Alexa to totally dominate home smart assistants now, and maybe forever.
Our own executive editor Daniel Rubino has argued that Microsoft should simply include a microphone in a revised media remote, and it makes perfect sense. Will we ever get it though? Probably not.
We may however, get a revised Xbox One Elite Controller, the sales of which apparently defied Microsoft's own expectations. The original Elite Controller doesn't support Bluetooth, unlike it's more up-to-date cousins, and it comes with a bit of a design flaw. Over time, the rubber grips tend to fall off. 2018 would be the perfect time to release an updated version, perhaps with support for the Xbox Design Lab (opens in new tab).
2018 should be the year we finally see mouse and keyboard support hit Xbox too, although Microsoft appears to be wrestling with the policies over how this works, rather than its implementation. Minecraft already supports mouse and keyboard on Xbox One, so the systems are in place. The delay is logistical. Will Microsoft force developers to restrict mouse and keyboard to co-operative games only to prevent anti-competitive play for controller users? Will they implement a system for a game to restrict inputs dynamically to include mouse and keyboard-only servers for example? Time will tell, but one thing is for certain: Microsoft doesn't want controller players to be forced to play against mouse and keyboard players in competitive games.
Another frustratingly absent Xbox accessory is virtual reality. The Xbox One X was announced with VR and Windows Mixed Reality at the forefront, but the promise slipped off radar as we approached launch.
The Xbox One X is powerful enough to deliver high-fidelity "Ultra" Windows Mixed Reality, but Spencer has previously noted that Microsoft wants the general experience to be improved before they bring it to console, notably with the addition of wireless technology. As such, 2018 still might be too early for VR on Xbox.
Services
We know the new version of Avatars is slated for a launch in 2018, and by the sounds of it, Avatars will play a more prominent role in Xbox society than they have done in recent years. Leveraging their awesome and expressive designs in Microsoft's new AltspaceVR social experience is one obvious implementation we could see appear in the future, too.
We'll see refinements and improvements to the Xbox dashboard and its implementation of Fluent Design, but I doubt we'll see any more large overhauls as we have seen in previous years.
I mentioned earlier about how Microsoft's voice assistant Cortana continues to be a maligned, stagnant feature on Xbox One, particularly if you're using her outside of the US. However, I have heard that development is on-going behind the scenes, and that new feature additions have slowed down because development depends on technology being built, in part, to make her less, well, terrible. It's probably too little, too late, though, as Amazon's Alexa and Google Home have already usurped any hope of Xbox becoming a smart home hub, but hey, I'll welcome any improvement to Cortana for Xbox at this point.
Finally, I've also heard talk about the possibility of an Xbox version of Microsoft's new Timeline feature, which allows users on Windows and mobile devices to track their activity across supported apps, such as Photos, Office, and Microsoft Edge, and quickly jump backwards and forwards straight into an existing activity, web page, or file.
While details are scant, it's easily to imagine how Timeline could translate to Xbox, tracking achievements, game clips, game installations, and more, perhaps both on your console and via a Microsoft Account-connected PC or mobile device.
Speaking of achievements, Xbox Platform lead Mike Ybarra told us how Microsoft is working towards making Xbox achievements and accomplishments more meaningful. Timeline could have a part to play here, tracking your stats in various games, allowing you to backtrack through your history as a gamer to quickly and easily share your accomplishments, whether they're achievement-bound or not.
In any case, it's fair to expect new features across the board for Xbox in 2018, although it might still be too early for things like the proposed cloud game streaming service. Don't expect the Windows Store to stop sucking, though.
An interesting year ahead
2018 will be an interesting year for Xbox. With the power argument won, people will be looking at Microsoft so shore up other weaknesses in its gaming ecosystem, namely the depth and breadth of its exclusive home-grown catalog, VR, and neglected features like Cortana.
Microsoft and Xbox have a long-term game plan in mind, and while local hardware isn't going anywhere, cloud streaming will naturally form a large part of this. The logical conclusion of Xbox is for Microsoft to allow AAA game developers to reach more screens by streaming titles through the cloud to devices that wouldn't be powerful enough to run them locally — though this is still years away from reality.
In the interim, Microsoft should be doing everything it can to lock as many people as it can into its digital ecosystem, ready for a future where the devices matter less than the quality of the services you subscribe to. For now, that means building a high-quality library of stellar and diverse exclusive titles.
Windows Central Newsletter
Get the best of Windows Central in your inbox, every day!
Jez Corden a Managing Editor at Windows Central, focusing primarily on all things Xbox and gaming. Jez is known for breaking exclusive news and analysis as relates to the Microsoft ecosystem while being powered by caffeine. Follow on Twitter @JezCorden and listen to his Xbox Two podcast, all about, you guessed it, Xbox!
My big hope for 2018 is that when they finally annouce a release date for the New Xbox Avatars, that they also annouce a small collection of non-"AAA" games that feature them. Would love to play and Xbox Avatar Kart Game or Golf Game or even Smash Game !!

Id love a kart game with weapons.

If they would only revisit 1vs100! With the current technology it could be everything it was supposed to be.

To be fair, we already know what's probably coming. Forza Horizon 4 next year, Forza 8 after that... Halo 6 in the next 2-3 years and Gears 5 in the next 3-4 years...

MS will continue to miss fire due to lack of focus being pulled in different directions, infighting in the company and lack of understanding the market desires. Halo is in dire need of a time out, the franchise no longer resonates with people and nothing is going to change that other than it goes away for a while. MS is in dire need of a Halo replacement (hint buy Crytek to get Crysis). By the time games show up for the X that take full advtange of it's power in about 2 years time they will run into a Ryzen powered Playstation 5. MS VR will continue to go nowhere on PC without a way to force developers to make compatible games so in a sense Xbox VR is required. MS Xbox PC efforts will contine to be squandered due to a total lack of understanting, Xbox on PC should be like Origin or GoG Galaxy not the messy xbox app + MS Store combo it uses. Xbox PC Arm will be squandered, a huge oppertunity were Steam no longer has dominance, most likey not even the few Xbox PC titles that are UWP have Arm builds or a mobile preset that makes them useable on Arm PC's, or launching a Xbox Mobile PC handheld via Razer or Dell to at least generate some interest (piggy backing the work done for Switch ports getting Xbox Play Anywhere versions with a mobile preset). One of the Xbox One X most major features Freesync is not even enabled with no word from MS when it ever will be or any sign that any TV maker will add support for Freesync, HDMI 2.1 TVs with Freesync like features are not expected on shelves till early 2019. MS should be paying LG to add Freesync to their OLED line then pushing that as an example of what Freesync can offer & using that to iron out the expereince before HDMI 2.1 TV's come out the year after. The AV expereince (Blu-ray/streaming) on Xbox is less than stellar, if they simply talked to some experts like Vincent-T from HDTVTest they would be aware of the problems and maybe fix them. Xbox User Voice has become a garbage dump, it is in dire need of clean up and removing a ton of useless entries or out of date ones, there is no point in taking part any more. The plan of making Xbox a compelling multi-platform would work if you put the effort in, MS have not done so to the level that it needs to be, no detail or area left untouched, now they have great premium console hardware but few games to really show it off and a platform that simply isnt desirable enough.

I'd like to see the announcement of a Wireless Mixed Reality system for Xbox One X that supports the entire ecosystem including streaming games from your PC for Steam Access. With the recent capability and melding of Mixed Reality and Steam Gaming, I'm hopeful for this. It would also be great to hear that with mouse and keyboard support, MS will enable Steam remote play for all Steam games not just WMR.

This is my big 2018 hope as well.

Here in Greece Playstation is mopping the floor with Xbox One when it comes to sales. You can see it in advertising, in shops, everywhere. It's not even a contest. There's this widespread perception (justified to a certain extend) that Xbox lacks games and developer support. Microsoft has a lot of work to do in 2018. 2018 will truly be the year that makes or breaks Xbox. Microsoft see the writing on the wall before it is too late.

Xbox is completely irrelevant on the entire European continent, not just Greece. And Microsoft couldn't care less.

My predictions: - Another UI revamp which will make it even worse than the shiteshow that it already is; - A price cut on the One X to desperately try to sell them now that the "out of stock" trick no longer works. - Ads, ads and more ads on the UI, expanding also to the Xbox apps. - PlayStation will continue to get better exclusives and continue to outsell the Xbox 2 to 1.

I predict MS/XB "fans" won't like your prediction...

I predict I couldn't care less for their feelings ;P

I'm for a updated Elite controller. As mentioned in the article, I'm currently a victim of the peeling grips with no replacement parts to be found in stock anywhere. Not a happy camper considering what the charge for these things. Aside that, VR would be a great addition next year. Though I'm unsure how they would implement it.

Dream?
I would say: MS look at what happen with Battlefront 2 and decide to be done with all this microtransaction/loot box bs... End game as a service bs and just focus on making quality games for their customers not on how to get more cash from them... Also I hope they look at the NPD saled results of november and see that their strategy of suddenly hyping power will fail and they decide to fight fire with fire. Beat Sony in their own game by making and providing a lot of diverse games to their customers. A lot more than Sony... Hope?
Games
As for the games we know. I hope Sea of thieves won't have any microtransaction/loot box. They decided to make it a full price game so I hope they don't look into squeezing more money out of their customers... I hope they don't screw Age of Empire DE and Age of Empire 4. I was at the insider program for Age of empire and it looks like they are focussing on the multiplayer as they have just disabled single player. It sounds crazy to think of an age of empires with microtransaction/loot boxes but I really hope there won't be any. If they do it then **** MS!
I hope they'll manage to deliver on the Crackdown 3's cloud "powered" multiplayer promise. Again hoping for no microtransaction/loot box in it and in the yearly forza.

Studios
I really hope they invest on a whole bunch of new studios. A studio like quantic dream that makes story driven games, Naughty dogs that makes story driven action adventure games, one studio that makes story driven action RPG , one which makes JRPG and various platformers, studios like Media Molecule and Sucker Punch.
Studios that are given creative freedom to do games they want to make. Devs that only wants to make great games for their customers not trying to find out ways out to frustrate players so that they pay as much money as possible after the initial purchase... E3
I hope there are a LOT of announcements of new games. It's long overdue. More than 30 months since the last AAA console exclusive announcements that's not the annual Forza...
Besides the yearly Forza there has been 1 AAA console exclusives in 2015, 2 in 2016 and 1 in 2017.
3 of those 4 were sequels (Halo 5, Gears 4, Halo wars 2)
I really hope they'll suprise us by announcing fresh new IPs, diverse games not just the usual Halo 6 or Gears 5... Also hope for no more cheap timed deals that are done to mislead gamers. Hope they don't cancel any games or few studios remaining... Also hoping the failure of Xbox game pass. Game pass really got to fail badly. The future of gaming shouldn't be renting games. They should focus less on new controllers, UI updates, ways of playing old games, POWER, and focus more on new games... Predictions?
The sad part is I don't think any of what I hope will happen with Spencer in charge. I think there will be more microtransactions and loot boxes. I think sea of thieves will be packed with it...
I also think they'll milk the POWER argument whole year. I think they might announce 1 or 2 AAA console exclusive that's not Forza/Halo/Gears. I think they should announce Halo 6. I think they'll have a few timed deals with indie studios... And they'll mislead people in thinking these are real exclusives. I'm not going to talk about features like new avatar and other features that are useless to me. But I expect them to get VR on the X. Also major price cuts on that console. The console already has HUGE price cuts in Europe.
I think the focus will stay on old games. Announcements about games on game pass and BC every now and then...
I also predict MS/XB fanboys won't be happy with my comment... lol


I hope streaming games doesn't become mainstreaming for games it eats up my data on my internet. Between downloads, online play and basics internet search I go through 900gb a month and stupid Comcast only allows 1tb of data per month and if go over get charged extra for every 50gb.