Xbox 360 owners can now claim free Xbox One games from their console
Gamers who have yet to pick up an Xbox One can now get a head-start on stockpiling some free games for the console directly through the Xbox 360's Games with Gold section.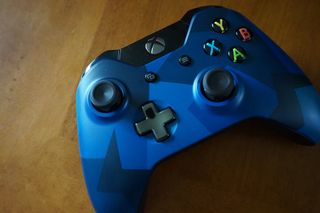 The announcement was made by Microsoft's Larry Hryb on his Major Nelson blog earlier today:
Since this has already been available from the Xbox web store for a while, this is a relatively minor change. However, it should prove to be slightly more convenient for those looking to get a head-start by nabbing some free games before pulling the trigger on an Xbox One purchase.
Source: Major Nelson
Windows Central Newsletter
Get the best of Windows Central in in your inbox, every day!
Dan Thorp-Lancaster is the former Editor-in-Chief of Windows Central. He began working with Windows Central, Android Central, and iMore as a news writer in 2014 and is obsessed with tech of all sorts. You can follow Dan on Twitter @DthorpL and Instagram @heyitsdtl.
While this is more convenient, you've been able to do this since the console launched by going to Xbox.com lol

Yeah we know, that's what the article says

Heaven forbid sharing this with the gold subscribers up front.....

Way to read the article in full, instead of jumping to the comments to boast about how much you know. Well done, you stopped yourself from looking like a complete ass.

It never worked for me? The system didn't recognise a Xbox One connected to my account

"lol" ?! Way to show you only read titles, while trying to look clever.

Wish it was tomb raider for Xbox one

Grabbed it for 360. I'm actually enjoying it so far.

Totally worth the $20 on Xbox one. I played it on 360 and picked it up when it first dropped to $20 back in Nov on the One.

I told myself I wouldn't buy any game I already owned on 360. It's like the DVD blue ray switch

Good idea on Microsoft's part.

Well hell...i had no clue. All good I've had my One since October, but I could have grabbed some of the earlier games....

Really? I got a one in Dec but have been stock pilling for close to a year. Sorry.

Eh not really a big deal for me right now. I've got a severe backlog and keep playing Destiny for some god awful reason....

Just got a Xbox One on Saturday, but still nice.

I am still hoping for some backward compatibility. :(

I wouldn't hold your breath

I'd at least like backward compatibility with original Xbox games as those were also x86-based.

I'd be happy with being able to plug my x360 into the X1 (via HDMI) and use the one's kinect and controller to control the x360 (via a usb connection from the X1 to X360) Heck, add in using the X1's Blu-Ray drive to read game discs and X1's HDD for saves and MS could sell a trimmed down X360 kit with no drives as a "backwards compatibility kit"

Let it go mate. No reason. Xbox One is starting to build a decent library and with many developers "remastering" their games, there is no reason to spend time and resources on something like that.

Well, there are the Indie Games, but MS could easily fix that by porting XNA to X1.

Also what's shocking, I was talking to some guy on Xbox Live once who seems to never have heard of Games with Gold and didn't even believe me. We were playing online on Xbox 360, witch makes it even sadder.

Meh.. You would expect someone who spends $60/year on a subscription (let alone the console and game costs) to be more informed about his investments..

I don't even know what I expected. You're right, stupid me.

You know what that controller reminds me of❓❓
.........
The fact that WP10 should support it...
Well, WP7.0 should've supported it, but that's another story.

I don't own any xbox console but one day will buy an xbox one. So my question is can I get a gold subscription via online and start purchasing free xbox one subscription games, locking them to my account so when I do buy an xbox one I would have collated a batch of free games to install? Does it work the same as Playstation Plus? I downloaded tons of free vita games even though I didn't own one. When I got one I had 50 free games. So I don't need a console to get an Xbox subscription?

I do not know how it works on PS+, but to answer your question: Yes. You can purchase and redeem Xbox live gold subscription codes online. You will be able to then 'purchase' games that are free for gold members online and have them waiting in your collection when you get your Xbox one or 360.

Thanks. Just did a free one month trial of xbox gold and manage to "purchase" Rayman Legends for free. Before I renew for 12 months, which day of the month as new free subscription games released?

They release 2 games: One for the first half of the month (1-15) and the other for the second half (16-30,31)

i thought they only release 1 game per month for the xbox one

2 games each month in the mentioned basis for both consoles, only difference is that on xbox one you gotta have the Live membership always gold to access the games, on the other hand on the X360 once you get them, they're yours always!

So just like playstation plus, you can only play the free xbox one games for as long as you are subscribed to xbox live gold. Correct?

I cannot confirm you this 100% because I don't have a xbone, but yes, that's what has been told ever since the Xbox one hit shelves

Yea, been doing it for months now... When I get my X1 I'll have some free games to play :) nice change to have a way to do it via the actual console now :D

That's a nice controller. How much is it? $128

I was wondering the same thing

That is interesting, I never considered that you could get Xbox 1 games without owning one. I'll certainly start reserving them, but I have an ever-growing backlog on my 360, and currently have no reason to purchase a Xbox 1. Perhaps when Gears 4 comes out, if it's good, and exclusive to Xbox 1.

I've been doing that for sometimes now. Doing if via the website. I think I have around 8 games waiting in to download when I finally get a xb1.

Can we have the reverse too please. I'm always forgetting to grab the 360 games, have missed the last two.

And a new preview programme.

Cool if only I had a 360. I have a one.

I'm ok with the One, but the 360 was special. If they made a silent version of the 360 with a Bluray player, I'd take that over Xbox One. It'd also have the damn media center client.
Windows Central Newsletter
Thank you for signing up to Windows Central. You will receive a verification email shortly.
There was a problem. Please refresh the page and try again.