Xbox app for Windows 10 rolling out new features, Xbox Beta app coming soon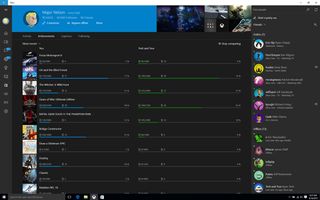 Microsoft is planning to roll out an update for the Xbox app for Windows 10 users later today. The September update will include a number of new features and improvements. Microsoft will also launch an Xbox Beta app for Windows 10 later in September.
Here's a list of what's new and improved in the Xbox app update for September:
Real-time Friends list presence. Your Friends list will automatically refresh with your friends' on/offline status and the apps and games in which they're currently engaged – including whether the game they're playing can be joined via multiplayer or party.
Real-time Activity Feed updates. No need to hit refresh to see new Activity Feed items; keep the Xbox app open and your Activity Feed will let you know when there are new items to view, comment on, like, or re-share.
Game progress comparison. Feeling competitive? Discover how you stack up against your friends on specific game progress by visiting the Achievements section of your profile and selecting 'Compare.' You'll enjoy a side-by-side comparison of your selected friends' progress on games you've recently played, including game completion percentage, Gamerscore and Achievements earned.
Console text entry. We're also bringing one of the most requested features from Xbox Feedback to the Xbox app on Windows 10 – the ability to use the Xbox app for text input on Xbox One. You will now be able to use the Xbox app and other inputs compatible with Windows devices – keyboards, touch keypads, and the like – to enter text in search boxes and more on Xbox One.
The Xbox Beta app will apparently be available for all Windows 10 users in the Windows Store, without the need to sign up for a Preview program. Microsoft says:
Source: Xbox Wire (opens in new tab)
Already got the update 15 minutes ago... looking forward to using the app for console text entry! :D

You already got the Xbox Beta app?

Xbox app looks pretty smooth here now after this update.

"Console text entry" YES!

Beta beta beta Posted via the Windows Central App for Android

Just allow us to stream a game from the Xbox to Windows 10 and allow the Xbox to passthrough cable Tv so 2 people can use the Xbox. Thats the most requested feature!!!

allow the Xbox to passthrough cable Tv so 2 people can use the Xbox

That's my request too. I like the streaming, but the lack of this makes it not as useful.

I thought they'd said that would be a feature in the past, like how you can stream TV to the Smart Glass and still play a game on the Xbox One (Using the USB TV Tuner) - However, maybe it will be coming in the Windows 10 update for Xbox One

Looks like a bunch of issues with the update as well http://www.ign.com/articles/2015/09/17/latest-new-xbox-one-experience-pr...(front%20page)&utm_content=5&utm_campaign=Blogroll

Yeah, that's a separate thing....

That's not related to the PC app, but the Xbox One dashboard update for November.

So can I stream a game AND text input? Currently I stream with the Xbox app and text input with the Smartglass app.

I've been using the smart glass app to text on my xb1. I use it more than the Xbox app.

I feel like the 'Beta' apps should be the default on Insider Preview Builds, what do you think? Better optional right, yeah nevermind.... =p

How about making it so every time I click on something on my feed once I go back it doesn't completely refresh and push all the GUI elements down while I wait for everything to repopulate and not take me to the last part I was at to scroll to where I was yet again, to click something and repeat the process. Maddening I tell ya. Like they see that it looks good and the dev team doesn't even try to use the app like a gamer would on these social elements.

Notifications still don't work on the mobile version

I know MS is Xbox etc, but I only own a gaming pc and a PS4 (i prefer infamous, uncharted etc) and I simply can't justify buying a XB1 just for Forza and halo. Rambling aside do you think they will ever release a Playstation app for windows 10? Since the xbox app is basically useless for me

I highly doubt that Microsoft would develope/release a Playstation app. But you could ask Sony to develope one...

I think Sony has to launch the playstation app don't you think

Mate it's not MS Playstation 4 rather than Sony Playstation 4!!!!

You'd be able to stream your games from your gaming pc to your xbox and tv...although you could just plug your pc into the tv. But xbox is a good console. If you have the money buy it. Insert Why not both meme here

Yeah we need the streaming game to pc and watching tv at the same time, that's what I originally thought it would be when they announced it. Common microsofttt

Is the XB360 getting W10 as well? Or is it gonna be W8.7 like you did us when WP7 wasn't upgraded to W8?

That 10 years old console? Probably not.

What's the version number?

I can never get the windows 10 Xbox so to show oneguide

How come there's still no option to redeem codes in the Xbox app?

This update seems to have completely broken achievements for me. I am no longer getting achievements unlocking in Minecraft.

I will confirm myself later, but if anybody is able to try it before then and reply that would be great - I am wondering whether the Game DVR audio issue is fixed in this version. It's the bug where the DVR won't record audio if your current audio device is set to 5.1 or 7.1 Surround sound. If I play with my speakers (Just regular Stereo speaker) it records audio, when you use a headset such as TutleBeach or other surround sound headset it records video only - If you change the mode from 5.1 or 7.1 audio records as it should on any audio device I've tried
Windows Central Newsletter
Thank you for signing up to Windows Central. You will receive a verification email shortly.
There was a problem. Please refresh the page and try again.