Xbox app for Windows 10 update rolling out today with Facebook friend finder and more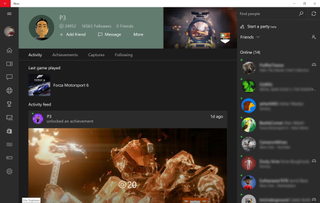 Microsoft plans to roll out an update for its official Xbox app for Windows 10 later today. Among its new additions is the Facebook friend finder that was first included in the beta version of the Xbox app.in October.
Here's what Xbox app users on Windows 10 can expect when they access this new feature:
The update will also add another feature that was first included in the Xbox beta app; the ability to record a voiceover track for Game DVR clips on a Windows 10 PC:
In addition, the update includes the new Xbox Store section:
Finally, Microsoft says the Xbox app update will now allow users to record any game on their Windows 10 PC, including titles where the Game bar and Game DVR hotkeys didn't previously work.
Source: Major Nelson
Windows Central Newsletter
Get the best of Windows Central in in your inbox, every day!
I LIKE WINDOWS PHONE AND DON'T CARE IF IS NOT WIDELY USED

Nice addition for those that want it but no way I am giving Facebook my Xbox info.

With this latest update now I can't see my Xbox One and stream from it. Thanks MS!

Can we share screenshots and game clips to Facebook work this update?

They really need to curate the Windows 10 Store showings to only include Xbox titles. No PC gamers are going to take the Xbox App or the Windows 10 Store seriously if they're presented with Candy Crush-esque offerings, instead of highlighting the Xbox games like Project Spark, Minecraft, Halo: Spartan Strike, etc. And they also need to do a much better job of filling up the Windows 10 Store with Xbox games stat: it's been 3.5 months and no new Windows 10 Xbox games of note have been added to the Store yet. Where are the ID@Xbox games that were supposed to be coming?

Wonder how long till they determine its not worth the effort to keep it & yank it out

I'm really hoping they make the app reversible for Xbox so I can play PC games on my Xbox because I like to get some games which really test your graphics on a big TV and shows all the details like BO3 and Tomb Raider (which I know isn't going to come out for a long time!!!!)

From the update you think the Facebook integration is the thing worth writting the title about? Well...your decision. I personally don't give a sh*t about the Facebook integration. From this update I think that the addition of the XBone store to the Xbox app on Windows 10 is WAY more important as it puts an end to the need to either use the cumbersome experience that is the store on the XBone or the even worse that is the Xbox site.

The only external integration I care about getting is the MSFT band and Xbox Fitness...other than that,I couldn't care less about social media.

The game DVR function would be a million times better if it didn't have to be a game from the Windows App Store in order share. I mean, if you're a remotely serious PC gamer, you're not spending your time playing F2P-$9 games from the Windows App Store. And, if you're a very, very casual PC gamer, you probably aren't doing much DVRing of yourself playing Candy Crush. Would be nice if you didn't have to downgrade to stereo sound in order for audio to be recorded by the DVR function. At least prior to their killing off of Games for Windows Live, a decent chunk of the big AAA titles supported achievements that would sync up with your Xbox gamertag. I can't think of a single big title that's bothered to support the Xbox app via achievments since this change. If this is what Xbox/Microsoft's commitment to PC gaming is supposed to look like...lol.
Windows Central Newsletter
Thank you for signing up to Windows Central. You will receive a verification email shortly.
There was a problem. Please refresh the page and try again.