Microsoft unleashes a collection of awesome Xbox deals for the end of March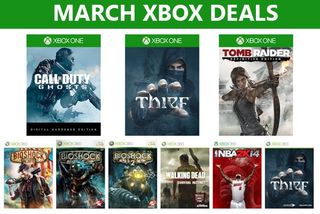 Microsoft is always dropping amazing game discounts on the community and this week there is no exception. Three Xbox One titles, eight Xbox 360 titles, and three Xbox 360 add-ons are up for grabs.
Whether you enjoy the racing into a battlefield, dropping on your enemies from above, or exploring the worlds of Rapture and Columbia, there is something for everyone to enjoy.
Let us start with the three major titles. Call of Duty: Ghosts, Thief, and Tomb Raider Definitive Edition, are all up for discounts on both the Xbox One and Xbox 360.
Starting March 28 and ending March 30, Thief and Tomb Raider will be available for 50% off their original pricing. Call of Duty Ghosts will be 33% off on Xbox 360 and 20% off on Xbox One. It is worth noting that the edition of Call of Duty Ghosts discounted in the Xbox One store is the "Digital Hardened Edition".
If you are a fan of the BioShock series, and have not added one, of the titles to your collection or you have never played any of the games - now is a great time to jump onboard with these great Xbox 360 deals.
BioShock and BioShock 2 will be available for a whopping 75% off their original price until March 30. The third title in the series, BioShock Infinite, will also be available for 67% off the original price. If you have already finished all of the BioShock titles and are looking for more action, three add-ons including Burial at Sea, Clash in the Clouds, and Columbia's Finest Pack, are available for 50% off their original price.
Lastly, The Walking Dead Survival Instinct will be available for 75% off, while NBA 2K14 will be available for 50% - both on Xbox 360.
Here's what all the savings reflect:
Call of Duty: Ghosts Digital Hardened Edition (Xbox One) - $66.99
Call of Duty: Ghosts (Xbox 360) - $47.99
Thief (Xbox One and Xbox 360) - $29.99
Tomb Raider: Definitive Edition (Xbox One and Xbox 360) - $29.99
BioShock Infinite (Xbox 360) - $9.89
BioShock (Xbox 360) - $4.99
BioShock 2 (Xbox 360) - $4.99
The Walking Dead: Survival Instinct (Xbox 360) - $12.49
NBA 2K14 (Xbox 360) - $29.99
BioShock Infinite Add-ons (Xbox 360) $2.49 - $7.49
There are many exciting deals, so be sure to check them out in the Xbox Marketplace (opens in new tab). Note that most of the deals are in effect from now until March 30, but a few select games (Thief, Tomb Raider, and Call of Duty: Ghosts) will be available starting March 28. In addition, deals may vary by regions.
What do you think of the above deals – are you going to pick something up?
Source: Microsoft
Windows Central Newsletter
Get the best of Windows Central in in your inbox, every day!
This is exactly what they need to do with the digital store if they want us to buy digital. It's why I love Steam. Glad to see this is finally happening although the CoD discounts are weak. That's not unexpected though they seem to stay at almost $60 on steam too.

Yes! I am totally going to buy Thief for the Xbox One. Might pick up Tomb Raider at that price too, but I've already played it on the 360 so idk.

I plan to grab Thief at this price.

Same here, Thief got a so-so review but, it looks entertaining but, for $30, yea, I'm going to grab it too... I was thinking about TR too but, As it's the same game just ugpraded for Next Gen, If it was like $10 (upgrade like when Xbox one was released), I would grab it but, as I have already played it on the 360, I will skip it...

I beat TR on X360...and was so tempted on buying it for the one because it is a really good game. This deal has me sold.

Ive never even heard of thief until now, may download it on the xbone just for the sake of it at this price :)

You must be young. This was an awesome game when it first came out. Don't remember when that was... some 15+ years ago.

Anyone out there played Thief? I was thinking of picking it up before, now it's even more tempting...

This is what I have heard and I've been told that it really kills the experience. Still might grab it though - $29.99 is sweet!

Navigating the city in between missions sucks because the map is terrible and the load screens are everywhere, but they aren't a problem when you're on a story mission.

I bought Thief at launch for the Xbox One and it's a lot more fun than the critics make it out to be. The story is really hard to follow and it has some technical issues (like the dialogue tends to get out of sync during cut scenes), but the stealth gameplay is really well done. If you have no patience for sneaking around in the shadows, I wouldn't recommend it, but it feeds my inner kleptomaniac very nicely.

Read metacritic first!
it may have valuable information

It has it's problems, but I've played it about 22 hours so far and I'm about halfway into completing the game or so. I havnt dragged it out, but I havnt raced it either, there's plenty to explore in the city and doing sidemissions etc.

My dad has Thief for x360. It looks really nice and cool. Hard too, i think, because i hear him dying alot.. I will pick it up for xOne when deal starts

"Starting March 28 and ending March 20," did you mean April 20 or March 30?

Starts on 28th ends the 20th

I'm assuming 28Mar14 to 30Mar14. Only a 2 day window maybe???

Fixed - thanks! Ends the 30th.

Definitely picking up Tomb Raider this weekend at that price. Continue to keep the digital prices competitive and customers will be happy.

Tomb Raider at that price is a great deal. Excellent game.

These deals are putrid. I'm just waiting for the Game on Demand coming with Games with Gold.

I bought Tomb Raider for the Xbox One a couple weeks ago, I had already played it for the Xbox 360 though so I hesitated buying full price. Wish I would have waited. But I did get the $10 digital coupon with it! :)

Why not NBA 2K14 on Xbox One?

No sign of this for the UK then?


I think the UK gets the same deals. I know that Tomb Raider had dropped in price, it is now £19.99. Also, not mentioned in the offer, but Spartan Assault has dropped in price too. I think it is now £7.99.

Currently playing thief on my pc, cod ghost is awesome n lara croft, tomb raider is one of the best of sequel they ever got..... Great gameplay...

Can MS go on my Xbox and take away a download like they cab with my phone? Serious question.

Don't think WP uses cabs anymore... Seriously though, they could, but the chances of that happening are close to zero since the platform is closed off and there's less chance of malicious apps/games.

So not in Canada for Xbox one games just checked.. My bad 28th

I might pick up Bioshock Infinite for that great price.

I wanted to buy the Bioshock trilogy for Steam yesterday for 12 $, but it was restricted to U.S. only :(

Picked up bioshocks this morning but thief isn't showing on sale yet

29.99 for Thief and Tomb Raider seem like good deals. I wasn't happy with their pricing before.

Definitely picking up tomb raider, played it on 360 and loved it.

My only problem is, It's the same exact game that I own for the 360, if they added new content or something else to make it a little different. No question, great game... I might play it for a while (achievements) but, even at $30, it's too much as I already paid $60 for the 360 version.....$10 I would be all over it...

Ugh of course Thief goes on sale the day after I rent a movie and drop my MSA just under $30 -.-

Anyone know if the same pdiscount will apply in the UK. As Major Nelson who posted originally about this only covers US and i want to buy Theif =/

Yep, it does. And Halo Spartan Assault is on offer too, £7.99. Tomb Raider is £19.99. Not sure what Thief was before, but it is £39.99 now.

i looked yesterday when the offers where announced and it was £49.99 it does say the 50% offer is from the 28th - 30th though so will see on friday

Just bought BioShock 1 & 2. Cheep prices here in Sweden currently.

Are these deals also available in the UK, and if so, what are the prices?

I'll probably buy Thief now! :D

I will be picking up the tomb raider digital copy. Bam!

Bioshock 2 to finally complete the collection. $4.99...awesome for a whole game.

Tomb raider definitive edition by definition is only for Xbox one. Not on x360. 29.99 would not be good deal for Xbox 360 version. Typo?

Spartan assault is cheaper too on xbox one

Got retail TR for 20 quid when it first came out, deffinately getting thief though.

They should do these kind of sales for xbox one once every month if they wanna really push digital sales! I was a really big fan of the DRM before they did a 360

Thief looks like the only worthwhile deal. The rest is pretty-much garbage.

Thief! Use to love it on original Xbox!

Probably getting Tomb Raider

Bought and played TR on the 360 before and I loved it. But I wasn't going to pay full price again for the One. But for $30... I'm getting it!

come 28th get here so I can buy it

Anyway Xbox store it's expensive idea.

It's this US only? Because here in Itay doesn't show any discounts

Nope. I just got Tomb Raider by 27,49 Euros (VAT included) in Spain. At first I found the normal price 59,99 € but then I logged with my Xbox One Live Gold and I got the new price 23,90 € + VAT. So your problem could be you are not logged when checking the price.

I just bought COD for £23 from Game. If I'd bought it from MS it would cost £34. Why can't MS look at what retail stores are selling them for then add the discount from those prices. Thief is available for £31.99 at Game

Just added both to my collection.

Yeah I bought bioshock, the first one, it doesn't download, I have got it to 4% 70% even 100%, cleared my cache re-downloaded my profile, downloaded other games fine just says cant download!

$47.99 for COD ghost is not a deal, more like a slap in the face. Used copies are better. even games stop does the same shot trying to resell a used copy at near the same original cost. it's total bullshit
Windows Central Newsletter
Thank you for signing up to Windows Central. You will receive a verification email shortly.
There was a problem. Please refresh the page and try again.