Xbox Live subscribers will get one free month of Sling TV for Xbox One launch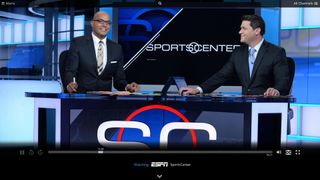 Microsoft has announced that when the Xbox One version of Sling TV is launched sometime in the first quarter of 2015, Xbox Live members will be able to access a one month free trial of the new Internet TV service from Dish. The service was announced as part of CES 2015.
The Xbox One is the first, and so far only, game console that will be able to access the Internet-based service, with offers a number of live cable TV channels, including ESPN, TNT, CNN and more for the starting price of $20 a month. Mike Nichols, Corporate Vice President, Marketing for Xbox, stated:
Source: Xbox Wire (opens in new tab)
Get the Windows Central Newsletter
All the latest news, reviews, and guides for Windows and Xbox diehards.
Fffffffffrrrrrrrrreeeeeeeee!

Game on cable companies and satellite providers. Game on...

hahaha do you like your hbo comcasted or xfinified? in a bowl or on a plate? with a spoon, fork, or chopsticks? & even a lemon towelette?

I don't get it... Dish is a satellite company... So do we need any service from dish to use this??

Its probably like dish iptv on roku

Nope. No other Dish subscription required. Just $20 per month.

United states of afghanistan

If it is USA only it wont be in Canada. I should have said exclusive in my first post lol

Maybe u should have done that , but that's not stopping some troll's xD
And yes its USA exclusive.

This may have just sold me in getting an xbone.

Sold you "on", not "in". Just saying. But yeah, go get yourself an Xbox One already.

Xbox gets a lot of cool things like this. Their apps blow the competition away.

And wait till Windows 10 is here.. Oh boy...

Awesome:) now I can see if i will like it or not

Although not so pertinent to me, I think this is very cool! Well done MS!

Aside from this deal, do you have to have Xbox live to use the service like how Netflix and Hulu used to be, or do you just have to pay for the Sling service?

You don't need Xbox Live gold for Netflix or Hulu anymore. Hasn't been that way for awhile.

Hence the words "used to be".

You don't need Xbox Live Gold to use the app anymore, but you still need to sign-in to Xbox Live to use it which is pretty dumb. How did I find out? Because on Christmas day my Xbox One refused to let me launch Youtube app because it couldn't sign-in to Xbox Live. On top of that, when I tried to play a game which I bought the disc version, it needed to install a day one update. And guess what. You need to sign-in to Xbox Live in order to obtain that update. My Xbox One was pretty much a brick that day.

Xbox Live is not a paid subscription tho, is it? Only gold is.

@giddora : That's exactly what I thought isn't it ?
U can sign as a silver acc for free but no online gaming or other gold membership exclusive's.

There is no such thing as "Silver" accounts. The tiers of Xbox LIVE are "Free" and "Gold" now. Been that way for ~4 years. Best not to confuse people with dated terms :)

It is but I could assume services like unblockus could overcome that

Hmmm...depending on what channels this will have, I may be cutting out my cable tv because Comcast are thieves.

Starting to make sense if you only have one TV, if you have other rooms with TV's then your going to need a few Xbox's.....

With Cable at $100 a month...this at $20...your break even point for buying a 2nd, 3rd, or more Ones is at only 5 months per Xbox One (back at the $400 price point). Plus Sling TV will start with the whole gamut of connected devices after this exclusivity. I'm sure you'll be able to run it on an Apple TV/Roku/FireTV, break even point would be a month!!!

I already have cable. This free month isn't gonna make me switch. Especially since they don't have my main channel, FX.

Is this for everyone? Or just Americans?

Yayyyyy!!!!! I'm so glad o bought Xbox live.

Yeah, uk would be nice... Would like to actually be able to watch espn rather than having to find streams for basketball lol!

So no DVR capability, right?

Does the person have to be a dish subscriber though

This would be great, but I figure that by the time I get my HD antenna stood up, subscribe to HBO GO and Sling TV and drop my Cable TV subscription Comcast will have just raised the rates for broadband to $120 a month. FFS.

I'm just about paying that now lol. Had to get business internet due to the bandwidth usage limits.....

This may be it...i may get an Xbox One.... Looks like there is no signs of the 360 getting this

I just got the Xbox One. I can tell you, its better than I expected. If you can, get the one with Kinect. I'm glad I did.

Must buy Sling stock......

RIP Stuart Scott :'( ESPN will never be the same.

Dude, before there was Sportscenter, there was Rich Eisen & Stuart Scott. Rich Eisen's farewell got more than a few people choked up https://www.youtube.com/watch?v=NxaJEyiAKGE

It did for me. Had to turn the TV off. Those two were the most awesome pair...

Yeah, it was very touching. I had to get up from my desk and walk around until my eyes dried up. RIP, Stu. Prayers going up for his friends and family, especially his kids.

I hope they only well only the service cause I hate paying rental boxes fee and I am deciding to ditch twc cause they are charging me 13 for a no that I don't use. I use roku and they don't want to provide me tv without the rental boxes

Try ustvnow
http://www.ustvnow.com/

Xbox Live subscribers in the US will get...

Great. But how about dish anywhere app. I would really like to see this on Xbox and wp8.1. I love my 1520. But these app shortages drive me nuts

Give me a few more key channels, & I'm in.

I hope it integrates with the oneguide. Im getting so used to it, I'd hate to go back to normal TV or just using an app.

Currently streaming apps integrate with the one guide and this should be the same. Now you can save shows from hulu or netflix as favorites on the one guide and they show up in the one guide listing with the tv shows and allow direct access to them.

I cut the cable over a year ago, grew tired of being bent over on the outrageous bill. $20 for some great networks is nice!

+1520 works great for me I have dish but my game room has no cable box so signing into dish plus this and Hulu and other apps means I have more channels on my Xbox than most have on their cable

The Stuart Scott screen grab intentional?

Well now I can try it and see

Sounds kefir. Thanks MS. WPC App via Nexus 5.

All ya need with your Xbox one is a regular HDTV my Xbox One puts the smart in it.

These articles should start with "US ONLY" in the title. Given that more than half your readers are outside the US, you could help us not wasting time on articles that are completely irrelevant to anyone outside the US. Just a suggestion. Posted via the Windows Central App for Android

US exclusive again. Should be mentioned in the title.

I may have to drop my cable provider because of this. Plus, I have an Xbox one coming in the mail? I'll say, life is kind of good right now.