Xbox Q4 revenue surges 64% driven by record engagement amid pandemic
Xbox revenue jumped 64 percent in Microsoft's FY20 Q4 earnings, with standout performance from Xbox content and services.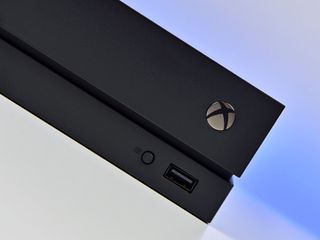 (Image credit: Daniel Rubino / Windows Central)
What you need to know
Microsoft has reported its FY20 Q4 financials, with gaming revenue up by 64 percent year-over-year ($1.3 billion).
The division benefited from increased Xbox content and services revenue, as demand pushes 65 percent growth.
Xbox hardware revenue also grew by 49 percent, with Xbox One consoles frequently sold out across the nation.
Microsoft has outlined its fourth-quarter earnings for its 2020 fiscal year, with company-wide revenue once again on the up, surpassing $38 billion. Gaming efforts were among standout successes, with current world events helping propel revenue up 64 percent year-over-year, or $1.3 billion.
COVID-19 pushed Xbox into the spotlight, as Redmond once again reports "record engagement" in an era of stay-at-home orders and social distancing. Xbox content and services grew 65 percent year-over-year ($1.2 billion), inclusive of games sales and subscriptions. Microsoft attributed that growth to increased overall platform demand, coupled to strong results from unnamed third-party properties.
Growth extends to Xbox hardware revenue, also climbing 49 percent this quarter. Xbox One X and Xbox One S bundles remain scarce nationwide, as consumers flock for at-home entertainment. It comes as Microsoft recently halted Xbox One X and Xbox One S All-Digital production, discontinuing existing models ahead of the next-generation Xbox Series X.
The results mark an impressive quarter for Microsoft's gaming division, once again strong throughout the pandemic. The closing weeks of last quarter underscored a sharp uptick in Xbox Live usage, with similar momentum reflected on Q4 earnings. The increased demand even saw Microsoft temporarily disable custom Xbox profile pictures, in order to ease strain on moderation services.
It favorably positions Microsoft to execute its next-generation vision, spearheaded by its Xbox Series X console, and Project xCloud cloud streaming technology. The current climate fosters a growing demand for interactive entertainment, with software sales and services like its Xbox Game Pass subscription fundamental to the brand moving forward.
Xbox
(opens in new tab)
Main
Windows Central Newsletter
Get the best of Windows Central in in your inbox, every day!
Matt Brown was formerly a Windows Central's Senior Editor, Xbox & PC, at Future. Following over seven years of professional consumer technology and gaming coverage, he's focused on the world of Microsoft's gaming efforts. You can follow him on Twitter @mattjbrown.
My retirement accounts thank you.

The current state of the world is a winning situation for the gaming industry. Perfect time to launch a new console. Microsoft should do something bold and launch in September instead of the traditional November. Next month, announce the Series S, give the price of both consoles and then announce a September 20th release date for both.

There is the issue of mass manufacturing, shipping and stacking close to retailers worldwide.... While you are right, it could be ideal... The current situation has affected production lines and global shipping negatively... In a normal situation I believe it would have already been hard to be ready, let alone meet demand... In the current situation it's impossible.... But they could do a limited special edition you buy online and is shipped before the retail date... But any misshap and it could be more damaging than good... For once I think MS is in a position where they might want to wait until they have something finished... They seem to have made a couple right decisions lately... Let's give them the time to polish their games literally rather than rush and fumble...

Phil suggested they wouldn't be waiting, suggested the launch will happen even if they only have one game to go with it. He also wants not to release a large set of launch titles. Their big push this year will be the All Access scheme (may have the name wrong). They want us to pay monthly for it.

Actually, now that I think about it, they were going to go bold. They originally had planned to launch Series X in August and Series S in October, so a September launch isn't that much of a stretch of the imagination... The hardware is ready. Microsoft Employees were taking them home before Corona hit, testing them out. And I saw somewhere a couple of months back that they contracted out another manufacturing plant for console production. Sony just announced that they're doubling the production of the PS5 for launch. I doubt that there will be a supply problem. The only question is what software would be available at launch.

To be honest. My Day One One is gagging to leave the living room. As I have a full house of gamers, it puts in around 12hr to 16hrs per day of being turned on. It's chugging now. I'd honestly be OK with just a few first part titles. Cyberpunk is in the mix, and I'm just excited to try out my older games, with improved frame rates and faster loading. The low lag on the controller will be epic. Hope they find a way to show that off, because it has probably received the least attention. But, it is actually a huge improvement in how games will feel. That and the SSD are gonna improve the experience way more than many of the other features. Gaming aside MS could still mess up the cost of the expandable storage. I know that MS really likes to make a bit back on peripherals.

Perfect and not perfect. The pandemic has driven people to sit in and game, but it has also massacred many incomes.

People have to use common sense on making purchases and parental locks to prevent children from making purchases without permission.

And maybe for a lot of people common sense is not to buy an expensive console just for potentially negligible visual improvements. There may be a lot of people who have other priority at the moment, people who would have probably bought a new gen console in normal time.

Then obviously this console isn't for you/them............ No one is holding a gun to anyone's head to upgrade. (Unless you want to play the new Spider-Man game only on PS5 ). This is for the people that have the money and actually want a new more powerful console😉

The thing is that I think most people who'll buy this console day one at full price are either the MS/XB fans who end up buy MS's console anyway or the hardcore console gamer. The people who are likely to be buying consoles during the pandemic are probably casuals who suddenly had a lot of free time to kill. And they wouldn't be going for the most powerful or most expensive console.
I think that's also one of the reason XB1s is still going and the discontinued the X. The S is probably selling a lot more than the X.

Or they're people who weren't negatively affected by this pandemic. I personally don't want the quarantine life to end.

Generally console/gaming and tech/gadget fans/enthusiasts are the ones that pay full price day one during any console release. Wii/Switch may be the only exceptions. A gaming console is not an essential item, it never is. Purchasing one is usually done by those with either enough disposable income to do so or those that have saved up. That being said MS is offering a low monthly payment option via Telcos in Australia, which includes Gamepass/live, in a similar fashion to mobile phones. So they've removed the wallet shock from the purchase. Even so it's still not an essential item.

I dunno? Have you met gamers, or read half the stuff that's posted here? It seems like it's more essential than water for some people.

False! They discontinued all Xbox One family devices. Yes even the S and SAD.

Congratulations! The multi billion dollar company is making record profits, good on them. Isn't it great that something good has come out of thousands of dead people? This post was brought to you by sarcasm.

Actually yes, it is good. That's how healthy economies work. Without that, even more people would die.

So I guess it's apparent that Microsoft is definitely selling the Xbox division.
Windows Central Newsletter
Thank you for signing up to Windows Central. You will receive a verification email shortly.
There was a problem. Please refresh the page and try again.