Xbox Music and Xbox Video updated on Windows 8.1, you can now drag and drop songs or albums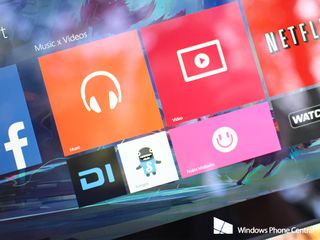 Xbox Music and Xbox Video keep getting better and better on Windows 8.1. Both apps were recently updated, but are picking up new updates today as well. They're not big updates, but they are proof of Microsoft listening to customer feedback. Let's check out what's new.
Both Xbox Music and Xbox Video picked up updates on Windows 8.1 about two weeks ago. There weren't any feature changes for Xbox Video, but Xbox Music did add new features back then. The ability to pin favorite music to your Start screen, improved Now Playing screen, improvements to labelling explicit music were just some of the improvements then.
Today Xbox Music gains the following:
Large page headers now hide as you scroll, leaving more room for the content you care about.
Drag and drop songs or albums to create and re-order playlists, build your now playing queue and beef up your collection.
Small update to Xbox Music (now at version 2.2.704), but we are liking the subtle changes. You can now drag and drop (with either your mouse or finger) music/albums into playlists, your now playing queue or your collection. It should make managing your music a bit faster without needing to do those actions by clicking or tapping.
We also like how the big headers up top will now hide as you scroll down. This helps put more content on your screen. Check the screenshot below to see it in action in the collection section of Xbox Music.
On the Xbox Video front no big (or small) features to talk about in the latest update. The app is now at version 2.2.704 and the changelog lists minor fixes and improvements. We'll just say it seems faster.
Digging the changes to Xbox Music? Sound off below!
In the meantime, head to the Windows Store to grab Xbox Music (opens in new tab) and Xbox Video (opens in new tab).
Windows Central Newsletter
Get the best of Windows Central in in your inbox, every day!
Nice update...and they keep coming

This app is garbage. It uses 100-200MB of RAM. I use Media Player Classic, and it uses a fraction of the memory than this app does. There's not even a stop button ffs.

do u thinkmedia player use lesss ram no way for your kind info go check all media player from task mgr its about 100 mb ram and this app eats me 70 mb and if i m using this idle very less mb stil i can play songs

Yeah, you know, how much RAM a program uses was pretty important on DOS and Windows 3 and such, but less so now. When's the last time you didn't have enough RAM to run something? That said, Media Player is a way way WAY better app than Xbox Music.

Does Xbox Music still insist on auto-downloading your music, so that the copy on your phone is switched from downloaded to streaming, leading to that device quota error after repeated downloads back onto the phone?

Not if you set it up properly... Posted via the WPC App for Android!

I enjoy Xbox music, however, I wish they wouldn't have removed the all genre filter from new music. That was great to see very obscure albums.

Wiah they would update WP8 apps too :/ Hopefully with 8.1....

Yeah the Windows Phone music app is terrible.

That's why god made Nokia Mix Radio! ;)

I honestly don't think it's terrible. could it be better with some other features? Sure! but to say that it is terrible is too harsh.

They will. In 8.1, the music and video hub will be no more and separate 'Xbox Music,' 'Xbox Video' and podcasting apps will be present instead. This will mean, as mentioned in the linked article, that the apps will be able to be updated more frequently. http://www.wpcentral.com/windows-phone-81-features

Any word on an official podcast app coming to windows 8 to work hand in hand with the phone app? If this happens I'll finally quit complaining about missing Zune.

Dude, they are already there. I have Xbox Music & Xbox Video apps, it's just that they still suck. There have been no updates for them since they were released. Why should we be waiting, if they already are store apps? The WP8.1 will just pre-install them with the OS as 'bloatware' and then they can be deleted. That's what the removal of music + video means.

those apps in the store are simply previews, they probably wont be updating them until WP 8.1, in otherwords, theyre just showing what they had planned and seeing the responses.

I wonder if it will handle all media on the phone or if we will still require another app (that is pretty useless)....

I wish you could drag and drop files into the mail app from the desktop.

Can we get a link to Wallpaper background shown in the image??

Thanks. Putting that Surface Pen to use.

I noticed this last night. Nice feature to have.

It appears playlist syncing has also been fixed. Looking forward to more but happy with what we are getting.

Do you mean that you can now sync playlists to a Windows Phone without duplicating your songs over and over? That would be a huge improvement, and one requested on Microsoft's customer service site for well over a year. If it does work, I wonder if a Windows Phone app for Windows 7 desktop will come along soon. If you have to have Windows 8 desktop, it'll leave a lot of people (like me) out in the cold when syncing to a Windows Phone.

Just give me the ability to share my own videos in this app and windows 8.1

All I want to do is add album art...please.

They keep doing everything but that. no idea what is taking them so long. i want to be able drag and drop album art for the artist

YES. the way that this and album creation were managed is one of my most missed features. but adding drag and drop to at least playlists is surely just a step a way from adding it elsewhere.

Meh. I was happy when it would let me stream my own music. I'm not interested in paying to stream music I already own.

All I want is to stream to a DNLA hifi. Like WMP does. Still waiting.

can't you do that now? If you go to Devices then play to then pick your player from the list.

Not unless its included in this update. Which I haven't been able to yet. All I get is XBox Music does not support that at this time

Love it, just want well curated radio stations, multiple artist stations and like/dislike buttons that work. All liked music should go into a separate collection so we can create playlists from them.

All I want is last.fm support l ;-;

Yeah. Why we still can't scrobble to last.fm without stupid plugins is laughable.

I wish they would incorporate the windows phone syncing with the app. Instead of having to use the windows phone app.

Will have to test it on Windows RT since it's the only place where I have to use this. On W8.1, Windows Media Player is still much better than this infernal "Xbox Music", for personal media organization.

Zune. Light years ahead of this POS.

So where can we give said feedback? I'd like to say a thing or two about how I cannot use the Xbox Music function where it automatically adds biographies and art, because it overwrites some albums with pixelated album art, splits albums in two and adds stupid things to titles like (Album Version)... Just generally messes up my carefully organized music collection :(

Open the Charms menu. Feedback option is listed there.

Getting better. Managing large local collections is still a complete disaster. I have soooo many duplicate albums that aren't matched or can't be matched.

Metro keeps maturing. Give it time and it will be the norm.

Playlist management is still really bad. Rating music should have been put in a long time ago

What I don't get is why they have such tiny freaking buttons for play, back, forward etc. I keep missing these icons all the time on my 10inch devices. I thought the idea with metro apps was TO MAKE IT EASIER FOR TOUCH?!

Ratings. Bring them back and I will switch from Zune. Which still works fine.

Ditto... The ability to rate & categorize music with 5 stars similar to Itunes & WMP is much better than just clicking a heart/like icon. This binary setting is,so limiting. I've built entire playlists on ratings and now its useless when migrating from iTunes to Xbox music.

I don't understand how people can like this app. Zune kills this and any other music collection app out (including itunes).

People don't really "like" this app. But it's good to have updates.

It seems strange to me that I can add television series to my video collection in WP8 but when I search for series on the windows 8 app none show up...what is the deal with that? I would start using xbox video if it allows more streaming content and cheaper prices for movies (17 euros for a movie is just waaay to expensive)

"You got me good, you f*(&$er" ... Thought this was the WP apps for a second. :(

It clearly says Windows 8.1. They cover more than phone-news, get used to it.

I think a lot of us are more than used to it... we're fed up with it. :p

As trivial as it may sound, drag and drop was a much needed improvement! Arrows for re-ordering music was just dumb, not to mention to need to select music and then hit the (+) button, then select a playlist to add music to it.

Still absolute shite I have 20,000 songs on my NAS and music app doesn't recognize 10% of it. Useless

Yeah, I've reverted to syncing via iTunes. I know Xbox Music app won't recognize it to match up the album art and artist background but at least it will be organized. I hope the update does something about it.

Is your little volume indicator and your mini player in the upper left of the display that normally appears when you use your hardware/keyboard volume buttons gone, too? I tried a lot of things to get it back but to be honest i dont know what happened before it disappeared. Posted via the WPC App for Android!

I am still impressed about how this app lacks a 'recent played' playlist.

I've just started switching from Zune to Xbox Music and I find that It's not bad but I wish they would give me the ability to order songs in an album by Most played or give some kind of indication on each song like iTunes. Plus i wish it would sync music to my Zune HD. Also the website needs the option to view music by Genre.

Gapless support yet!!?! Who gives a f about dragging songs, i just want the bug*ers to actually play as they should. Give me GAPLESS SUPPORT MS, NOW.
Windows Central Newsletter
Thank you for signing up to Windows Central. You will receive a verification email shortly.
There was a problem. Please refresh the page and try again.