Xbox One and Windows 10 PCs will soon transcribe your in-game voice chats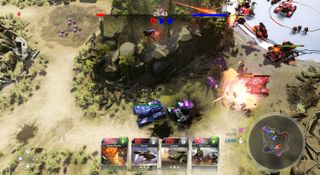 Microsoft is soon rolling out (opens in new tab) a new feature to Xbox One and Windows 10 PCs, introducing the ability to automatically transcribe in-game voice chat in real-time. This will also work in the reverse direction, by verbally narrating in-game text chat to other players.
'Game Chat Transcription' will offer both speech-to-text and text-to-speech functionality, bridging the gap between the two forms of communication. Hoping to widen accessibility in multiplayer, the feature aims to provide an easier way for players to chat during online matches. At first, this will be available exclusively in Halo Wars 2, with plans to integrate the feature into more titles at a later date.
Although Game Chat Transcription appears to be absent at this point in time, we can expect the feature to roll out relatively soon. Being baked into the operating system itself, it will be interesting to see if functionality expands to third-party titles later down the line.
For now, here's how to enable the Game Chat Transcription on Xbox One and Windows 10 once it goes live.
Go to Settings > All settings > Ease of Access > Game Chat Transcription.
To transcribe other players' voices into text, select Speech-to-text.
To have your chat text read aloud to other players, select Text-to-speech.
To choose the voice that other players will hear when your chat text is read aloud, select one of the available voices in the Text-to-speech voice menu.
While Game Chat Transcription might not be for everyone, it's an interesting addition to see on a cross-platform title like Halo Wars 2. Especially on PC where both forms of communication are common, this will hopefully bridge the gap between subsets of the game's player base.
Windows Central Newsletter
Get the best of Windows Central in your inbox, every day!
Matt Brown was formerly a Windows Central's Senior Editor, Xbox & PC, at Future. Following over seven years of professional consumer technology and gaming coverage, he's focused on the world of Microsoft's gaming efforts. You can follow him on Twitter @mattjbrown.
Does that include the cuss words also? That will be every fourth word in that case.

Every other word for me!!

Sounds like a great extension of ways to permanently keep and leverage people's information in a way that is sold as convenience. Transcribe, save, put up a filter to find unfavorable language and punish them.

Don't use it if you don't want to, but remember... This is not Google.

It's a company, they aren't doing this out of the goodness of their own hearts, they are getting something out of it.

They do. If this news gets out to the deaf community, they get another customer base. One that can now use their consoles without the disadvantage of being unable to choose whether or not to party chat.

I won't. The point is that people should be aware of how this can be used. But, I said something negative about MS, so the mindless drones threw negative votes while avoiding any risk of defending things intelligently. Seriously, the narrow-minded nature of this site's voters and commenters has slowly devolved to as bad as the worst Apple drones on the planet.

this sounds intresting. maybe a lil frier and i could play a game and transcrible something :D

I couldn't get my game chat working on Sea of Thieves last night and came across this feature on XB1 while trying to configure sound options, might be useful for some folks.

Sounds like a good future coming. Can we auto-mute the 12 year olds, or the people coughing into their mics now?

There was an Xbox app update last night for win10mobile and these settings were in that app. They looked new to me but not positive when they appeared. Not sure how it applies on mobile but maybe they are in the app on pc now too. The settings are:
Speech to text on
Text to speech on
Text to speech voice (which allows you to choose a default voice like mark or zira)

This is a great business move by Microsoft and Xbox. It is leveraging the cloud and translate, as well as skype, to open up the Xbox Live brand to a new consumer base (the deaf community). If this venture pays off, Microsoft will be gaining revenue from more sets of consumers.

Nothing like a print out of grunts and f-bombs to show off to your friends. I stopped using a headset in multiplayer long ago.

Ah... So now people who still have patience for multiplayer games will be able to have a written down list of things a 12 year old will do to their moms...how nice lol

I don't really see an upside for the general population.
This could end up being another way to mischaracterize people based on their in game trash talk.

ohh yeaa have a freaking computer voice screaming in you ears in an chat which is full of spam!