Xbox One backwards compatibility feature update begins rolling out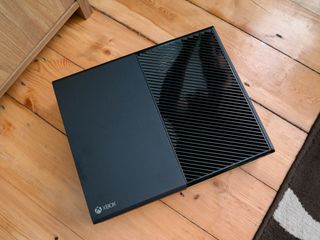 Earlier this morning, Microsoft pulled the trigger on the New Xbox One Experience update. Now the company has started rolling out the second big update for the Xbox One, which will allow owners of the console to play over 100 older Xbox 360 games.
Just a reminder: Here is the initial list of Xbox 360 games that can be played on the Xbox One. People who own these games on disc can put them into the Xbox One and it will begin downloading to the console's hard drive. Gamers who have already bought digital versions of those games can refresh their Game Collection list and see those titles in their "Ready to install" queue.
A Kingdom for Keflings
A World of Keflings
Alien Hominid HD
Assassin's Creed II
Asteroids & Deluxe
Banjo Kazooie: Nuts & Bolts
Banjo-Kazooie
Banjo-Tooie
BattleBlock Theater
Bejeweled 2
Bellator: MMA Onslaught
Beyond Good & Evil HD
Blood of the Werewolf
BloodRayne: Betrayal
Borderlands
Call of Juarez Gunslinger
Castle Crashers
CastleStorm
Centipede & Millipede
Condemned: Criminal Origins
Crazy Taxi
Deadliest Warrior: Legends
Defense Grid: The Awakening
DiRT 3
DiRT Showdown
Discs of Tron
Doom
Doom II
Dungeon Siege III
Earthworm Jim HD
Fable II
Fallout 3
Feeding Frenzy
Feeding Frenzy 2: Shipwreck Showdown
Gears of War
Gears of War 2
Gears of War 3
Gears of War: Judgment
Golden Axe
Halo: Spartan Assault
Hardwood Backgammon
Hardwood Hearts
Hardwood Spades
Heavy Weapon
Hexic HD
Ikaruga
Jetpac Refuelled
Joy Ride Turbo
Just Cause 2
Kameo: Elements of Power
LEGO Pirates of the Caribbean: The Video Game
LEGO Star Wars: The Complete Saga
Lode Runner
LUMINES LIVE!
Mass Effect
Metal Slug 3
Metal Slug XX
Might & Magic Clash of Heroes
Mirror's Edge
Missile Command
Monday Night Combat
Monkey Island: Special Edition
Monkey Island 2: Special Edition
Ms. Splosion Man
Mutant Blobs Attack!!!
N+
NBA JAM: On Fire Edition
NiGHTS into dreams…
Operation Flashpoint: Dragon Rising
Pac-Man: Championship Edition
Pac-Man: Championship Edition DX+
Perfect Dark
Perfect Dark Zero
Phantom Breaker:Battle Grounds
Pinball FX
Plants vs. Zombies
Prince of Persia
Putty Squad
Rayman 3 HD
R-Type Dimensions
Sacred Citadel
Sega Vintage Collection: Alex Kidd & Co.
Sega Vintage Collection: Golden Axe
Sega Vintage Collection: Monster World
Sega Vintage Collection: Streets of Rage
Shadow Complex
Sonic CD
Sonic The Hedgehog
Sonic The Hedgehog 2
Sonic The Hedgehog 3
Super Meat Boy
Supreme Commander 2
Tom Clancy's Rainbow Six Vegas
Tom Clancy's Rainbow Six Vegas 2
South Park: The Stick of Truth
Torchlight
Toy Soldiers
Toy Soldiers: Cold War
Tron: Evolution
Ugly Americans: Apocalypsegeddon
Viva Piñata
Viva Piñata: Trouble In Paradise
Wolfenstein 3D
Zuma
Microsoft plans to add to that list on a regular basis, with games like Halo Reach, Halo Wars, Call of Duty: Black Ops 1, Bioshock, Bioshock 2, Bioshock Infinite and Skate 3 already confirmed for future updates.
Source: Larry Hryb (Twitter)
Windows Central Newsletter
Get the best of Windows Central in in your inbox, every day!
talking about the guy with the beard?

Yes!, ama check it out right now Posted via the Windows Central App for Android

Tekken is a Playstation exclusive

Really? Damn it!! Oh well, MKX will have to do then...not exactly a hardship :-)

There is always Killer Instinct as well

Tekken 6 did come out on 360. Here's hoping it, along with the Street Fighter can help round out the fighting genre... Eventually.

Now your talking guys. Hadn't even considered Street Fighter, funkyG. That's a good shout.

Nice work MS. But ya still screwed me over with patch Tuesday breaking Outlook and then no win10mob build. Luckily I'm forgiving

Does Fallout 3 include the GOTY edition or only the base game?

I don't know, but I am going to test when I get home after work... given the patch applied already. I'll comment back once I have given it a go.

They have yet to push out dlc for any game

Put rainbow six disc in and it's telling me I need an 8.8gig update ???

Disc is just to verify ownership of the game. 8.8GB update is for download of the actual x86 version of the game.

Xbox One is running 360 OS. The download isn't running x86 games. This isn't like the emulation of xbox on the 360 which was per game. Lot of the delay is IP licenses from game devs to run on the Xbox One. This is bit of special ninja programming from MS.

Alan Wake would be cool. Yay to shadow complex

BEYOND GOOD & EVIL IS THE BEST.

How do I look at purchase history on my Xbox one? For 360 and one titles? Will we get a 360 store on the one?

No you have to buy online from Xbox.com or from an Xbox 360

Titles you already own digitally will show up in your ready to install section to the far right of your games list. To buy new games you need to do it on a 360 or the website. Although I would expect they will release a BC section in the store sometime. Only makes sense.

Except when I hide games from that list... Then what? Though in the nxe it seems like you can't hide/shorten the ready to install list

I thought the option was still there. I would assume if you hide it there you need to go to the store page to get it back? Not sure, haven't tried it.

Crazy Taxi for the win!!!

If only they licensed the same soundtrack as the dc/arcade version(as nice as the gc version is controls didn't translate) & of course the known landmarks pfk, pizza hut, levis, etc

No Fable 3... It doesn't make sense... Maybe they are working on a definitive edition of Fable 3?

Bioshock 2 is NOT confirmed for backwards compatibility, only Bioshock 1 and Infinite. you might wanna take that out

Please can anyone give me a heads up on this update size? Thanks

1.154 GB according to Gamespot.

Yeah, coz thats REALLY what everyone wants.

Perfect dark zero installing, prince of Persia a no go. Thought id try the forgotten sands, nope. Is there any other PPO? I no longer have any other games on that list. Still hoping the add skyrim, tough I hear they ported fully to xb1.

BOO!!!! we only got our update this mornig ( 13th In Australia ) a whole day behind

Just buy the Halo Master Chief Collection 2nd hand and you get 1-4 for like $25

Lol, I wonder how Phantom Breaker made the list. Either way, I'm totally gonna play it on Xbox One!

street fighter IV pleaseeeeeee
Windows Central Newsletter
Thank you for signing up to Windows Central. You will receive a verification email shortly.
There was a problem. Please refresh the page and try again.