The Xbox One controller is getting a dedicated 3.5mm audio jack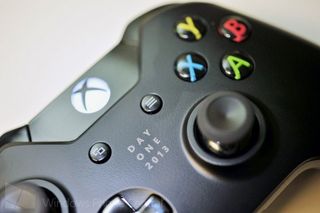 It looks like Microsoft is about to make a welcome change to the Xbox One controller, with the updated version — which includes all controllers made after June 2015 — coming with a dedicated 3.5mm audio jack. The port is already listed on the Xbox support site (opens in new tab):
While Sony's DualShock controller for the PlayStation 4 allows users to connect their audio gear through a 3.5mm jack, Xbox One owners had to resort to buying the Stereo Headset Adapter to hook up their headsets, which incurs an additional expense of $24.99. By including a dedicated 3.5mm audio jack, Microsoft is fixing a major pain point with the controller.
With E3 just around the corner, it is likely Microsoft will make the announcement at the video game conference next month.
Source: Xbox Support (opens in new tab); Via: NeoGAF
This should have done ages ago.

All wrongs will be righted this year it seems.

I agree but I personally prefer extension headphone jack due to its additional controls - fast access to mute button (most importantly) and volume controls (less important but nice) is something I'll take over a simple jack. It's still a good addition - extension should extend the basic feature.

Same, ill even go as far to say I prefer the system they use now because I have the turtle beach version of the MIC adapter which has its own 3.5MM port and allows for voice monitoring so I can hear myself while wearing a 5.1 Surround Sound headset! Its amazing!

+925 Is it me, or does it seem like a lot of the "progress" that Microsoft keeps making in regards to the Xbox One, is taking a step backwards to cater to the LCD (least common demoninator)? Oh well, I guess the 3.5mm jack is an optional use. But I am not giving up my extended (read: next gen) audio controls of the headset adapter any time soon, if ever. The mute alone is worth it's weight in gold-press latinum.

Same here. I like that the steareo hedset adapter has mute and volume controls right there on the bottom of the controller. No fumbling with the on-wire controls mid-gaming....

and it only costs $30 more how about they should have had the jack at the start and have that add on for people like you who want it then can go buy it but to force that onto us that dont want it for a crazy price of $36 after tax in my country just to use head set is a joke . no excuse for this but anti consumer but than again look what they tried to do at the start and had to change alot of stuff and now there paying for it in sales when compared to competition

But with 3.5 jack how do we get our control panel for mute, volume up and down? Cuz meaning I can just connect my Lumia's headphone to my controller but no control of mute....am I missing something??
Anyways I love the change but will not be happy if they changing the console. Hate all these ideas of XboxOne slim.

Agree...hell, the 360 had a jack in place...

It wasn't a 3.5mm jack though, and it was only for chat.

If we will still be able to add an extension like they have now, with the new controllers then that's great, since some prefer the volume and mute controls. Options is what we all like.

Its just like the 360 s wifi for those that have dualband routers/APs that is a downgrade(though the qa on these adapters suck from what I read )

Early adapters always get burnt

The whole adapter thing got in my head, I meant "early adopters"

Would be good if they release a new, smaller power supplier along with a 1 TB white Xbox One.

Would have loved Bluetooth headset support..... And now if your original controller has a problem, the current headsets won't work

The chip they used supports it, but they have to activate it to use it. Currently the X1 doesn't have Bluetooth support. I'd rather have that too then this mic-jack. It allows for more headset manufacturers to create products for it. As i'm sure the licencing of the closed (wifi-based) connection is pretty expensive.

The jack is not in the center, it's to the left of the expantion port, so everything is still as it is, just with an extra jack.

I had my turtle beach Xbox 360 Bluetooth dongle combined with the xbox one headset controls. Now I have full Bluetooth support on my Xbox, with any Bluetooth headset :) pm me for details.

I did the same send in both paid 25 usd and never have cables going everywhere its awesome

And I'll have throw away the two I have? In order to get those?

Yes, of course. Do you really have to ask that? Send them to me, I'll recycle them properly. Posted via the Windows Central App for Android

Microsoft could offer a trade in offer for current controller so gamer can buy new controller with a cheaper price by trade in the old ones, believe most parts are reusable, could be a win-win solution for both parties though... My 2 cent...

An audio jack is not a big deal. But if it is to you sell the current ones on eBay and buy the new ones.

Looks to me that the old ones will still work since the new one will still have the port on the bottom that it has now. It just adds another option of how you connect it. Nowhere does it say that the old ones won't work.

No, those will continue to work.

In other words, it pays off to not be one of the first to buy new consoles. Posted via the Windows Central App for Android

Except if you buy a PS4. Da-dum pssh.

So where are all those 1st party games this year? Da-dum pssh

I guess. If you wait a few years then you'll get the refreshed version of the hardware that is cheaper and runs cooler, and controllers with headphone jacks, and a $5 bargain bin full of games that you didn't spend the last several years enjoying with your friends who don't want to play 3 year old games with you anymore. Depends what's important to you.

Well when you can't afford to get it immediately you take what you can get. I know I wont have an Xbox one for a few years and I have no say on the matter :P

Pretty sure if you mow a few lawns you can have it by august.

Wait another two years to buy and it will be perfect.

Well, unless you want to enjoy your system for one and a hal years. I mean, I don't understand the usual whining when something improved is released. I'm enjoying my system since day one, that is worth something. I could buy a 360 now, it would be cheaper, but guess what I enjoyed it for ten years now.

Really? I bought my X1 on lunch. No complaints. It paid off too.

No cause I like the adapter cause I can mute and turn down volume dont know how it will work now but ill keep my old remotes till they fall apart

So party will sound the same as it did on the 360? No thanks.

Why would the quality change?

Hey ppl, do you thing this controller is worth it? I'm thinking to buy one for my PC. I have an xbox360 for many years

I like the one controller more than the 360, I feel I can play lo ger and my hands dont hurt

It's worth it. Best controller ever made. Εγγυημένα.. ;)

Hopefully they announce a slimmer/cheaper Xbox One console to go with it...

Well I want the sound quality to be high, not the shitty audio quality we get from 360, or the current iteration on PS4 controller. Hopefully they retain that.

Sounds cool still need a plug in keyboard like we had on the 360

that sticky/buggy thumbstick might now have a more pressing reason for me to send it in under warranty!

What about a microphone to allow voice commands without kinect? They seem to be quite useful.

Well they did say headset, not headphones. Sorta implies a mic and speakers.

I read "3.5-mm port. Used to connect compatible 3.5-mm audio devices". Where did you see the word headset?

3.5 mm headphone jacks (like the ones on cell phones) can be made to contain a mic input. That's how the adapter works now.

So long as the old stereo adapters will still work in the controller I'm happy. I've got a set of Astro A40s that I use with the Stereo Adapter and it's the perfect setup.

Or maybe there will new version Xbox revealed on E3, either just slimmed down Xbox One, or Xbox 10?

I had the same thought's...xbox 10 might be on the way...

You mean Xbox Ten! No seriously, lets release a whole new console after not even two years. Makes perfect sense. A slim version? Maybe next year. This E3 they are going to announce that 1TB is now the standard internal storage. Windows 10 will come to Xbox One in the form of the usual fall update.

Why not? Xbox Ten with full backward compatibility with Xbox One, both games and controllers, better HW for 4K gaming. That will be a nice surprise!

Because Xbox isn't making a profit yet and you don't own a 4k TV remember? Also games, no games in 4k on Xbox.

Wake the hell up, dude, you're speaking nonsense. There will not be a new console for many years to come.

This generation is not going to be nearly as long as the 360s generation was.

That doesn't mean we are getting a new console in 2 years either. The consumers will not fall for this. I can see an upgraded Xbox One but not an entirely new console.

4k gaming at any decent quality would cost at least as much as the PS3 did at launch... $700. 4k console gaming is not really feasible nor necessary at the distance we sit from the tv.

Rumour is that Microsoft could be getting out of the console business altogether because they are not profitable enough and hardcore gamers are moving to use PC's instead.

I have had this discussion before with others. I don't see why consoles couldn't be like the iPhone. Backwards compatible with slight new revesions released every few years with slighly more powerful hardware. The games would detect which console you have and set its graphics as appropriate. Eventually the newest games will axe support for older gen consoles but others will support them all. People are not confused by this with the iPhone so I don't see why it would be such an issue with consoles. Only time will tell.

Exactly, this could be a game changer, new console every year or two, just like new iPhone or Lumia flagship is released every year or two, with backward game compatibility and new features. Also even the Xbox One with Kinect is cheaper than the cheapest iPhone 6 now.

It would be cheaper to buy the $25 adapter that gives you mute and volume control buttons than it would to buy another $50-60 controller...

This is actually, in general, a bad idea. It will mean people start using their crappy headsets with omnidirectional microphones. If you know how ear/headache inducing this is on PS4, you'll know you don't want to hear what is happening around everyone in your Party. One of the best advantages the xbone has over the ps4 is that the party chat quality is much better when many people are in the party, you can hear voices, not background noise. Why they'd want to start from this, is beyond me. It's a stupid follow-the-leader move that's bound to disappoint many over the coming months.

True, but if MS has showed us anything this generation they are doing what their consumers want and people are demanding this feature... Just like they gimped the console when they scrambled to redesign the console after Sony's e3 press conference.

Curious, how is volume and mute controlled without the adapter?

You'll have to buy another adapter for that. Lol

Glad I've never bought a second controller now.

I imagine this is a concession for PC owners and it gives me much more hope for the Xbox one wireless adapter for the XO controller. With MS releasing that and Win10 having they ability to use the Xbox app for party chat, MS probably want to give people as many reasons as possible to use both.

how does a keyboard plug in to the controller ala xbox 360 or is this not a thing with xbox one?

There is not official chatpad, the only ones that exist connect via Bluetooth adapter to the Xbox and plug in like the 360 one did.

I really wish they had one. I used mine on my 360 all the time and it would be great to have it on the X1 as well. My guess is they figured everybody would just use the Kinect for things like chatting but now that is not the case I am hoping they design a chatpad. I would buy it day one.

I just bought an Xbox controller..... Just imagine how I feel

I want this again... http://dri1.img.digitalrivercontent.net/Storefront/Company/msapac/images...

That thing was EVIL can't charge and use at the same time and always died in the middle of some shit!

Nice that Microsoft is making some changes, does it seem like the faceplate of the controller will be the same as the pre-June 2015 models? I'd be interested in an update if I could keep my Day One 2013 branded face. I know it's not much, but it's my controller. The only instant change would be a return of the Duke controller. That's the dream.

When will they make the Xbox one what they promised before the Sony "this is how you share your games on ps4" backlash?

What about volume and mute buttons that were on the adapter?

"Stereo Headset Adapter to hook up their headsets, which incurs an additional expense of $24.99" Odd, mine had a headset in the box.

Meaning if you want to buy another headset other than the OEM one that it came with.

Hoping this is not the only update we see in Xbox one. What I really want is a Xbox one console redesign and some kind of Console hardware refresh plus lower the price a bit.

So...we gain the port but lose the chat buttons (mute, game/chat volume). Not impressed. That was the only selling point for the adaptor if you were going to use a headset without those controls built inline. Sorry but without those controls built in I wont be buying a new controller. My big complaint on ps4 is the difficulty of adjusting volumes, etc. And this will be the same way. Menu settings are not a suitable or efficient replacement for the built in controls.

Absolutley this. re has to be the ability to control those functions or it is worthless. I dont get it...

Better sell of all those extra adapters that I've accumulated so far

how about adding USB Headset support for Xbox One .. i'm dying to use my Logitech's G930's with their amazing 7.1 emulation

It seems that this jack position will be blocked by any chatpad you might add.... Unless anyone knows of any solution???
Windows Central Newsletter
Thank you for signing up to Windows Central. You will receive a verification email shortly.
There was a problem. Please refresh the page and try again.