Xbox One February 2020 Update: Everything you need to know
Catch everything new with the Xbox February Update.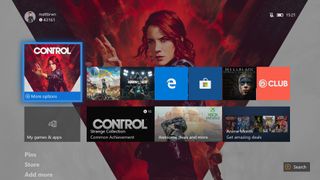 (Image credit: Windows Central)
Microsoft has launched its February Update for Xbox One, introducing the latest redesign of the Home menu, coupled with various system changes. The latest major update, dubbed version 2002 (referencing its February 2020 release), focuses on quality-of-life improvements and streamlining functionality as the next generation looms. And following a small round of testing, Microsoft has started its rollout to all Xbox One users.
With the February Update finally here, we've rounded up what to expect on Xbox One.
How to download the Xbox February Update
The Xbox February Update (OS version: 10.0.18363.9135) is now available to all Xbox One users. For consoles set to download updates automatically, the latest rollout will occur over the coming days. However, new updates can also be forced manually, with a few simple steps. To ensure your Xbox One is running the latest available update today, check our step-by-step guide.
How to update your Xbox One manually now
Revamping the Xbox One dashboard (again)
The focus of the Xbox February Update lies with an all-new Home experience, reworking the centerpiece of the Xbox dashboard through a sleek vertical interface. It's yet another redesign bound to confuse some, but brings welcome improvements to accessing essential features.
Microsoft has ditched the tabbed horizontal "twists" utilized across recent Home revisions, previously host to dedicated sections for Mixer, Xbox Game Pass, and other Xbox services. The revised design now puts focus on modular content blocks, providing users with added customizability while improving speed.
Microsoft debuted content blocks in 2017, aiming to provide information-rich panels dedicated to games, features, and other components of the Xbox system. The February Update evolves this concept into the heart of the OS, filling the void twists leave behind. While dedicated Xbox Game Pass, Mixer, Xbox Community, and Microsoft Store rows feature out of the box, their customizable nature makes it easy to delete unwanted blocks too.
The team has trialed several Home "experiments" over the past six months, gathering feedback from Xbox Insiders, and eventually landing on its latest interface. The removal of twists cuts down background processes, helping free system resources, and improving ease of use. The result is an information-rich Home menu, with increased speed and responsiveness.
My Games & Apps gets a simple makeover
The Xbox One has received a streamlined My Games & Apps interface this February to accompany its Home shakeup. While locking down the familiar tiled grid of applications, Microsoft has simplified library menus, primarily improving navigational performance throughout your collection. While the former iteration featured eight items on a vertical menu, the February Update cuts this to five.
Games, Apps, and Groups subsections return while condensing remaining licenses and subscriptions under the "Full library" tab. The all-inclusive menu spans Xbox Game Pass, Games with Gold, and EA Access, alongside other owned games. New labels also better categorize content, signaling titles yet to be installed, trial periods, or demos.
The update wraps the menu with deeper integration into the Settings app, housed under the "Manage" tab. It serves up quick shortcuts to existing storage features like drive management and removal suggestions, with tools to change download and subscription preferences. The Xbox One download and update queues have shifted under this heading, formerly reserved for dedicated tabs.
Xbox Messages picks up images and GIFs
Microsoft has been steadily improving the functionality across its Xbox Live social features as the next generation looms, piloted by the new Xbox Game Bar for Windows 10. Image support is among the latest features pushed to Xbox Live messaging, granting the ability to send a variety of image formats, including animated GIFs. While Windows 10 PCs and mobile already boast integration, the February Update brings the console in-line with companion platforms.
While support ensures compatibility with PC and mobile, Xbox One users are unable to send images. Image sending is currently limited to the Xbox Game Bar and new Xbox app for Windows 10, or the Xbox app for iOS and Android.
Notification positioning
The February Update introduces the capability to fine-tune notification delivery, now offering the option of six on-screen delivery locations. Incoming notifications, formerly tied to the lower-center screen, support additional positions to avoid distractions or blocking on-screen content.
Xbox Game Pass bundle improvements
Xbox Game Pass packages that bundle multiple games see minor refinements, allowing for the installation of individual apps. Microsoft provides the example of Shenmue I & II, that while formally bundled under one game, can be installed individually after the February Update.
Mixer updated with viewing improvements
Microsoft has updated Mixer for Xbox One alongside the February Update, adding further viewing options. The update allows players to bind chat to a pop-out window beside an ongoing stream, manually select video resolution, and browse streamer information.
Xbox
(opens in new tab)
Main
Matt Brown is Windows Central's Senior Editor, Xbox & PC, at Future. Following over seven years of professional consumer technology and gaming coverage, he's focused on the world of Microsoft's gaming efforts. You can follow him on Twitter @mattjbrown.
The Home changes mean nothing to me (I don't use the home screen except to access my most recent apps/games, or to load my games and apps, everything else I do from the guide button), so I don't really care either way about them. However I'm of two minds about My Games and Apps. I like that it's much speedier now, but I dislike the number of steps required to get anywhere, which kind of defeats the purpose of the extra speed (it is basically masking the wait time in extra steps instead).

Isn't it contradicting to say you don't care about OS updates cus you don't spend any time in the OS, then complain that some things take extra steps? The whole point of the games and apps update was to get you into your games faster.

I didn't say I don't spend any time in the OS I said I don't spend any time on the home screen. I kinda include My Games and Apps as a part of the OS (which I could very well be misinterpreting and should treat it as its own app, but it's just how I view it). And it's a moot point anyway as I've noticed that it still takes quite a while for things like the Game Pass list to populate, or EA Access, or whatever. So there is extra clicks, and still a wait time. I'm sure there are plenty of things that actually have been improved and that's great for people who use them, but my experience hasn't really changed much other than extra button presses.

Dashboard vertical, simplification, okay
Many will not see any main interest
However, it's not complicated to give people that they want : vertical homepage with the ability to open horizontal pages for their distractions
I'm thinking of a community center, Nxe (is back), Mixer (with personnalisation theme), Rewards, Performances in games, Animes ...
With many possibilities of choices Games ans Apps (physics, dematerialised, success, ranking ...)
And games, games, games,
Sony make believe

I wish these updates would provide stellar value. Wish list still hasn't changed much. 1. Still no DVR?
2. How about guide improvements? It is correctly configured but every month we deal with a several day outage of "no information" for each channel.
3. I'd like screen mirroring to my phone over wifi. So I can take the TV (with sound +video) with me to poop to prevent the wife from pausing the program.
4. Better voice recognition.
5. A video app that consolidates Netflix, Hulu, Amazon, HBO, Disney, Movies Anywhere, Guide, Store movies or series into a single place and plays them depending on your active subscriptions. One day, just not today.

You have to think that the improvements they are making are for things that will be carried into the new generation of consoles so things like 2. and 4. probably wont happen as Kinect and TV guide are gonna be dropped next gen. as to 5. this will never happen on any platform let alone Xbox, this is mainly due to half of the platforms stated will not allow an API for login and remote access as they want to force you to use their app so as nice as it would be on any platform its never gonna happen.

DVR comes with legal issues, it was once planned but later killed off. Do you mean OneGuide or the nexus Guide? I think OneGuide is being retired, since the XSX won't have any TV features.

Why are they still keeping the game and app tiles in the Home Screen? What a waste of space.
They should get rid of it and put some more ads there. There aren't enough ads front and centre in the XBads UI.

Of course, because the two ads on the home screen are SO terrible. It's so much better on PS4 where whenever you go to load a game the very first thing you see is the interface telling you about DLC you should buy. Basically the PS4 interface has significantly more ads than Xbox One.

So your way of defending Microsoft's choice for having ads on the home screen is by showing that the other console have more ads ? Great job!

Thanks for the positive words of encouragement!

What adds do you have? I have awesome deals and more which I use to access my GwG every 2 weeks to DL my "free games" and usually a news about anew released game... I hardly call that invasive adds it's even usefull to me... That being said I have nothing against ads... I don't know why people always complain about them... I can understand 8n videos movies etc because it actually cut your experience... But in the mail on the side etc I really don't care if I don't want to read them I don't it's not like I need the space... The only valid argument to me is the ecological waste... Never forget that most people get paid because what your company produces at some point is advertised to potential customers...

Yeah, this. One of the "ads" is literally for me to access my free games every fortnight (and it also includes the current Gold discounts when I click into it which is a bonus), and the other one is something, i don't really pay attention to it, so I couldn't tell you what it actually advertises.

Exactly that... Me it's ori a'd the will 9f the wisp the second one... Which is good It reminds me I have it in my game pass backlog... I find it actually really not invasive and rather well targeted personally... I wonder if they are customized to each user though

Perhaps the beta I am in is not as speedy, but honestly there isn't much if any speed increase. And as always the irritating ads. I do like that it is a bit simpler. The rest is just meh. Microsoft needs to approach UI design like good writing. You write a lot then edit and delete to get what is essential. They have done very little deletion in my mind. Maybe it's just living with it for so long

Got a pretty bad connection behind my VPN at the moment and it's clearly way faster on my side... So you might be right

Hopefully there is a bright future where they finally let you just pin whatever tiles you want to the main home screen
Windows Central Newsletter
Thank you for signing up to Windows Central. You will receive a verification email shortly.
There was a problem. Please refresh the page and try again.