How to update your Xbox One manually
When Xbox updates arrive, they typically roll out in waves.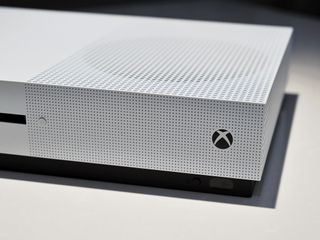 If your Xbox One console is set to download updates automatically, it should happen within the following days after the initial release. However, if you want to force new updates manually, here's how to do it.
Downloading the latest Xbox One updates today is simple, with just a few steps to trigger a manual installation.
Tap the Xbox button on your controller.
Press RB three times.
Select Settings.
Select the System tab.
Select Updates & downloads. Your Xbox One will inform you if an update is available.
Microsoft is aggressive with its update cycle for Xbox One, providing new features on a near-monthly basis. To keep up to date with the latest information, make sure to bookmark our Xbox Insider Program section, where we'll usually get a first look at the latest features.
Jez Corden is a Senior Editor for Windows Central, focusing primarily on all things Xbox and gaming. Jez is known for breaking exclusive news and analysis as relates to the Microsoft ecosystem while being powered by caffeine. Follow on Twitter @JezCorden and listen to his Xbox Two podcast, all about, you guessed it, Xbox!
Doesn't the console effectively force you to update if you want to stay connected to Xbox Live anyway?

Not necessarily in the sense that if the update is available your Xbox will not necessarily be aware that it is there immediately or will check when it comes out. Once the Xbox is aware that there is an update then yes, you are correct but it doesn't happen automatically as soon as the update goes live.

I can actually vouch for this myself now; the 'update now' box was there even though the Xbox didn't prompt me to update beforehand. I guess today is the first time I've actually gone out of my way to update the console, as opposed to having the console just throw a big download in my face just as I feel like gaming, haha.

I went to it it told me the update was there I went to save the game I was playing came back and now its gone

I just restarted my system and now its updating

Aw mine is still greyed out and says there's no update available :-(

Mine wasn't greyed out, but it wouldn't download, now it is greyed out. Weird

Same here. This doesn't force an update, it only tells you if one is available or not.

Any chance to use Cortana without kinect? Posted via the Windows Central App for Android

I think with a headset. Don't quote me on that though.

Mine is already in this build but the last update was on 27th... Is it the same or I will be getting an update anyway?

Well this is a big fat lie! It didn't force the update at all by going to the settings.

Hold up.....it worked after 5/6 attempt and a couple of restarts lol

If you don't use the settings menu to update, it'd auto update in two or three days, they're not pushing it out automatically to everyone all at once.

The settings menu isn't saying the update is available for everyone so the article is misleading by saying everyone can manually update that way.

Hmm it worked for all the consoles I tried it on. The update is rolling out region by region. Are you in the Xbox Preview Program?

No I'm not. Looks like it can take a few tries before it finally updates. Took me about 10 tries.

Okay, well sorry about the delay on that!

No worries. Not your fault.

Now updating in UK, had to go into update settings 4 times before finding update available

Same situation, I don't know there's still bugs

Nothing here, Mountain Time Zone, US.

Keep trying. Eventually it will kick in. Took me about 5 or 6 restarts.

Downloading right now here on the Gold Coast, Australia

I see update now button bit when i click it says no need to update

Same here guess we gotta wait.

Working now. I insist clicking the button and now downloading

Just keep going in and out of update and it will pop up

Worked after a couple of tries... Just go in and out, and when it gives you the update option its the same, try several times

You have to abuse it, just keep going in and out and it will finally cave and allow u to update. At first it kept saying i didn't need an update but after 5 or 6 times it finally asked to start downloading. Happy gaming, all! Posted via the Windows Central App for Android

Thanks that actually worked! Posted via the Windows Central App for Android

i turnd on my xbox today and it had the update installed , i havent used it in 3 days, dose the xbox do updates when its off ?

Yes, there is a setting where the Xbox will auto install updates when it is not being used (usually the middle of the night). You can turn it off if you want.

Took me three goes then the update appeared

This is such ******* bullshit I have both keep my Xbox One up-to-date and games and apps disabled and yet ******* Microsoft still Force system updates during gaming or watching videos why is it so ******* hard for Microsoft to download system updates in the background and let me choose to update it whenever I want to? it should not be forced at all I can see why PS4 is dominating because they have better system update management I can play online games all I want and the PS4 will let me know I have a new system update and it will install in the background and let me know it's ready to download at least Microsoft did the right thing by fixing it & not forcing system updates on Windows 10 now they need to do the same on Xbox one because it's really infuriating when you are playing online games and then all of a sudden bam they slap you a system update and you only have three options you have to update now or remain offline and that is wrong if they continue this type of aggressive behavior Xbox one is going to be left behind in third place PS4 and Nintendo switch is already dominating above Xbox One which is really sad and pathetic 😡👎
Windows Central Newsletter
Get the best of Windows Central in in your inbox, every day!
Thank you for signing up to Windows Central. You will receive a verification email shortly.
There was a problem. Please refresh the page and try again.