Xbox One launches in Chile and Colombia with 27 more markets by end of September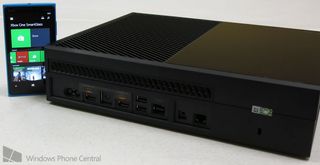 After launching in just 13 markets back in November 2013, Microsoft has begun expanding the reach of its Xbox One console to many more countries starting today with its release in Chile and Columbia.
By the end of September, the Xbox One should be on sale in 27 more countries. On September 4, the console will finally go on sale in Japan, a huge gaming market that so far has yet to embrace the two previous Xbox versions. Here's how the Xbox One rollout will play out for everyone.
9/2: Chile and Colombia
9/4: Japan
9/5: Belgium, Czech Republic, Denmark, Finland, Greece, Hungary, Netherlands, Norway, Poland, Portugal, Saudi Arabia, Slovakia, Sweden, Switzerland, Turkey, United Arab Emirates
9/15: Israel
9/23: Hong Kong, India, Korea, Singapore, South Africa, Taiwan
9/23: China
9/26: Russia
The biggest market for the second launch wave is China, as the Xbox One will become the first Western game console to be sold in that country in well over 10 years. Microsoft added, "For gamers in Argentina, we'll have more to share on our launch plans shortly."
What do you think of the Xbox One expansion plans for September?
Source: Xbox Wire (opens in new tab)
Windows Central Newsletter
Get the best of Windows Central in in your inbox, every day!
I can't believe it has taken them this long to roll the Xbox One out to other markets. They had the same limited distribution problem with the original Surface RT. They've been in the Xbox hardware business for well over a decade now. This is completely inexusable, especially after they realized how beneficial it was to the Xbox 360's success to be out earlier than the PS3. This time around they're launching way later than the PS4. No bueno.

I 100% agree with you. But I'm sure this will help with the sales. Maybe not beat the PS4, but it will help.

But biggest shame is that they are not able to bring services like Xbox music outside the few markets.

Completely back you on that coip... A totally uneccesary lead was given to PS4 which there are celebrating now... The media makes a big hype about PS4 being selling more than XBOX ONE for 7 months now... Have they forgotten than XBOX 360 has a 36month unbroken streak over PS3... Such a big delay is unacceptable... If sony could do it... MS really needs to retrospect its internal working to see why it cant do it... For i cant see any subtansial reason other than management lapses...


Microsoft should stop with that policy of offering their products only on select markets and or launching them few at a time. We're in a globalized world where its moronic to wait a year or more to get a product. They have to launch everythig worldwide. Cortana works great in Chile -albeit you have to speak English- Bing Vision and Xbox Music worked great in Chile too if you knew how to enable them. Imported Xbox Ones worked great in Chile despite official support. I had a Surface RT tablet and I didn't had any problem to use it in Chile so I cannot get why they're not selling them worldwide just like Apple does.

It's about time, this is the reason sales are lagging behind the ps4. Not in enough countries.

Doesnt explain why it sells less than the ps4 in its home country the US, though.

because people are holding on to their Xbox 360's longer because they have lots of games, the one does not have that many games, and cost was a bit pricey. I currently have 2-360's and 1-Xbox one soon to be two. I play my 360's more often because I have more games for it, but I play the one a lot too!

+920
I've been waiting to buy an Xbox One officially since forever!
I think I'm going to buy it next year from Miami :/

Xbox about Tu get our spot back n that's is #1

Chile and Colombia? AND NOT ARGENTINA? REALLY?!

They said September, and look it now.

Oh ok sorry for the stupid comment but you don't need to be that angry

They've been promising a lot of things and has been delay. Maybe you have it but I want the opportunity to use it in my region without bringing it from other country.

Trust me I'm in the same situation as you are so I know how you feel

I live in Sweden and had to import mine from the UK, so stop crying, you're not the only one. We either accept it or do something about it. I chose to get my day one early.

Well, if you are from Sweden, I don't know what are you doing commenting something about Argentina, Chile & Colombia.
And I'm not crying about it, I'm complaining about need to wait more. And if you already have one, god for you.

Sweden is also mentioned in the article. Also, I'm just pointing out that Microsoft doesn't owe us anything. For whatever reason, they had to delay.

Talk to your government about importing regulations, etc and ask them to wave want restrictions.... Good luck with that!

Al menos espero que estén trabajando por ofrecer un buen precio y que sea por eso el retraso...

Blame MERCOSUR and their anti-import, pro-local industry policies. And Cristina, too.

hahaha, you are so right. And I live in South America, but can't take policies like those.

Oh, yes, Chile and Colombia and not Argentina. Bigger doesn't mean better.

First Western games console? What's that supposed to mean? And Nintendo sold its iQ range there for years, so that's an inaccurate statement...

Nintendo... Ah you mean a Japanese company?

Greetings from Chile WP central friends!

Oh well at least it's getting released in the middle east officially

Microsoft should start their plans to launch Windows Phone in Japan once they're done with the launch of the Xbox One.

Wait windows phone isn't released there ?

Windows Phone 7 was released in Japan but Windows Phone 8 never was.

Yay. ! At last. I Just hope that they launch too the surface pro 3 in Chile someday. :C

Xbox One launching in India on 23rd September!

The more the merrier, but will this affect the 2:1 sales in comparison to PS4? Hmm...

I doubt it but at least they don't have to worry about Nintendo this generation. There's no way they'll win at this point. At least they moved up one spot from the last generation. Alot of people don't realize that the 360 was last place. But it was number one where it counted, the US. Well number 2 that is.

The Wii may have 'won' last generation based on total console sales, but it was dead last in what actually mattered--game attachment rates (i.e. sales of games)--and has been completely irrelevant for the past 3-4 years. I believe Xbox 360 'won' that war despite being third in console sales last generation (albeit, essentially tied with PS3 overall).

First time I read Chile in this Page

What's the point? Most of the "hardcore" gamers there will buy a PS4 and play Pro Evolution Soccer every day. Yeah..

Linio sold some Xbox One here in Peru, but now is just selling accesories for it

Too late I already bought a PS4 seven months ago. Seven months too late Microsoft. Posted via the Windows Phone Central App for Android

Why punish yourself like that for Microsoft's mistakes? Can't imagine wasting $400 on that boring, unambitious box ;) Waiting for Xbox One with Kinect would've been well worth it.

Not really. It would have been my first Xbox, especially because of kinect. Now that it's not required though, it's killed all interest in it for me. Posted via the Windows Phone Central App for Android

It may not be required anymore, but it's still available and fully supported. In fact, some great Kinect games are coming out this fall: Dance Central Spotlight (came out today and is great), Fantasia, and Fru. Plus some good games already out: Kinect Sports Rivals, Xbox Fitness, and Just Dance. It's worth it.

Hey... they are approaching Latin America, I am waiting since ages for any support in Costa Rica!

John, do you know if, and what Live services will be exrended/offered in those additional markets? Because right now there are none of the core services like Xbox Music, Xbox Video or Xbox Fitness offered e.g. in Czech Republic. Xbox Fitness is understandable, because it is paired with Xbox One, but the other ones could have been available for years on Xbox360, Windows Phone or Windows 8, but they werent.

Their big excuse was the console was not ready, in fact the voice recognition for the other languages, but it seems the X1 gonna be launched without the extra languages (voices) aswell to the other Markets in September! So they didn't even have to delay the release! I test the Dutch UI now and it seems it's done by a child or a translate computer, not done by a person knowing both languages fluently (English, Dutch), cause alot of translations are wrong, even the true meaning of some sentences are totally lost in translation, just because of the incorrect translation to Dutch

Argentina had to wait 8 years for Xbox 360... seems we'll have to wait another 8 years for Xbox One. Yay!

I'm really glad that I kept my Day one edition order alive on http://MicrosoftStore.com. Basically getting XO w/Kinect, Fifa15, Forza5 and Dance Central at the 399 price point.

Wiii vamos Colombia :)
Sorry, sorry... Actually, Xbox One costs something around 750 USD here, ¬¬

No Costa Rica love yet? :'(

The fuu..cking Israel is here.down with Israel Posted via Windows Phone Central App

The fuu..cking Israel is here.down with Israel. Posted via Windows Phone Central App

What's that suppose to mean, I hope you're not trying to start any political tension here. Were are different people with diverse backgrounds but we're united here with a common agendum: discussing technology through our passion for Windows Phone. Peace be unto you.

It's Colombia not Columbia.

It's Colombia not Columbia

A year ago they say the delay of the xbox one in holland was because of the language support, now a year later the xbox one release with no support of the language...

When is the One coming to Indonesia? Sony is just having a good time over here unchallenged. They even manage to convert plenty of game shops who only sells pirated game machines to selling legit PS4 and its accesories. Demands are there, but I really don't know why Microsoft is so oblivious to the opportunity. Windows Phone is pushing all the right buttons over here, the capability to buy apps using air time from the big three carrier is a BIG thing, even Android phones doesn't have that capability. So why not push the Xbox One too? Despite the media silence... Most people who can afford PS4 (Xbox One) here are English literate, no need for Kinect localization per se, our accents are similar to English speaking Indians, and I'll be using the Xbox One always connected, surely the server can help understands my accent.

"For gamers in Argentina, we'll have more to share on our launch plans shortly."
SSSSWWWWEEEEEEETTTTTTT!!!!!
Now we going to have another super overpriced console to buy! (For references, PS4 cost about 2.5~3 times the minimum wage)
I hate this country.

As usual MS walks at snails pace.Too late, ps4 already conquered the globe

It's Colombia not Columbia
Windows Central Newsletter
Thank you for signing up to Windows Central. You will receive a verification email shortly.
There was a problem. Please refresh the page and try again.