Xbox One mouse and keyboard support: Everything we know
With Xbox One mouse and keyboard support on the horizon, here's everything we know so far.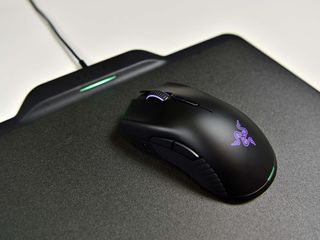 Microsoft has announced the formal rollout (opens in new tab) of mouse and keyboard support for Xbox One, offering an all-new input method to the console. While limited to a select pool of titles, its arrival brings promising new capabilities beyond the standard controller. We've wrapped up everything you need to know so far.
Xbox One mouse and keyboard support explained
As tradition with most gaming consoles, Xbox One has historically been a standardized platform, featuring uniform experiences across hardware and software. In recent years Microsoft has distanced itself with increasingly "PC-like" features, with updates delivering improved function and flexibility. The latest addition is the long-awaited arrival of full mouse and keyboard support.
Mouse and keyboard support has been a long time coming, with the official word on its "imminent" arrival dating back to 2015. With the rise of unauthorized adapters mimicking gamepads, native support brings formal regulation ensuring proper execution and balancing. Support heads to a select library of titles soon, promising an optional PC-like experience if desired.
Related: Official Xbox mouse and keyboard support could be amazing (and disruptive)
Xbox One mouse and keyboard features
Mouse and keyboard support brings increased flexibility, yet its arrival has also faced criticism. A high-DPI mouse offers vastly improved precision over controller thumbsticks, sparking worries in shooters and other competitive titles. Similarly, as the mouse and keyboard are increasingly adopted, some worry controller users will be deprioritized.
Microsoft is approaching mouse and keyboard support on a title-by-title basis, only offering the input if desired by the developer. Once the feature arrives at a platform level, developers will have the ability to add support alongside controller input, tailoring its implementation around their title. Microsoft states it has educated developers on keeping games "fun, fair and correctly balanced" to ensure its arrival doesn't negatively impact those on a standard Xbox One controller. Developers will be able to separate players by what inputs they're using, to maintain competitive fairness.
Related: Pros and cons of Xbox One mouse and keyboard support
As detailed via an internal presentation we leaked in June, Microsoft is looking to bring full-fledged mouse integration to the console. This allows users to leverage more advanced mouse features, and enable developers to integrate them into their games.
Support for up to 5 mouse buttons.
Support for wheel movement (horizontal and vertical).
Ability to query for mouse capabilities.
Ability to report absolute pointer location.
Ability to report relative pointer movement.
Ability to set cursor glyph and visibility.
New API for polling the above data.
While documents from earlier in 2017 seem to indicate that every game on the platform must primarily support a controller, recent information seems to indicate that mouse and keyboard-only titles might be on the cards, for games where controller support simply doesn't make sense, such as management simulation games.
List of Xbox One mouse and keyboard games
With mouse and keyboard support yet to hit the console, we're yet to receive details on how many titles will offer implementation. Microsoft claims it's "working closely with studios of all sizes" ahead of launch, indicating a sizeable library of titles could be on the way.
The first game to natively support mice and keyboards on Xbox One is Warframe, a cooperative third-person shooter which first saw success on PC. First built for a mouse and keyboard input, its arrival could be a natural fit, taking its learnings from the PC. We've also seen partial support for Minecraft debut last year, indicating Microsoft's blocky adventure game could be among the early lineup.
Microsoft is expected to announce more games with mouse and keyboard support on November 10, 2018.
Which Xbox One mouse and keyboard should you buy?
Microsoft hopes "most" keyboards and mice will function with Xbox One, although some outliers will remain. All wired USB mice should work and accessories with wireless USB dongles should also operate. However, the Xbox One's lack of Bluetooth and custom driver support means some conventional keyboards won't connect to the console.
As also detailed in our leaked presentation, a partnership with Razer is to come. Highlighting to third-party manufacturer's established product line, Microsoft specifically showcased its sofa-friendly Razer Turret setup. We also expect support for Razer Chroma RGB lighting, with a dedicated app within the Microsoft Store. Official teasers for the collaboration are now surfacing, indicating these plans are still underway.
Xbox One mouse and keyboard release date
Mouse and keyboard support was first detailed in late September, with the promise of its arrival to select Xbox Insiders "in the coming weeks." This makes an October 2018 debut likely for Alpha ring members of the Xbox Insider Program, with a broader rollout in the following weeks. As for the public, we may see a release before the year concludes.
On November 10, Microsoft will also be hosting its X018 fan event in Mexico City, with announcements scheduled for its Inside Xbox live show. During this event, we expect details on additional mouse and keyboard titles and the upcoming Razer partnership.
Your thoughts
What are your thoughts on Xbox One mouse and keyboard support? Drop into the comments section below and let us know.
See Xbox One X at Amazon (opens in new tab)
Windows Central Newsletter
Get the best of Windows Central in in your inbox, every day!
Matt Brown was formerly a Windows Central's Senior Editor, Xbox & PC, at Future. Following over seven years of professional consumer technology and gaming coverage, he's focused on the world of Microsoft's gaming efforts. You can follow him on Twitter @mattjbrown.
Starting from the beginning...
World of Warcraft - Classic realms... coming to Xbox One with full keyboard and mouse support, play anywhere. PC, Mac and Xbox gamers battle it out against Ragnaros. Also, Quake Champions. Pit your wits against sworn enemies, it's console wars time. PC vs Xbox, play anywhere, full keyboard and mouse support. As an added bonus, Quake 1 is completely remastered for a campaign mode so you can really get your teeth into it. Zork - the Original Text adventure. Get typing because you'll need it for the next game two games... The Typing of the Dead and Virtua Cop - Sega's deamcast ports, type type as fast as you can, they're going to bite you in the neck if you don't. Clearly different form each other, but with full keyboard and mouse support! Epistory - Typing Chronicles - You'd be forgiven for thinking this was a Nintendo game, but this charming typing skills game of old, in a new fresh format takes you on an epic adventure. Fishing Cactus, the developers, really did a nice job on this game and surely deserves a keyboard and mouse port to the Xbox.

I like hearing keyboard and mouse only games may be coming. This gives me hope of seeing Age of Empires IV on Xbox. If the game ever comes out anyways.

Finally, now I want to see if integrated with the Xbox OS UI and apps like Edge, Sling, and Plex.

That's an interesting point, rmark66. Seeing as the Xbox at the core has Windows 10, and the apps it runs are UWP apps, it shouldn't be that hard to simply add mouse support and all the apps adopt support for it.
Transversely, does that mean we'll see a new Xbox front end for PCs in the longer run? It's certainly push for Play Anywhere titles amongst publishers.

And don't forget game streaming from PC to Xbox would also be possible in theory.

IF this actually happens, and IF it's decently implemented, I will finally start playing games on our Xbox One. I have zero sympathy for controller users. With limited exceptions, it's always been a stupid interface mechanism.

fps, tps and rts maybe. Action games and many other genres works better with controller tbh.

Age of Empires IV. That is all I want to hear.

That's like, your opinion man. =P Some people like the more relaxed gaming position of sitting across the room on a couch playing video games. I cant see that same thing working on Keyboard and Mouse, without sitting in front of a table or having a lap table. Either one of those solutions don't sound exciting for a console.

Not just games, I think KBM support helps Mixer or SNS communications too.

I think this is awesome news I've been waiting for this for many years. I hope this brings more RTS games to the Xbox One franchise as well! Can't wait to replay Halo Wars and Halo Wars 2 with mouse and keyboard!

Given that there are keyboards with fingerprint readers built in, I kind of want to see support for Windows Hello injected in. Just a thought this article brought to mind.

Just so you know Minecraft is already been supported. Has been for a while now. It supports full mouse and keyboard support right out of the box.
Windows Central Newsletter
Thank you for signing up to Windows Central. You will receive a verification email shortly.
There was a problem. Please refresh the page and try again.