Those with Xbox Live Gold can play The Elder Scrolls Online for free this weekend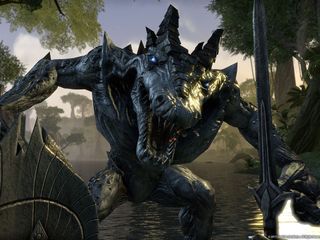 Xbox One owners who have a paid Xbox Live Gold subscription can access the fantasy massively multiplayer game The Elder Scrolls Online: Tamriel Unlimited for free this weekend. The free time period begins at 9 am PT on Thursday, Dec. 10 and end at 11:59 p.m. PT Sunday, Dec. 13.
Microsoft says:
In addition, playing the game during the free period will allow players to become eligible for the recently launched "#MillionReasonsToPlay" giveaway. Anyone who plays The Elder Scrolls Online from now until Jan. 10, 2016 will be automatically entered into the contest, with the grand prize winner receiving $1 million (in real money, not in the game's currency).
Source: Xbox Wire (opens in new tab)
Just enough time for you to create your character... Lol

Just enough time for you to create your character... Lol

Aldmeri Dominion for life

An arrow to the knee for a million $.

Might just download in time for monday

I don't own the game at all so I'd have to download the whole thing first?

Yep. So at least on my Internet, that's about a day out of that free time before you can actually play it.

be nice if we could download it early...

You can't? There's a similar deal on PC but I'm downloading it now. 34 GB download!

The elderscrolls website says you can actually start downloading at 3am EST on Thursday

I bought it on the Black Friday sales. It's a good but not great game. I can't help but compare to Dragon Age Inquisition as my favourite Xbox One game so far, and there are a few areas it's definitely inferior, but it's still enough fun I'll continue for a while for reasons deeper than a shot at a million dollars.

This was free from launch, you have to pay for DLC but the core game is free to play with a Xbox live gold account.

You sir are highly misinformed

I will definitely play this game this weekend

I wouldn't bother... They took everything that was amazing about Skyrim and left it out.

If anyone is interested you can also get a free key on PC http://www.vg247.com/2015/12/08/free-pc-keys-the-elder-scrolls-online/

Playing the free version doesn't enter you into the prize draw - you have to subsequently buy the game
Windows Central Newsletter
Thank you for signing up to Windows Central. You will receive a verification email shortly.
There was a problem. Please refresh the page and try again.