The Xbox One won't be getting an over-the-air TV DVR feature after all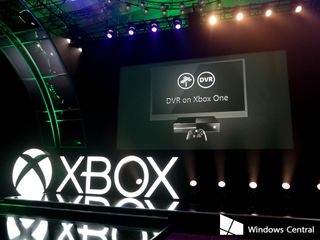 Microsoft has confirmed it has put "on hold" its previously announced plans to add an over-the-air TV DVR feature to its Xbox One console. The company said it is now concentrating on adding "higher fan-requested gaming experiences" to both the console and Windows 10.
Microsoft first announced its plans for the Xbox One TV DVR feature in August 2015 at Gamescom. At the time, the company said it would launch in North America and in select European markets in 2016, and would require the use of the OTA TV Tuner for the console. In March, it was reported that Microsoft was internally testing this feature.
However, it looks like Microsoft's plans have changed and is focusing on adding gaming features for the Xbox One. According to The Verge, who got an official statement from Microsoft:
How do you feel about this decision from Microsoft? Let us know if you are disappointed or excited to see what they add in place of it in the comments
Windows Central Newsletter
Get the best of Windows Central in in your inbox, every day!
Boo! This was on the top of my wishlist

Same here, I was actually looking forward to it Posted from Windows Central for Windows 10

They've only said "on hold" so they may continue development later if they get enough demand for it

I know but now it is on hold so it isn't coming with the anniversary update Posted from Windows Central for Windows 10 via my Lumia 950XL

I created a feedback if you'd like to upvote it and support the feature https://xbox.uservoice.com/forums/363186--new-ideas/suggestions/14744439-dvr-over-the-air

Very awesome, if everyone has twitter and hits the twitter button to say you support it that may help us get more numbers as well. I'm sure there is a huge wish for this so the more we get the word out the better.

became merged with original OTA DVR user voice: https://xbox.uservoice.com/forums/251610-oneguide-live-tv/suggestions/6029911-xbox-one-dvr-functionality-with-digital-tv-tuner

The sad part is this shouldnt have had to be voted up as it was a "Promised Feature".- Who votes for something that is supposed to comeout. The bait and switch Microsoft has done here is wrong and monies that were used to buy into this "Promised" feature should be refunded.

Here's a consolation it can now manage the tuner better(detect overdrive) as before the preview my after I upgraded from that weak preamp mohu has to a channel master cm-7777 some channels were spotty other just didn't come in now it can get all those plus a few extra

Unfortunately in my experience "on hold" basically means the feature has been killed. They may resume development, but it will be a few years at least.

True. "not focus this year" is another term used by MS for killed stuff.

Right now, Microsoft would be focusing 100% on the new console(s) they are releasing to match Sony. Posted via the Windows Central App for Android

They could off load it to Hauppauge or offer those who bought it a copy of extend to use with xb1 edge

Agreed it is dead. The further out this feature gets the less likely it is to happen based on the a la carte options coming online too. I mean Sling and cable box as an app type stuff. Posted via the Windows Central App for Android

Given the original intention of the Xbox "One", this is a feature that should've launched with the console on Day One.

At MS, 'on hold' means cancelled and everyone who was developing it has been killed and incinerated and used to fertilize the luch green campus lawns in Redmond.

Oh, come on now. Everyone knows they give you 30 days to find another job internally before they turn you into Soylent Green.

Use the feedback hub and tell them. They don't know until you tell them.

Exactly. I live the feedback system. They try really hard to get the top voted (logical) features.

Me too. I came this close to buying a tuner in anticipation of this feature. Glad I held out.

Same here, in fact I was looking to buy two as I bought a second Xbox One, one for the bedroom, anticipating cutting the cord. DVR on Xbox One was the only feature I needed to cut the cord.

Agreed, I've been seriously considering OTA, but it's now not worth the investment at this time. Posted via the Windows Central App for Android

Lol bought a better preamp to replace the weak one they give you with the mohu bundle

Check out HD Homerun DVR, they are releasing a Windows 10 UWP app and have promised to bring it to Xbox One: https://www.silicondust.com/products/hdhomerun/hd-homerun-dvr/

Love the concept but when? This has been in the works forever. Is there a projected release date?

I don't think that they have an official date in mind yet still, but you can purchase it in beta form now if you are willing to put up with bugs.

This is their app from their spin-off subsidiary http://www.windowsphone.com/s?appid=57192c4a-1ad0-449b-8c16-f33452ba5b0d its a shame they stopped selling these tuners

Ditto. I wasn't requesting the feature because I thought it was on the way. I generally avoid clamoring for stuff I know (or think I know) is going to happen.

I would use this (very lightly) if it did come out, but you can grab most content on catchup TV anyway. I'm sure there will be much more exciting things announced at E3 and it's not a bad thing to see them focussing more on the gaming side of things. The Xbox One OS is a little slow anyway IMO when it comes to navigating around where as in game it's great. I'm sure if we got anything like playing Xbox games on PC, Streaming to W10M (With or without Continuum), Xbox 360 emulator on PC (It runs on x86 in the Xbox One afterall) then people would be much more excited than that than DVR....Not all, but probably most

Booooo! I've been waiting very patiently for this. Very disappointed. Very disappointed.

Aww man! I really wanted this! This WOULD have been a really good thing to have!

Same as well, sad to see this not coming anytime soon. I love the TV ability on the Xbox One and I just hope we see something similar for Computers.

Computers can already do way more than what this feature is. Posted via the Windows Central App for Android

I'm disappointed by this decision, but I understand the reasoning.

They just don't want to go down that slippery Media Center slope

Yeah, it would be a real shame if they added a feature that people like, and then had to take it away again.

To be fair, very few people (as a percentage of Windows users) used Media Center. I was one of them and loved it... mainly because of the "whole house DVR" concept. Now that that's available with Uverse and Comcast, I just use Uverse. Bailed when it became very clear they had no intention of really sticking with it. But it's hard to blame them for dropping a feature that required a lot of development and very few used. I suspect the same may be true here. Let's see what they announce... if it's anywhere close to as cool as backward compatibility I'm fine with this!

Not many used Media Center because it did not work for many. In Europe for example the most common digital tv standard DVB-C was not supported for some reason while DVB-T was and likely similar cases in other continents.

Its sad we cant manually add channels like we could with fiji

I am so pissed about this news right now! That WAS central to me purchasing the Xbox One to begin with. It also convinced me to give up my HTPC. Wow just Wow! Incoming pay IPTV service instead of OTA DVR! Grr!

It is also one of the main reasons I purchased the Xbox One. We got the one with Kinect so my wife could do some dancing games (that's rarely happened) and I like some of the voice command features, but otherwise I don't own any games for it (more a pc guy). If Crackdown 3 comes to PC then I won't even be getting it for the One. So, for now the Xbox gets used for Netflix and it's limited television saving feature (only last 30 minutes, and if you accidently change channel that is all lost).

HD Homerun DVR is getting a UWP app that will run on Xbox One, I suggest you check that out as an alternative.

If you want this feature, please upvote the feed back https://xbox.uservoice.com/forums/363186--new-ideas/suggestions/14744439-dvr-over-the-air

Done! Please everyone follow suit.

Be sure to hit the "Tweet" button within that link to support as well!

"After careful consideration" is corporate-speak for "After investigating the licensing costs required to both TiVo and the various media outlets."

Copyright issue might be what stop them , they definitely don't want to deal with that, but however, if we can sideload UWP app to Xbox one with WIndows 10, we could get that thru third party app developer.

What about people using DVR features on cable television? Posted via Surface Pro 4 or Microsoft Halo Phone

They're all sorted out on the business side.

DVR from Cable company the files are all encrypted , so you can't really copy the file to other device and watch.

Always legal issues. Some said that FM radio was also removed due legal.

What Copyright do you speak of ? Remeber, Microsoft has still all the rights for a DVR, and even cablelabs certification. As it was all used in Windows Media Center... and they still hold the KEYS to it..

The reasoning given seems off. If the feature was already announced and planned, then of course other things were getting more requests.

When you say On hold, you mean like the "retrenching" windows 10 mobile . Yeah right, we've all played this game before. Coming soon... Real soon!!!!!! No seriously, soon...

Hahaha...classic. Anything better than half-baked at MS these days? If it wasn't wanted when you started, why does that matter now? Sounds like a bad excuse to say they couldn't do it when they wanted.

He's right: Microsoft is the king of broken promises and stranding customers.

Nadella has reputation to protect..

I, personally, wouldn't use this feature all that much. However, I have a close friend who relies on OTA TV and is "stuck" on media center for DVR and to stream TV throughout his house. This feature was going to finally allow him to update that last PC to win10. Too bad, I personally like(d) the TV/Ent integration stuff. I guess I'll start the "games, games, games" whine like everyone did in 2013 for TV. /s

We aren't "stuck". We are still enjoying the "whole house" Windows Media Center experience with most all of it's many great features.
.
I do admit, that I was hoping for cable card tuners (such as the XfiniTV Ethernet 6 from Ceton) and DVR capabilities writing to a network attached hard drive all on the Xbox One. Then I would buy one or two.

I can agree that, as it is now, it is an excellent solution. Unfortunately, stuck refers to the fact that msft isn't (and hasn't been for a while) developing or improving media center at all. That said, it is still the best most straight forward solution for OTA DVR around, even without new development. I had hoped that msft would release DVR for xb1 and eventually port similar functionality to win10 sooner rather than later. Their decision here makes me think they're not even close.

Just a little pissed about this "refocus" towards GAMING. No OTA DVR is only a tiny part of the problem. MS sold XB1 as an all-in-one entertainment device. And we, the earlier adopters, keep getting the short shrift. The few media apps that we have basically suck & now this. Might as well just plug a Roku/AmazonTV/AppleTV/etc into the HDMI pass-thru... Wait, I'm already doing that. Gaming has ALWAYS been my focus on XB1, but MS has really dropped the ball on the media side.

I'm with you on this, it was the non gaming functions that were supposed to make it the standout gaming console to have. I bought it on release expecting that, and as with WP10 we are left hanging with newer and changing priorities, again leaving people disappointed. Posted via the Windows Central App for Android

Couldn't care less. My TV provider's service is offered through a box of their own which includes the DVR. My XBone is connected to that box so I can still use the Xbox to watch TV and have the DVR feature available. So if they're ditching it to focus on gaming, good for me. They could start by focusing on the horrible new UI they added last Winter.

What's so horrible about the UI compared to the old one?

Ads are front and centre, the "now playing" tile is oversized, the pins are shoved to a place you can't see them immediately, the fonts are miniscule (try connecting an Xbox to a 4K TV and you'll see how pathetically small every word looks). I'm still waiting for the Xbox Team to at least make a UI that makes our games and library front and centre. Even if just as an option. The tile interface of Windows 8 was always a fail everywhere EXCEPT the Xbox IMO. It was the place where the tiles make the most sense. And Microsoft is wasting the potential.

The math (dollars) for the TV providers set top boxes is ridiculous. I know, some people only think about themselves and their situation, so they can't understand this.
.
It seems like the USA FCC may be in the process of eliminating this rental scheme monopoly. If what happened, in the USA, to the telephone companies "phone rental monopoly", is any indicator, we hopefully will see great advancements.

I don't like the boxes either but over here they're not mandatory. Over here the tv boxes are an option and you get it if you want a ton of channels, DVR options, premium channels, film & series rental etc. Basically the services that in the USA are offered by HBO, SyFy, ShowTime etc here are all in the hands of the TV providers. The ultimate ridiculousness of it is that our Netflix here does NOT offer House of Cards. Why? Because the airing rights are already in the hands of a TV channel. I haven't got rid of mine because it really just costs 1€ a month to have it. Do I use it? Barely.

I hate MS right now. I bought a 2nd xbox and tv adapater for this reason

What! You bought an xbox for a feature it doesn't have? lol why not just buy a proper DVR?

It wasn't the only reason.....Just a large part of it.

It's worthless to me since I have cable but I would love to replace my TiVo so if they offered a full dvr, I'd be interested.

here the reason, much bigger issues. http://www.cnet.com/news/atsc-3-0-what-you-need-to-know-about-the-future... Things are going to change with OTA including signal lock down....or pay to view.

That link doesn't work for me. I'd love to learn more. But mostly, I'd love it if MS was up front about the reason for the status change. If there are looming policy changes, just say so.

http://www.cnet.com/news/atsc-3-0-what-you-need-to-know-about-the-future... I'm not seeing about pay to view, but did see stuff about targeted advertising over the internet to your tv... Not quite sure how they will be able to pull off forcing people to use the internet to get the free over the air tv as that is part of their license, providing free ota.

I would rather they work on being able to stream TV while still playing a game on the xbone, but i would like the DVR feature too.

It really sucks that a lot of the great things this console was going to do were basically cancelled all because console-tards thought that somehow by MS offering non-gaming features that it would somehow some way (I'm still trying to figure out how their little brains thought this) it would make it less of a gaming machine and thus Microsoft wouldn't make as many games for it or something. Ah well, glad I returned mine for a steam machine.

It really sucks that a lot of the great things this console was going to do were basically cancelled all because console-tards thought that somehow by MS offering non-gaming features that it would somehow some way (I'm still trying to figure out how their little brains thought this) it would make it less of a gaming machine and thus Microsoft wouldn't make as many games for it or something. Ah well, glad I returned mine for a steam machine.

Steam Machine? You're the one... :)

"a steam machine" Nice. Now all you need is a separate, high-end Windows PC to stream from and you'll actually be able to play games on it.

I think you're confusing Steam Machine with Steam Link, seeing as a Steam machine plays games natively just fine. Some games like Remember Me in 4K, most in 1080p.
I do have a mid -range PC I can stream from if I do get a Steam Link for any reason but there's obviously no need.

The point of Steam Machines is that they run SteamOS, which is Linux, and Remember Me only runs on Windows (half assed, pathetic, glitchy workarounds notwithstanding).

You're right they mostly do but the Alpha came with Windows 8.1 and Windows 10 afterwards, with its own controller based UI called AlphaUI which believe it or not supresses a lot of non-gaming essential services and it makes games in general run a whole lot better than when you log into "Desktop mode" which is stock Windows. ​This is why Left 4 Dead 2 runs at 300+fps in 1080p and ~150 fps in 4k. With "Remember Me" running at ~65 fps in 4k without issues. Which isn't too shabby for an i3 machine you know?

Yes a lot of vendors realize how worthless Linux and SteamOS are so they redeem their products by putting Windows on them in addition to or instead of SteamOS.

Nah this was one of the first ones to come out. In fact I don't think they offer it with Windows anymore. Its opposite. Look it up next time

Lol or in the case of kodi Android instead of something like openelec

Lets try again.... http://www.cnet.com/news/atsc-3-0-what-you-need-to-know-about-the-future... Try and read the complete artical, lots of info to digest. Im a cord cutter for years now and follow this stuff closely

FFS! This was a primary reason why I ultimately chose the Xbox One several months ago! I wanted a single box in the living room to do everything, and the DVR feature was the last missing piece that was SURE was coming. F you Microsoft, seriously.

This is disappointing. That announcement was one of the reasons I invested in their TV tuner to begin with. I hope they change course in this.

Wth is higher up than that???

Ouch. When they didn't add support for media center extenders (before media center was cancelled), they promised native support like this.

Great, so more useless gaming party and chat features

Don't worry guys, I'm sure we'll get some other features that post more crap automatically to our social feeds for the people on our friends list to ignore.

Idiots! I'm wondering if the software was too glitchy to support a stable daily use DVR. Plus the hard drive is too small.

The internal drive might be able to hold a small amount, but Microsoft should have no problem with suggesting a users to use the feature with external drive like they already do for game collections.

external drive was required http://news.xbox.com/2015/08/04/gamescom-dvr-for-over-the-air-tv/

Not just an external drive, but one that was dedicated to it if I recall... so if you already had an external drive for your games you would need another one for DVR.

So far testing this it has better support for preamps as before this I had alot of signal overdrive

I think I am on the rare side of this issue where I really wanted this feature but I could care less about another way to start an Xbox party or record a clip of a game I am playing.

Actually I think quite a large amount of users are like this and want improved media features over any game features. Unfortunately the hardcore gamers are much more vocal.

I swear, Microsoft announces something great and then suddenly decides "Nah, we'd rather do things that nobody wants and let our competitors be first. Instead we will do something else with our Party chat, social feeds and new background colors, which are only used by 10-year olds".

Then years after the competition has cornered the market they will try and comeback and provide the same feature but way behind and less capable than what others are doing.... typical Microsoft.

I would have used this, I really would. Damn shame, hopefully if enough of us upvote/request via feedback it'll become the top-voted feature and then they'll have to do it... right?

Microsoft dropping the ball big time...again.

*insert multiple explatives here* :/

Did wonder when it'll come after being announced literally a year ago! Shame, this would have completed my setup, although recorded TV has become vastly irrelevant for me :)

I think it's irrelevant for many. Hulu would be great along with sling tv if it had surround sound. OTA also offers up some of the sharpest images possible as well

Unfortunatly CBS isn't on Hulu...

This was one of my main reasons for getting and keeping an Xbox One. I was already bought in to the MS ecosystem, but that OTA DVR was rumored to be coming at first, then confirmed to be coming from MSFT last August... that was the icing on the cake. However, in my experience when tech companies say plans for anything have been put "on hold" that basically means the feature has been killed. And if it does resume development it will likely only be after a few years. Because of this and other broken promises from MSFT, I am glad that this was announced before E3 since I will likely be making the switch to Sony's new upgraded PS4 when it releases, as their Playstation VUE service already has the channels I want and has DVR capabilities. This isn't a decision I make lightly, since I have been a Microsoft fanboy and Xbox player since the original console! MSFT has just broken way too many promises lately and this is just my tipping point. Sad.

Think the author of the article would add an UPDATE to include the Feedback link to make more people aware? https://xbox.uservoice.com/forums/363186--new-ideas/suggestions/14744439-dvr-over-the-air

Over promise and under delivering since .... 2006! Longhorn (Windows Vista)

Damn it, as others have said, I too got a tuner for my Xbox one for this very reason, we were told it was coming, not just a rumour. True that catch up tv and other services take a lot of space in my TV watching, but this was going to make it the only device I need under my TV

I'm sure, in typical Microsoft fashion, someone will do it right in the future, grab a huge audience in the process, and THEN Redmond will think they need a DVR...years too late.

I have 3 XBox Ones I would like to return. This is the number one feature I wanted as I still use a Windows Media Center PC for my DVR. I live in the country and only have OTA channels. BOO Microsoft, Booooooo.

A lot of us still use Windows Media Center...

Yes we do. I just recently set up another whole house Windows Media Center build.

Make noise here https://xbox.uservoice.com/forums/363186--new-ideas/suggestions/14744439...

https://xbox.uservoice.com/forums/251610-oneguide-live-tv/suggestions/6029911-xbox-one-dvr-functionality-with-digital-tv-tuner It got merged and a response.

Don't just make noise there, retweet it! Include Phil Spencer, Major Nelson and Xbox. Post it on Facebook, ask them to do the same!

Bring a hashtag and we follow

Booooo. I wouldn't say we got a tuner only because of the promise of a DVR feature (we already used the antenna anyway), but it's definitely a significant loss.

Has Miracast been hush-hush swept under the rug, too?

OTA DVR is what I've wanted the most out of any new feature talked about in the past year

This was one of the most useful features I was looking forward to! I bought in, literally to the entire Microsoft Ecosystem, W10Pro, Surface 3, Lumia Icon, Xbox Extra Hardrive, TV Tuner, Xbox One. Im a first time Xbox owner, this was going to be soooo much more useful to use, than the stream xbox game to a computer feature. They keep canceling all the really good features I like of Windows 10, FM Radio, TV DVR, tried to kill Ondrive. After all this I may go back to Plastation as I owned 1-3, and Android, and Nexus if they keep this up. Never take away capabilities, especially ones that are already possbily and working. They better add TV DVR before the end of the summer and the start of fall TV seasons.

Really they tried to kill onedrive thats a shame they didn't succeed

I actually bought a tuner and mohu leaf in hopes for this feature. They had pretty much promised it. I'm glad I held off on the external hard drive for now though. I hate to say this but Microsoft has disappointed me a few times already in the last year.

I did so as well way before the announcement but found the preamp weak & replaced it with a cm-777

So, NOW is a good time for Microsoft to BRING back Windows Media Center ! Why not make a new version based on the Xbox one's guide, and add in a GUI for the whole thing that can be controlled via a remote and I Think it would be a winner for a lot of people.

It wouldn't be very hard for Microsoft, they have all the pieces.

Oneguide got shittier when they made nxoe ui-wise

The *NEW* Microsoft, king of disapointment for their customers... This is nothing new for Microsoft.

The sad part is this shouldnt have had to be voted up as it was a "Promised Feature".- Who votes for something that is supposed to happen. The bait and switch Microsoft has done here was wrong. At a time trust should be a top prioroty, we were let down.
Windows Central Newsletter
Thank you for signing up to Windows Central. You will receive a verification email shortly.
There was a problem. Please refresh the page and try again.