Xbox One X preorders suffer delays across UK on launch day
Microsoft may have delivered a powerful console, but UK fans buying through Amazon could be waiting a little longer.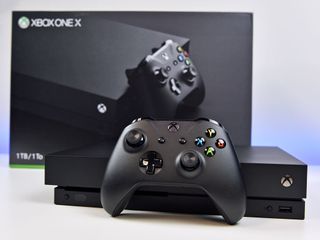 (Image credit: Windows Central)
Microsoft's latest video games console, the Xbox One X, has released worldwide, delivering 4K HDR gaming to the masses in a $499 package (opens in new tab). While passionate fans are already hands-on after midnight launches across the globe, a majority of preorders are now being shipped to homes throughout release day. However, for those who purchased from Amazon UK, console shipments are looking a little later than desired.
Amazon customers have voiced complaints after dispatch delays across the UK (via Eurogamer), with some set to receive Xbox One X consoles later this week. Despite having reserved consoles when preorders first went live in August, many are only now being notified of setbacks on launch day.
Delays appear to center around preorders for the "Project Scorpio" variant of the console – a limited edition design made available for those who preordered early. In an email sent to some Amazon UK customers on the morning of November 7, the company has cited potential stock issues as a cause for the hold-up.
Although delays are seemingly widespread, customer experiences appear to vary widely across the region. The majority of delays appear to affect Project Scorpio Edition preorders, however, many have reached out to Windows Central after delays of standard variants too. On the other hand, like many customers, our writers have successfully received both Project Scorpio Edition and standard consoles from Amazon UK on launch day. It also appears that only a select share of users have received emails that formally notify of the delay.
This follows a "suspicious" incident at an Amazon UK warehouse in Staffordshire on November 4, which left two stories of the four-story building in flames. As detailed by Staffordshire Fire and Rescue Service, a "large amount of the goods" inside the property were damaged by fire, heat, and smoke – making for a potential cause of Amazon delays across the country.
Have you received an Xbox One X from Amazon UK today? Or have you been one of the many affected by delays across the country? Make sure to leave a comment below with your experiences.
Windows Central Newsletter
Get the best of Windows Central in in your inbox, every day!
Matt Brown was formerly a Windows Central's Senior Editor, Xbox & PC, at Future. Following over seven years of professional consumer technology and gaming coverage, he's focused on the world of Microsoft's gaming efforts. You can follow him on Twitter @mattjbrown.
Sad, but the only way to be sure no day one disappointment is via a bricks and mortor store order! Been stung a couple of times this way by Amazon - such is mail order though.

These were still available in various Argos stores in the UK to reserve this morning - Not the Scorpio Edition of course, but I had the pick of at least 4 different stores reasonably close (within 5-10 miles) that I could have got one from. EDIT: All sold out in store and online now, but I could have reserved multiple consoles when I first woke up for work, for those who wanted to get one last minute it was definitely possible in the UK

Damn, the hype for a game console is insane! (And i dont even have any of the Xbox One family of consoles).

one Windows-related blog treats UK specially, the "other" blog treats India specially. Is it too much to ask for a Windows-related blog that is country-agnostic? The internet is a global place.

We cater to where our audience is. Believe it or not we know where we get traffic, and having a strong UK based team isn't an accident. One minute people complain too much U.S. The internet is indeed a global place, but if we don't have readers in Taiwan we're not going to spend time writing news about delays they might be having.

has it occured to you that such things go both ways? I.e. if you never cover Taiwanese stories Taiwanese people will find less interest in the blog?! It's like creating a blog called Football and only writing about Barcelona because the traffic data indicate that Real Madrid fans do not read it! Write about football in general if you want both fans to read it. In other words don't let the traffic data dictate the content. Let the content generate traffic instead!

Unfortunately the world is not a global place. Even Europe on it's own isn't. I'm very glad part of Europe gets some proper treatment. Hopefully MS listens.

My preorder changed yesterday from Tuesday to Wednesday, and is still sat at dispatching now status, contacted Amazon UK who told me that yes indeed there was a delay, let's hope it stays at Wednesday delivery

Just got mine with Amazon, delivered with their drivers. Seeing people having theirs sent Royal Mail or DPD, too. You a prime subscriber?

Same as Dan for me too sadly. Prime, Scorpio, pre-ordered on very first point of availability. Was still saying due today at 10AM, then 1010 it flipped to tomorrow...still still says preparing for dispatch and due tomorrow but that's no different to saying preparing for dispatch and due today. Zero communication from Amazon pro-actively on the delay. In the end work commitments meant I was having to arrange a friend to be around for the delivery and wouldn't have had much time with it but will be really annoyed if don't get it before the weekend. Been holding off starting Shadow of War AND Wolfenstein for it and getting the updates yesterday was great! Alex

Seems to me that it's Amazon customers affected in the main. Argos managed to deliver my scorpio OK, and also a friends shop scorpio OK. Perhaps we shouldn't be too quick to bash Microsoft as from what I saw in the pre-order run up, stores were showing in stock, then out of stock, then I stock again on their store fronts. Maybe alot of this is tight supply, but overselling by the retailers eager to cash in in the hope they get more allocated before launch?

Amazon have made some mistakes tbf, not necessarily Microsoft. Many Amazon customers had a "delayed" message but their console still arrived today. Argos have been great apart from the recall of messages last week saying at one point it was dispatched, next it wasn't etc. But they came through!

Yep!, but in this case I don't think it made much difference,I'm hoping it's an error and turns up later(doubtful), saying that I have not received a delay email either

Multiple people on Twitter have said theirs arrived after receiving a delay email. There was also people being told by Argos customer services yesterday that they were having a lot of issues but a lot of us got them from Argos already.

I ordered mine through Amazon, and got my Scorpio Edition this morning at around 11AM via Royal Mail. I'm a Prime subscriber, but that shouldn't affect it as Prime wasn't even a delivery option for it at the time of ordering. Worth mentioning, if it had been via DPD I'd probably not only still be waiting for it, I'd likely never hear anything about it again such is their garbage service... Fingers crossed for all you out there who are waiting for one

Tesco Direct are the same, there is also a delay with this company! Not happy Was told my Order was NOT unique and there are several customers affected #sorry posted as a reply

Call Tesco - they gave me £30 for the inconvenience

Lol, funnily enough, I couldn't get one on Amazon and ended up ordering through Game and DPD got here on time this morning, all Happy Days my side, games and app transferring from old console now.

Tesco Direct are the same, there is also a delay with this company! Not happy Was told my Order was NOT unique and there are several customers affected

Got ours 2 hours ago from Amazon Yippee !!!!!! Just want to add ours was delivered by royal mail !

Still waiting for mine but at least Amazon order tracking says it's out for delivery. Trust me to last on the driver's list today of all days!

Mine still says to be delivered today but just received an email saying expect in next 48hrs!!!!! Absolutely disgusting customer service and I ordered mine within 20 seconds of it going live... Amazon getting really bad

Like many I preordered the Scorpio through Amazon. They took money on Sunday, and throughout last night my order status was set to arrive today but awaiting dispatch. No change this morning. Contacted them through online chat, absolute nonsense. High demand was cited, they said it should be delivered tomorrow and couldn't really explain why. I've had no updates since. Spoke with them again and they denied they'd taken my money, simply saying it would be out today or tomorrow. The lack of an answer is the real kicker, they just stated high demand! I did tell them that's what a preorder is supposed to cover. Jeez. Poor show from Amazon and they're usually really good. Since then I've had a dispatch email and it's with Royal Mail...fingers crossed!

I originally signed up to be emailed from Amazon UK as soon as pre-orders went live on the site and once I heard from them I swiftly pre-ordered the Scorpio Edition. Using the Amazon App I could track my order last night. Before going to bed the app displayed "Preparing for dispatch'. Waking this morning I was disappointed not to see a tracking email, instead I was slapped with a delay notification email. Furiously I took to Amazon Help via the app. After speaking to several members of support I managed to get 30 Days of Amazon Prime! Hurrah! "Does Prime ensure release date delivery?" I asked. Sarcasm does not really work on the chat help app. After my initial chat I took to the web to see if anyone else had been affected and I was not surprised to see I wasn't the only one. Then I saw some comments of Amazon UK customers having their orders cancelled (It seems Amazon and had not been sent the full allocation of Scorpio units. I then swiftly went back to the Amazon Customer services, as I did I received a dispatched email for the Scorpio. So something is on the way. I can hope the majority of cancelled orders belong to the resellers on eBay (Saw some Scorpio's going for £700+ last night)

Yup usual Amazon deliveries were anything Gaming is concerned.ordered a Scorpio literally seconds after main announcement months ago. took payament at around 5pm Monday, got shipping notice around 11pm, woke up to have the official shipped, and the arriving email, however said Wednesday for me. as I have a UK podcast, tweeted about this, could see very early on something was off, I contacted amazon online chat support, foreign agent, just completely useless, the usual apologetic rubbish, told me something I already knew, it's arriving tomorrow, I then asked about any compensation, to which I was duly told, sorry not with this case. i have spent well over 2000 pounds this year at Amazon, and yet this is the service, what I do find astonishing, one of my community messaged me to say they placed an order for a standard X on SUNDAY night, it arrived this morning around 11. just about sums it up really, but I will reiterate, for some unknown reason Amazon has a real problem with anything gaming...the only 4 times anything Prime has failed, has all been gaming releated. ill say this, never again, for an actual paid service, absolutely no excuses, in my opinion, Amazon should be contacting every last one of the delayed customers, offering some sort of compensation......I won't hold my breath. @tozol cranky Gamers uk.

Literally every Xbox One X pre order in New Zealand from the Microsoft online store is arriving at least a day late ...

Very sad. I ordered from Argos and UK mail have completely messed up. I have now waited indoors for 4 days. Have just found out that they can't deliver it. UKmail also falsified my order to say that I had changed the delivery date when I hadn't even contacted them. Looks like I won't get the XBOX until Monday at the earliest.
Windows Central Newsletter
Thank you for signing up to Windows Central. You will receive a verification email shortly.
There was a problem. Please refresh the page and try again.