How to enable HDR for Xbox One X on popular 4K TVs
4K resolution and High Dynamic Range (HDR) don't always work out of the box. Here's how to use the tech on popular 4K HDR TVs.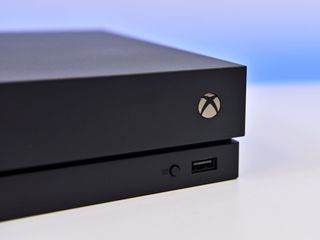 (Image credit: Windows Central)
With the most recent revision of Microsoft's flagship home console, the Xbox One X, 4K resolution and HDR are now offered across supported games and video playback. Using this technique, images are clearer than ever, with a higher contrast ratio and a wider gamut of colors. The benefits are limited to a select range of HDR content but when enabled, it makes for a richer viewing experience.
However, when using a 4K HDR display, the features aren't always enabled out of the box. Many Xbox One X owners are greeted with an unwelcome error message, stating that 4K 10-bit and HDR aren't supported by your display. With most major manufacturers leaving these settings to be manually enabled, there are a few small steps to take to get these features working.
Configuring your Xbox One X for 4K HDR
In order to take advantage of the feature, you'll need to own both an Xbox One X and a 4K HDR-compatible display that's compliant with the HDR10 standard. While these are becoming more accessible with time, only select TVs support the feature. If you're yet to pick up a 4K HDR display, we previously rounded up our favorite 4K displays compatible with the Xbox One X.
Before tweaking any TV settings, check that your Xbox One X is configured to output 4K HDR content. Enabled via the system's settings, this will ensure your console is attempting to output an HDR image to your display.
Press the Xbox button to open the Xbox guide.
Scroll down to the Settings tab.
Select All Settings.
Select Display & sound and then Video output.
Choose Video modes.
To enable HDR, ensure both the Allow 4K and Allow HDR checkboxes are filled.
If 4K 10-bit at 60 Hz and HDR are listed as unsupported by the Xbox One X, despite your TV meeting the standards, you may need to enable the features by following the steps below.
Configuring your TV to output 4K HDR
Once you've got your hands on a compatible TV, it's more than likely that HDR isn't actually enabled out of the box. Although all that's needed is a quick settings check, variations in TV software can sometimes make that a tricky process. We've rounded up what features to look on displays from major brands, and where you might find them.
Samsung 4K TVs 2016/2017
Samsung offers some of the leading 4K HDR-compatible displays available today, with a range of different models. Keeping things simple, KS and KU models come with the similar onboard firmware, making it relatively easy to get started with HDR on your Xbox One X console. To use HDR on your display, you'll need to turn on "HDMI UHD Color" within your TV's settings. Bear in mind that these settings are applied on a per-port basis, meaning you'll have to manually enable the feature for each HDMI port.
Press the Settings button on your TV's remote
Select Picture.
Scroll all the way down to Expert Settings or Picture Options.
Navigate to the HDMI UHD Color section. Each of the available HDMI ports should now be listed on-screen.
Turn on HDMI UHD Color for the ports of your choosing. Although enabling this with standard content may lead to some minor issues, it's usually safe to turn on the feature for all available ports.
LG TVs 4K TVs 2016/2017
LG has received praise for its 4K displays over recent years, with support for both HDR10 across many too. These TVs all come with the same in-house onboard software, making it relatively easy to enable HDR on any of these devices. The following steps apply to compatible SJ, UJ and UH series displays, as well as OLED options such as the LG C7, LG B7 and more. To use HDR on your display, you'll need to turn on "HDMI ULTRA HD Deep Color" within your TV's settings.
Press the Settings button.
Scroll down to All Settings.
Navigate to the General tab.
Select HDMI ULTRA HD Deep Color. Each of the available HDMI ports should now be listed on screen.
Enable the feature on the ports of your choosing.
Vizio 4K TVs 2016/2017
Vizio's high-end displays also come with HDR functionality across the P-series and M-series. However, HDR10 support was added in an update for some earlier models, so ensure your TV is running the latest firmware version. It should also be noted that while HDMI ports one through four all allow for 4K HDR, port five's HDMI 1.4 technology doesn't support this content. To use HDR on your display, you'll need to turn on "HDMI Color Subsampling" within the Vizio SmartCast app.
Open your SmartCast app.
Select Settings.
Next, choose Inputs.
Select HDMI Color Subsampling. Each of the available HDMI ports should now be listed on-screen.
Enable HDR on the ports of your choosing.
Sony Bravia 4K TVs 2016/2017
Sony offers a range of compatible TVs, with both 4K and HDR support for Xbox One X owners. These steps should apply to most models from the past two years, including the A1 OLED, ZD9, XE9 and XE8 ranges. To use HDR on your display, turn on "Enhanced format" within your TV's settings.
Press the Home button to open the menu.
Scroll down to Settings.
Select External Inputs under the TV subsection.
Next, choose HDMI signal format.
Switch your signal format to Enhanced format. By default, this will have been set to Standard Format.
Panasonic 4K TVs 2016/2017
Many of Panasonic's 4K TVs also boast support for HDR10. Models within the EZ, DX and EX series are all compatible with the Xbox One X, after enabling support for HDR on a per-port basis. To use the feature on your display, you'll need to turn on "HDMI HDR Setting" within your TV's settings.
Press the Menu button on your remote.
Navigate to the Setup tab of the Main Menu.
Select HDMI HDR Setting.
Select the HDMI port your Xbox One X is connected to.
Change to ON for the ports of your choosing.
Philips 4K TVs 2016/2017
Most recent 4K displays from Philips also offer HDR10 support, however, must be enabled on a per-port basis. By default, Philips TVs are configured to run in a "Legacy" mode, to maintain compatibility, while "Normal" mode must be used for HDR colors to be displayed.
Press the Menu button on the remote.
Choose Setup.
Navigate to TV Settings.
Choose Installation.
Select Preferences.
Select HDMI mode.
Choose the HDMI port your Xbox One X is connected to.
Switch to Normal from Legacy.
Check compatibility on your Xbox One X
Finally, to see all your 4K TV details and what works (and what doesn't) simply navigate to your settings to make sure everything is working.
Press the Xbox button on your controller
Scroll all the way to the right and choose Settings.
Go to Display and sound > Video output > Advanced video settings and choose 4K TV details.
Assuming you followed the steps above for your particular TV and your TV has all of the necessary hardware you should see nothing but green check marks like in the photo above!
Which TV do you use?
If we're missing a popular TV that you currently use, make sure to let us know in the comments. We'll take a look and include them with future revisions of this guide.
Best 4K HDR TV for Xbox One X and Xbox One S
Updated March 27, 2018: Updated with step changes based on the Xbox Spring Update.
Windows Central Newsletter
Get the best of Windows Central in in your inbox, every day!
Matt Brown was formerly a Windows Central's Senior Editor, Xbox & PC, at Future. Following over seven years of professional consumer technology and gaming coverage, he's focused on the world of Microsoft's gaming efforts. You can follow him on Twitter @mattjbrown.
I have the LG 65UH8500, quantum dot Super UHD HDR+ & DolbyVision. Combined with Onkyo THX certified receiver and BIC Platinum surround. Gaming is excellent

Got the LG 65UH8500 two weeks ago, and gaming has not been the same since. Forza Horizon 3 really pops on that thing! Has me wondering how Scorpio will top this. Have you programmed your Xbox One to turn on your TV? I did the setup, but can't get the TV to respond to the Xbox IR signals.

I did, but I've since disabled. I often find I use my 4k Blu ray player and I had to set the Xbox to toggle power. So if TV and receiver are on and I turn Xbox on it turns the TV and receiver off. Have you picked up gaming glasses yet? Amazon!! Left player and right player, basically player one is set to the left eye and player two is set to the right eye and you play full screen without screen watching. Is not perfect but it's fun with friends to show off!!

I've also got an LG specifically for the Xbone. The OLED65E6P paired with the Yamaha Aventage RX-A760. This is my birthday resent to myself, and it is so damn nice. The previous monitor was an LG as well (WebOS! Palm lives!) but without the OLED, they had a mandatory dimming on high contrast scenes. Very annoying.

I'll keep waiting for a 3D HDR HDTV, for Gears 3 and 4. 4K is not so important for me since I don't want a huge screen.

You'll likely be waiting for a long time if you want 3D and HDR. LG was the last manufacturer of 3D sets, and they discontinued those for 2017. A 2016 LG is your best and pretty much only choice for something that supports both 3D and HDR. Whether both are supported at the same time, I'm not sure but I think the answer is no.

Yeah, I was going to say the same thing. 3D TV's were a fad and will disappear from the market. Now it's all about 4K and curved TV's to upsell people

Why wait when you can pick up the LG UH8500 now? I think it's the last 4K 3D HDR set they'll release.

Yeah Bro. If Windows phone is "6 feet under... 3D TV is more like 9 feet!"

Sony used to sell the XBR930D that is 3D and HDR (2016 model). It was still on sale early this year, I bought one for less than 2000 USD.

Best bet is to go both. A good number of 4K TVs also do 3D. They're just not advertised as that in any way. I know the higher end LG's do and they also have HDR.

I have the Samsung KS8000. Everyone says to enable game mode. I disabled it because it found the picture actually looks slightly better. There's slight graphics degradation with it on and it's main purpose is that it disabled all the special viewing enhancements that are on by default which may affect input lag. HDR still enables without this mode on. Maybe compare the picture for yourself. I leave it off and just turn off 99% of the enhancements. I play FPS games online often and haven't noticed a single problem with input lag. But guess it comes down to personal preference.

I notice quite a difference when I don't have game mode on

Gaming on the LG OLED B6 has been a pretty awesome experience, especially with games like Forza Horizon 3 and Gears 4. Game mode and HDR Game mode have done wonders on that TV for input lag. Thanks to LG for their continued support in releasing firmware updates for their models. I look forward to gaming every day because of that TV and the beautiful games that compliment it.

What year and LG model do you have? I have the 2015 LG 65UF8500. Thanks!

Vizio P series, since it supports both HDR10 and Dolby Vision...

I returned my Vizio M series due to glitches and signal loss specifically with the Xbox One S. From my research the P series suffers the same problem. Returned it and got the Samsung KS8000 works great.

I read that Sony's X700D got an update to allow HDR-10, would I have the same instructions as the X800D? Nevermind, yes it is!

Ah, thanks! I'll update the article - appreciate it! Can be really hard to track all these TVs without owning them all ;)

Hey Matt, any tips for owners of projectors? I'm getting the Optoma UHD60 4K Ultra High Definition Home Theater Projector soon to complete my game room and i plan to pair it with the Xbox x. I wonder if i would also have to tweak HDR settings too

Great article! I had to search around for those settings weeks ago when I got the LG 65UH8500. Has anyone else got the LG to work with the Xbox One IR signals? I've done the wizard and manual setup and can't get it to work.

Sorry, I lied, I'm not using IR

It should be noted that enableing rgb on Xbox deactivates hdr. At least on the Vizio. Unless I'm missing something.

I have a haier 55 inch 4k TV. Any help would be appreciated. As of now though I got the Xbox one day One edition with Kinect. Planning to get the One X when available on India.

I picked up a Vizio P65 2016 model when the Xbox One S came out, so I'm all set. Can't wait to play F1 2017 and Forza 7 in 4K/60 fps...!

Are there any TVs that work better than others or are a better match for the X?

Great article.
My tv is: Samsung UA55MU8000

I've got a Samsung MU6400 and I can't find the options you're describing for HDR :( Any help would be greatly appreciated.

Ok - The answer is here.
https://youtu.be/xBYFL18vmcI

I ran into the same problem, but I found it by digging through the settings. I wonder if they don't have the latest firmware on the Samsung TVs they tested with.

I have a 2014/15 Sony 4K tv that does not have HDR and I don't have the HDMI signal format option in the settings menu.

Is there a way to tell if the Xbox One X will work with it?

In the manual it has this...

HDMI IN 1,2,3,3 (support 4K resolution)
Video (2D): 4096 x 2160p (50, 60 Hz)*, 4096 x 2160p (24 Hz)
... other resolutions ...
*YCbCr 4:2;) / 8 bit

The Xbox Support web site has this information about 4K and HDR... https://support.xbox.com/en-GB/xbox-one/console/difference-4k-hdr-xbox-o...

Am I correct in thinking I would be able to get 4K on my TV but just without the HDR ?

Or is the 10 bit thing going to prevent me enabling 4K on an Xbox One X altogether?

EDIT

I contacted Xbox Support and they suggest my TV will be fine provided I leave the "Allow HDR" option disabled. Anyone fancy doing a comparison with and without HDR to let us know how important it is please?

Samsung KS9000 here. The TV does get an HDR signal, but it doesn't automatically switch the pictures settings to HDR, which is a huge problem, because I have to turn down the brightness every time I'm not playing an HDR game. Any solution for this?

Sounds like you've set it in Game Mode as the backlight is set indepently of source in this mode as they say to turn the backlight to 20 for hdr content and back to normal (in my case 7 ish) for non hdr, only other way might be to use movie mode but then disable all the things that game mode disables automatically, might need to look on avsforums,rtings etc to find all settings to amend.

My Sony TV automatcaly switches to HDR when it is detected.

what if i want to buy a tv thats 120 hrz or 240 hrz? 60 hrz is slow ...

Then u r a tard and don't understand much about the difference between actual video output and marketing.

Just got the X and a Sony Bravia XBR55X800E and I can't get anything to work as far as 4K gaming and HDR. Anyone ran into a similar problem? It just tells me that my tv could upscale the image to 4K and that HDR10 is not supported by my tv, which makes no sense whatsoever.

Make sure wide color or in don't talk extended color is on for that i put. Make sure Xbox is set to 4k and standard and 10bit. And u are good to go.

I'm looking at a Hisense 65" 4K UHD HDR TV for $800 at my WalMart. I'm hoping I won't have too much trouble. Before I even get that, I need to get a 4K HDR receiver very soon as I have home theater. Also, anyone know of a tool I can use to check to see if one of the HDMI cables I have is 4K rated? Also, if it's 4K will it carry HDR as well?

Anyone knows what is the ideal with video fidelity setting on the Xbox One X with a 4K HDR UHD tv? currently it's set to the default which is 8 bit. I have a samsung 8500 and should I change this to a higher.

It should be set to match the native bit depth of your TV. Hopefully that is not 8-bit, as you don't really get the benefits of true HDR. Most 2017 HDR sets should have 10-bit panels at least.

I was about to ask the same thing. I set my Vizio p65 to the 10 bit option. Just got my XBOX yesterday so I haven't really played with all the settings.

I was about to throw my controller through my new 2017 Samsung QN65Q7F (purchased specifically for the Xbox One X) until I remembered running across this article. The setting is actually under Settings > General > External Device Manager > HDMI UHD Color for this TV. I also verified that it works with the HDMI connection going through the Samsung K950 soundbar, so I can get Dolby Atmos sound, as well. Time to play some 4K content :)

That's exactly how I felt when I got mine!! Settings..Input..WTH?

dude thank you! just bought a 4k samsung to use with my new one x and I thought maybe I got a tv that didn't really have hdr or something even though it states it on the box. finally happened to see your post and thats exactly where I needed to go to get the settings fixed. finally have all green check marks on the xbox 4k details screen. thank you! I don' know if I ever would have finally gone under general settings instead of picture. maybe once my frustration subsided I would have but anyway thank you.

Dude, I just spent 1500 on a new Sony and the same exact thing happened. I stood up and yelled "the fuuuuuuuk!"

I'm a little late to the article, but anyone have info about the LG 65UF8500. It supports the Ultra HD Deep Color LG version for HDR. But my One S still won't let me select the HDR option. I've looked at Xbox support and they do list Deep Color as a version of HDR10.

Thanks for this article. Came in handy even 9 months later. What I don't get is why we have to jump through all these hoops. You would think this stuff is just on by default

If anyone has solved how to get a Philips pos9002 to work properly with the box let me know. It's a nightmare so far........
Windows Central Newsletter
Thank you for signing up to Windows Central. You will receive a verification email shortly.
There was a problem. Please refresh the page and try again.