Xbox One X Project Scorpio Edition is available again on Amazon
Xbox One X Project Scorpio Edition preorders have been sold out for some time on Amazon, but the online retailer is now showing the $499 console as back in stock.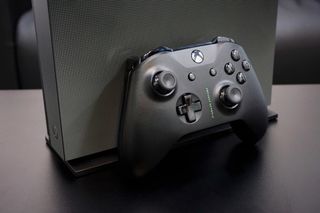 If you missed your chance with the first go-around, now's your chance to get one.
Xbox One X is set to launch, November 7, so it's a bit surprising to see more Project Scorpio Edition units up for sale. You'll want to act fast, though, as this is a limited edition of the console that is likely to sell out pretty quickly.
See at Amazon (opens in new tab)
Hands-on with Xbox One X Project Scorpio Edition
Windows Central Newsletter
Get the best of Windows Central in in your inbox, every day!
Dan Thorp-Lancaster is the former Editor-in-Chief of Windows Central. He began working with Windows Central, Android Central, and iMore as a news writer in 2014 and is obsessed with tech of all sorts. You can follow Dan on Twitter @DthorpL and Instagram @heyitsdtl.
It's not surprising to see Scorpio Editions back on sale. They didn't charge for the devices until this morning and of course, some people cancelled their orders or insufficient money to purchase the units. If the transaction didn't go through, I'm sure they just put those units back on sale.

I preordered back in Aug and mine says its not shipping until nov 13th and the $ still hasn't been pulled

Makes sense actually. I just hope they ship faster than they claim. I'm supposed to get mine on the 9th. I was hoping to hook it up and play on wednesday.

I thought they were aiming for launch day deliveries though or am i tripping?

They must've changed the policy recently. Typically selecting 2-day shipping gets you the item on launch day; though this time they sent an email over the weekend with an estimated delivery of November 9th, or 2-days after release. I then switched my shipping speed to 1-day, and it jumped my estimated delivery to November 7th. Just checked my tracking # and it says out for delivery. Not sure when they changed the policy on this, I thought when I placed the order in August, that 2-day shipping was listed for release day delivery.

They must've changed it. Thanks for the info.
I would just never pay for expedited shipping bc of where i live, it would literally be me giving extra $ for no reason.

yeah something must've changed. Looks like I'll have mine tomorrow, which it really when I was going to get to play with it anyway. I have to work today and run some errands after work. Tomorrow I'll be home all day and would set it up then anyway.

ARE YOU Ready?
It's raining Xbox One Xs!!!

I managed to get extremely lucky by being the first person in line at my local Microsoft Store today. Cash has been tight this year, but my Lumia 950 XL died recently so they gave me a gift card for the value of you phone since I had Complete on it. Pre-orders have obviously been closed for a while...but I couldn't sleep last night so I got here super early. First one in store so I asked the PA at the Answer Desk if there was any chance at getting a console tonight. He said there's a chance there might be some available if pre-orders weren't fully paid off by a few folks tonight, but chances were slim. Slightly disappointed (but not upset) I headed out of the store to find a way to fill the remaining 7.5 hours until the launch was due to start at that point. Another PA had overheard me, ran out, stopped me, and offered me his Project Scorpio pre-order... Mind blown...and so very thankful. The last 18 months with health and friends dying young and such I'd gotten a little depressed. This gave me a smile I haven't had in months... ...not all heroes wear capes.

Things like this happen for a reason. Glad it made your day. Can't wait to play my scorpio edition too.

It made me laugh a little when he asked me if it was ok that it was the Project Scorpio edition. For a second I thought I'd gone daffy from the lack of sleep and misheard him...then realized just how awesome my day got at that point. The really cool thing? So far no one has busted my balls about being so ridiculously over the moon happy about this. :)

No reason NOT to be really happy. I mean people game for a reason. It's your hobby. What you do to escape and have fun. You're getting the best console when you thought you weren't. Enjoy it.

Not surprising. I almost cancelled my order due to wanting to wait a little bit longer. I don't have a 4K TV and I don't plan on upgrading until I move. I only decided at the last minute to keep my order.

To bad they're not available in Norway. If I buy at Amazon I loose the 5 year warranty we have, so I guess I'll just wait for the ordinary version.

out of curiosity, how are you getting a 5 year warranty and why do you lose it through amazon (I assume it's for the same reason)

I preordered the standard edition of the X through Amazon but I chose to put money on the Amazon Gift Card before the standard was available for pre-order. Put down $500 and the last $34.99 got paid by my card. Can't wait for mine today. Full disclosure: My pre-order is the standard X. I wanted the Scorpio Edition but no dice.

You don't happen to mention that the ones listed AREN'T direct from Amazon, and in the UK at least the lowest price for one is £620... https://www.amazon.co.uk/gp/offer-listing/B074SPQ12G/ref=dp_olp_new_mbc?ie=UTF8&condition=new

I chose the free delivery when I preordered. I got charged last week on the 3rd and my Scorpio is out for delivery today,on release day. Pretty sweet! I'm in Chicago,Il
Windows Central Newsletter
Thank you for signing up to Windows Central. You will receive a verification email shortly.
There was a problem. Please refresh the page and try again.