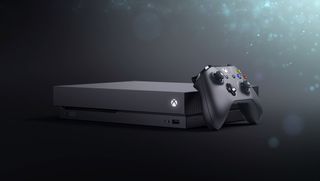 Microsoft has unveiled its next flagship gaming console as a part of E3 2017 – the Xbox One X. Aiming to deliver 4K gaming at 60 frames per second (FPS), the console stands out among the competition as a high-end device to deliver a premium gaming experience.
Up until now, PCs have dominated the 4K gaming space and Sony's PlayStation 4 (PS4) Pro has been the only console to deliver somewhat comparable visuals. Behind its bump in graphical fidelity, the Xbox One X is packing some powerful, first-class hardware and seen by the console's starting price point of $499 – you won't be getting it for cheap.
But what will you be getting in the package for its $499 starting price? Here's a breakdown of the Xbox One X specs.
Swipe to scroll horizontally
Category
Specification
CPU
Custom CPU @ 2.3 GHz, 8 cores
Graphics
Custom GPU @ 1.172 GHz, 40 CUs, Polaris features, 6.0 TFLOPS
Memory
12GB of GDDR5 RAM @ 6.8GHz w/ 326 GB/s bandwidth
Storage
Starting at 1TB HDD
Connections and expansions
HDMI-in; HDMI-out; 1x front-facing USB 3.0; 2x rear-facing USB 3.0; IR receiver/blaster; SPDIF digital audio; Ethernet (IEEE 802.3 10/100/1000)
Wireless
Wireless IEEE 802.11ac dual band; (5GHz & 2.4GHz); Dedicated dual band Xbox Wireless radio
Power supply
245W, Internal
Disk drive
4K UHD Blu-ray drive
Dimensions
11.81 in x 9.45 in x 2.36 in (30cm x 24cm x 6cm)
Weight
8.4lbs (3.81 kg)
In the box
Xbox One X console
Xbox Wireless Controller
HDMI cable
Power cable
1-month Xbox Game Pass trial
14-day Xbox Live Gold trial
Pre-orders for the Xbox One X are yet to open, with a launch set for November 7, 2017.
See at Amazon (opens in new tab)
Windows Central Newsletter
Get the best of Windows Central in in your inbox, every day!
Matt Brown was formerly a Windows Central's Senior Editor, Xbox & PC, at Future. Following over seven years of professional consumer technology and gaming coverage, he's focused on the world of Microsoft's gaming efforts. You can follow him on Twitter @mattjbrown.
Will watch the event when I get home. However, based on these articles, it's everything I was worried about. The software lineup seems really thin, the price is at the slightly high number I expected (though I think it's reasonable), and there just doesn't seem a compelling reason to upgrade right now. Want to get the console and all, but I don't see what I'll have to play. Was there at least a Shadow of War reveal?

Yes, and it got an extended look. However the progession for the event for me was: Forza? *yawn* Assassins Creed? *yawn* Ooo! Metro!!

Yeah, that's my issue. No VR makes Forza a waste to me. I don't care about AC anymore. I never could get into Metro, though I tried. Shadow of War is basically all I see to play, which is why I'm not that interested. Might as well get it on Play Anywhere and upgrade my GPU instead.

That's about right... Sea of thieves looks interesting too... The big problem with the Xbox is a lack of computing exclusives, in my opinion.

Sea of Thieves looks like the kind of game that is fun if you consistently have a group to talk and play with, but it also seems like the kind of game that is really boring and aimless when playing alone.

That seems to be a Microsoft theme. Boring no matter what ther're trying to promote. The China thing, now this. What's next, Surface Mobile. Good luck although I would like to see Microsoft completely revamp how they promote.

Funnily enough Surface Mobile WILL be their next thing.

Shadow of War looked good. Forza looked good. Assassin's Creed (Egypt) looked good. Metro looked good. In the middle of all that was a lot of stuff that I won't play.

Shoot, of what you named, Shadow of War is the only I want. Just such a bland year of content, sadly.

The ONLY issue I see goes to USB port count. Why can't we have a few more ports? Hate having to resort to hubs for everything.1 Kinect, 1 HDD and 1 controller would eat up all 3 ports.

Does it even support Kinect? Assuming so, but it's not mentioned! Unless I missed it, which is possible as I've just woke up and skimmed the articles!!

I'm sure it supports Kinect, you just have to have the USB adapter for it.

I love that it's actually smaller then the Xbox One S.

I am still Rocking the 360... I was expecting more Hype for the X (who comes up with these names!? the older models resemble X more than the X does!), something BIG to drop. And honestly, what is with the total lack of style!? Using the word minimalist seems like an insult to the word... I would actually take a device that looks like my VCR at this point.

The size is awesome. But there's still one problem. Exclusives. Sony has some great blockbuster titles. Xbox has non. The time when halo and Gears alone sold the console is over. Most of the exclusives today are time (or more launch) exclusive or at least available on PC too.
Xbox definitely needs some new big brands. Something everyone wants to pay. Big budget AAA games.

If you think that Forza is not a blockbuster that's completly YOUR opinion! For me Forza is superior to GOW, TLOU and almost any other game on PS

I was really hoping they would mention VR compatibility. $500 is a fair price in my opinion because you are getting 4k blu-ray drive. Stand-alone 4k blu-ray players are going wel over $250.I believe it has AMD freesync and if it is as compact as they say it is, it will be a great mid range PC replacement in my opinion. Promising hardware and I am sure developers need to time to create great content for it but Microsoft really heart themselves by not showing a killer exclusive or added feature to convince people to pay up for it.

I'm waiting for the ******** and moaning that there aren't any USB-C ports.

As a guy that has most his devices use USB-C, makes sense to want it on future devices

Of all the electronics I have, the only USB-C device I have is my 950XL. And given that USB-C has no unified specs, everyone implements it differently, it makes sense not to roll it out just yet.

Huh? That's not true at all. USB-C is just a connector type and shouldn't have specifications beyond how it physically connects. USB 3.1 Gen 2 however officially adopted USB-C as its one and only connector type. Intel is discontinuing their licensing fees for it and are integrating it into future processors. USB 2 and 3.0/ 3.1 Gen 1 can also have USB-C heads on them, but it's not like they are somehow incompatible with each other. My laptop has a USB-C Thunderbolt controller but my Lumia 950 is a Gen 1 that supports most of the modern components. Adopting 3.1 Gen 2 of course is up to you, but for me the fact I'm nearly able to use a single USB-C to USB-C 3.1 Gen 2-certified by USB-IF to connect all my computers, external hard drives, etc. is very exciting.

I spent $500 on the Xbox One with Kinect. At the time, it was well worth it. Then Microsoft destroyed everything we bought it for. They're bringing nothing that I'm interested in spending another $500 for in the new Xbox One X.

I didn't mind paying for the $500 with Kinect but I only ending using it for voice and now I don't even care about that and this $500 now it'll do a much better job than any previous Xbox before it in terms of power. Yes I want more exclusives but me personally I have well over a thousand games so i got some work to do.

One thing that wasn't mentioned was if it could come with built in microphont for voice commands and Cortana. I actually still use my Kinect for Skype calls from the comfort of the living room.

There wont be but for awhile now you can just use an Xbox headset or keep using your kinect

I speculate that the Cortana speaker from HK will be the voice control for this and all the Windows devices in the house. The speaker might be the fix for saying "Hey Cortana" and having every single device respond. Total speculation here but hoping this is the plan.

Check out that 117 release date! 😄💖🗽

Yeah, it looks great with a giant hole of no Halo to go with it!!!

The two questions I really want answered is whether or not this system will have a hybrid SSD like the Xbox One Elite. The second being whether we'll be able to easily swap out HDs and/or how well it will work with external since they will have USB 3.0 connections.

Yeah, not giving us a swappable drive woudl be a major letdown. I would just wait for SSDs to get more reasonable in price myself, since the thing should be passable with a HDD. If they launch this thing with a 5400 RPM laptop drive again, then make it non-replaceable, I think I'll just permanantely refuse to buy it out of spite. That would be a launghingstock, telling us how amazingly powerful and advanced the console is, then giving us the biggest pile of feces on the storage side...

Pre order for a November launch? Way to far off to even consider or think about.

I would like a bit more info about the type of hard drive.

Can we see a photo gallery of this unit without the stage

Anything regarding Kinect? Still dead?

Yeah, Kinect got canned a while back, I still use it though and it still wows people when I control my music by voice.

I still say that price point is going to hurt it out of the gate. I realize that this is a powerful console and some of the features (4k) are strong, but given that at the base this is a gaming system I'd venture to say that so very many won't get it up front due to the cost.

Lots of strong dislike at the price point of $500. However, the X is targeted towards the hardcore gamers not the casuals... People like me who are willing to drop $750 on a 1080 Ti because I want the best and fastest. Will I buy a X? No... But only due to the fact I already own an S and do most gaming on the PC. Microsoft completely nailed the exclusives. 22 of the 42 games shown had exclusivity agreements. Granted, the big titles like AC and Anthem dont have the restriction which might sell more consoles then the other smaller studio titles... But the cost for exclusive rights on those games would be way to high. I think Microsoft played it smart by targeting large number of smaller titles instead of just 2 or 3 big titles. Playerunknown Battlegrounds is a good grab for them as the game is extremly popular on PC. The only downside is it seems a lot of these exclusives are timed exclusives... Meaning eventually they will be released for PS4 but first on XBox. Thats not terrible, if you look at some of Sony's deals like Destiny where people play PS4 because it gets the content first.

It's actually not as expensive as I was expecting it to be, plus you could just preorder (or put money aside). You could pay a hundred bucks a month, for five months, boom, you have yourself an X. If you can't afford a hundred bucks a month then it doesn't matter what the price point is, it's not the console for you.

If I plug my kinect into this will it work?

Yeah! As long as you're using the Kinect adapter!

Is there no voice control? That would seem weird to eliminate considering other products like HomePod and Alexa and Google Home. I'm fine with Kinect camera being dead, but I would love if my Xbox could double as a Cortana speaker.

Hmmm do i buy a One X and hope the Mixed Reality headsets work with it or spend $1500 on a custom rig? Decisions.

Matt, Any info on the type of storage? Is it the same crappy drives that were in the first two versions?

Not right now sadly! Microsoft hasn't said anything other than a 1TB drive as the base model, so we have no idea about other options or the types of drives :/

is everyone god dam retared or what. 1Tb is the base model more will come. It supports USB3 external drives out the box it's software and design is based on the Xbox one, it can handle USB3 HDD for gaming storage. Get with the program.
Windows Central Newsletter
Thank you for signing up to Windows Central. You will receive a verification email shortly.
There was a problem. Please refresh the page and try again.